The Journey: April Sink-Or-Swim (Necas, Chytil, Comtois)
Welcome back to The Journey, where we follow hockey prospects and their paths to the NHL, providing fantasy predictions and analysis along the way.
It's the end of the month again, which means it's time for another edition of sink-or-swim. We'll examine three former blue-chip prospects whose values have taken a hit and whose futures now seem uncertain. Should you trade them while they still have name recognition or hold until/buy low before they turn things around and get back to their dynamic ways?
Post ideas for future players in the comments or hit me up on Twitter @beegare. Past editions have looked at Kaapo Kakko, Erik Brannstrom, Eeli Tolvanen, Juuso Valimaki, Kailer Yamamoto, Nick Robertson, Cody Glass, Owen Tippett, Jack Roslovic, Filip Zadina, Kirby Dach, and David Farrance. This month, the spotlight is on Martin Necas, Filip Chytil, and Max Comtois.
Before getting to those three, a quick update on Sink-Or-Swim alumni Jack Roslovic. Since being promoted to the top center role in Columbus, the 25-year-old has 12 points in his last eight games. Over that stretch, on top of his (obviously inflated) 123-point pace, he's averaged a hit, 2.6 shots, and 6.6 face off wins per game. The six-minute bump in ice time clearly agrees with him, and his rate stats indicated all along that he was being more productive than his cumulative stats showed. Still, this has been an encouraging stretch for all of us beleaguered Roslovic owners.
The question now will be what to expect from him next year. If we look back beyond these eight games, Roslovic has scored at a 57-point pace over his last 40 games. That lines up almost exactly with his 58-point pace from 2020-21. Like Nico Hischier, who is finally putting it all together around his 300th game, Roslovic is almost 100 games past his projected Breakout Threshold. So is his ceiling in the high 50s? I have a hunch he is capable of pushing well into the 60s—a hunch supported by his high IPP (73) and preferential usage (67 OZ%). Plus, it wouldn't be surprising to see the inconsistent but young and talented Blue Jackets settle down and take a step forward next year. Roslovic would benefit from that and certainly remains an intriguing sleeper if he keeps getting this much ice time.
The young Czech forward went from scoring 63 points last year to only 40 in 2021-22, a disappointing decline for a 23-year-old many had pegged to break out into elite 65+ territory. Necas doesn't provide a lot of shots or hits, so if he's not scoring, he's not helping your fantasy squad. The ascension of the talented Seth Jarvis into Carolina's top six has further clouded Necas' outlook, to the point that he's been dropped in a couple of my shallower leagues and dangled fruitlessly for trades in others.
Digging deeper into his numbers, however, there are several positive signs that suggest Necas is capable of not only rebounding but consistently posting solid Bo Horvat-like offensive totals—that is to say, reliably in the 55–65-point range, though with fewer multicat contributions than the Canucks captain.
This might be the perfect time to buy low on Necas: he's currently sitting at 201 games played for his career, and as an averaged-sized player, we can expect him to begin hitting his Breakout Threshold right around now—perhaps even in this year's playoffs. Although the BT theory is only roughly 80% accurate, it is a promising sign that he is currently entering the stage in his career where we should begin seeing his upside. The other members of Carolina's top six—Sebastian Aho, Andrei Svechnikov, Teuvo Teravainen, Jarvis, and Vincent Trocheck—would all command a higher price in fantasy than Necas right now, so he's a sneaky way to join the action in Carolina, the league's ninth best offensive team (271 goals for).
Necas is a restricted free agent (RFA) after this year, however, so his future outlook will depend somewhat on whether he re-signs with the Canes or ends up somewhere else. Carolina is currently right up against the cap and facing an offseason in which Trocheck, Nino Niederreiter, Derek Stepan, Max Domi, Ian Cole, and Brendan Smith are all unrestricted free agents (UFA) and Necas, Ethan Bear, Steven Lorentz, and Anthony DeAngelo are all RFAs. This is definitely a cap situation worth watching over the offseason—not only for Necas owners but for anyone with a fantasy stake in the Hurricanes. Necas picked the wrong time to have a down year but he'll still be due for a significant raise given that his expiring contract is his cheap ELC.
Looking at the lines Carolina rolled with for the last half of 2021-22, the top two trios have generally been Aho centering Jarvis and Turbo with Svechnikov anchoring Necas and Trocheck. Jesperi Kotkaniemi, who recently signed long-term, is also a potential threat to Necas for playing time, but he has blossomed this year in a sheltered role alongside Jordan Staal. Assuming those two stay together on the third line, it would make sense for the Canes to part ways with the expensive Niederreiter ($5.25 million) and funnel that money into keeping Necas—who is six years younger and has a higher ceiling.
Assuming he re-signs with Carolina, Necas should be a 55-65-point player in 2022-23—at the upper end of that range if he can improve his power play proficiency. His share of the available PP time hasn't diminished but his efficacy with the man advantage has: he went from a PP IPP of nearly 85 in 2020-21 (11 points) to a lowly 44 in 2021-22 (4 points). He'll need to be more consistently involved with the man advantage in order to continue being a key part of the Canes' attack.
Chytil is another young forward on a good team who was expected to take a step forward on his 43-point pace from last year but disappointed. 21 points in 66 games with minimal peripherals just isn't rosterable in fantasy. While he's still a couple years away from hitting his 400-game BT (anyone else not realize that he's 6-3, 210 lbs?), his outlook seems cloudier than Necas', both in terms of role/opportunity and raw upside. If Necas is headed into Bo Horvat territory production-wise, Chytil is looking more like a versatile, middle-six Nick Bonino type: a 40-55 point player with the ability to play up the lineup.
Examining the Rangers' deployment chart from this year (in the Advanced Stats section of any players' Frozen Tools profile), it's a bit surprising to note that Chytil has been sheltered and given more offensive zone starts than almost any other player on the team. That sort of deployment is normally reserved for young, offence-first forwards in training—not third-line grinder types.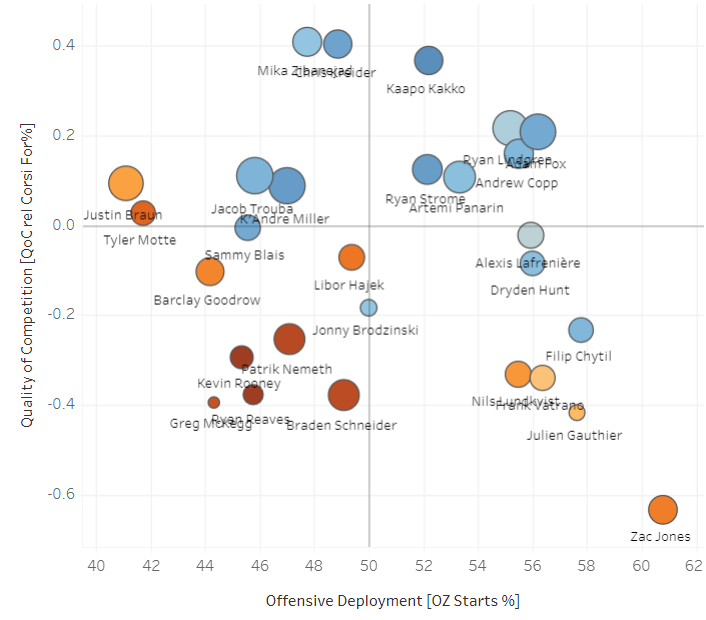 Right there with him is his most consistent linemate from this year, Alexis Lafreniere (together 38% of the time); both players averaged only about 13 minutes of ice time per game. They were mostly joined by physical depth pieces like Barclay Goodrow, Julien Gauthier, and Sammy Blais—all of whom received much less preferential deployment when not paired with Lafreniere and Chytil. This deployment suggests that the coaching staff views Chytil as an offensive player who performs best when sheltered, an assessment that doesn't necessarily jive with the Bonino comparison above, at least not yet. So maybe there's hope for a breakout here after all?
Chytil both was and wasn't put in an opportunity to succeed on the scoresheet this year: he was sheltered and sent out for faceoffs in the opposing zone, but his ice time was heavily restricted and he didn't get many opportunities to play with productive linemates, either at even strength or on the power play. Although Lafreniere has tons of talent, he hasn't really been able to put it all together yet at the NHL level and finished with only 30 points himself as a sophomore. Team-wise, most of the tough assignments fell on the shoulders of the Mika Zibanejad – Chris Kreider – Kaapo Kakko line and and the best scoring opportunities went to the Artemi Panarin – Ryan Strome – Ryan Lindgren/Andrew Copp line.
If Chytil gets a big (3+ minutes) bump in ice time next year and either gets promoted to play with the stars or sticks with Lafreniere, who takes a significant step forward himself, perhaps he can push past that potential 50-55-point ceiling into fantasy relevance after all. Other metrics that support that possibility include a shooting percentage over three points lower than his already low career average, a low PDO (he was unlucky), and a decently high IPP—showing that he's driving scoring pretty well and should have gotten in on a handful more points than he did this year.
I'm much higher on Necas than Chytil, but the latter's youth and opportunity could be worth a swing in the late rounds of deeper leagues next year. He showed some late-season chemistry with Kakko and clearly has a solid skill-set that will at the very least make him a solid player in a team's middle six.
Last year, Comtois looked like a multi-cat stud in the making: a 22-year-old power forward who posted 50 points and almost two shots and hits per game on an up-and-coming team. He led the rebuilding Ducks in scoring and seemed to be holding down the fort until Zegras & Co. could join him. Then this year he fell flat with a lowly 25-point pace, and his value in fantasy plummeted accordingly.
It's interesting to note that his 2021-22 numbers closely mirror what he did two years ago: a 30-point pace with just over a shot and two hits per game. Even the IPPs are oddly similar: 48.5 this year and 52.4 two years ago—with an impressive 82.5 in 2020-21. At only 146 NHL games played, Comtois is still one to four seasons away from his BT (he's a big guy but at the upper end of the average range). So it's likely he is closer to a 50-point player than 30. But that IPP fluctuation is concerning: why did he go from being peripheral to the Ducks' offence, then central, and then peripheral again?
Linemates don't provide much insight. Last year, he played most often with Rickard Rakell and Isac Lundestrom, neither of whom paced for more than 45 points; this year, Comtois has been stapled to breakout star Troy Terry, who scored nearly 70 points, but Comtois hasn't seen any noticeable boost from his linemate's success. Puzzling.
The most common theory for Comtois' struggles is the hand injury he had surgery in November to correct. Shot rates and luck metrics seem to support that line of thinking: last year, Comtois shot 17% and had a slightly high PDO, but his career shooting percentage is 14% and luck-based regression would only account for a few points. In other words, his production in 2020-21 looked pretty sustainable. But this year, his shooting percentage fell almost by half to 8.3% and his PDO (964) showed he had poor luck and is due for some positive regression. Shot distance and type are fairly consistent between the two seasons, so the hand injury seems like a likely culprit. That may also have contributed to his slow start to the season (one assist in his first 13 games).
It seems like something's up with Comtois' mojo. A slow start followed by hand surgery combined with the Ducks' offence changing to flow more through Zegras and Terry may have been enough for a young player to start getting in his head—holding his stick too tight, as they say. He admitted in a recent interview that, "It's an embarrassing season for me.…It took a while for me to get started. I was in my head for a while. I didn't really have fun."
The encouraging signs through all of this for anyone who owned Comtois in fantasy this year were that he was still hitting a lot (2.1/game) and seeing consistent time on the power play and in the Ducks' top six. It's concerning, however, that his ice time and power play time both cratered to just over 11 minutes and not even thirty seconds respectively in the fourth quarter. He's still been stapled primarily to Terry, but Terry has been getting over 20 minutes total and over two minutes on the power play during the same period. So it seems the coaching staff is finally beginning to show frustration with Comtois.
Looking ahead to next year, Comtois owners will have to hope he gets off the schneid by getting a bit luckier, figuring out his shot again, and playing his way back into meaningful minutes. His contract expires at the conclusion of next season, so hopefully he can figure things out again by then. It's hard to recommend him in fantasy right now but the hits are nice and he's still really young. If his points can rebound even into the 45+-point range, he'd be a useful bench player again. We'll have to wait and see.
Thanks for reading! Follow me on Twitter @beegare for more prospect content and fantasy hockey analysis.
The Journey: April Sink-Or-Swim (Necas, Chytil, Comtois)