The Journey: Critical Depth Performers (Toropchenko, Bouchard, Dube, Dellandrea)
Welcome back to The Journey, where we follow hockey prospects and their paths to the NHL, providing fantasy predictions and analysis along the way. This week, we'll highlight a few depth players who are providing important secondary scoring and other contributions for their teams so far in Round 2 of the 2022 playoffs.
(Stats do not include Saturday's games.)
The Blues' depth is a critical factor allowing them to keep pace with the Avalanche so far in Round Two. They're playing Brayden Schenn and Vladimir Tarasenko on the third line, and all four lines are contributing. If you've been watching St. Louis in this year's playoffs, you've likely noticed a skilled, big-bodied presence impacting the game from the fourth line. He is 6-3, over 200 lbs, and was drafted by the Blues in 2017 but it's not Klim Kostin (31st overall)—it's Alexei Toropchenko (113th overall).
Toropchenko is a big, physical player who has soft hands and the ability to dangle in tight. How many people had ever heard his name before he roared in against Minnesota and deked out Mats Zuccarello to set up this Tyler Bozak rebound goal?
Apparently, this is a move Toropchenko been practicing since his OHL days with the Guelph Storm:
It's great to see a young player step up like this on hockey's biggest stage. But as far as fantasy goes, there's likely not much here—think Joel Kiviranta, who has 18 points in 82 games since playing a key role in Dallas' deep run a few years ago. Toropchenko has played in the OHL, KHL, and AHL in recent years and has never been a notable producer. The main exception was a strong performance in a deep playoff run in the 2019 OHL playoffs when he scored 13 goals in 24 games.
He's already been extended on a one-year contract for next year, so the Blues will have a chance to see if he can become a useful depth piece moving forward. At least St. Louis is finally seeing a return from their disappointing 2017 draft; Kostin played 40 games with the Blues this year (nine points) but ended up down in the AHL to the end the year and did not stand out even though the Thunderbirds have no notable prospects beyond the now-promoted Scott Perunovich.
———–
Kailer Yamamoto, an enigmatic player covered frequently in this column, stepped up his game for the Oilers over the last half of the season. He went from a 28-point pace in the first half to a 51-point pace in the second. He has kept up the pace so far in the playoffs with five points in nine games and could easily have a couple more. In Game 2 against Calgary, for instance, he set up Leon Draisaitl for a beautiful breakaway chance with a stretch pass into open ice. He's also averaging three hits per game and seeing important ice time both shorthanded and on the power play. Contributions from secondary scorers like Yamamoto will be critical for the Oilers if they hope to overcome this deep Calgary squad.
Another young Oiler who has made an impact against Calgary is Evan Bouchard. After roaring out of the gates with five points in his first three games against the Kings, his offence dried up for the final four games of Round 1. But now he has a goal in each of the first two games against the Flames, including this beauty:
He easily could have had a second goal, too, after jumping up into the rush and getting a point-blank opportunity that was stonewalled by Jacob Markstrom. There's an argument to be made here that Edmonton coach Jay Woodcroft should be giving Bouchard even more opportunities. Though the young defender played nearly five minutes with the man advantage in Game 2, that total represented less than 50% of the Oilers' total power play time—and that's been the trend so far in the playoffs. Connor McDavid, for instance, saw almost eight and a half minutes (76.6%) in that game and Tyson Barrie received over six (55.2%).
Here's a breakdown of power play percentage for Bouchard vs. Barrie over the playoffs thus far (most recent games at the top):
| | | | |
| --- | --- | --- | --- |
| Evan Bouchard |   | Tyson Barrie |   |
| PP TOI | % of Total PP Time | PP TOI | % of Total PP Time |
| 4:51 | 44.2 | 6:04 | 55.2 |
| 3:58 | 49.6 | 4:02 | 50.4 |
| 0:04 | 3.3 | 1:56 | 96.7 |
| 0:40 | 33.3 | 1:20 | 66.7 |
| 0:46 | 29.9 | 1:48 | 70.1 |
| 1:15 | 20.8 | 4:06 | 68.3 |
| 1:49 | 48.9 | 0:21 | 9.4 |
| 2:41 | 46.5 | 1:49 | 31.5 |
| 1:05 | 15.7 | 5:48 | 83.9 |
The usage gap between the two defenders appears to be closing somewhat, but the coaching staff clearly continues to favour Barrie with the man advantage. Bouchard has seven points to Barrie's three, however, so how long will this trend continue? With Barrie signed for two more years, this will be an interesting narrative to follow in fantasy. Whichever of the two ends up with the lion's share of PP1 opportunities alongside Draisaitl and McDavid will see a significant boost in production. My money's on Bouchard.
———–
A young Flames player who has been buzzing and feels overdue for a goal is Dillon Dube. He's stepped up his play in the postseason, elevating both his hit (1.1 → 2.8) and shot (1.8 → 2.1) rates. His speed and agility in Calgary's bottom six are noticeable, especially given that the Flames are more of a big, strong, grinding team along the lines of recent Cup winners like Washington, Boston, and Los Angeles. Calgary fans will be hoping for more contributions from depth scorers like Dube moving forward.
Dube is an interesting player to keep an eye on in fantasy. He's 23 years old, has played exactly 200 regular season games—which should be his Breakout Threshold—and was a point-per-game player across 56 AHL games with the Stockton Heat. His Hockey Prospecting profile shows excellent year-over-year growth and some intriguing comparable in Robert Thomas and Flames legend Gary Roberts.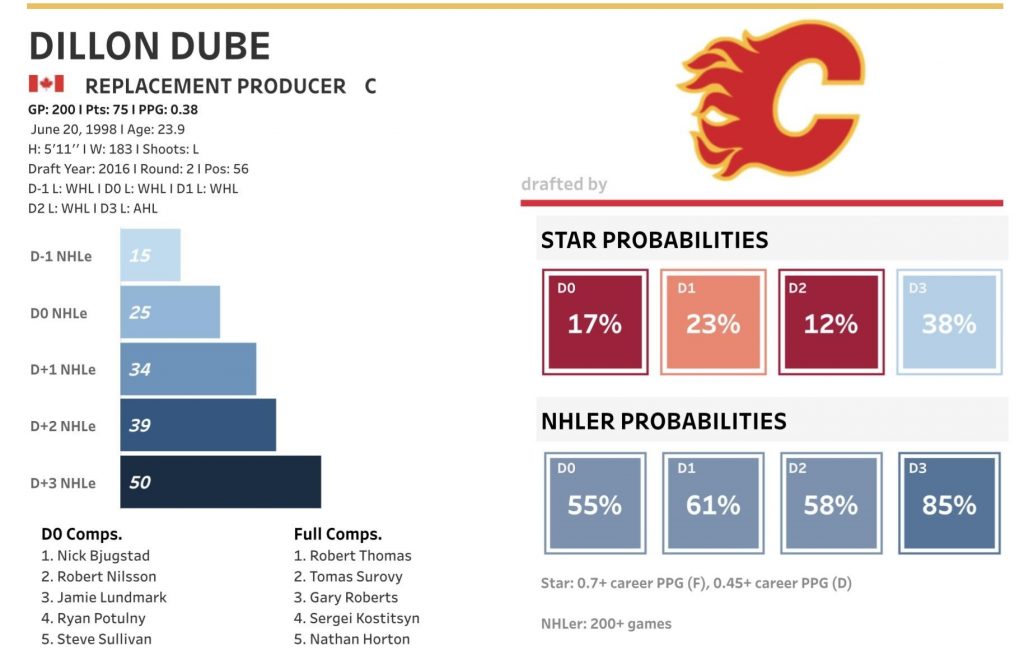 Dube has seen minimal power play time and exposure to Calgary's top players so far in his career, but if and when that changes, he has excellent sleeper potential. He was drafted outside the top 250 players in both Fantrax and Yahoo last year and should be available in a similar range next year.
———–
Looking back to Round 1 briefly, someone who stood out for the Dallas Stars in their Game 7 OT loss to Calgary was Ty Dellandrea. Coach Rick Bowness, who has since stepped down, put the 21-year-old in the lineup (he had been benched prior to that) and played him alongside Tyler Seguin and Jamie Benn. The three then combined for a go-ahead goal in the first minute of that game. Dellandrea used his speed to create pressure with an aggressive forecheck, causing the Calgary defender to turn the puck over to Seguin who fed Benn in the slot:
Though he didn't receive an assist on the play, this was the nature of Dellandrea's impact throughout the game. He brought speed, tenacity, and a relentless work ethic—all qualities that have been his calling card throughout Junior. His reputation is that he's future captain material who doesn't have the highest offensive ceiling but is an incredibly versatile player who can also put points on the board.
Sure enough, another important way he contributed in that Game 7 was at the faceoff dot. Dellandrea was sent out for a pivotal face-off in the final minute of regulation in that Game Seven. Given that Dallas' entire season was at stake, it's a significant vote of confidence in the young player to send him out at that moment.
Look for Dellandrea to make the Stars full-time in 2022-23 in a bottom-six role with brief forays up the roster. Like Dube, he's an under-the-radar prospect who has the potential to surprise production-wise in fantasy as early as next year.
Thanks for reading! Follow me on Twitter @beegare for more prospect content and fantasy hockey analysis.
The Journey: Critical Depth Performers (Toropchenko, Bouchard, Dube, Dellandrea)