The Journey: Early Playoff Standouts (Ingram, Jarvis, Bouchard)
Welcome back to The Journey, where we follow hockey prospects and their paths to the NHL, providing fantasy predictions and analysis along the way. This week, we'll highlight a few rookies who are playing key roles with their teams so far in the 2022 playoffs.
(Stats do not include Saturday's games.)
Ingram has jumped into the spotlight with his dominant performance in Nashville's loss to the Avalanche in Game 2. His strong positional play and ability to battle through traffic created what felt like a force field in front of the Predators' net: in between Nathan MacKinnon's goal with Colorado's first shot of the game and Cale Makar's overtime winner with their last, Ingram made 49 consecutive saves. As an Avalanche fan, I was nervous throughout that game. Nashville never had a ton of momentum but Ingram just had that "unbeatable" look to him, and that has to be exciting for anyone who owns him in fantasy.
Ingram has been a top goalie prospect for years (12th in Dobber's most recent prospect goalie ranking), but his stock has been down lately. When the Preds drafted Yaroslav Askarov 11th overall in 2020 and Juuse Saros took over the starting role from the legendary Pekke Rinne at the end of 2021, Ingram's window to even become the Preds' backup goalie seemed too narrow to invest in him for fantasy. There was a general sense that Ingram was solid but wasn't a threat to Saros and would soon be bumped by Askarov. To further muddy the waters, he voluntarily stepped away from hockey in January 2021 to join the Player Assistance Program to deal with symptoms related to his obsessive-compulsive disorder. At that point, his once-promising future seemed even more uncertain.
But now he's back, and the injury to Saros has thrust him onto the world's biggest stage against one of the league's top teams. In case you missed it, check out some of his highlights from Game 2:
Ingram looked consistently solid when facing down shooters one-on-one with a clear lane, even from dangerous areas like the hash marks. He was aggressive but not overly so, often coming out just past the edge of the blue paint to cut down the angles without compromising his ability to move laterally. His impenetrability forced Colorado to get creative, attempting quick one-timers and crashing the net to disrupt his view. But Ingram consistently positioned himself correctly behind screens and was able to react quickly to point shots. Early in the game, for instance, he kicked out a dangerous attempt from the blue line through heavy traffic with his right pad. He either swallowed rebounds or intentionally deflected pucks into corners and other low-danger areas—another clear sign he was on his game. On one of his best saves of the night, he faced down an open shooter in the slot, then pushed quickly to his left to shut down a quick one-timer.
Except for that first shot from MacKinnon, nothing was getting by this guy. Makar alone had 23 shot attempts before finally squeaking one by Ingram on a broken play, again through a heavy screen. It's hyperbolic given the small sample size—of course it was just one game—and this Predators team likely doesn't have the chops to do it, but this is the kind of goaltending that wins cups. If Ingram can maintain anywhere near this level of play moving forward, he should earn himself the backup role for the Preds next year and be a useful depth option for spot starts in fantasy.
In the short-term, it wouldn't be a surprise to see this determined Avs team light him up for a game or two given how outmatched Nashville has looked for most of the first two games. But even if that happens, this first game will stand as a glimpse of what Ingram is capable of.
Taking into account Jarvis' two points in three playoff games so far, the young Cane now has 20 points in his last 24 games. He's done that while averaging about 14 minutes a night and under two shots per game; what will his upside look like as early as next year when he gets more ice time (say, 17+ mins a game) and starts shooting the puck more? Impressive.
Here is his tip-in goal from Game 1 against the Bruins, which made him the second-youngest player in Hurricanes/Whalers history (behind Andrei Svechnikov) to score a goal in his first ever playoff game:
Jarvis' proficiency with tipping and sniping pucks from in tight was previously highlighted in this column; his shot is one of his most dangerous weapons. His fantasy owners will be hoping that he gets a bit more selfish next year and ups his 1.62 shots per game into at least 2.5 territory. Part of the explanation may lie with his most common linemates down the stretch this year, Sebastian Aho (2.8 shots/game) and Teuvo Teravainen (2.6), both of whom seemed much more comfortable shooting the puck—even though Turbo was mostly known for his passing previously. It's not just his limited ice time skewing his totals either; even Jarvis' Shots/60 (7.0) were quite low.
Regardless, Jarvis has firmly cemented himself into Carolina's dynamic top-six at age 20 and seems primed for stardom alongside Aho and Teravainen. His Hockey Prospecting profile, which projects star probabilities based on historical comparables, currently shows him as a lock to play at least 200 games in the NHL and a decent chance (14%) of scoring at above a 57-point pace over his career.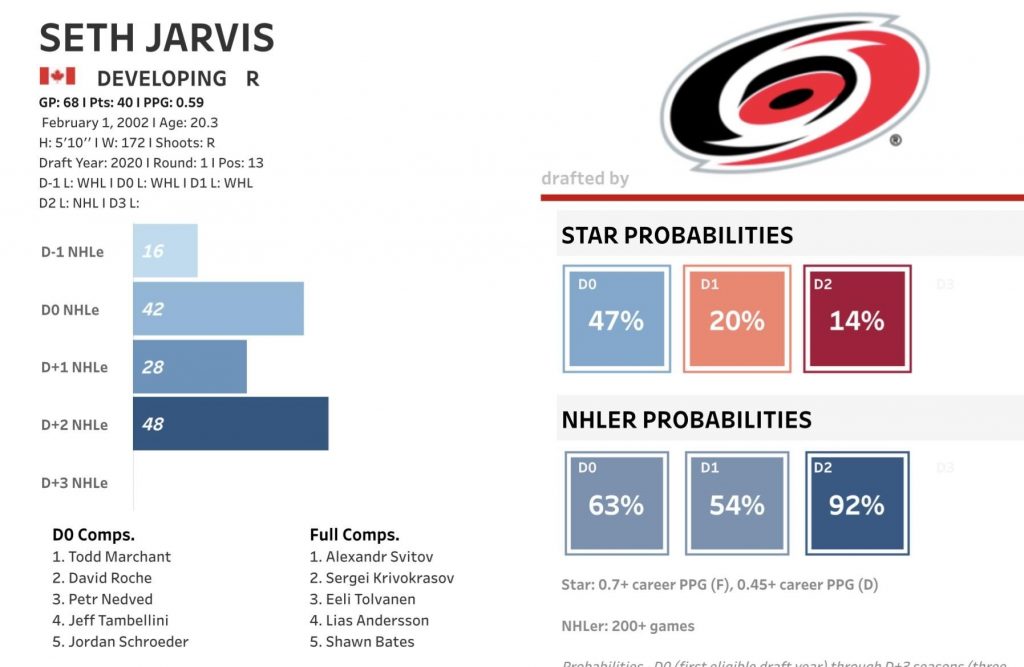 The comparables are a bit mystifying but take them with a grain of salt: Eeli Tolvanen still hasn't popped at the NHL level, for instance, but his D+1 campaign in the KHL was the historic one that put him on the map, and he followed that up by posting a 50-point pace in the AHL in his D+2. Further, the model is using Jarvis' WHL production in his D+1 (27 in 24) instead of his small but successful AHL audition that year (11 in 9), and that junior production at age 19 was not typical of players on a star trajectory. As HP creator Byron Bader and others have suggested, it's possible Jarvis was bored at the WHL level and ready for a more significant challenge. His early pro numbers certainly support that theory.
Look for Jarvis to keep the momentum going for the rest of the playoffs and into next year. This is a star in the making.
Bouchard's fantasy owners have been beyond patient. Since he was drafted in 2018, he's lit up the OHL (53 in 45), AHL (36 in 54), and the Allsvenskan (17 in 23). Finally, this year he got the opportunity to prove that he's one of the more dynamic defence prospects out there, posting 43 points as an NHL rookie. Despite a mid-season coaching change and the resulting inconsistent usage, Bouchard was incredibly consistent, posting 10 or 11 points in each quarter. While he finished with about two and a half shots per game, which is very solid, he actually averaged 3.2 shots over the final 20 games despite seeing much less time with the man advantage. So far in the playoffs, Bouchard is tied for fourth in overall scoring and leads all defencemen.
In terms of the eye test, Bouchard stands out because of how calm and poised he looks with the puck. People say this a lot about star players but he really does seem to slow the game down and pick apart opposing defences. Here he intercepts a pass, settles it down, and calmly feeds a speeding McDavid who does what McDavid does.
One of the criticisms of Bouchard in his draft year was that he looked a bit lazy or uninspired and took too many shots from the point that didn't find the net.
As this year has progressed, that apparent "laziness" has become polished into poise and he has more often found a way to get his shots through traffic to either find the net himself or create juicy rebounds like the one that led to Ryan McLeod's goal in Game Two. The Oilers have been waiting for a PP quarterback like Bouchard for years. It seems safe to say now that he's arrived and seems destined for consistent 60+ seasons with excellent shot and PPP rates.
Thanks for reading! Follow me on Twitter @beegare for more prospect content and fantasy hockey analysis.
The Journey: Early Playoff Standouts (Ingram, Jarvis, Bouchard)