The Journey: May Sink-Or-Swim (Dugan, Turcotte, Beckman)
It's the end of the month again, which means it's time for another edition of sink-or-swim. We'll examine three former blue-chip prospects whose values have taken a hit and whose futures now seem uncertain. Should you trade them while they still have name recognition or hold until/buy low before they turn things around and get back to their dynamic ways?
Post ideas for future players in the comments or hit me up on Twitter @beegare. Past editions have looked at Martin Necas, Filip Chytil, Max Comtois, Kaapo Kakko, Erik Brannstrom, Eeli Tolvanen, Juuso Valimaki, Kailer Yamamoto, Nick Robertson, Cody Glass, Owen Tippett, Jack Roslovic, Filip Zadina, Kirby Dach, and David Farrance. This month, the spotlight is on Jack Dugan, Alex Turcotte, and Adam Beckman.
Jack Dugan (VGK) is a fifth-round pick (2017) who has been consistently dominant throughout his junior career: he lit up the high school circuit, USHL, NCAA, and AHL between 2016 – 2021 before faltering this past campaign in his second year with the Henderson Silver Knights (AHL).
Most poolies have always taken Dugan's dominance with a grain of salt because it mostly came as an overager. He scored an impressive 52 points in 34 games in his second college season but was 22 years old when he did it. For reference, Alex Newhook (COL) scored 42 points that same year but was only 19. By 22, most players on a star trajectory tend to be putting up points already in the NHL—like Newhook is now at 21. Hence Dugan's surprisingly bleak Hockey Prospecting profile.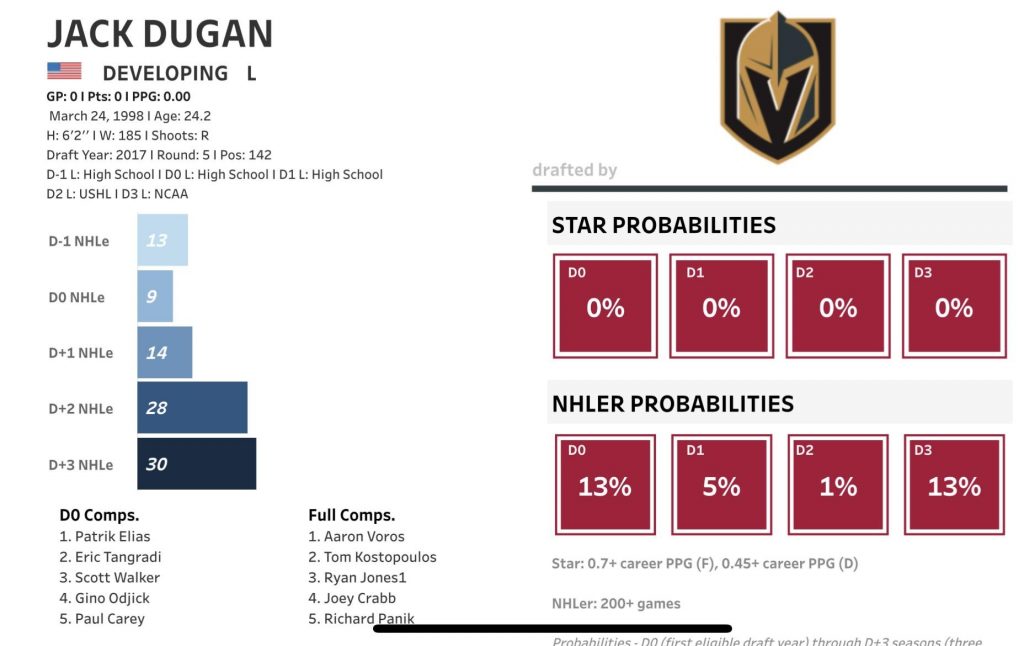 The model only extends to a player's D+3 year, so the above doesn't reflect Dugan's elite college and AHL rookie seasons. But even if it did, there just aren't many players on his timeline and trajectory who end up becoming NHL stars—basically he's putting up strong numbers but a couple years too late.
Newhook's journey illustrates how long Dugan's odds are for even making the NHL, let alone starring there. When Newhook graduated from Dobber's Top 200 Forward Prospects list at the end of March, he was ranked 3rd overall between Anton Lundell and Matt Boldy. He put up almost half-a-point per game for Colorado in 2021-22. Yet even he still has a less than 10% chance of averaging 60 points a season over his career.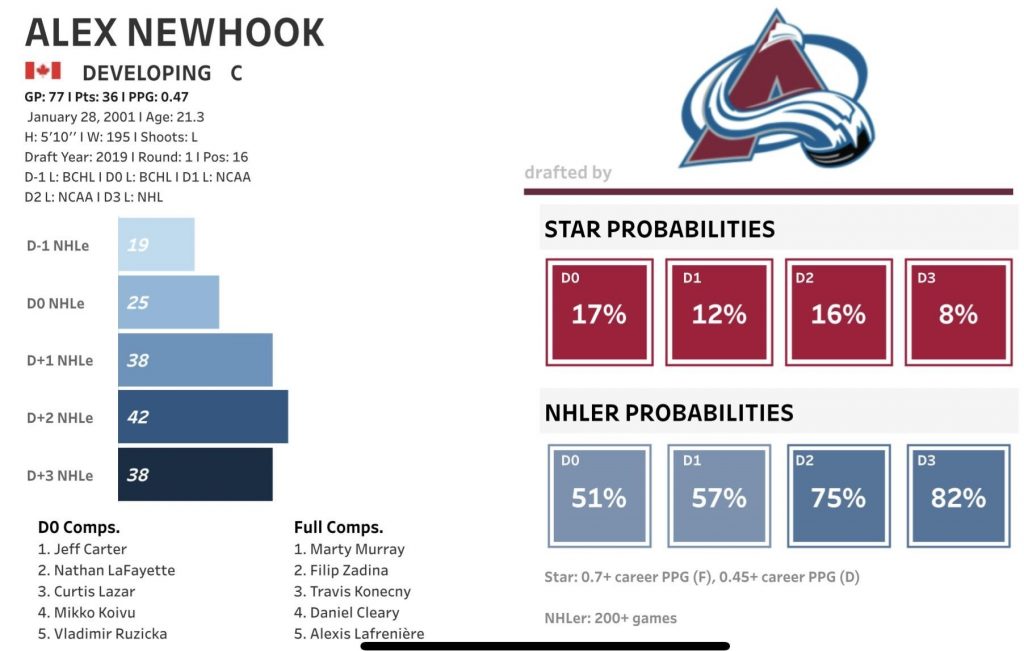 Go figure. It's the best league in the world, and history says Dugan has never really had a chance. But he's repeatedly defied expectations. After his success as an AHL rookie last year, it seemed like he was the real deal. But then he scored only 18 points in 35 games this year, a decline of nearly half-a-point per game.
So, what happened?
An initial warning sign back in October was that Dugan was immediately passed over for the Golden Knights' first few rounds of call-ups. That honour consistently went to players like Daniil Miromanov, Jake Leschyshyn, and Jonas Rondbjerg instead—players who combined for only 23 points in 83 games the year before when Dugan scored 33 in 37. Clearly Vegas saw something in Dugan's game they didn't like as early as November, only a couple months into the season.
Heading into training camp, he admitted that he had "lapsed" defensively in his first pro season because he was so focused on scoring. The team was also pushing Dugan to shoot more in the pre-season. Silver Knights head coach Manny Viveiros, explained that "shooting adds an extra element to his game because last year teams knew he was just passing the puck, so they'd take away the lanes." Viveiros also stated that Dugan needed to pick up his pace of play.
The lack of pace is concerning, but the other two areas are common weaknesses for young players breaking into the pro game. Perhaps Dugan was sacrificing offence at times to diversify his game and solidify his defensive habits in preparation for making the jump to the NHL.
Another possible factor is that he was dealing with a nagging injury heading into the 2021-22 season that took him a while to overcome:
Look for a healthy Dugan to have a bounce back year and see some time with Vegas in 2022-23. His trajectory as a dominant college late-bloomer struggling early in the AHL is reminiscent of defenceman David Farrance (NAS), covered in the March edition of Sink-or-Swim. The observations about Farrance included that he thrives as his team's go-to guy but needs to find other ways to help his team win. Looking up at a deep Vegas forward corps, Dugan has a similar challenge ahead of him.
If fantasy managers can temper their expectations, Dugan may still develop into a fringe star—like a 40-55-point NHLer—in time. That would still be a win for Vegas given that he's a former fifth-round pick. If he can add some physicality and hits with his 6-2, 210-pound frame, he could become a useful fantasy asset along the lines of NYR's Frank Vatrano (0.5 points, 2.5 shots, 1.5 hits per game).
—
Another puzzling playmaking prospect is Alex Turcotte (LAK). The widespread feeling in fantasy is that everything has kind of been downhill for the young forward since his draft year when he scored 96 points in 53 games across the USHL and USDP alongside Jack Hughes, Trevor Zegras, and Cole Caufield—all of whom have since become impact players at the NHL level. Although Turcotte is not yet considered a bust, his stock has certainly fallen a great deal over the last few years.
He saw eight NHL games this year (zero points) while other Kings prospects received much longer looks: Arthur Kaliyev (80 games), Rasmus Kupari (57), Carl Grundstrom (54), Quinton Byfield (40). Other players like Samuel Fagemo (four games), Martin Frk (six), and Jaret Anderson-Dolan (seven due to injury) also seem closer to donning a Kings jersey full-time than Turcotte. So he's got his work cut out for him. But he put up a solid 39 points over his first 59 AHL games (a 54-point pace) while dealing with pandemic issues and injuries, and his scoring always picked up whenever he was able to play an extended stretch of games.
Turcotte's decline in star potential from 72% to 13% between his D0 and D+3 years is certainly precipitous. But given his speed, tenacity, and strong two-way game, which led to him being drafted fifth overall, it's unlikely that Turcotte will become the next Pavel Brendl, an offensive dynamo with poor defensive habits and instincts. The pessimistic narrative around Turcotte's development seems overblown and makes him a great buy-low option right now in fantasy.
Here is a goal he scored back in November that shows his slick passing and offensive awareness. He is the skater in the dark jersey at the top of the screen who cuts to the middle, passes it behind his back, then heads to the net where he demonstrates a pro-level habit by stopping in the crease instead of skating through—which leaves him in position to tap home the rebound:
The main concern with Turcotte all along has been health. He has missed a handful of games every year since his D0 and then unfortunately sustained two concussions this year: the first was back in February and kept him out for 20+ games; the second happened mid-May during the AHL playoffs, raising doubts about his readiness for the 2022-23 season.
Hopefully Turcotte recovers well and is able to train hard over the summer so that he can begin gaining NHL experience as soon as 2022-23.
—
Adam Beckman (MIN) also seems to have lost momentum while transitioning to the pros. After generating some buzz by leading the WHL in scoring in 2019-20, he had a bit of a sideways Covid year between junior and the AHL in 2020-21 before putting up 34 points in 68 games this year.
Beckman earned a reputation as a sniper by scoring 80 goals in 131 WHL games. The goals haven't translated to the pros yet—he only scored 11 this year—but he averaged three shots per game, so he's clearly confident in his shot. If he keeps shooting and adjusts to the better goalies at this level, his 5.4% shooting percentage should improve and bring his goal total with it.
Something notable about his season is how consistently inconsistent he was: he scored seven points in his first seven games, went scoreless for the next seven, heated up for ten in 11, cooled off with one in seven…and so on. Separating his hot and cold stretches shows that Beckman scored 26 in 28 when he was clicking but only seven in his remaining 39. He's clearly capable of producing at a point-per-game pace and must now work on consistency.
Minnesota needs young players like Beckman to step up sooner rather than later to help get them through the cap swamp they'll be mired in for the next three years due to the Parise and Suter buy-outs. With Boldy already excelling with the Wild and Marco Rossi all but promoted, Beckman is likely next in line for a call-up.
This is a couple years old now but check out Mitch Brown's insightful analysis of Beckman's powerful and deceptive shot:
Thanks for reading! Follow me on Twitter @beegare for more prospect content and fantasy hockey analysis.
The Journey: May Sink-Or-Swim (Dugan, Turcotte, Beckman)