The Journey: Searching the Shadows (Chromiak, Dufour, Greig)
Welcome back to The Journey, where we follow hockey prospects and their paths to the NHL, providing fantasy predictions and analysis along the way.
When it comes to acquiring new prospects cheaply, one-way poolies can happen upon fantasy gold is by scanning for players who finished just behind their league leaders production-wise. These players tend to have lower profiles despite posting comparable scoring numbers and should thus be available more cheaply in keeper and dynasty formats. A couple weeks ago, for instance, this column featured Flames prospect Rory Kerins as a lesser-known comparable prospect to Wyatt Johnston (DAL). While Johnston made waves with his 124 points in 68 OHL games, Kerins popped a comparable 118 in 67 but remains more under the radar.
While Johnston sits at #14 in Dobber's Top 200 Forward Prospects list and and #5 in the Dobber Prospect Report Writer's Consensus rankings (get the DPR here!), Kerins, a 6th round pick from 2020, still does not feature at all in the monthly ranking, and only three out of eleven Dobber writers ranked him in their top 50 players who haven't played a single NHL game yet. This is a superficial, purely statistical comparison, of course, and Johnston being a year younger gives him a higher ceiling, but you can likely pick up Kerins for free or at least cheaply, whereas acquiring Johnston would be an expensive proposition at this point. Value!
Sticking with the OHL but shifting our focus from points to goals, Martin Chromiak (LAK) is another relatively unheralded player slowly emerging from the ruins of the cancelled OHL 2020-21 season as a potentially high-end prospect. Chromiak, drafted a round earlier than Kerins in 2020, might just be the Rory Kerins to Brennan Othmann's Wyatt Johnston. While Othmann (NYR) stole headlines by breaking the 50-goal barrier (0.76 goals per game), the lesser-known Chromiak wasn't far behind him with 44 in 60 (0.73 gpg). Like Kerins, Chromiak is two years out from being drafted versus Johnston and Othmann's one, but that is still an impressive rate, especially considering that the Covid upheaval forced him to play in Slovakia for a year before returning to the OHL for his D+2.
With Chromiak, it's all about his powerful, accurate shot:
It feels almost passé at this point, but it's of course still impressive whenever a young player can pull off a Michigan at full speed during a game not once…
…but twice.
Take all this flash with a grain of salt, however. When you step back and consider the odds of a prospect like Chromiak ever becoming fantasy relevant, it can feel pretty grim. It's a lot more fun to buy into the hype around a player than to be the guy in the corner saying, "Yeah but he only has a 9% chance of becoming an NHL star…" Chromiak had an exciting season in 2021-22 and has exhibited steady growth over his career thus far—both positive signs—but a high percentage of exciting prospects like him end up as replacement level producers or busts once they hit the NHL.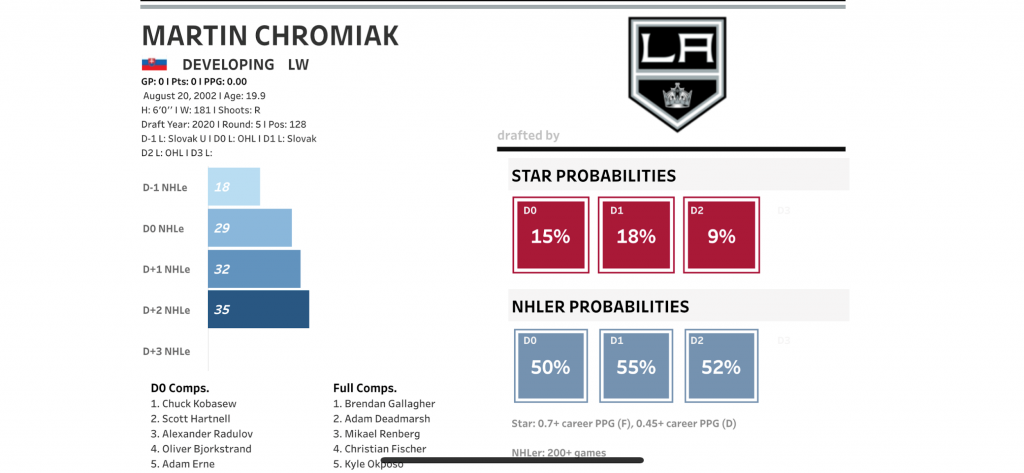 Given the Kings deep prospect pool and increasingly competitive roster, what is Chromiak's realistic opportunity and upside? Brendan Gallagher and Kyle Okposo are probably best-case scenarios while fellow Kings prospect Akil Thomas (LAK) is a more pessimistic comparable. After breaking the century mark in his D+1 year, Thomas scored 84 points in 59 OHL games in his D+2—basically the same rate as Chromiak's D+2 this year. At that point, Thomas made the jump to the AHL with a 13% star potential. He turned in a solid rookie year before vanishing in 2021-22 to the tune of only 13 points in 40 games. Whereas Thomas was recently among the shiny names glittering near the top of the Kings' system, now he suddenly seems destined for their bottom six (~5% star potential)—which is a letdown for fantasy owners that jumped on him as a 100-point scorer in junior. You just never know.
Chromiak's 9% chance of fantasy relevance feels pretty slim but he is an excellent sniper who has jived well in Kingston with 2022-eligible Shane Wright. It's easy to imagine him finding success alongside high-IQ centres like Anze Kopitar, Quinton Byfield, or Alex Turcotte at the next level. He's currently ranked #168 in Dobber's Top 200 forward prospects, trending up from #230 a month ago. Depending on the depth of your league, he is likely still available for free or at least fairly cheaply—especially compared to higher-profile snipers like Othmann and Luke Evangelista (NAS).
—
Lurking in the shadows just behind scoring leader Joshua Roy (MON) in the QMJHL this year was Islanders prospect William Dufour. A year older than Roy, Dufour scored three fewer points than his counterpart in the same number of games: 116 and 119 points in 66 games respectively. While it's not surprising to see an overaged prospect lighting up a junior league two years after being drafted, Dufour's 56 goals (0.85 gpg) are very impressive—especially considering that he's a former fifth-round pick like Chromiak.
Dufour, named MVP of the Q this year, has popped onto my radar of late because he is consistently being called some version of "the steal" of the 2020 draft. He scored at below a point-per-game rate in his draft year (55 in 59), which likely explains why he fell so far. He has NHL size (6-3, 195 lbs), however, and while his edgework and agility were noted concerns heading into the draft, he has worked hard in the two years since to improve in that area. An Islanders scout based in Quebec recently stated that, "It would be difficult to be happier with his progress…What we like is that he still has room to strengthen himself. In addition, I found that he had improved his skating considerably this year." Speed is increasingly at a premium in the NHL, so it's encouraging hearing positive reports on his skating from within the Islanders organization.
Here's a glimpse of his improved stride on a goal he scored recently in the Memorial Cup against the dominant WHL champions, the Edmonton Oil Kings; he picks up a loose puck, accelerates quickly into open space with a couple strong pushes, and blows it by Sebastian "The Actual Mountain" Cossa (DET) to give his team the lead.
Dufour has a high-end shot, even by NHL standards, and even if his skating tops out at NHL average, his size and diverse toolkit give him all the makings of an intriguing power forward at the next level. As with Chromiak, however, keep your expectations in check even as you quietly look into his availability in your league. He has only a 5% chance of averaging about 60 points over his career, according to Hockey Prospecting. But he has exhibited excellent year-over-year growth and, at #152 on Dobber's Top 200 list (up from #170 last month), he is still a relatively unknown commodity. If Dufour can continue his dominance as an AHL rookie next year, his stock will shoot up in a hurry.
Make sure you steal "the steal" in fantasy before someone else does.
—
Over in the WHL, Ridly Greig (OTT) is another player still flying somewhat under the radar despite a monster performance in 2021-22. Because he played only 39 games this year due to injury and a suspension, he did not finish among the league leaders in scoring. If you sort by points per game, however, his 1.615 ppg narrowly edged out 2023-eligible phenom Conor Bedard for 3rd overall behind Logan Stankoven (DAL; 1.763) and Arshdeep Bains (VAN; 1.647).
Greig's profile reminds me a bit of Zachary L'Heureux (NAS) in that he is a smaller player (both 5-11) with a mean streak who can score. Greig has been suspended four times over his four-year WHL career and finished last season with close to 2.5 penalty minutes per game on top of scoring 63 points in only 39 games on a team without a ton of star power. One key difference between Greig and L'Heureux is that Grieg is almost 40 pounds lighter despite being the same height. He'll have to bulk up quite a lot to continue his pesky ways at the next level, but Greig is clearly turning into a force to be reckoned with. Even if your league doesn't count penalty minutes (I personally hate them because they usually represent a negative contribution to a player's team), the high PIMs show that Greig likes to throw the body and get involved. He'll bring a healthy dose of hits and likely even some blocks to the table whenever he makes it.
Of course, players like him are always riding a fine line between impactful and out of control. The suspensions in junior are concerning in that he's already been labeled a "repeat offender." If he can't rein in the chaos a bit more, he could be frustrating to own in fantasy—much like noted pests Tom Wilson and Brad Marchand—because his suspensions will get longer each time and could result in him missing key games for your fantasy team down the line.
All that said, players like this who can contribute both grit and scoring are rare in fantasy. Greig has a higher profile than Chromiak and Dufour as a former first-round pick—currently #62 on Dobber's Top 200—but also a higher ceiling and an enticing 22% star potential.
Look at the mitts on this guy! He scored this goal during preseason action but it shows he has the confidence to translate his scoring to the highest level whenever he makes the jump—likely full time in 2023-24 after some important AHL seasoning next year.
Thanks for reading! Follow me on Twitter @beegare for more prospect content and fantasy hockey analysis.
The Journey: Searching the Shadows (Chromiak, Dufour, Greig)