The Sweet Spot for Younger Generations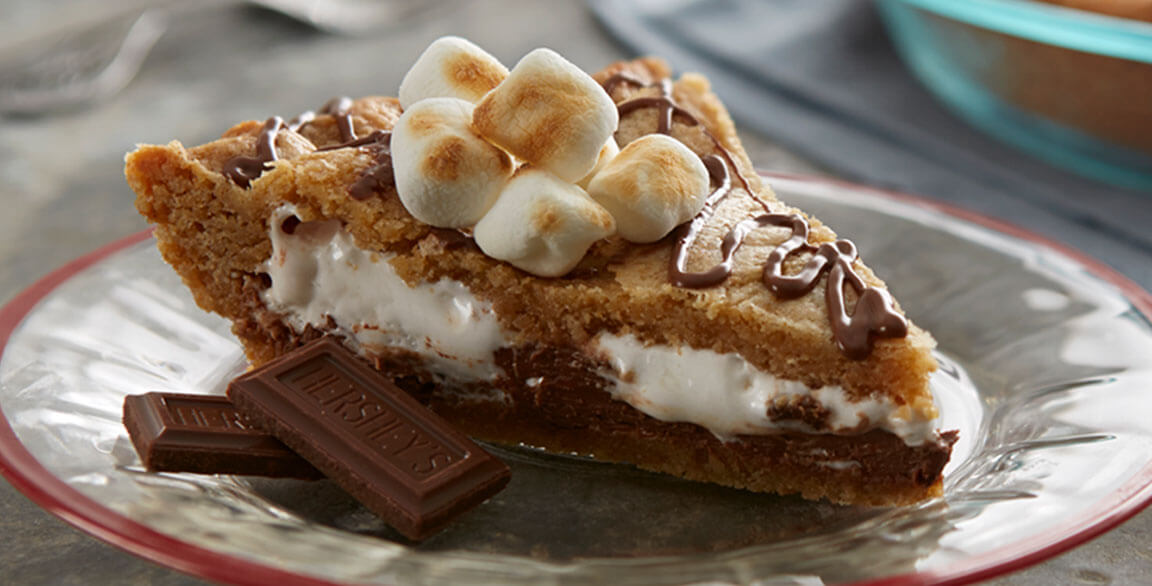 This S'mores Blondie Pie, perfect for fall, is especially appealing to Millennials and Gen Z.
Credit: Hershey Foodservice
With Millennials and Gen Z making up a huge part of today's dining consumer base, any leverage in attracting them is a good thing. A lot of research coming out on Gen Z, the generation nipping at the heels of Millennials, positions them as vastly different in both values and flavor preferences. That makes it challenging for restaurant concepts to target both of those large cohorts.
Thankfully, those differences seem to fall away when it comes to sweets—both demographics seem to be following a similar pattern of preferences and behaviors in the dessert category. That means targeting younger generations with desserts requires only one strategy. Targeting them is worthwhile—87 percent of Millennials and Gen Z think about eating dessert one or more times per day.
The folks at Hershey Foodservice wanted to fully understand what these younger consumers crave when it comes to desserts so they could better support their customers. They conducted an in-depth national study to find out. Here are three salient takeaways from that research that offer a roadmap on how to capture dessert sales from Millennials and Gen Z, building brand loyalty along the way.
3 Key Moves
1. Dessert First
The research suggests that Gen Z holds a particularly strong connection to desserts and will choose a restaurant just to enjoy a favorite dessert. In fact, 50 percent of Gen Z skips entrées entirely and starts with dessert. That is significant, marking a shift in dining behavior that should perhaps influence how menus are designed and promoted. Desserts are not an afterthought for this generation and should be front-loaded on the menu, talked up by the server, and included in marketing messaging.
2. Social Media Game
Younger consumers like to share photos—this we know. They really like to share dessert photos—31 percent of Gen Z and 26 percent of Millennials post dessert photos on social media. Leverage that enthusiasm. First, make sure your desserts are post-worthy—fun, familiar, creative. Second, run social media contests, giveaways and special offers to increase tagged dessert posts. This not only ups your social currency, it also deepens your brand's emotional connection with these consumers.
3. Use Brand Power to Drive Repeat Visits
Here's an impressive stat—70 percent of Gen Z and 63 percent of Millennial consumers are likely to return to a restaurant where they enjoyed a Hershey branded dessert to order another one. According to this study, younger consumers identify with the HERSHEY'S brand and trust that these branded ingredients deliver on quality and flavor. Use this brand power to draw the attention of younger consumers. Create new experiences by offering Hershey branded specials or highlighting seasonal Hershey branded desserts to keep them coming back again and again.
Branded for Success
When asked how likely they would be to try a variety of branded food categories, Gen Z and Millennials listed branded desserts as their top preference. The likelihood of trying a branded dessert item is the highest ranked category—not only for both generations, but also both genders. The national study found that 61 percent of men and 71 percent of women said they are likely to try a branded dessert for the first time.
For sweet inspiration and insights, visit HersheyFoodserviceInsights.com.
The Hershey Company and The Center for Generational Kinetics jointly led this research study. The survey was administered to 1,250 U.S. respondents ages 18-39 including a 250-person oversample of Generation Z ages 18-21.Generation Z is defined as those born in 1996 or more recently, Millennials are defined as those born between 1977 and 1995. The sample was weighted to the current U.S. Census data for age, gender, and region.
The post The Sweet Spot for Younger Generations appeared first on Flavor & The Menu.
The Sweet Spot for Younger Generations