The yellow glow of late fall
December 02, 2021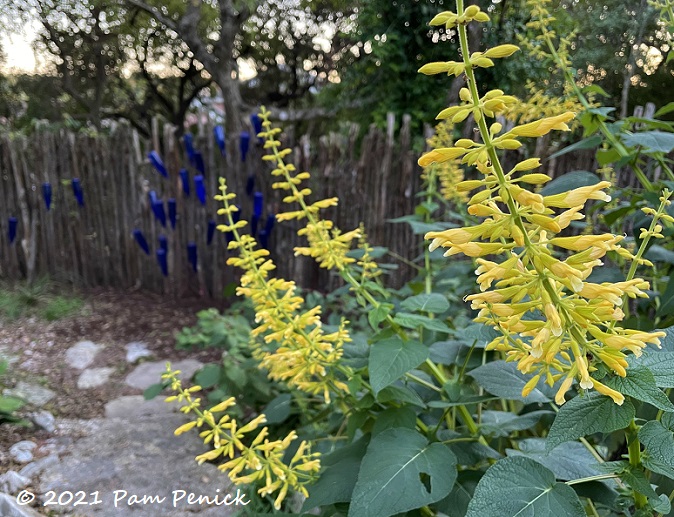 Cool, blue-sky weather has me spending more time in the garden, having friends over, and tinkering with planting beds. It's kind of glowing out there. Why? Yellow is the color of fall in my garden, starting with the wonderful forsythia sage (Salvia madrensis), which lights up the back garden with tall wands of buttery yellow flowers.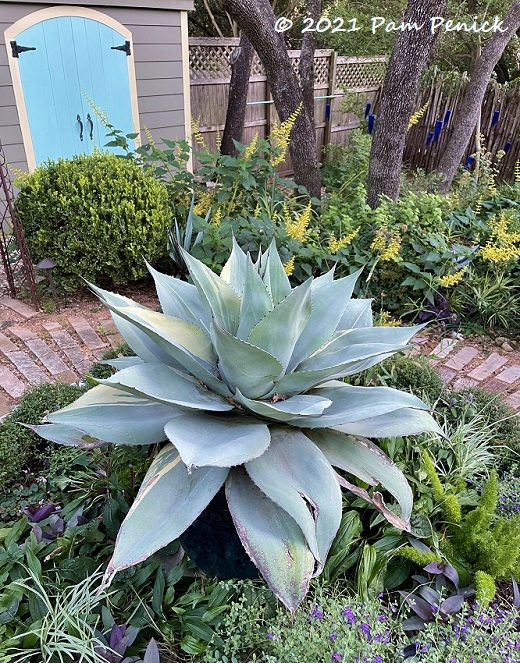 All that yellow in the background makes Ursula's own moonlight-yellow variegation pop.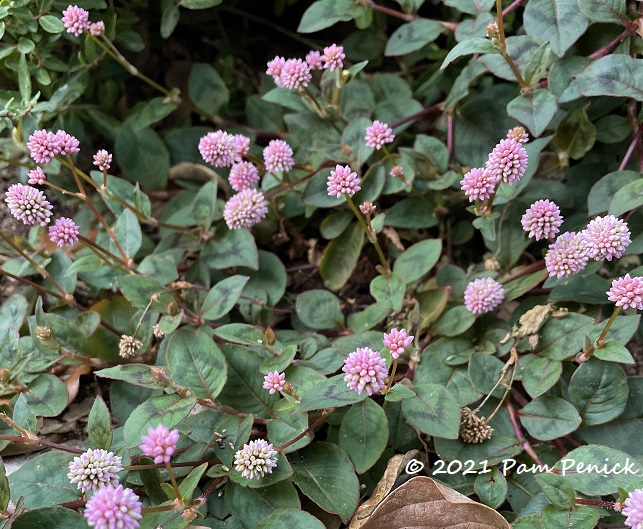 Edging the circular bed beneath Ursula's flukes, cute-as-a-button pink knotweed (Polygonum capitatum 'Magic Carpet') shows off chevron-patterned leaves. No yellow here but…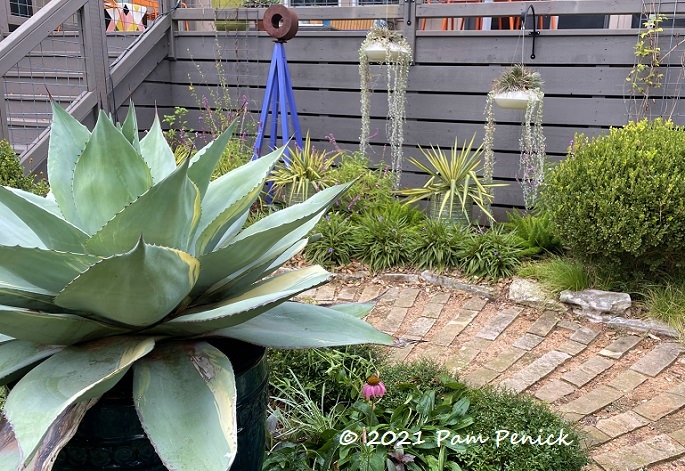 …over by the deck, three 'Color Guard' yuccas glow like spiky yellow suns. That's silver ponyfoot (Dichondra argentea) cascading like granny braids from white hanging planters.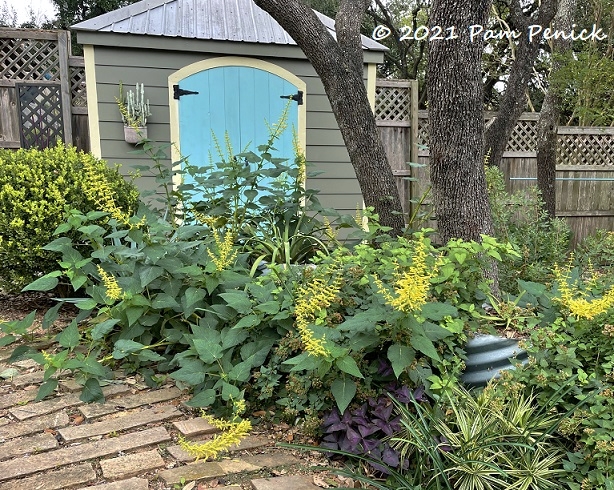 Partially collapsed under its own weight, forsythia sage dominates the shed garden in late fall.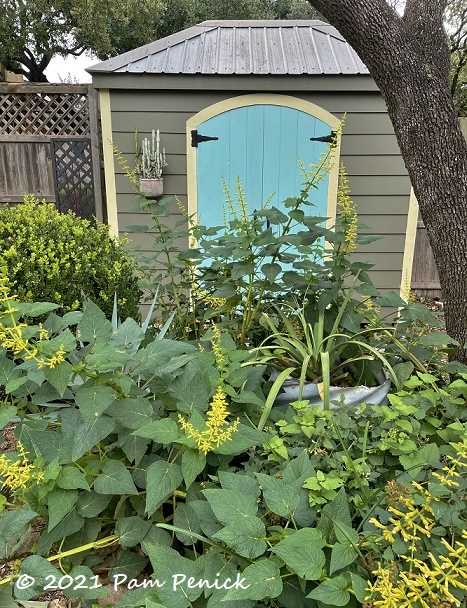 A month ago it had to compete with white mistflower (Ageratina havanensis), which blooms around Halloween. But with the mistflower gone to seed, yellow rules the day.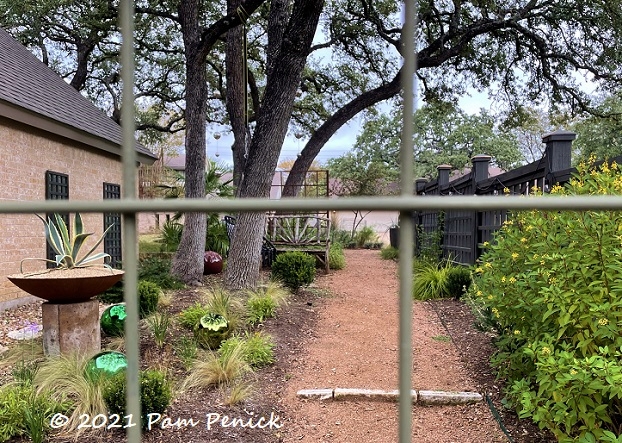 Peeking through the little window in the gate to the side yard — which I'm dubbing the Hideaway Garden for its semi-hidden seating area — you see yellows glowing beneath live oaks: yariegated American agave in the dish planter, tawny Mexican feathergrass, a stray coreopsis flower, and workhorse golden thryallis (Galphimia gracilis) hedged along the fence.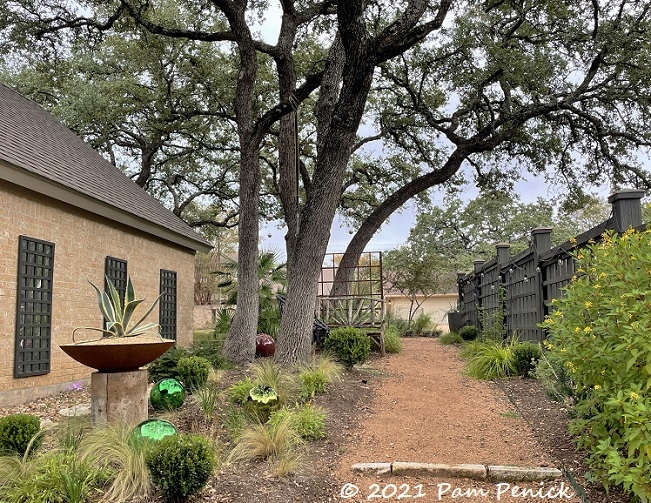 With the gate open, the grids that define this space are easier to see.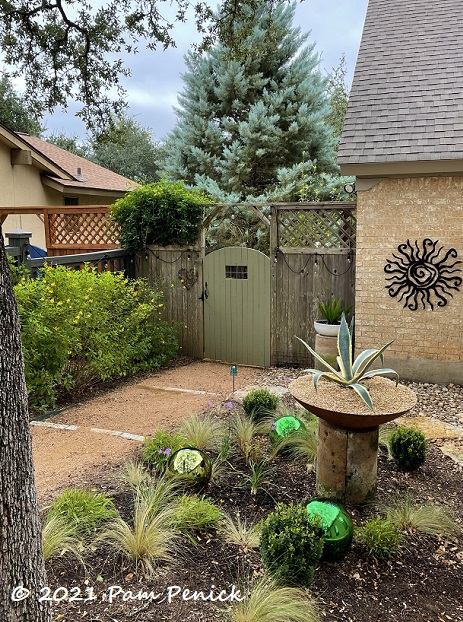 I've added a few more Mexican glass balls to echo the boxwood balls and bring light to ground level. Plus deer don't eat them.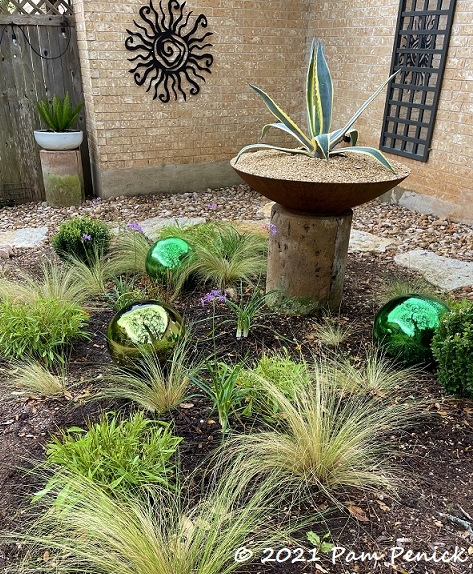 Where to get Mexican gazing balls in Austin these days? YESimports on FM 620. I also added society garlic (Tulbaghia violacea) for more deer-resistant, shade-tolerant color, but think I will double the number come spring. The deer do nibble on the coreopsis, irritatingly.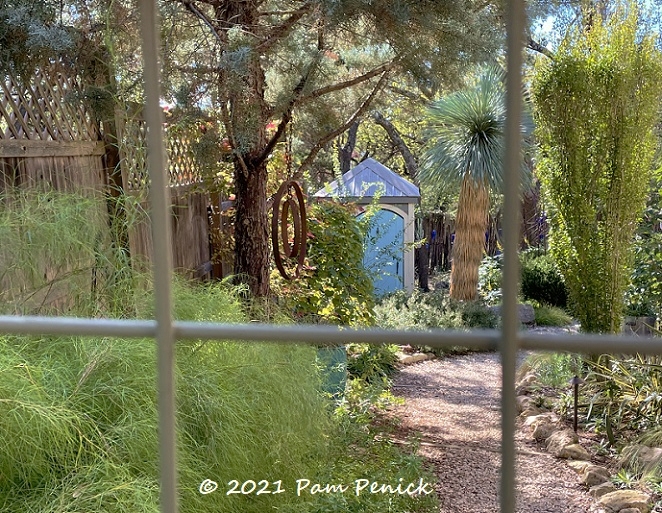 Looking back through the gate window — man, these plants are getting big. I've pruned up the 'Blue Ice' Arizona cypress (Cupressus arizonica var. glabra) so that one can walk under it (scroll up two photos to see how tall it is). I give the 'Will Fleming' yaupon a flat-top haircut once a year to keep it at the height I want. And the 'Sapphire Skies' beaked yucca (Yucca rostrata) to the right of the shed does whatever it wants.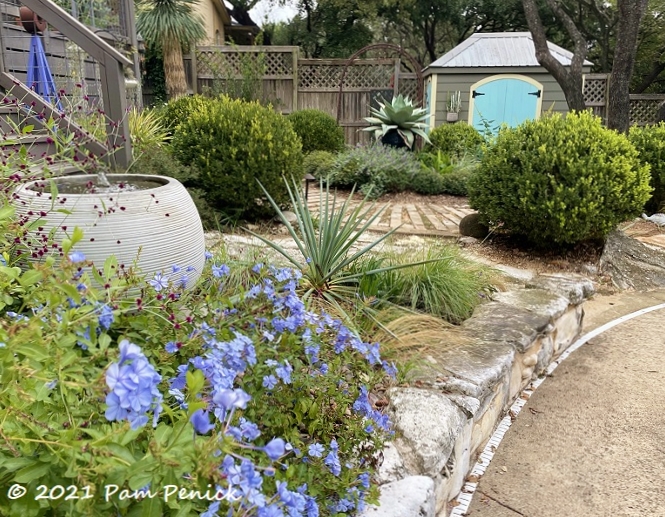 You can see how tall that yucca is getting in this photo (back left) — it doesn't even fit in the frame! The 'Winter Gem' boxwoods' new growth adds a little chartreuse to the garden's yellow glow. Ursula, the variegated whale's tongue agave, sits on her throne in the center of the boxwood circle, like the queen she is.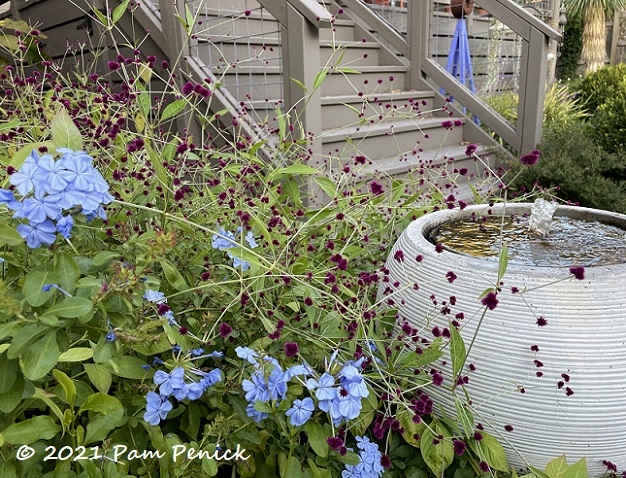 OK, no yellow in this fall vignette, but how I love it: royal-purple 'Little Grapes' gomphrena with blue plumbago (Plumbago auriculata).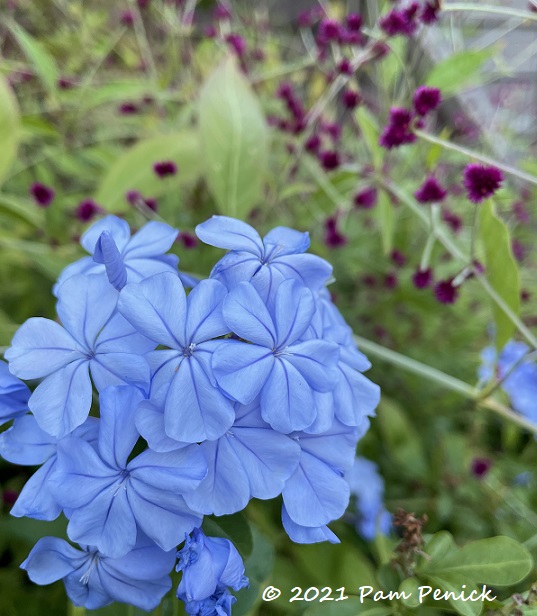 I don't know the cultivar name for this plumbago. The plant tag called it dark blue — more of a medium blue, really — and I prefer it to the standard sky-blue plumbago popular in Austin.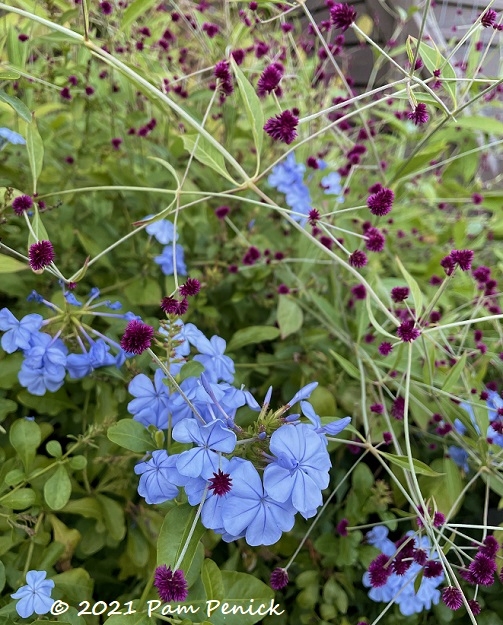 The blue-purple combo gets me every time. Want to see it in motion? Turn on your volume and watch my little gomphrena-plumbago-fountain video on Instagram.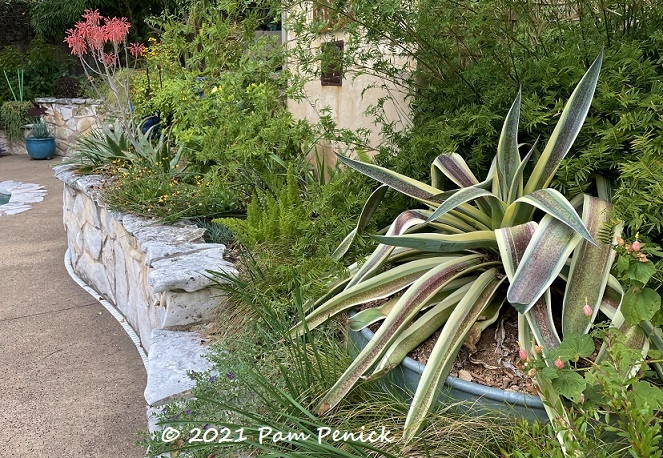 Getting back to yellows, 'Espresso' mangave, which has gotten positively enormous, shows off a moonshine-yellow leaf edge. Poor thing — it's in a losing battle to hold back the 'Tiny Fern' bamboo behind it, which came roaring back after the big freeze. I need to get in there and prune the bamboo to give the mangave some breathing room.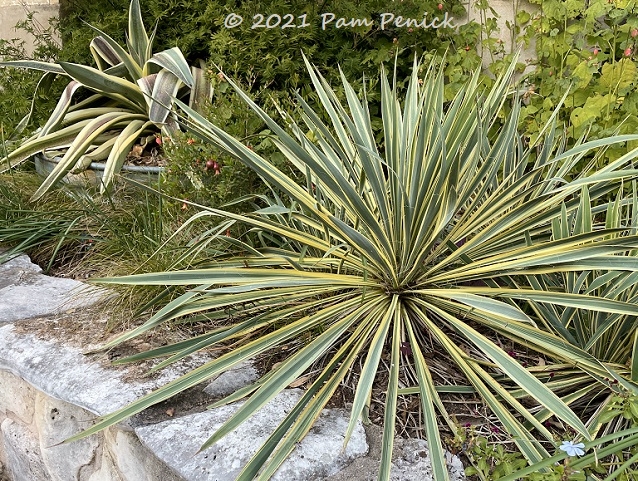 More yellow leaf margins on aptly named 'Bright Edge' yucca. But what are those little reddish fruits between the mangave and yucca?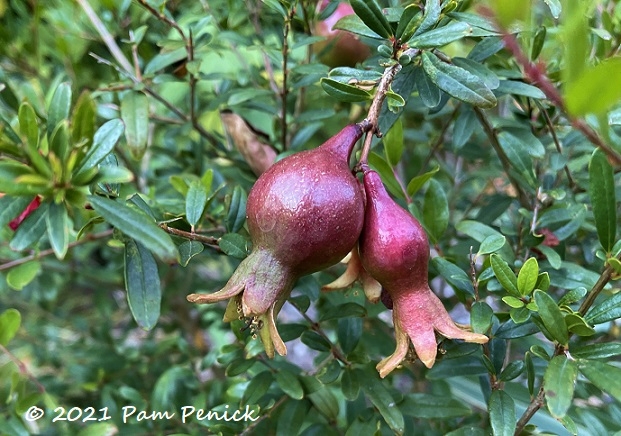 They're adorable miniature pomegranates! This is 'Peppy Le Pom', a trial plant from Proven Winners that came back from the roots after the big freeze and has now produced more fruit than ever.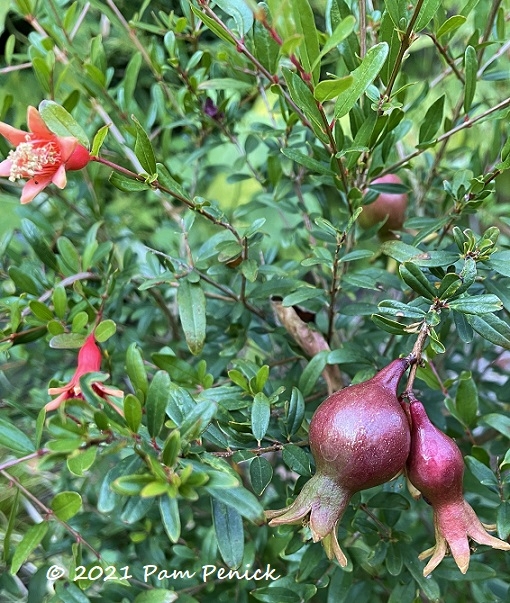 My intention has been to topiary it, but since the freeze killed it to the roots, I haven't done any training this year. I probably should though.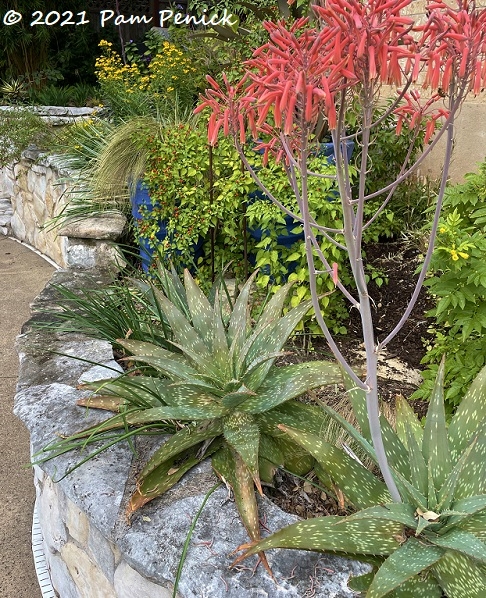 Two of my three big soap aloes (Aloe maculata) survived the freeze, and they've bloomed a couple of times. How I love these red candelabra flowers, and so do the bees.
It's amusing to watch honeybees spelunk their way into the dangling tubes.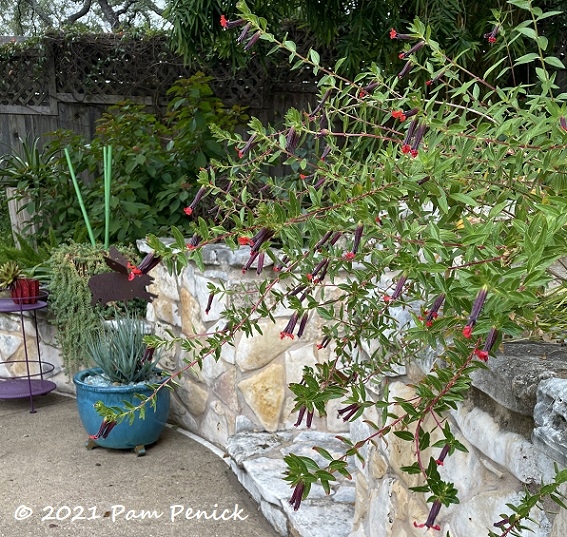 More red from bat-face cuphea (Cuphea llavea), another surprising freeze survivor.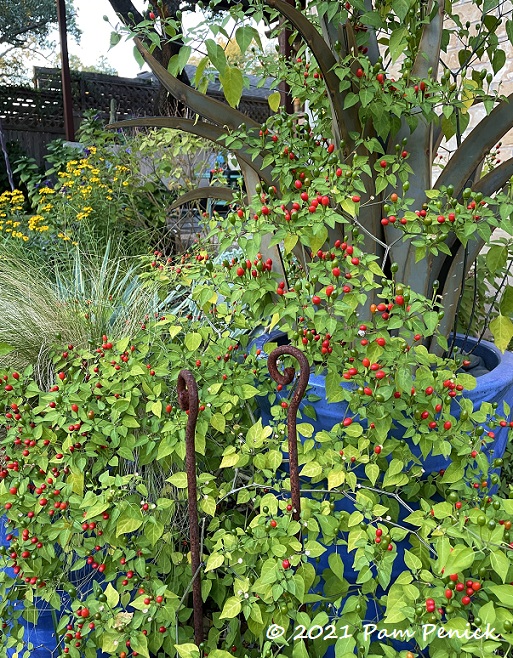 And native chile pequin (Capsicum annuum), which seeded itself into this bed and promptly climbed the metal agave.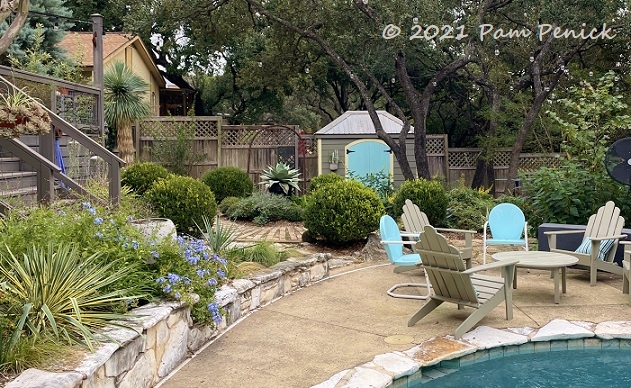 Of course my back garden always has the blues, because you can't compete with a blue swimming pool. You just have to go with it.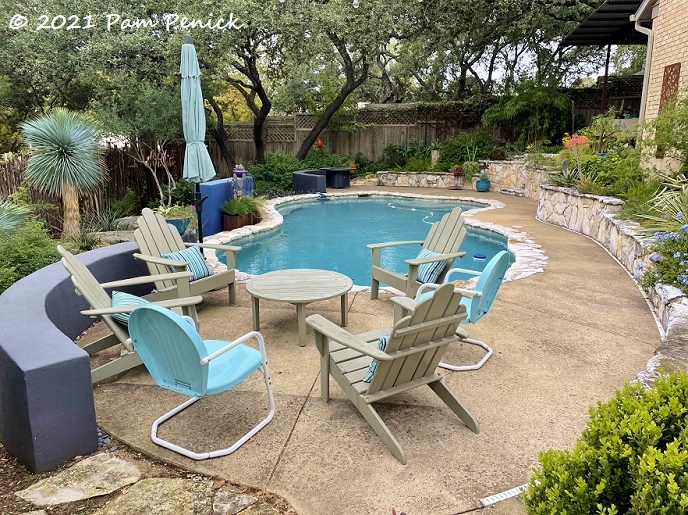 I moved the blue motel chairs over here — they used to sit along the stone wall at the other end of the pool — for a garden party and loved them so much with the khaki Adirondacks and their turquoise pillows that I plan to leave them. I need to powerwash that decking though. There's always something, right?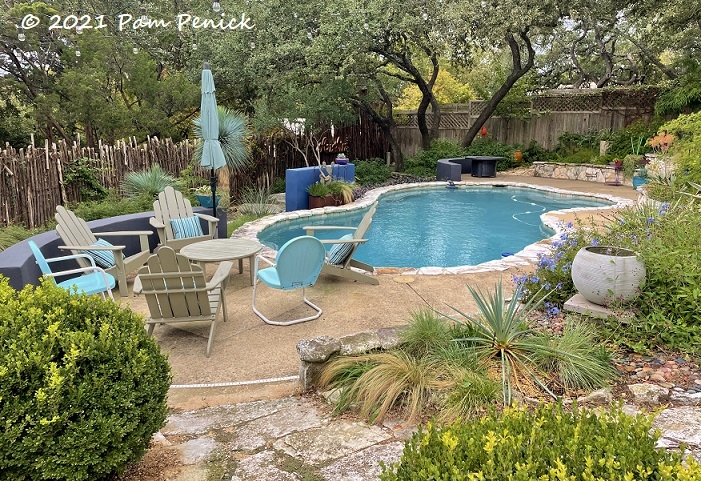 Ah fall, patio season in Texas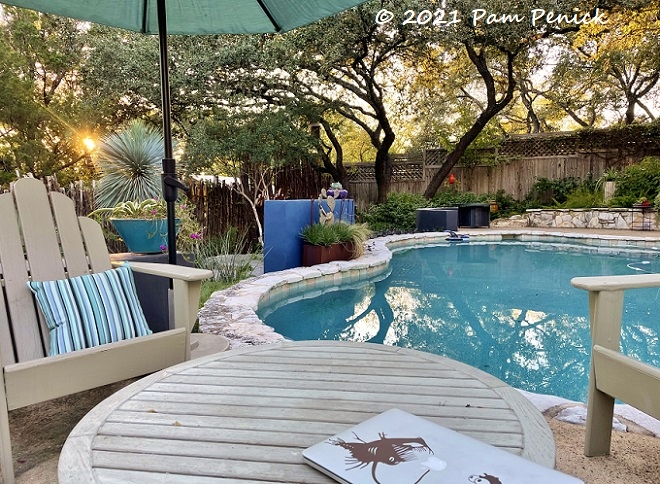 Pretending to work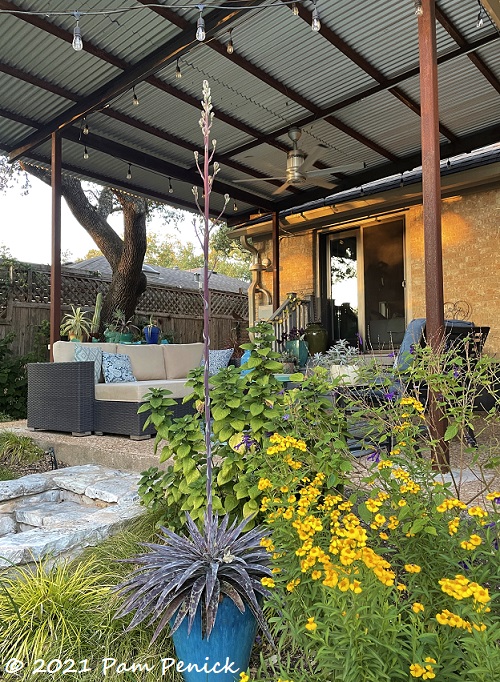 Up by the covered patio, yellows blaze in the form of Mexican mint marigold (Tagetes lucida) — a 4-inch freebie from Houston Botanic Garden's opening weekend last fall (click for my tour). How glad I am to have brought it home with me. 'Moonglow' mangave has sent up a tall bloom spike, which I've been watching anxiously. Gotta get those flowers open before our first frost, which could come at any time! I wouldn't complain about a freeze-free winter though. Don't want to test that power grid again!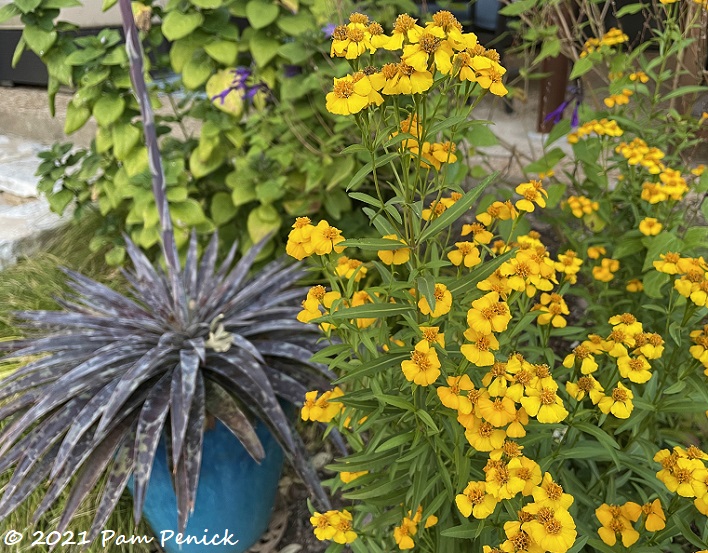 Mexican mint marigold and 'Moonglow' mangave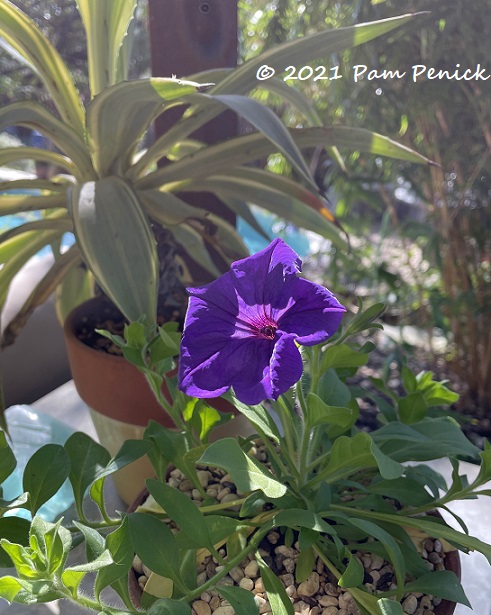 A passalong petunia shared by Andrew and Jared at @gayswhogarden opened its first velvety flower. More buds are ready to pop.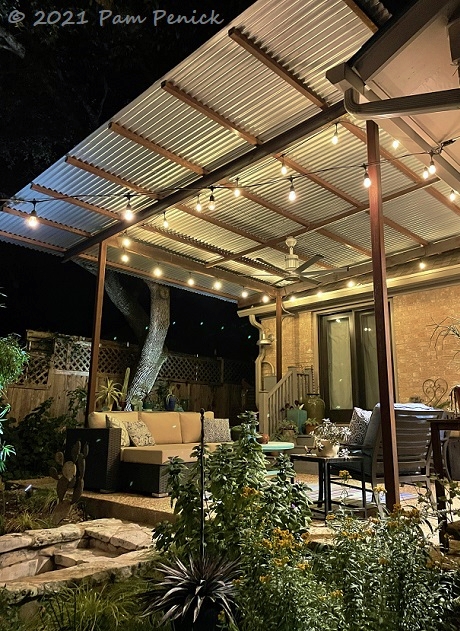 My new favorite hangout space in the garden, the covered patio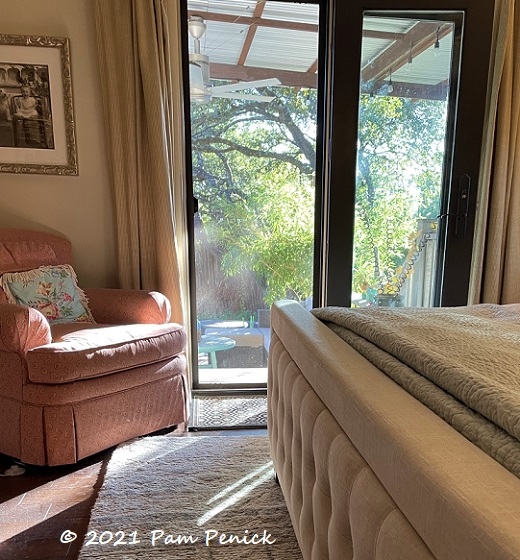 But I also enjoy the garden from inside, specifically the view from our bedroom's patio door, open to catch cool breezes in the fall. In mid-afternoon the light slants so beautifully through the trees. This is my favorite reading spot.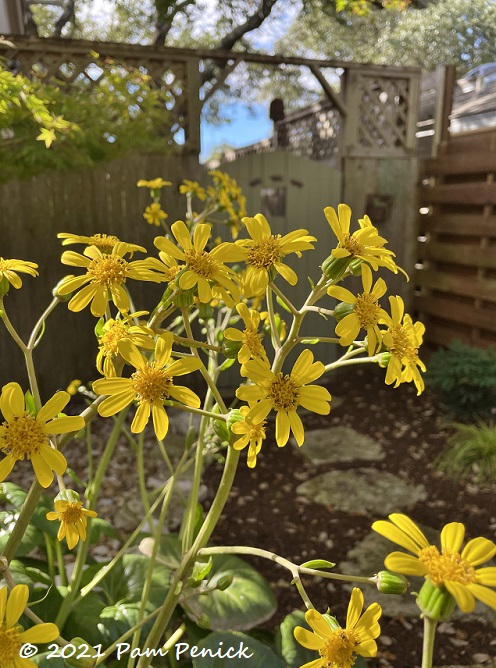 Back in the garden, here's a yellow that appeared only this week: the daisy-like flowers of giant leopard plant (Farfugium japonicum 'Gigantea').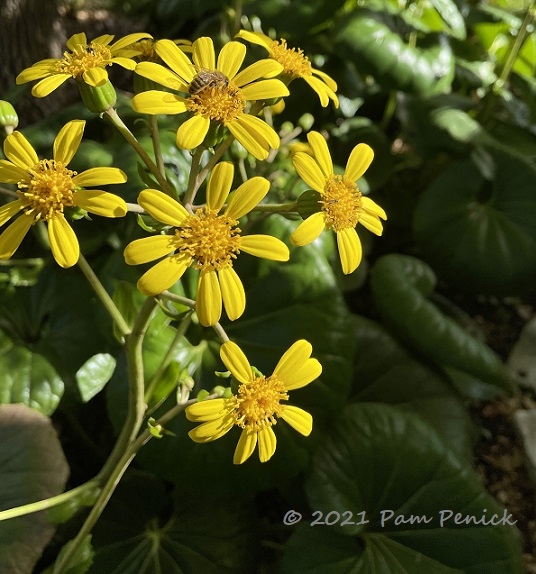 Bees comb them for pollen, buzzing from one flower to the next.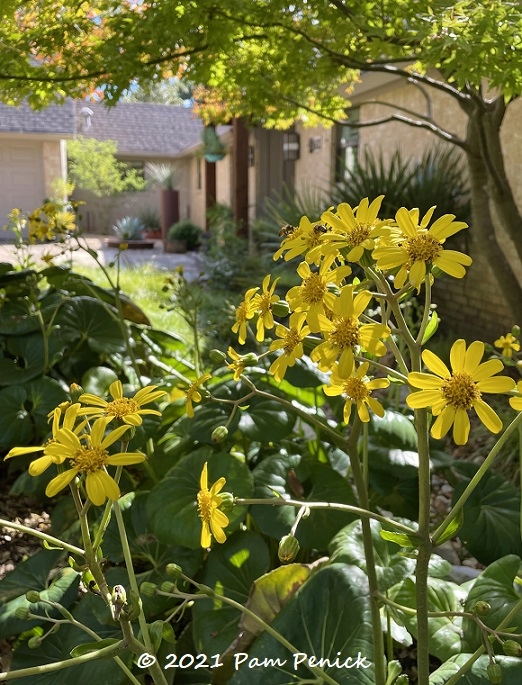 They grow under the Japanese maple on the north side of the house, which is just starting to turn red — right on time to coordinate with Christmas decorations going up on the street.
What are the colors of your fall garden?
I welcome your comments; please scroll to the end of this post to leave one. If you're reading this in a subscription email, click here to visit Digging and find the comment box at the end of each post.
_______________________
Digging Deeper: News and Upcoming Events
Need design help with your yard? Hire me as your personal garden coach! Maybe you need replacement plant ideas after the big freeze. Or maybe your landscaping has grown tired, and you want fresh curb appeal. Or perhaps you're ready to get rid of some lawn and create a pollinator garden, bird habitat, or hangout space for you and your friends. I'm here to help! Contact me to let me know what's going on, and let's figure it out together. My range is Austin and suburbs within a 25-min. drive of NW Austin, but I'm flexible and can travel farther with a surcharge, so let me know where you are. Weekday morning appts. only.
Join the mailing list for Garden Spark! Hungry to learn about garden design from the experts? I'm hosting a series of talks by inspiring garden designers, landscape architects, and authors a few times a year in Austin. Check out the 2021-22 schedule. These are limited-attendance events that sell out quickly, so join the Garden Spark email list to be notified in advance. Simply click this link and ask to be added.
All material © 2021 by Pam Penick for Digging. Unauthorized reproduction prohibited.
The post The yellow glow of late fall appeared first on Digging.
The yellow glow of late fall