The 'Zhenlouqi' Floor Shaker: The Chinese Noise Machine to Take Revenge on Your Noisy Upstairs Neighbors
How to deal with noisy upstairs neighbors? Some Chinese e-commerce sellers say they have found the solution for you: get back at them by making their floors vibrate! The zhènlóuqì is marketed as a 'magical tool', but in reality, it seems to only make problems worse.
It is called the zhènlóuqì (震楼器), the 'floor shaker', a device designed to get back at noisy upstairs neighbours. Over the past weeks, the zhènlóuqì has been popping up more frequently in stories on Chinese social media.
Due to various local Covid-related lockdowns across China over the past weeks, many people have again been spending a lot of time at home. For those living in residential apartments, neighbors making noise can be a real nuisance – especially if it is the upstairs neighbors who can leave you feeling powerless and annoyed with their heavy walking, stomping, pushing chairs, or loud music.
To put an end to the suffering of downstairs neighbors, there is the 'floor shaker' (also called 'vibration motor' 振动马达), an electrical device that can be attached to the ceiling and will drive your upstairs neighbors crazy by creating floor vibrations.
The device was first sold on Chinese e-commerce site Taobao in 2015 as a "magical object" to deal with noisy upstairs neighbors and has become more popular over the past few years with many different online stores selling them. Its original intended use is actually not to torment neighbors; electric vibration motors are used in many different industrial applications, including in product quality control and mining operations.
Together with a supporting pole, a small zhènlóuqì can be placed against the ceiling. Once it is turned on (remote control included) the floor above the ceiling will start to shake.
Unsurprisingly, various social media stories and videos prove that the zhènlóuqì is not really the magical device it claims to be, as it often only worsens the relations between neighbors.
One video posted on Weibo recently showed security footage from a residential building where one man angrily came to the door of his downstairs neighbor with a long knife, asking if they had installed a 'floor shaker.' The woman at the door then answered that there's always noise coming from his apartment, with him responding that all they hear every day is the vibrating of the floor shaker. The man's partner then suddenly appears out of nowhere and the altercation turns into a physical fight.
What are they fighting about? It's about a vibrating device that was installed by the lady downstairs to take revenge on her noisy upstairs neighbors. It can drive people crazy and the noise can make them dizzy (and apparently very agressive)… pic.twitter.com/1RRGzqPaKJ

— Manya Koetse (@manyapan) January 25, 2022
Another story is that of Mrs. Chen who moved into a new apartment in Hangzhou in 2020 together with her husband, little son and mother-in-law. Although the family was leading a normal life without making a lot of noise, the downstairs neighbor kept complaining about their stomping and the moving of furniture. Although they tried to be as quiet as they could, the downstairs neighbor eventually installed a floor shaker which would be turned on every night from 8 pm to midnight. Besides the fact that the family was bothered by the shaking floor, the noise also stressed them out and affected their sleep.
Although the use of the zhènlóuqì is not necessarily illegal in itself, it does create a noise problem and also might do damage to the structures of the buildings – enough reasons for neighbors to call the police when they think their downstairs neighbors have installed such a device.
This is probably also why zhènlóuqì has now been flagged as a 'sensitive word' on Taobao, although the device can still be bought under other names for approximately 168 yuan ($26). The device is often not advertised as 'taking revenge on neighbors,' but as an effective method to create a quiet home, picturing a sleeping baby or someone relaxing in bed while the zhènlóuqì is turned on.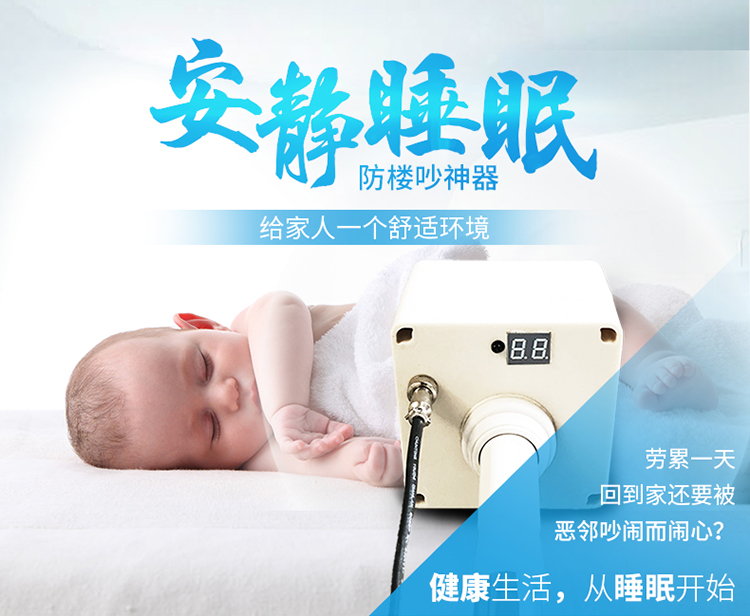 Some 'floor shaker' models even come with wifi and an app, so users can turn it on via their smartphone and annoy their neighbors – even when they're not home themselves.
Another 'magical object' that recently went viral on Chinese social media is an 'anti-square-dancing device' that helps local residents find some peace and quiet when dancing grannies take over their public squares with loud music.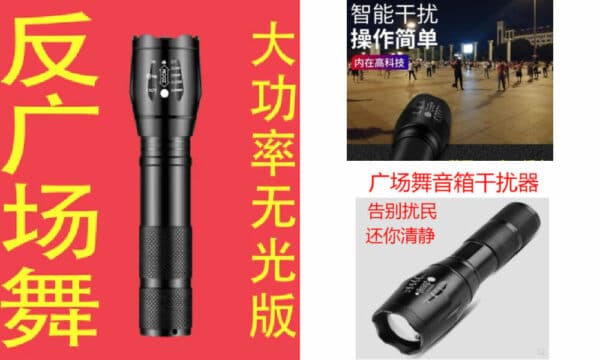 The device is a remote control that can stop any speaker at a distance of 50-80 meters, leading to much confusion among those dancing on the streets why their music keeps stopping.
Although installing a zhènlóuqì might lead to worsening relations between neighbors, there are many people on Weibo expressing the wish to buy one: "I am lying awake again because of the noise the upstairs lady is making, I really want to buy one!"
With the 'floor shaker' becoming more well-known, the threat of buying one hopefully should be enough to make a noisy upstairs neighbor calm down.
For those who feel installing such a device would definitely be too extreme, there is always the classic broom or even a special extendable soft hammer sold on Taobao – which is also much cheaper than the zhènlóuqì– to make your neighbors aware that they are being too loud.
By Manya Koetse
Spotted a mistake or want to add something? Please let us know in comments below or email us. First-time commenters, please be patient – we will have to manually approve your comment before it appears.
©2022 Whatsonweibo. All rights reserved. Do not reproduce our content without permission – you can contact us at info@whatsonweibo.com.
The post The 'Zhenlouqi' Floor Shaker: The Chinese Noise Machine to Take Revenge on Your Noisy Upstairs Neighbors appeared first on What's on Weibo.
The 'Zhenlouqi' Floor Shaker: The Chinese Noise Machine to Take Revenge on Your Noisy Upstairs Neighbors