Thursday Prospect Notes: 4/14/2022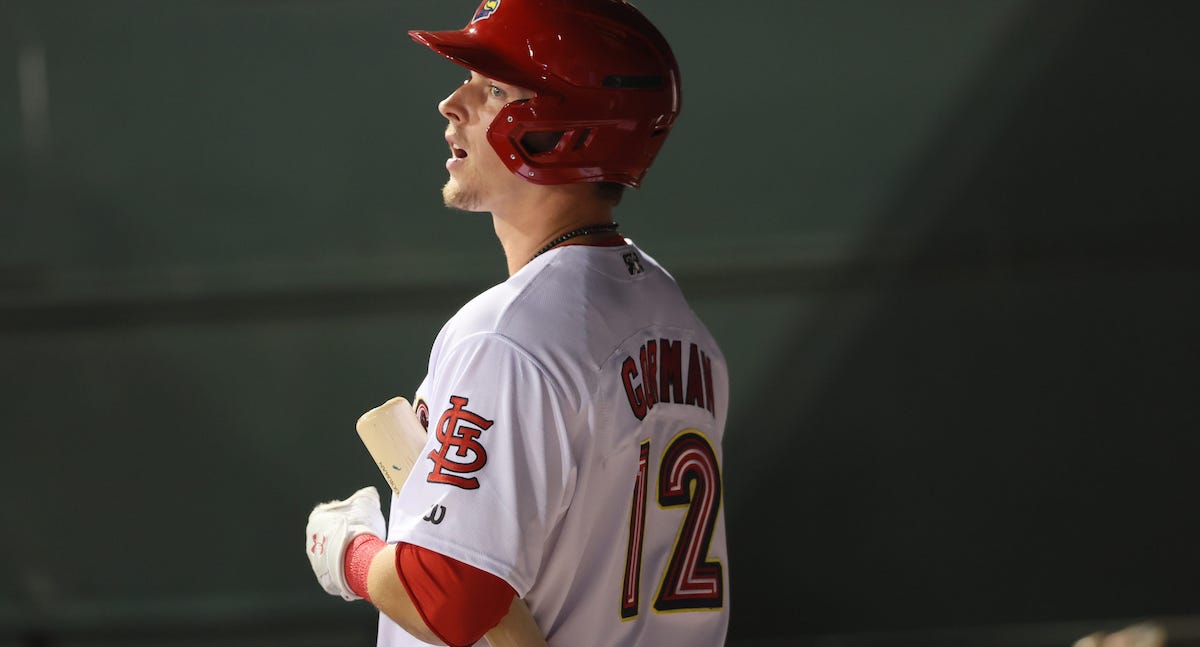 These are notes on prospects from Tess Taruskin. You can read previous installments of our prospect notes here.
George Kirby, SP, Seattle Mariners
Level & Affiliate: Double-A Arkansas Age: 24 Overall Rank: 29 FV: 55
Line: 5 IP, 2H, 0R, 0BB, 8K
Notes
Kirby's fastball sat 96-98 mph on Wednesday night, but more noteworthy was how little he threw it. He leaned much more heavily on his slider, curveball, and changeup, all of which flashed above average throughout the evening.
His increased use of those secondaries resulted in him throwing more balls than is typical of the control-specialist, but while that may have inflated his pitch count, he still kept it in check, and didn't issue any free passes. More often than not, Kirby hit his spots and he missed bats with every offering, retiring the last 12 batters he faced in order.
Nick Yorke, 2B, Boston Red Sox
Level & Affiliate: High-A Greenville Age: 20 Overall Rank: 30 FV: 55
Line: 5-for-6, 4 RBI
Notes
On Wednesday, Yorke recorded the first five-hit game of his burgeoning professional career, sending five singles into the outfield, and contributing to several rallies throughout the night, as Greenville went on to trounce Asheville 17-3. More impressive: he has yet to swing at a pitch outside the strike zone in 2022. The season is very young, of course, but then again, so is Yorke (he turned 20 earlier this month), and his maturity at the plate is worth spotlighting, even if it is only over 21 plate appearances.
Chad Dallas, SP, Toronto Blue Jays
Level & Affiliate: High-A Vancouver Age: 21 Org Rank: N/R FV: 35
Line: 5IP, 0H, 1BB, 8K
Notes
A standout for Tennessee in last year's College World Series, Dallas made his first professional start on Wednesday night, and wasted little time making his presence known. After walking the first batter he faced, he went on to shut down the next 15 straight, issuing eight strikeouts along the way. Video of his start wasn't available, but in a post-game interview, Dallas described an approach similar to the one he used in college: challenging batters with his fastball, which sat 91-94 mph as of last year, and complementing it with a high-80s slider with horizontal bite that he primarily uses against right-handed batters, as well as an 11-5, low-80s curveball that he employs against lefties. In college, he worked at a quick pace, throwing from a high three-quarter slot with a ton of arm speed and a compact, athletic delivery. He activates his lower body well, and maintains balance in his follow through, which hints at the possibility of creating more power behind his fastball as he develops. That could allow him to find a role as a back-of-the-rotation starter.
Nick Allen, SS, Oakland Athletics
Level & Affiliate: Triple-A Las Vegas Age: 23 Org Rank: 8 FV: 45
Line (Double Header): 2-for-6, 2 BB, K, SB
Notes
Allen pulled two modest stat lines out of Wednesday's action, but a single in each game of the Las Vegas Aviators' double-header against the Salt Lake Bees stretched his early-season hit streak to eight games, ranking among the hottest starts to the 2022 minor league season. Dialing back to last season, he's recorded a base knock in 18 of his last 19 games, and 10 of those were multi-hit showings, good for a .390/.415/.506 line over that span. His hitting against right-handed pitching has seemingly improved over his tiny 2022 sample: his hits against righties have come off his bat with a higher average exit velocity than those against lefties, topping out at over 104 mph.
He hit his first Triple-A home run last week off Dan Straily, but his swing and overall profile are still clearly geared for a contact/speed combo. Allen is the type of elite defender who continues to make the hard plays look easy, and the easy ones look boring, so his contact-driven approach is an appropriate one given that he's a lock at shortstop. That said, he still has trouble laying off pitches on the periphery of the strike zone, and a pinch more patience would serve him well. How he slots into the shortstop role for the A's depends on Elvis Andrus, but he's seen a good amount of time at second base in Triple-A, which could make for a natural transition to a broader utility role at the big-league level.
Nolan Gorman, 2B, St. Louis Cardinals
Level & Affiliate: Triple-A Memphis Age: 21 Overall Rank: 55 FV: 50
Line: 5-for-6, HR, K
Alec Burleson, OF, St. Louis Cardinals
Level & Affiliate: Triple-A Memphis Age: 23 Org Rank: TBD FV: 40
Line: 2-for-5, 2HR, BB, 2K, 6RBI
Juan Yepez, 1B, St. Louis Cardinals
Level & Affiliate: Triple-A Memphis Age: 24 Org Rank: TBD FV: 40
Line: 2-for-5, 2HR, BB, 6RBI
Notes
Given the group effort they put forth in a truly wild game in Charlotte last night, it seems only appropriate to write up the heart of the Memphis order all together. Gorman started what would turn into an 11-inning, 18-14 slug fest with a solo shot in the first; his remaining four hits were all singles to his pull side. His pitch selection was a little shaky, offering at balls out of his reach on a few occasions, including in his lone strikeout of the evening, but his ability to make contact was still a promising sign for his 2022 campaign.
While Gorman was collecting singles, Burleson and Yepez were launching long balls. Their four combined home runs were all three-run shots. Yepez's contributions were both no-doubters; they looked like ping-pong balls jumping off the bat at launch angles that made absolutely no sense, reminding us just how hard he hits the ball. Yepez has clearly still got the pull-side pop that has garnered attention in the past, though he and Gorman are in a similar position in terms of the Cardinals having nowhere to put them, with first and third base occupied by Nolan Arenado and Paul Goldschmidt for the foreseeable future. Gorman seems to be shifting towards developing as a second baseman, but Yepez's options are a good deal more limited, given that the Cardinals don't have an obvious place to put him in the outfield corners, either. The introduction of the universal DH will likely play a big role in defining his future.
In contrast to Yepez's dead-pull moonshots, Burleson's first home run was to dead center field and his game-winner in the top of the 11th was an opposite field drive, just over the top of the left field fence. Burleson was a two-way player before being drafted; at the time, he would typically produce power to his pull-side. If his demonstrated ability to produce power to all fields is sustainable, it could mean an improved overall profile as he continues to focus his development on his hitting.
Thursday Prospect Notes: 4/14/2022