Toronto's Trent Thornton and Minnesota's Josh Winder Have Distinctly Different Sliders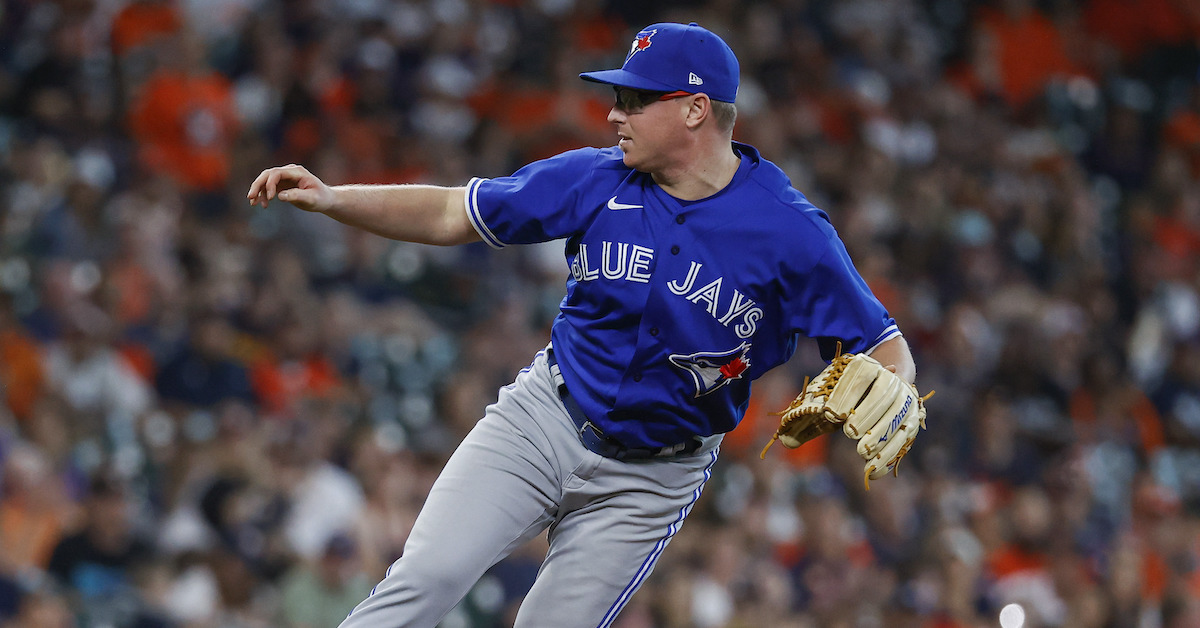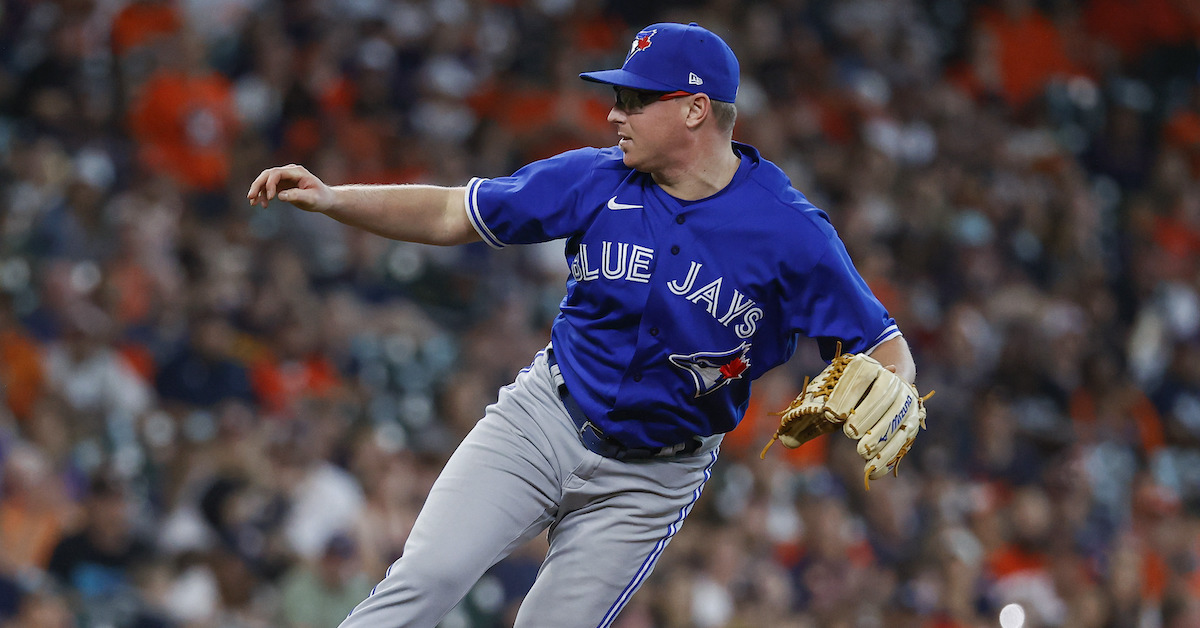 The Learning and Developing a Pitch series is back for another season, and once again, we're hearing from pitchers on a notable weapon in their arsenal. Today's installment features a pair of right-handers — Toronto's Trent Thornton and Minnesota's Josh Winder — on their distinctly different sliders.
———
Trent Thornton, Toronto Blues Jays
"Last year, I struggled with putting away righties. My slider wasn't playing very well. I feel like curveballs are normally better to lefties anyways, so I started tinkering with a new slider grip that [Blue Jays pitching strategist] David Howell showed me. I started throwing that halfway through spring training, saw some pretty promising results, and took it straight into this season. I feel pretty confident with that pitch, being able to throw it in the zone, or out of the zone.
"It's kind of an interesting grip for a slider. Normally, when guys are throwing a slider they want to think fastball as long as possible and kind of get that short, late action. But with this one, I'm almost thinking, 'Completely on the side of the ball.' In my mind, I'm trying to up-shoot it almost. I want to go straight across. It's weird, because when I throw it, my wrist is literally like this; it's kind of sideways. Basically, I'm thinking about bringing the back of my hands straight at the hitter.
"[The middle finger] isn't really doing anything. It's just kind of there. Most of the pressure on the ball is with the pointer finger. I'm thinking pressure there, and pulling down. Where the bat is [on the logo on the baseball] — that label — is where my finger is. The spin… so, if you throw a slider normally, you'll see a little dot. But with this, the dot is on top. The hitter never sees the dot. That helps it play off my fastball a little bit better.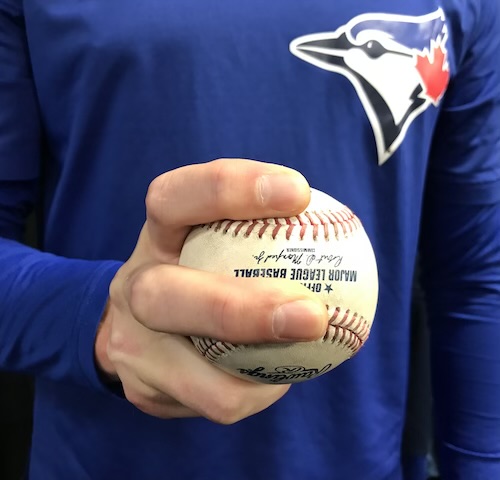 Trent Thornton's slider grip.
"The spin I'm getting is close to 3,000 [rpm]. I've just always naturally been able to spin the ball. My curveball will be anywhere from 3,000 to 3,300. I don't know if it's the flexibility in my wrist, or what it is. But when I'm throwing my curveball, it's both fingers. I'm also pulling down a lot harder. The movement profile with the curveball is between 12-6 and 1-7, whereas the slider — when I'm throwing it good — I'm getting between 15 and 21 [inches] horizontal. On average, let's say I'm getting around 17, and only two vertical. Basically, it's a sweeper.
"So, learning it… [David Howell] and I were playing catch, I was throwing it, and he was like, 'Man, let's take this to the lab.' So in spring training we took it to the lab. I threw a side with that slider, and was getting as much 25 inches horizontal. He was like, 'You've got to start throwing this a ton.' I took that and rolled with it."
———
Josh Winder, Minnesota Twins
"I started learning a slider my sophomore year of college. My pitching coach, Travis Beazley — he pitched in the Red Sox organization — thought I should add a cutter to my repertoire. I'd been just a fastball/curveball/changeup guy my freshman year. Between my freshman and sophomore years, I played summer ball in the Coastal Plains League and picked up a grip — a little cutter grip — from one of the guys on the team. I kept throwing it throughout the summer and fall, doing a lot of tinkering along the way, and never really got a good feel for it.
"The opening game of my sophomore year, I started. For some reason, the first one I threw was really good. Basically, I figured out a cue, on the fly, on the mound. I just had to stay closed for a really long time and finish the pitch. It kind of clicked, and has been my baby ever since.
"Almost feeling like I'm cross-firing across my body is how I developed it — how I felt the release, and the finish, and got the movement. It was more of a cutter back then. It was a little bit harder, closer to my fastball. As I've thrown it more — as I've developed in pro ball — it's become more of a true slider. I've gotten some good velo separation and depth off of my fastball.
"I've never been a big finger pressure guy. For me, it's always been more body cues — kind of lower half — and then just kind of grip-it-and-forget-it. I do try to throw the back of it. That's to stay behind it more, to get that finish and make it harder, and not as loopy. I guess that's the one kind of grip cue I have.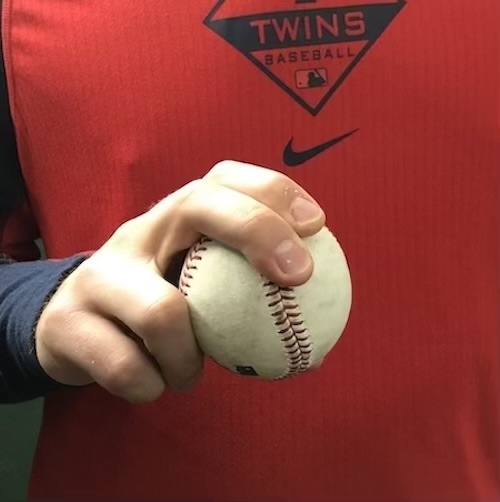 Josh Winder's slider grip.
"The movement profile is right at zero-zero, kind of bullet spin. I can ride the fastball pretty good, so while it doesn't look that impressive on paper, it's been a good pitch. I think it looks like a fastball really close to the plate. I get a lot of swings, and uncomfortable takes on it.
"Probably the biggest learning curve in pro ball has been learning how, and where, to throw it to get a swing and miss. Throughout 2019, when I was in Low-A, that was a big focus for me — punching out hitters with the slider. I had to develop this little box where I need to throw it in, where it's high enough to get a swing, but low enough to make them not hit it. Because it's not this huge, sharp breaking pitch, it's kind of finicky where I can get that swing and miss. It took a lot of work to figure out where the swing and miss was."
Toronto's Trent Thornton and Minnesota's Josh Winder Have Distinctly Different Sliders