Trolls, grasses, and a storybook children's garden at Coastal Maine Botanical Gardens
November 03, 2021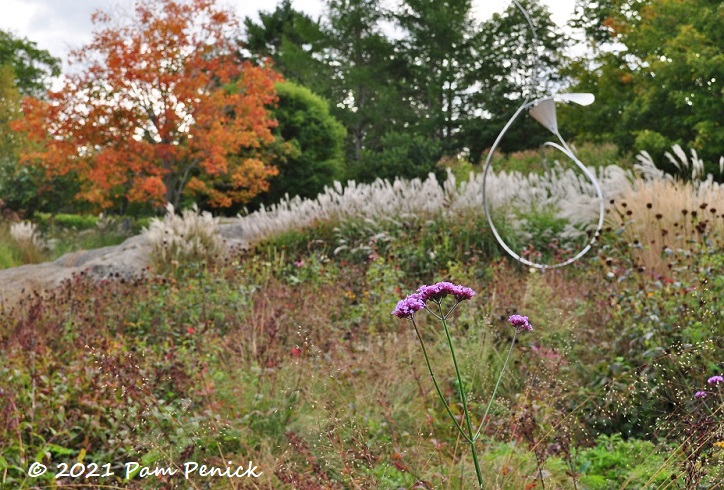 We traveled north in early October to enjoy fall foliage in New Hampshire, stopping first in Maine for a couple of days. A garden on my must-see list: Coastal Maine Botanical Gardens, a 300-acre public garden in Boothbay. Here's part 2 of my visit; click here for part 1 to read it first.
Great lawn and grasses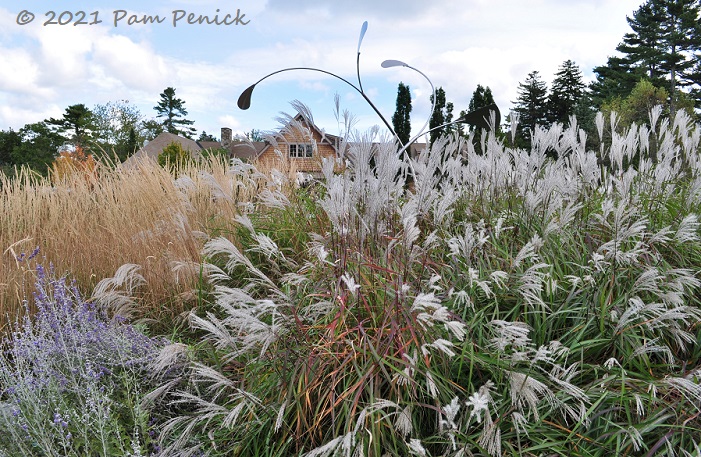 Hugging one long side of the garden's great lawn, near the market where we ate lunch, a mosaic of ornamental grasses shimmied in the breeze, swaying and bending tasseled stems toward us.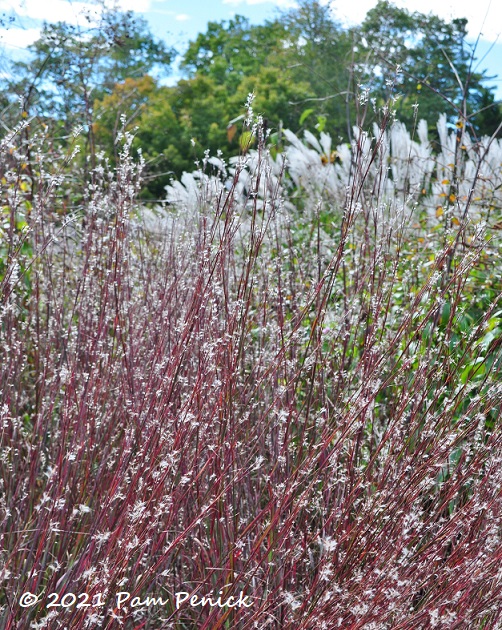 Little bluestem looked especially pretty with light shining through its rosy stems with cottony white tufts.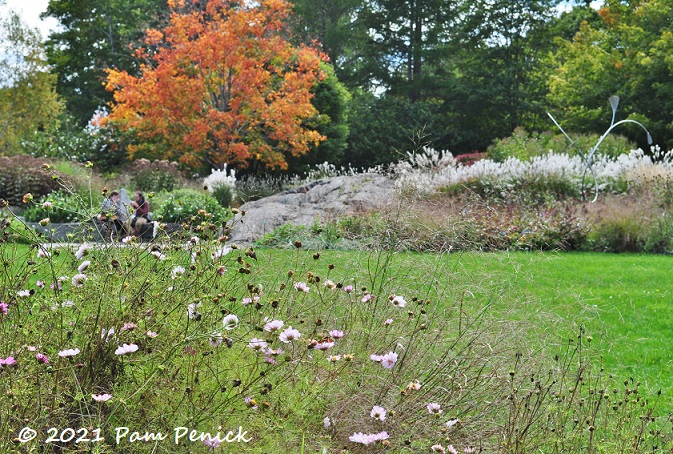 A couple on a bench, deep in conversation, added a human note to this autumnal composition.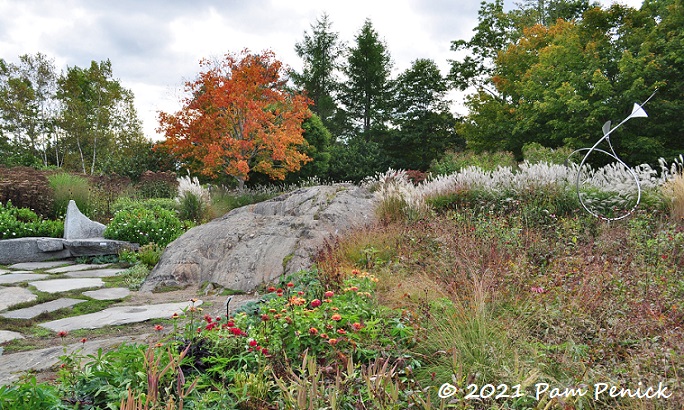 A dome of exposed rock grounds all the billowy grasses and reminds me of the rocky Maine coast. In the background, a maple going orange picks up the hues of grasses and flowers.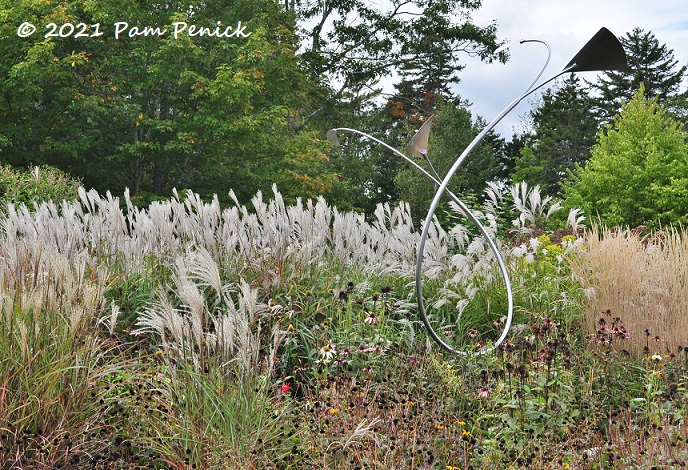 A swoop of silver turning in the breeze — Wind Orchid, a kinetic sculpture by George Sherwood — makes a graceful focal point amid the white inflorescences of miscanthus grass.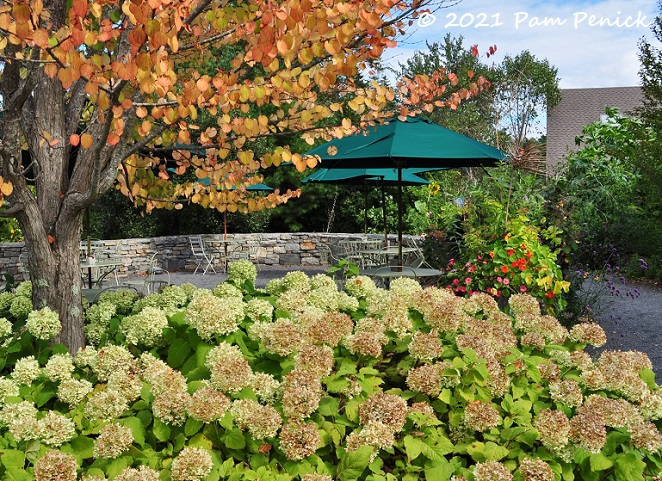 For lunch we grabbed to-go sandwiches from the garden's kitchen market and took them outside to eat on the patio.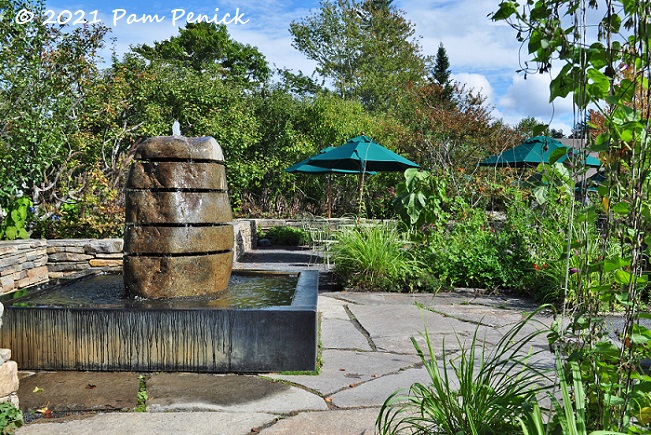 A segmented stone fountain — Sentinel Island II by Gary Haven Smith — splashed nearby. We had the patio to ourselves, as the morning was chilly.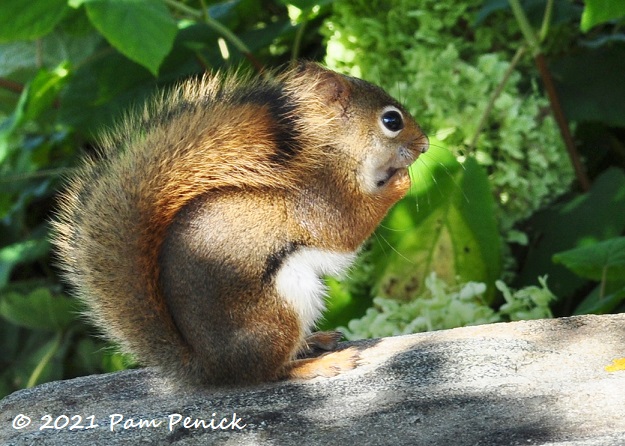 Well, almost to ourselves. This bushy-tailed squirrel found a few nibbles on the ground and enjoyed her own lunch nearby.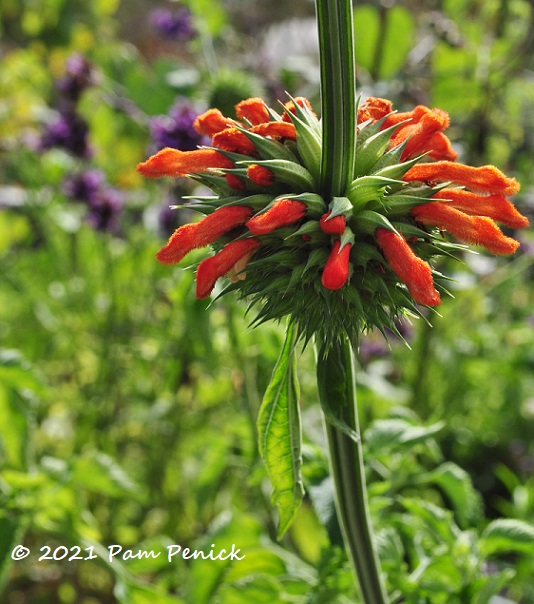 Lion's tail flowering in the patio garden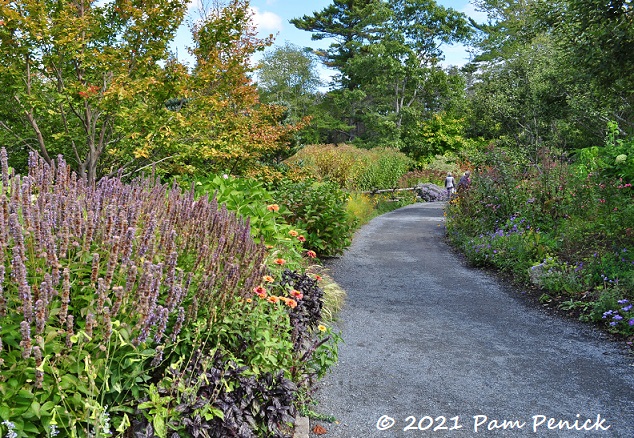 After a quick lunch, we were off. There was still so much to see.
Children's garden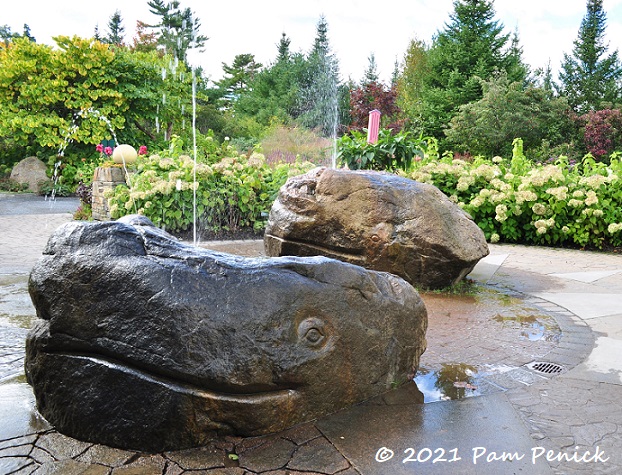 The children's garden at CMBG is one of the best I've seen, with a variety of play spaces, colorful flower gardens, a pond, a maze lawn, an edible garden, and several themed gardens based on children's books penned by Maine authors. First you encounter this playful fountain, with water jets shooting up from two friendly leviathan heads carved from stone — Whales by Carole Hanson, probably inspired by the storybook Down to the Sea with Mr. Magee.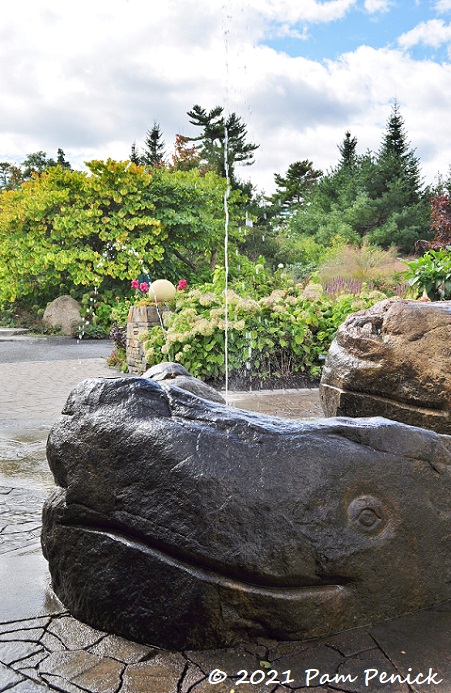 I'm sure kids love splashing around with the whales on summer days.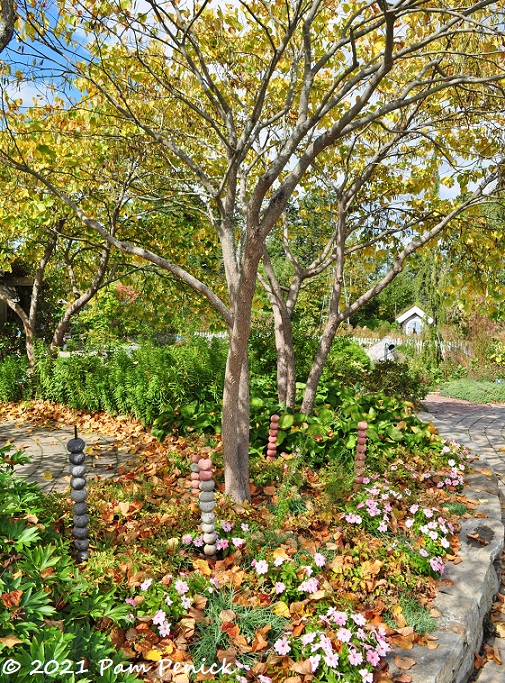 It was looking more like fall along this path into the garden, where orange and yellow leaves carpeted the ground. Towers of pumpkinesque spheres stood like miniature totem poles.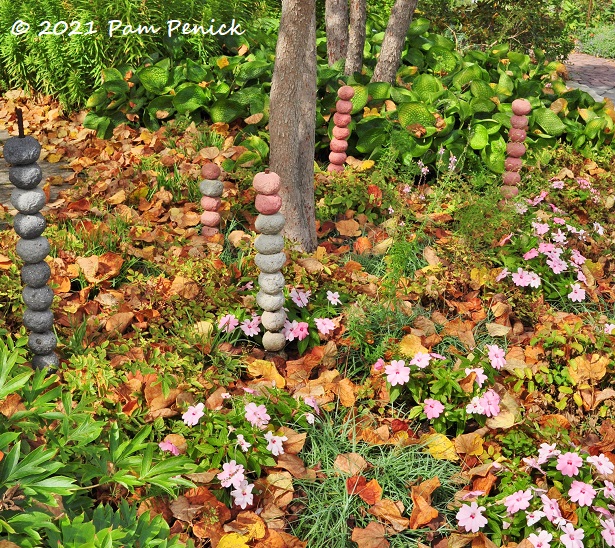 I've seen something very similar in the Long Beach, CA, garden of designer and ceramist Dustin Gimbel.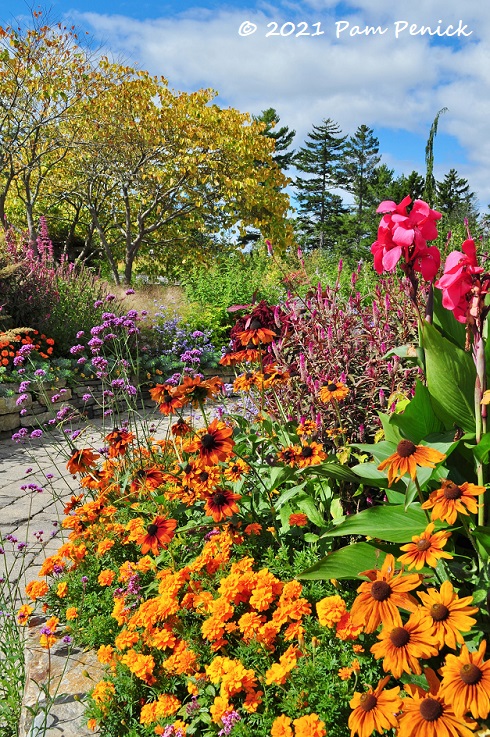 After a gray morning, the clouds rolled back, unveiling blue skies and illuminating golden leaves and colorful flowers.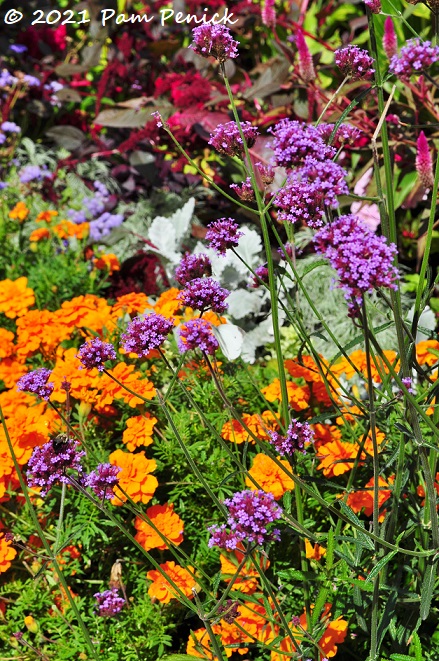 Exuberant flowerbeds make for a cheery welcome into the children's garden.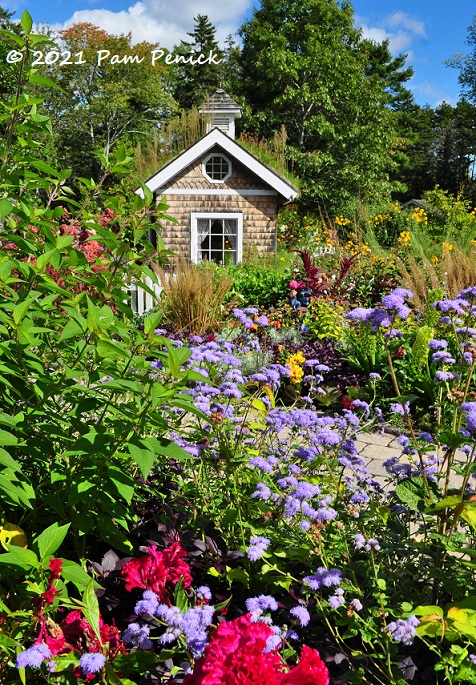 Playhouses appear amid the flowers, some with green roofs adding to the fairy-tale vibe.
Play cottages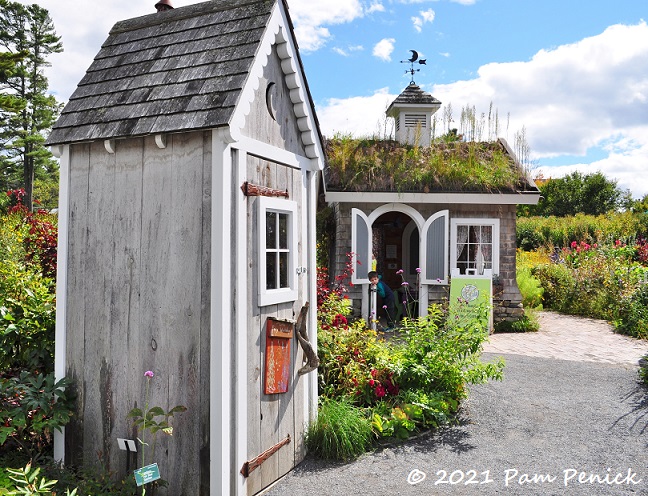 The playhouses are charming, and kids were running in and out of them.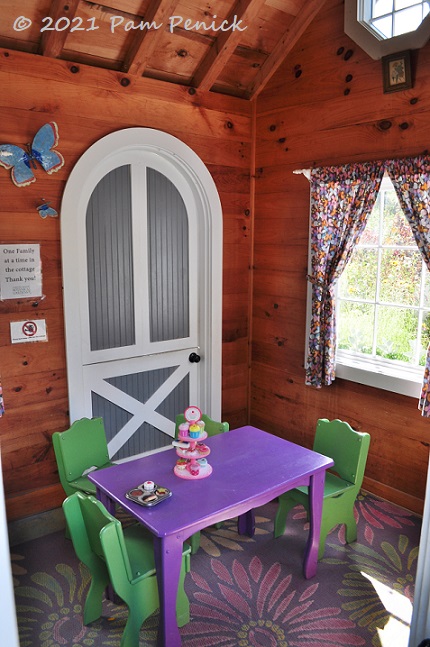 They're well furnished.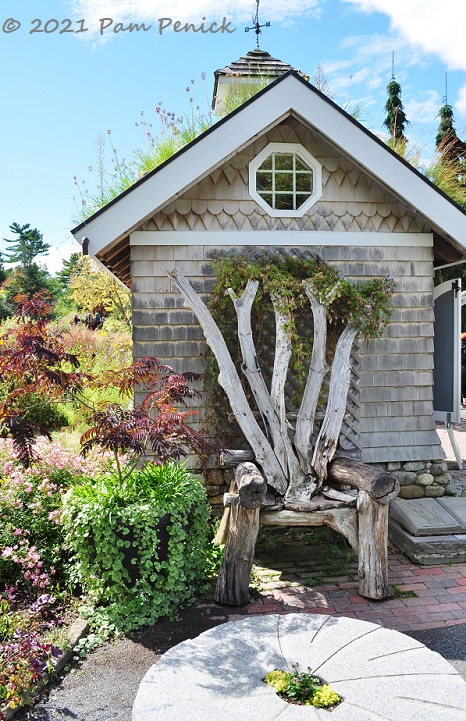 Behind one, a throne chair of bleached tree limbs overlooks a grid of planted millstones.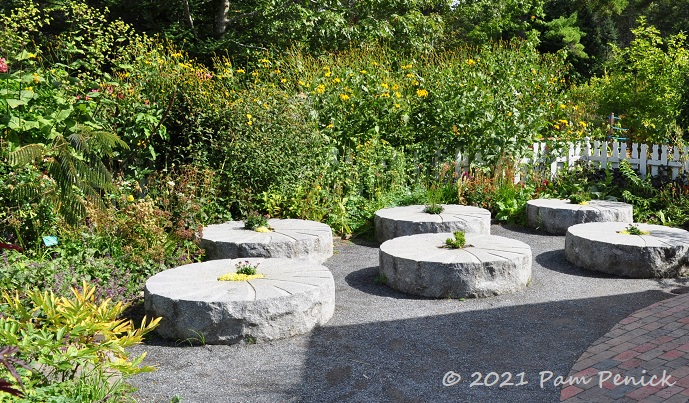 Anything can make a planter!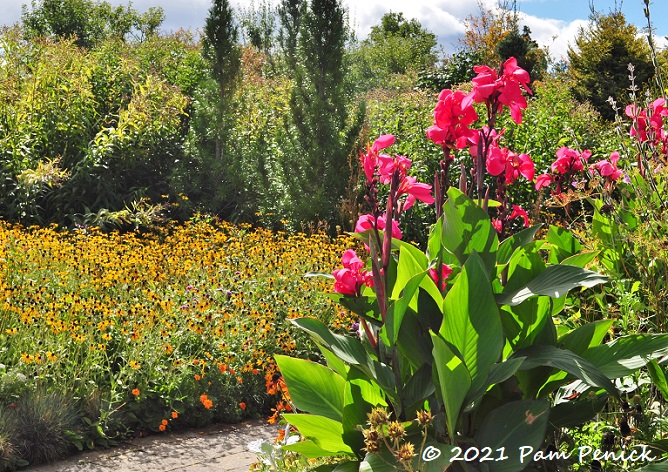 Cannas and black-eyed Susans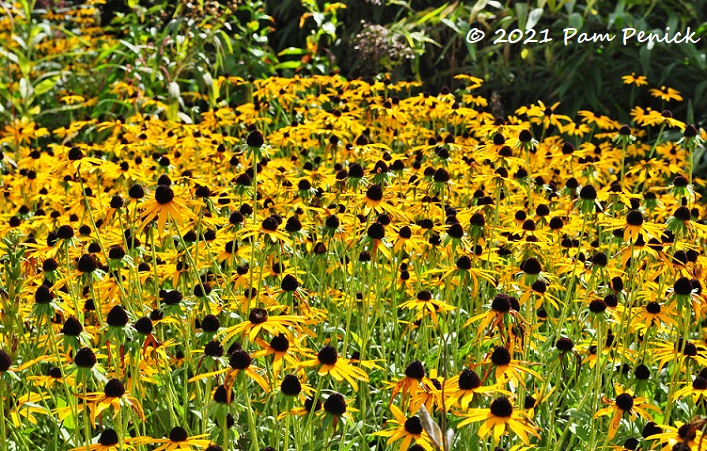 And more black-eyed Susans!
Pond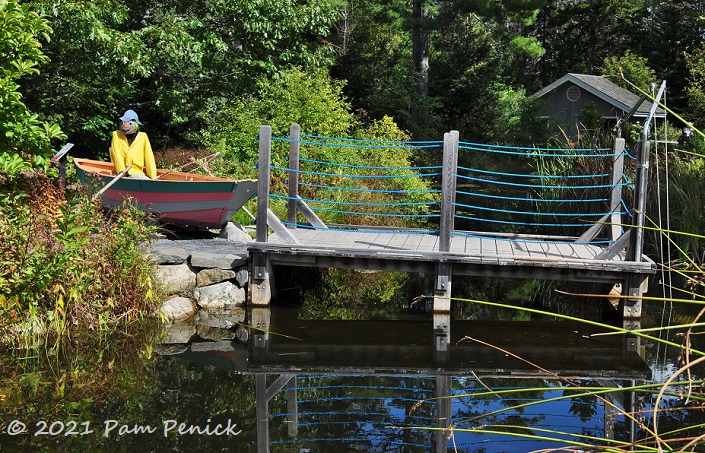 At a pond, a burlap-headed mannequin in a striped rowboat looks ready to strike out to sea. Burt Dow, Deep-Water Man is the inspiration storybook for this scene.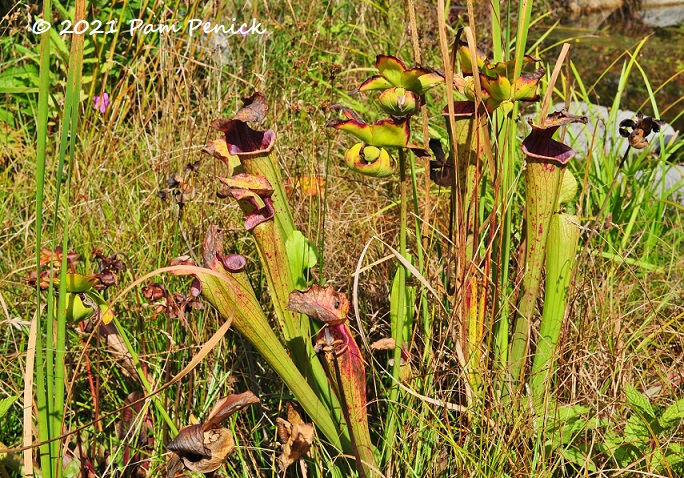 Carnivorous pitcher plants by the pond look like singers in a chorus. Feeeeeed meeeee…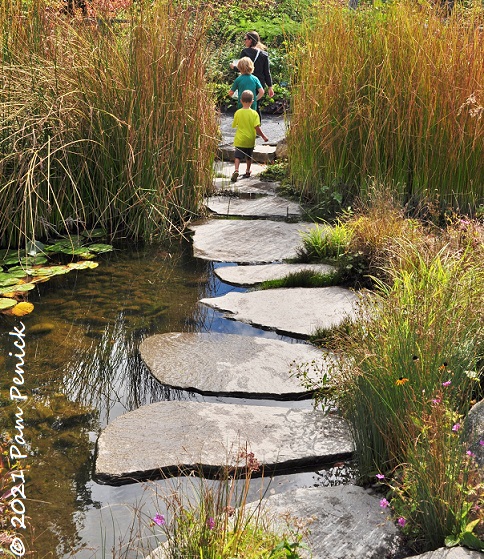 Large stepping stones seem to float across the pond.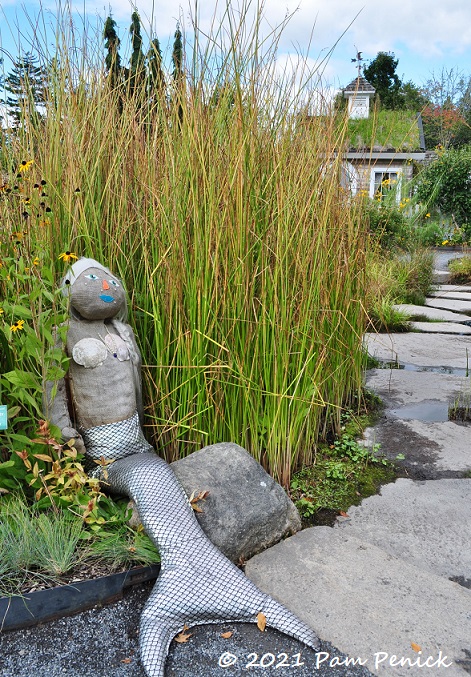 Oh hello, it's a mermaid. Is she from a children's book too, I wonder?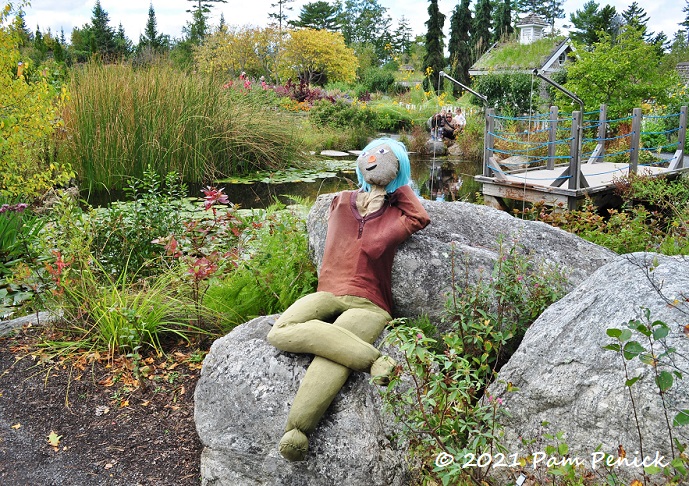 A blue-haired mannequin relaxes nearby.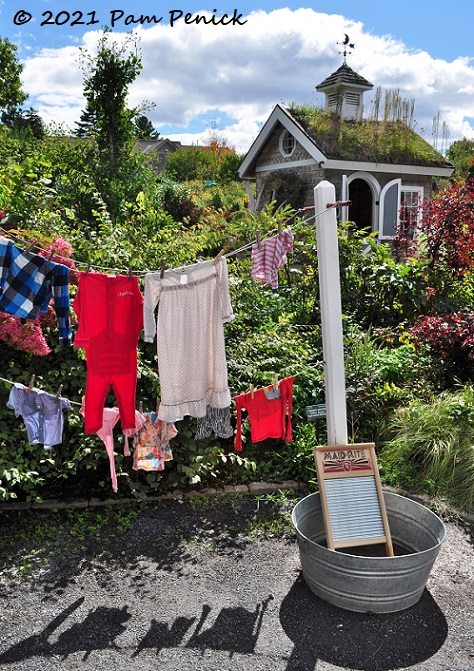 By the playhouses, a clothesline and washing tub allude to another Maine-based children's book, Rosebud and Red Flannel. Rosebud is the flower-sprigged nightgown, and Red Flannel is the pair of long johns who loves her, or so the story goes.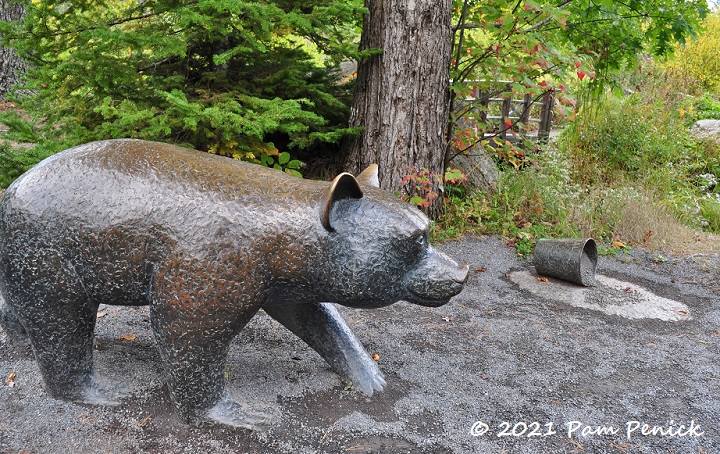 I bet anyone who's ever read children's books would recognize this bronze bear — Sal's Bear by Nancy Schon — and bucket of spilled blueberries as being inspired by the classic Blueberries for Sal.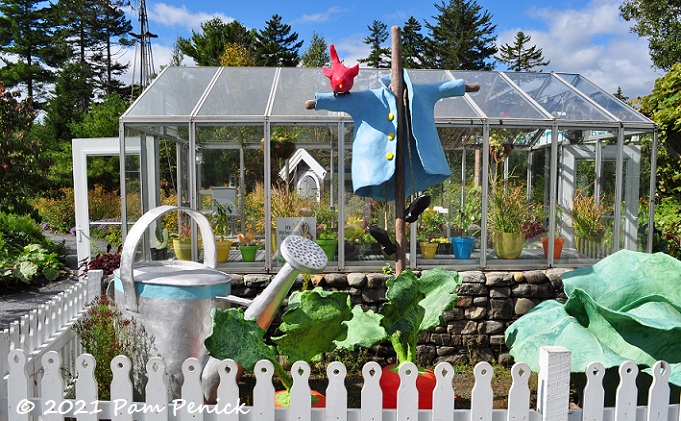 While Beatrix Potter is from England, not Maine, her beloved book about Peter Rabbit is represented here too, with Peter's blue jacket with brass buttons and Mr. McGregor's vegetable patch showing up alongside a working greenhouse.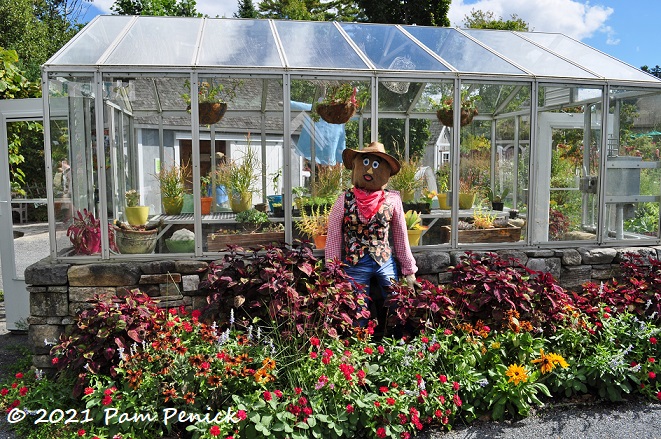 A country-and-western version of Mr. McGregor?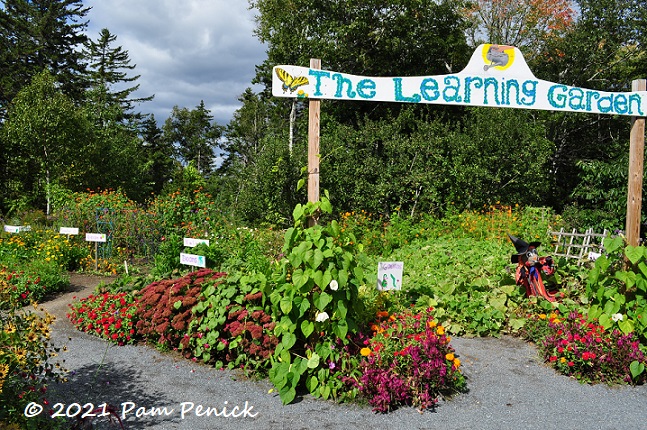 Edibles and flowering annuals in the learning garden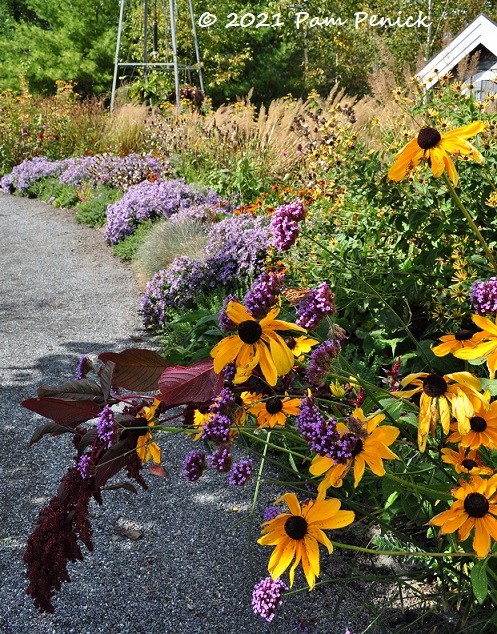 Black-eyed Susans, verbena, and asters brighten a garden path.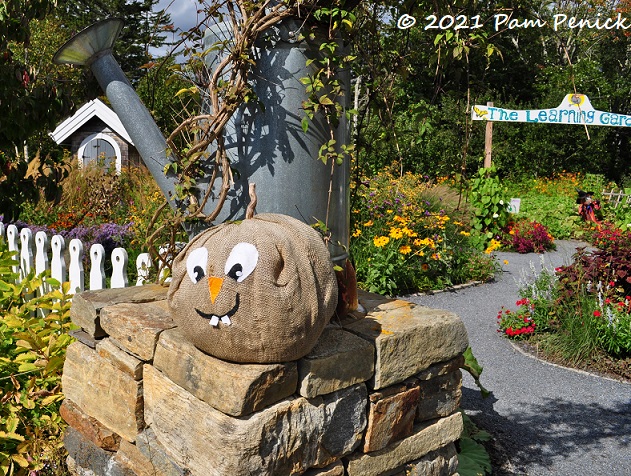 A burlap jack-o'-lantern makes a goofy seasonal decoration.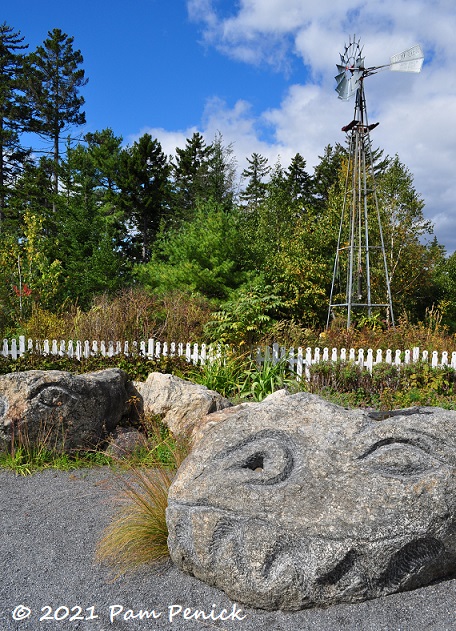 Two massive, carved-stone dragon heads — Stonewall Dragon by Carole Hanson, inspired by storybook The Stone Wall Dragon — stared us down as we explored.
Maze lawn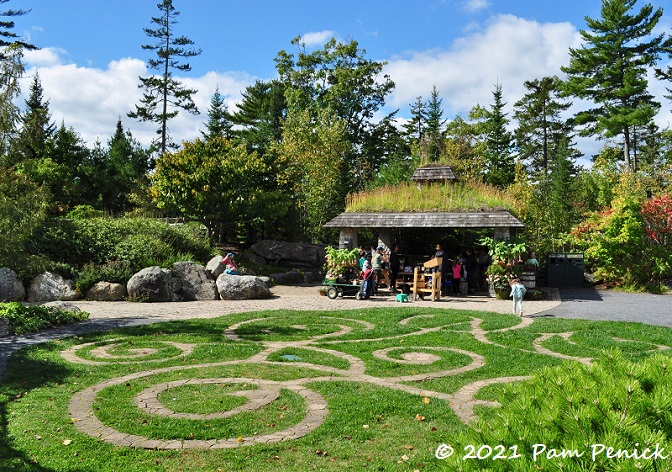 Next to a green-roofed structure where a children's event had just ended, I admired a curlicued maze path in a lawn.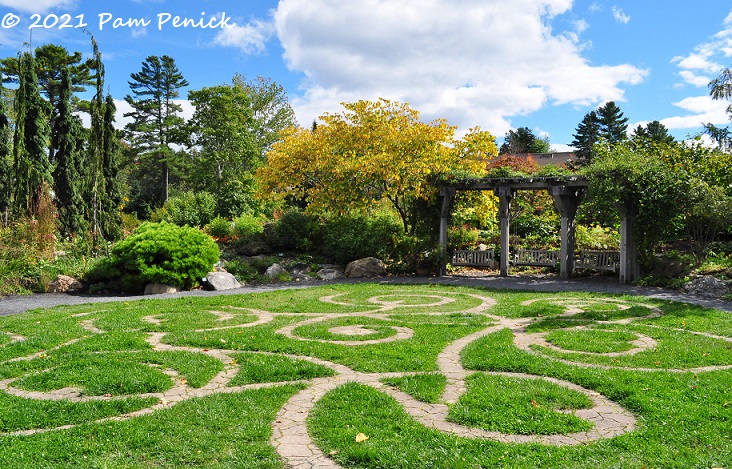 Opposite, a vine-shaded arbor supports three bench swings.
Meditation garden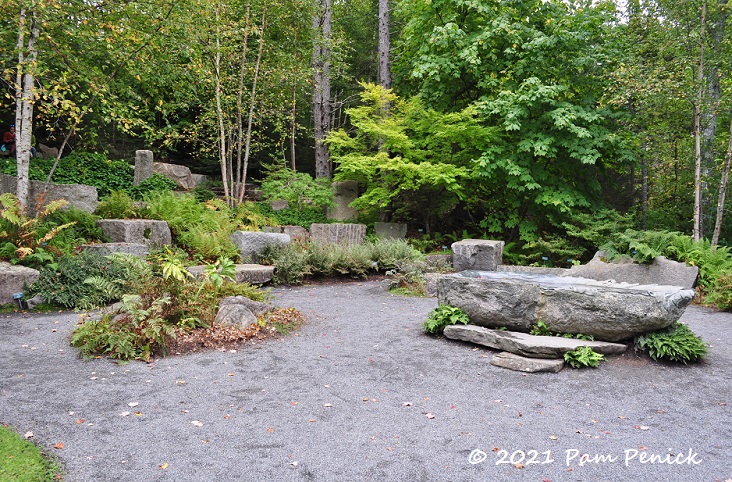 Having seen the main gardens, we explored woodland trails, looking for trolls. But first let me show you the hillside Vayo Meditation Garden, which overlooks the tranquil Back River.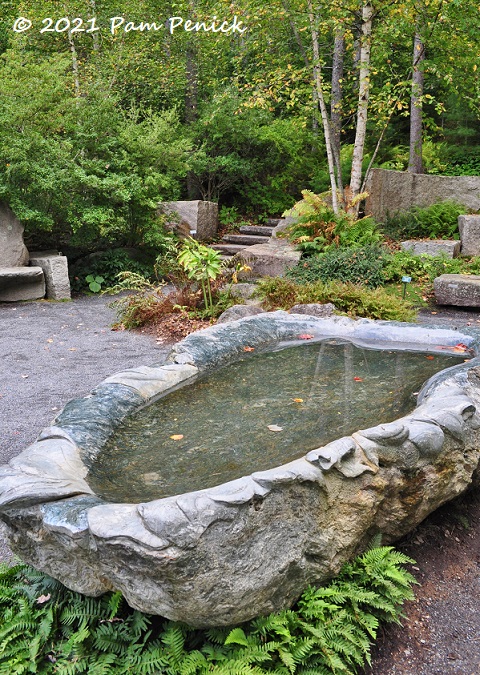 From several stone benches along the hill, a carved-stone water trough — Basin by David Holmes — leads the eye out to the river.
Guardians of the Seeds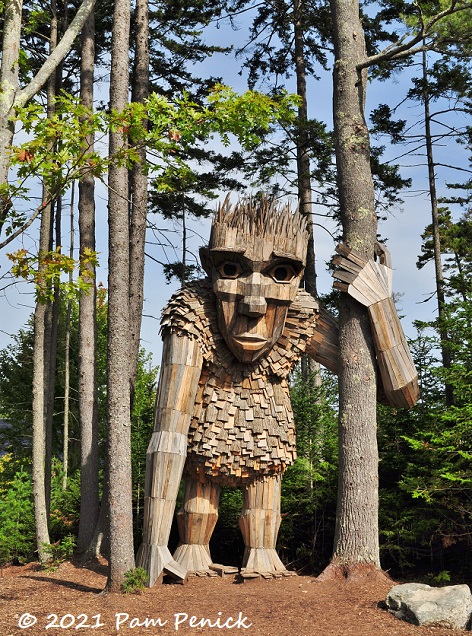 But maybe you're here for the trolls. Lots of visitors were! We were happy to hunt for them too along the woodland paths. First, as you'll remember from my previous post, we found Roskva near the garden entrance. Roskva is one of five Guardians of the Seeds at CMBG created by Danish artist Thomas Dambo. He's made other trolls for locations around the world, including in China, Australia, Belgium, Puerto Rico, Mexico, and South Korea.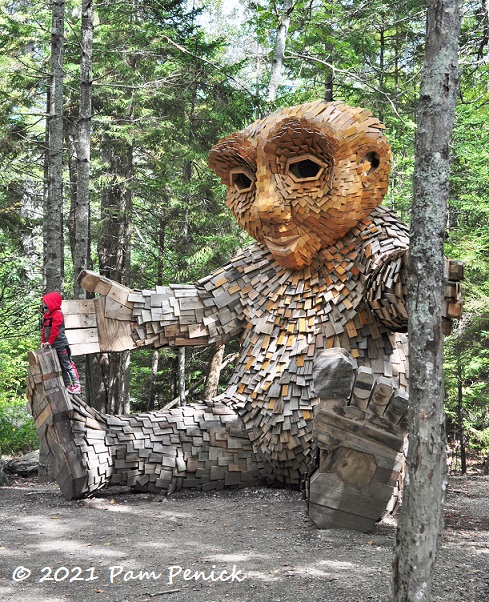 Constructed of salvaged and recycled wood plus on-site materials like roots of downed trees, the trolls will last for years but not indefinitely. Each troll represents a particular part of a tree, with hints provided on informational signs. For example, Roskva "stands for the trunks." Lilja, above, "holds the scent of the flowers."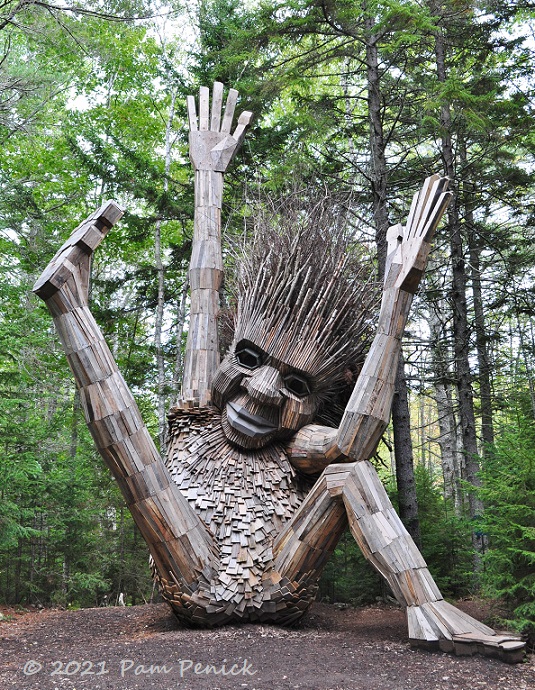 By putting together all the clues about each troll and filling out a worksheet about them, you can solve the riddle of where the trolls have hidden the tree seeds in the garden. We had fun finding all the trolls, and we figured out where the seeds are but ran out of time to go see them.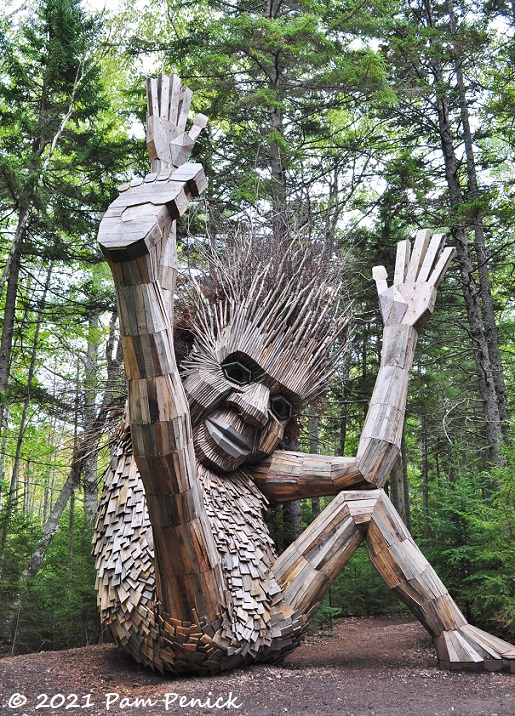 Søren might have been my favorite. That pose!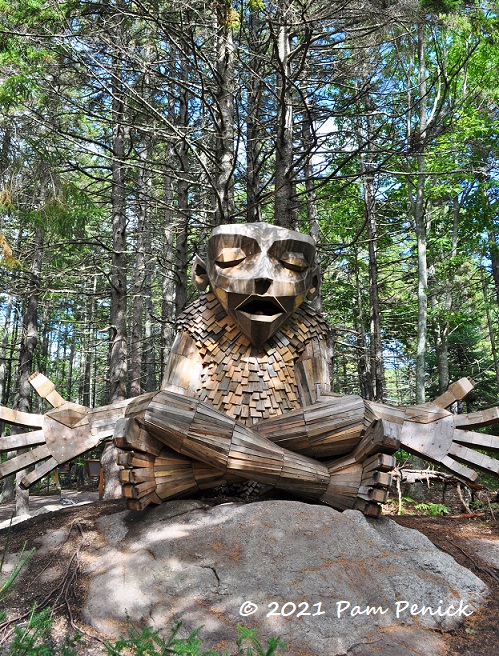 Gro, the leaf troll, meditates atop a rock outcropping.
All of the trolls are large, but Birk, the root troll, looks monumental even though he's sitting down.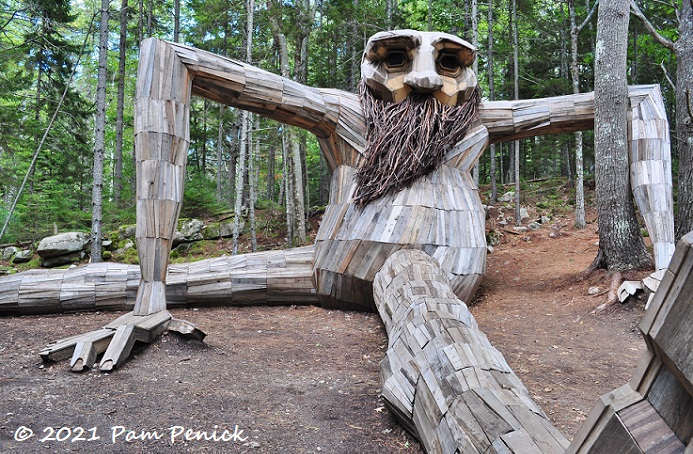 His long legs stretch out toward you, and his crab-like arms look ready to reach out and grab you. Good thing these trolls are peaceful.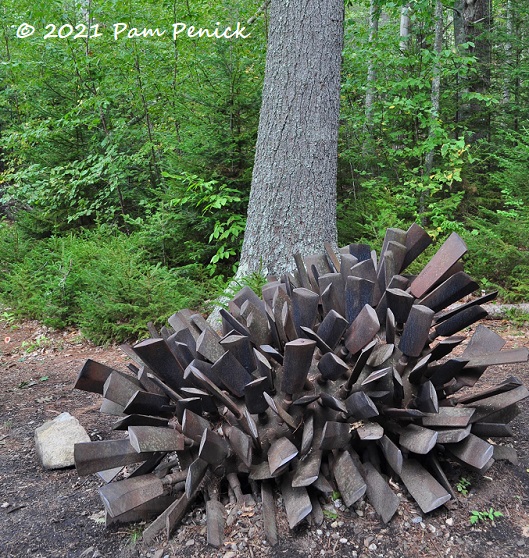 Although we missed seeing the hidden seeds, when we happened upon Pine Cone, a sculpture by Steve Tobin, I figured it was a good-enough stand-in. And it was a fitting way to end our visit.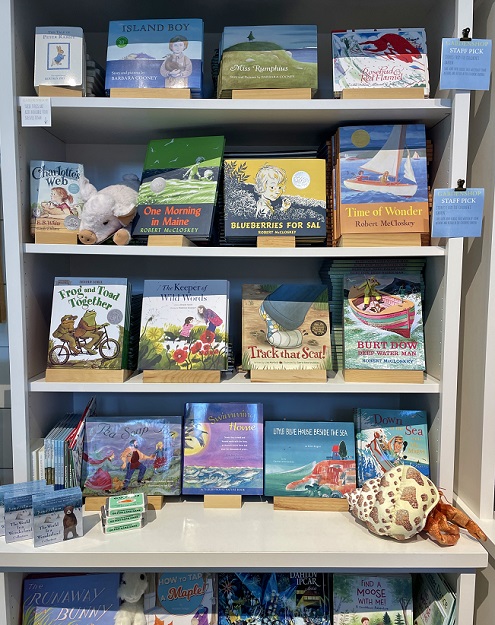 We checked out the gift shop on our way out and spotted a collection of storybooks by Maine authors, many of which are represented in the children's garden. How fun it would be to visit the garden with a child and read these books to them afterward. I recommend one addition, a favorite of ours when the kids were young and which reminded us of going to visit their grandparents, who liked to summer in Round Pond. It's called Counting Our Way to Maine by Maggie Smith. Check it out if you have little ones to read to, and especially if you love Maine.
Up next: Leaf peeping in the White Mountains of New Hampshire. For a look back at part 1 of my visit to Coastal Maine Botanical Gardens, including dahlias, mangaves, and a sensory garden, click here.
I welcome your comments; please scroll to the end of this post to leave one. If you're reading this in a subscription email, click here to visit Digging and find the comment box at the end of each post.
_______________________
Digging Deeper: News and Upcoming Events
Need design help with your yard? Hire me as your personal garden coach! Maybe you need replacement plant ideas after the big freeze. Or maybe your landscaping has grown tired, and you want fresh curb appeal. Or perhaps you're ready to get rid of some lawn and create a pollinator garden, bird habitat, or hangout space for you and your friends. I'm here to help! Contact me to let me know what's going on, and let's figure it out together. My range is Austin and suburbs within a 25-min. drive of NW Austin, but I'm flexible and can travel farther with a surcharge, so let me know where you are. Weekday morning appts. only.
Join the mailing list for Garden Spark! Hungry to learn about garden design from the experts? I'm hosting a series of talks by inspiring garden designers, landscape architects, and authors a few times a year in Austin. Check out the 2021-22 schedule. These are limited-attendance events that sell out quickly, so join the Garden Spark email list to be notified in advance. Simply click this link and ask to be added.
All material © 2021 by Pam Penick for Digging. Unauthorized reproduction prohibited.
The post Trolls, grasses, and a storybook children's garden at Coastal Maine Botanical Gardens appeared first on Digging.
Trolls, grasses, and a storybook children's garden at Coastal Maine Botanical Gardens