Simple Spice Cabinet Organization
The home projects that usually get done around here are ones that you can see when you walk in (like our kitchen hardware cabinet refresh). But, for years I have been wanting to tackle organizing my spice cabinet. However, because it's one of those areas no one ever sees (hello master closet!), it just has never been a priority for me. Leave it to month five of maternity leave to finally get to the top of my list. And so, project "spice cabinet organization" finally happened!
I'm sharing the simple spice cabinet organization project that I did in my kitchen–it might not be the fanciest but it works perfectly for me! And bonus–it only took about an hour!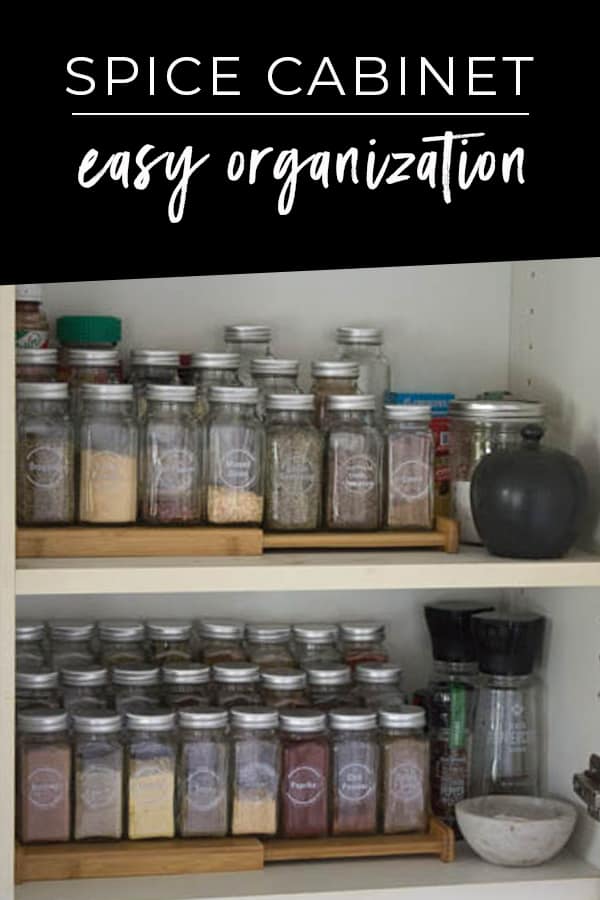 That's clearly the "after" photo so scroll to see the "before." Basically our spice cabinet was a hot mess. Tell me yours is too so I will feel a little better ;).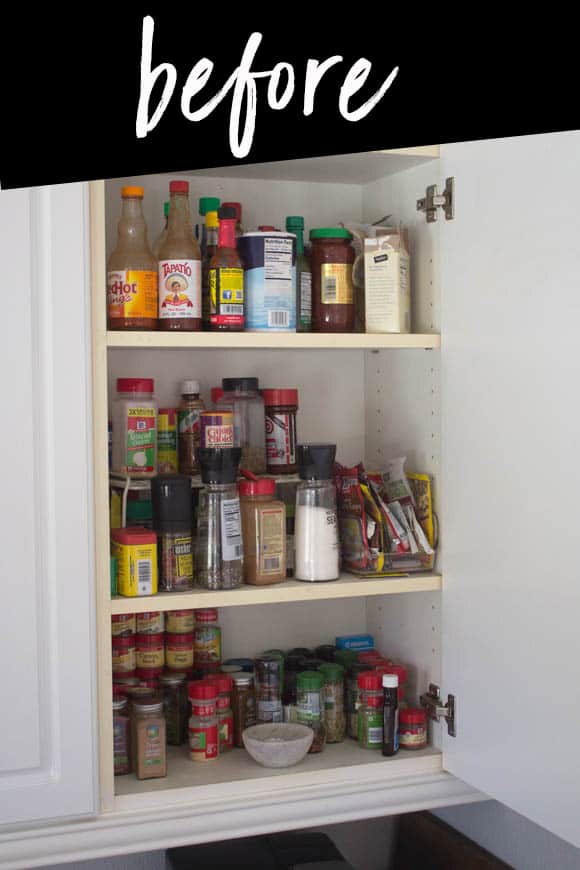 Here are a few reasons you might want to organize your spice cabinet:
You can't find anything in the mess of different sized bottles and find yourself frustrated when you're looking for something you just KNOW you have.
You keep buying duplicates of spices a recipe calls for because you don't know if you already have it or not.
You're suspicious many of your spices are likely expired
You just like things to look neat and tidy
For all of the above reasons, I decided it was time to get this done!
Here are the steps you'll take when organizing your spice cabinet:
Remove everything from your spice cabinet. As you do, check expiration dates and toss anything expired. Place remaining spices on a nearby counter and group up duplicate jars.
Wipe out your cabinet so you're starting with a clean slate.
Place any risers, lazy susans, or shelves you might be using into your cabinet. (I used these wooden risers which I loved because they are expandable so they can fit narrow and wide cabinets.)
Pick the right size glass jar to fill with your spice (I reserved the larger 6 oz jars for spices that I typically purchase in a larger quantity like season salt or garlic powder. Otherwise I mostly used the 4 oz jars) Get the jar set here.
Use funnel to fill the glass jar and then label the jar.
Place newly filled glass spice jar into cabinet and recycle the old container.
Here's what my process looked like: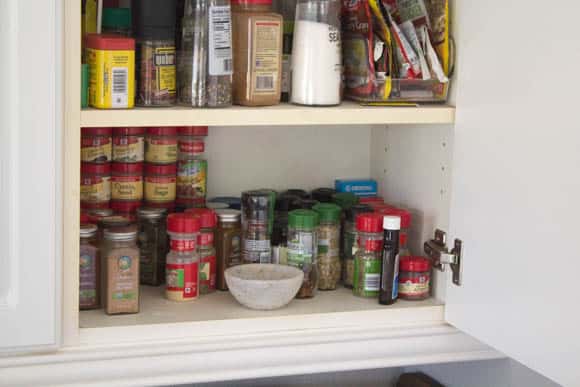 Old, unorganized spice cabinet.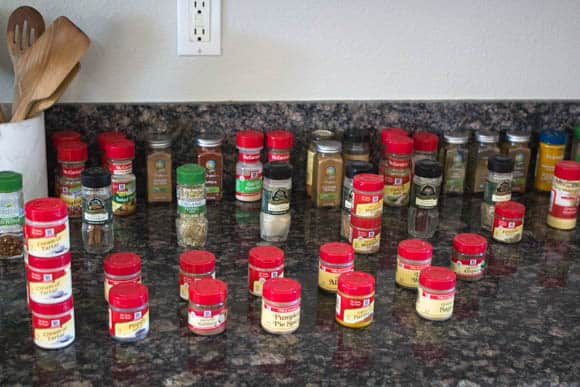 I checked expiration dates and tossed old spices. I then placed jars on counter, grouping duplicates (I mean who needs three jars of cream of tarter?!).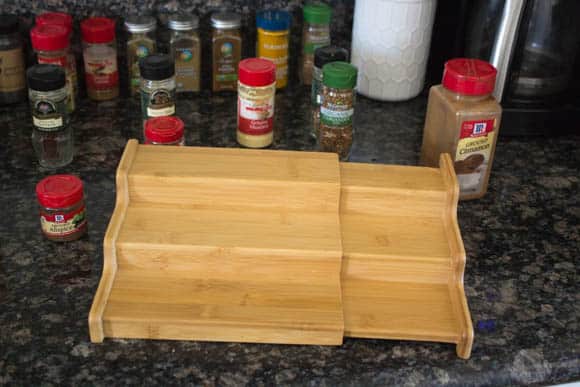 I wiped cabinet clean and then added two of these adjustable risers.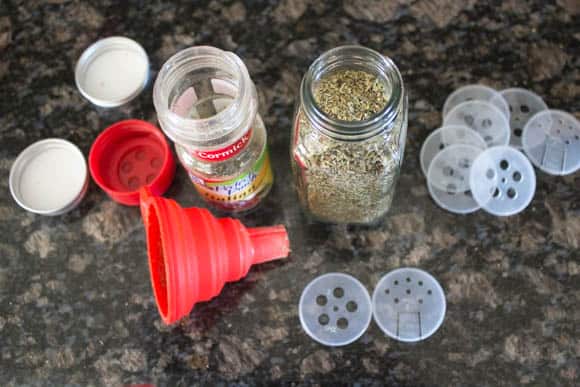 I used this little funnel that came with my glass jar set, to transfer spices to the new glass jars. I liked how there was an option for a lid with small holes (plus a tab), or larger holes.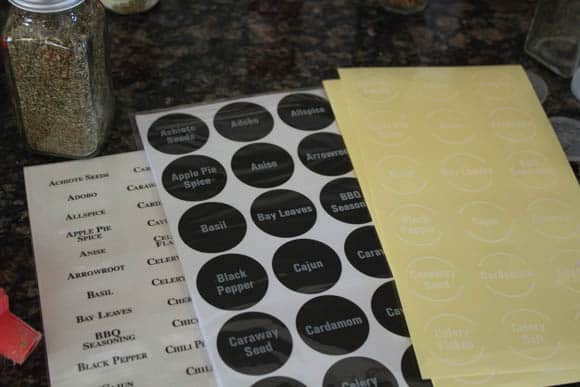 Next, I added a label to the jar. The set came with three different type (I used the white ones) and had MORE than enough for every spice I had. There were also blank ones I used to write in odd spices not on the pre-printed list.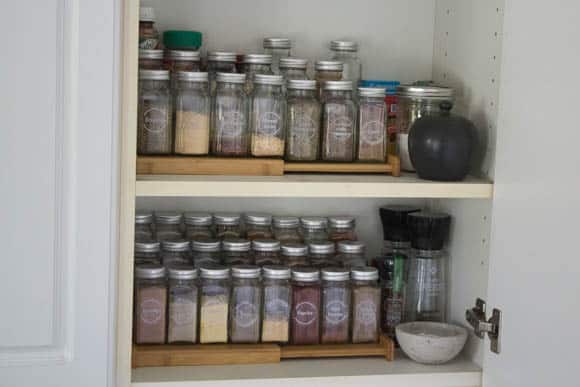 Place newly filled glass spice jars back into your cabinet, on the risers. You could place them alphabetically, or like I did, with the most often used towards the front.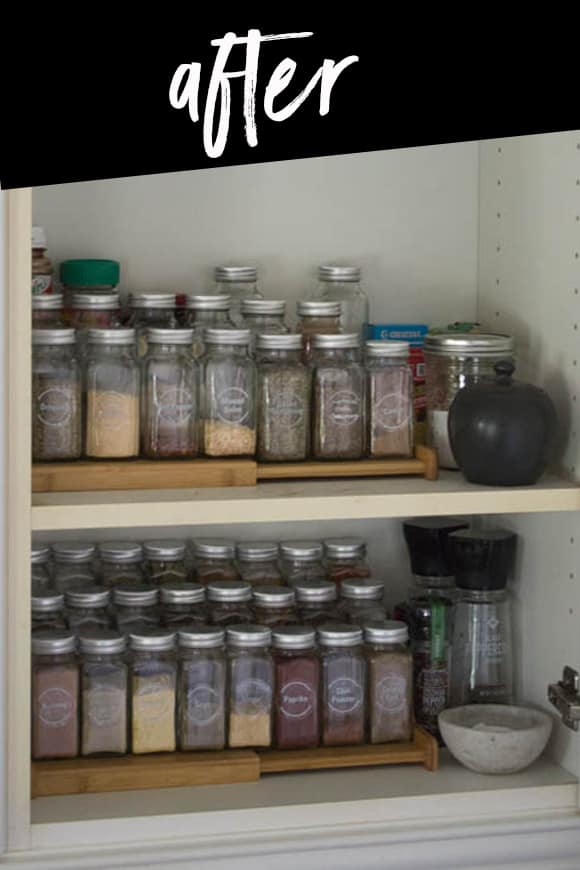 That's it! Simple right? The whole project took about an hour and it makes me so happy every time I open up the cabinet. Plus, I can easily see what I have on hand and how much of each spice is left. This will definitely save me money (no more duplicates!) and help me know when I need to restock a spice.
The post Simple Spice Cabinet Organization appeared first on Thoughtfully Simple.
Simple Spice Cabinet Organization