VJ Interviews: 18 Questions with Garrison Starr
Looking back upon the canon of 90's, Alternative music can be dizzying. In my opinion, it was an amazing time for music. You've got Grunge, you've got the wave of Metal in Europe, some truly transcendent Pop, and of course, the Alt-Girl movement. I am sure you remember many of the amazing artists from this wave. Names such as Liz Phair, Juliana Hatfield, Jewel and Fiona Apple come to mind. One of the more unsung heroes of this movement was Garrison Starr.
If you've ever seen Greys Anatomy, Nashville or Pretty Little Liars, then you have probably heard at least one of Garrison Starr's songs, and perhaps you didn't even know it. Take a moment and look up the song "Superhero." Go ahead. I'll wait. Haha. If you did look up the song, you probably said to yourself, "Ah! I know this song. I had forgotten it until now." Or something to that effect. Sadly, Garrison did not receive the major label support she deserved and thus she did not garner the same acclaim as some of her contemporaries, but make no mistake, she's easily as talented, if not more so. The mainstream and the critics almost never get it right. If you're going to remember anything, remember that.
All that said, Garrison Starr has pushed forward and has released 3 EP's, 12 studio albums and 1 live album. Forget about "Alt-Girl" as a genre. Forget about labels in general. Simply put, if you're a fan of good, honest, well done music, then you will dig Garrison Starr. As a songwriter, she's extremely gifted and fantastically underrated, but we can change that. Swing over to her website here, and see what she's all about. Sample her music. If you like it, support her efforts. It's our job as the consumer to keep the indie acts alive. Garrison Starr is certainly one worth supporting. In an increasingly disposable world, Garrison is a throwback to old school songwriters of yesteryear and that is a very comforting thing. So, I've said my piece. I think this interview is awesome and that Garrison Starr is a truly cool person. Check it out. Dig in. Enjoy.
Andrew:
Garrison, thank you for taking the time to speak with us. It's been a very odd year, hasn't it? What have you been doing to pass the time?
Garrison:
Oh thank you so much for having me!!! You know, I've been working, doing my usual sessions, though just more focused since we can't really gather right now. I've been doing yoga and walking a bunch. I was playing golf more, but I fell off the wagon. I'll get back out there in due time, though!!! I've been reflecting a lot during the pandemic and trying to stay productive.
Andrew:
Tell us a bit about your musical origins. How did you get into music?
Garrison:
I don't remember a definitive moment, aside from discovering the guitar, but I started singing in church and then at home, playing drumsticks on my pillows, making up songs. I initially wanted to play drums, but my mom chose the piano. I hated piano lessons, so I started playing guitar. I had learned at camp one summer, and I kind of just picked it up and could play it, so I was off and running.
Andrew:
Coming up as an artist, who were some of your biggest influences?
Garrison:
Oh man. Well, the Indigo Girls, Bonnie Raitt, Mary Chapin Carpenter, Tom Petty, The Beatles, The Bangles, Tori Amos, Melissa Etheridge, The Animal House Soundtrack, to name a few.
Andrew:
You released your first album, Pinwheels, in 1993. What do you remember about the recording of that album? Looking back, what are your feelings regarding it?
Garrison:
Wow. Y'all are going deep. I love it! I remember feeling so excited about the opportunity to record those songs, and I felt so lucky to be making music. It was very in-the-moment and raw and real. I don't love the minutiae that can go into being in the studio, so making records more "live" like this is what I truly love about recording. All the imperfections and the presence of it.
Andrew:
In 1997, you released Eighteen Over Me, which was your major label debut. What was the recording of it like? What was your inspiration at the time?
Garrison:
Well, we recorded basics at Kingsway in New Orleans- Daniel Lanois's place, and that was magical. The studio was most definitely haunted and weird but so amazing. Right in the middle of the French quarter…what an experience. Daniel Lanois even came to this dive bar and had a drink with us one night. Super fun. Once we got to Oxford, MS, though, to finish the record at Sweet Tea, it was pretty laborious. We ended up working on it for about 6 moths or more, and by the end we were all pretty over it, to be honest. Dennis Herring (producer) was very particular about vocals and his studio process, and he wasn't the easiest guy to work with but I will say, I became a better guitar player through that whole experience. He taught me to always tune up to a note on the guitar instead of the other way around, and I've never forgotten it. He is truly one of the coolest guitar players I've ever worked with.
The musicians in the band and our co-producer Clay Jones were all so incredibly talented, and I learned so much about time and taste from all of them. Bob Rupe used to play bass in Cracker, and he was just badass. Craig Krampf is a drum legend out of LA who played on a million hits you have heard, and we continued to work together and remain friends to this day, and the late Jay Bennett of Wilco, RIP- he was just so special. What a wonderful player and generous friend. We had so many good times.
Andrew:
There was a long time between the recording of Eighteen Over Me and your next release, Songs From Take-Off To Landing. Why such a long time between releases?
Garrison:
I had a hard time after I left Geffen. "Superhero" was a moderate hit for us and was doing well at radio when Interscope/Universal absorbed Geffen Records, and I stayed in a little bit of a holding pattern before being asked to be let go from my contract. I had been asked to stay at Geffen/Interscope but they really had no idea what to do with me, and I never really felt like I had a champion there. I went through a couple A&R people and then just realized that I was not gonna thrive there. So I left. From that point on, I wrote "Songs" and ended up finding myself in a small deal through Back Porch Records which was a subsidiary of Virgin out of Milwaukee. I loved that label. They were good people.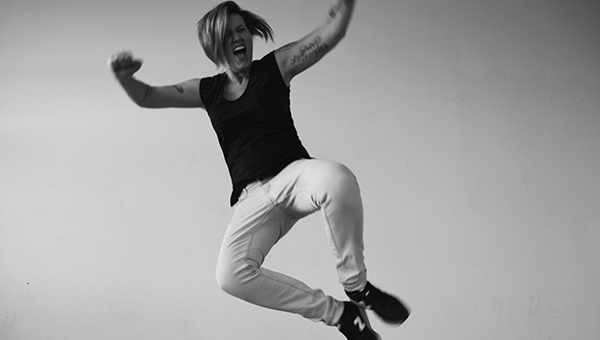 Andrew:
My personal favorite record of yours is Airstreams & Satellites. What can you tell us about that record?
Garrison:
Oh wow!! That's really awesome. I have a Patreon page and have been performing my records from front to back, and we just did that one, so it's fresh on my mind. It was fun to rediscover that one. We recorded that record in Laurel Canyon at Curt Schneider's house. He produced, mainly, and man he is talented. I remember tracking live and then overdubbing vocals and I remember an incredible band and that Curt is a kick ass bass player. He transformed "Gasoline" by creating that outro vibe that is such an integral part of the song now. That song used to be way grungier and more Rock, and he sexed it up. I had my friend Janet Robin play guitar on "Like a Drug" and I love her style, and the emotion it brings to that song. That's one of my favorite guitar parts ever. It immediately takes me back to a specific place in time when I was on the road with Melissa Etheridge, writing all the songs for that record and the relationship I was in…that's the power of a hook, man. I loved working with Curt and Andrew Williams on that one. They're both super thoughtful and sweet. Overall, I'm really proud of that record and those songs. They hold up to me.
Andrew:
Over the years you've formed a few side projects as well. Are Among The Oak & Ash and Plover still active at all? I really enjoyed both their releases.
Garrison:
Oh, thank you so much! Funny you should ask- I have been reconnecting lately with Josh Joplin about some ATOAA business, and we have discussed the possibility of doing something in the future. I'm so busy right now with the release of my new record coming and my songwriting career…we shall see! I did recently speak to Glen Phillips and we talked about Plover, too. There is room for all of it.
Andrew:
Your last album, Lovey Dovey, was released in 2017. With all this down time we are experiencing, is there any chance will see some new music soon?
Garrison:
Yes! A bunch! I have a new record coming in March as well as a couple other things I'm working on! 2021, you're gonna get sick of me.
Andrew:
Musically, what has changed for you over the years? What's different now about your songwriting process compared to years past?
Garrison:
This is a great question. Collaboration has changed me. I never used to cowrite, and since I've been doing that, I've become a more rounded writer and person. Celebrating other people's gifts and talents and learning from them has been a huge blessing for me, and now I'm obsessed with it. When I was writing all my songs alone, I think they all had a similar tone, and I needed to break out of that. I think I'm generally more focused as a writer than I used to be. I'm more deliberate, and part of that is probably because I write in a few different contexts now. I write for sync, for myself and for others, I write for myself alone and with others, and I write for a couple side projects I'm a part of. They all require a slightly different hat. I enjoy the challenge of it all.
Andrew:
As a lyricist and songwriter, does your music come from a personal place? Or are you just telling stories so to speak?
Garrison:
Mostly when I'm writing for me, it's pretty personal.
Andrew:
Shifting gears a bit now. As I am sure you know, women are drastically underrepresented within the music and recording industry. What are your thoughts on this issue? What needs to happen to enact positive change?
Garrison:
I think the solution is to continue to put women in the forefront. Hire women. Promote more women. The more women are out front, the more we will see things shift. Men hire their friends. Everybody does. So, let's get in there and saturate the place. It's interesting because I never saw myself as a girl. I've always been just as good as the boys all my life because I like the competition and growing up, I played with boys mostly, so I always felt like one of them. I've always wanted to be judged based on the music I make and the person I am. I hate being categorized on a different level because of my sexuality or my sex. It's just annoying to me. I'm gonna keep on being me regardless.
Andrew:
Is there anything within the industry that you would like to see change for the betterment of both the fans and artists alike?
Garrison:
Hmmmm…I'd like to see artists and songwriters paid and recognized adequately for our work (ala Spotify and the like), and I wish fans had more of an idea of how the industry operates so they know better how to support us.
Andrew:
Do you collect vinyl? Tapes? CDs? Or are you all digital now? Where do you like to shop for music?
Garrison:
Ugh! I'm the worst about this. I have started a bit of a vinyl collection. My dad gave me a bunch of his old records and my partner's parents contributed as well. So, we are just starting but we're gonna get there. I have a lot of old tapes and dats from the old days, but I have no way to listen to them now! I should figure that out. I shop for vinyl, but in terms of listening to music, I have to go to the necessary evils on my phone or computer. It's just easy to find things that way. I try to follow up on the stuff that I like, and buy it but man there's so much music out there. For the most part, I stay overwhelmed in that sense!!
Andrew:
This may be a difficult question, but what are a few albums that mean the most to you and why?
Garrison:
Tori Amos, Under the Pink and Little Earthquakes. These albums mean a lot to me because I was coming to terms with my sexuality when I dug into them. They were friends who helped me walk through my pain and loneliness and all my rage. Two of my favorites of all-time. I also just love the tone of Tori's voice and the anger in there. I know she comes from a religious background, and there are so many overtones of that anguish in her stories. She has an obtuse writing style that is mysterious and I love that about her music. But you still know where she's coming from. It's a feeling and it was a connection I desperately needed.
The Bangles, All Over the Place and A Different Light. The bangles are my favorite band of all-time. I love all the harmonies and they were so pretty, and also badass to me. The fact that they were all girls and were so successful gave me permission to pursue a career in music but also made me feel like I could actually do it. Vicki Peterson will always be my Rock 'n Roll hero. She sang on my first album, too, which was a dream!!! I'm sure I annoyed her with all my questions, but she's been a gracious friend to me.
The Indigo Girls, Strange Fire. I learned to play guitar listening to the IG. I used to listen, stop, rewind, play, repeat. Obviously, their stories spoke to me, somewhat in the same way as the Tori stuff did, but they seemed to still want to have a connection with their religion. I heard a struggle there, a struggle to belong, but also carve out a place all their own, which I related to. What makes me sad about evangelicalism is that it's so rigid and judgmental toward people who are different, that you feel like you have to pick God, or your own truth. There's no room for both. Not only is that bullshit, but it's also hurtful and dangerous to teach kids. I can tell you that shaking the shame off the bottom of my shoe has been a lifelong process, and I will never fully heal from the emotional abuse I suffered at the hands of those religious leaders. I am so grateful to have escaped the claws of that hateful religion but still have my faith.
Tom Petty and the Heartbreakers, Hard Promises. I've always loved Tom Petty, his sense of style both literally and in his writing. So simple; so honest. Tom Petty just seemed like such a unique individual and he was a rockstar. I loved his guitar playing. I loved the way he used a lot of suspensions and he played that acoustic like a one-man band. He is a hero of mine for sure and an inspiration. Every record I love is because it has a shitload of old friends on it. Friends I leaned on when I had nobody else to lean on. Music saves my life again and again, and I am so grateful for this gift. In the end, I just love the songs.
Andrew:
2020 has been a weird year, but we've still seen a lot of great music released. What are some of your must have albums of 2020?
Garrison:
Katie Pruitt, Expectations, Run the Jewels, RTJ4, Ashley McBride, Never Will, Phoebe Bridgers, Punisher, Taylor Swift, folklore, Ruston Kelly, Shape and Destroy.
Andrew:
Once COVID-19 calms down, what's next for you?
Garrison:
I'm gonna keep on making music!!! Planning to travel to Nashville in February to write with my buddies Sean McConnell and Peter Groenwald for our band My Sister, My Brother. Super excited for that.
Andrew:
Last question. You've been in the game for some time now. What advice would you have for young artists just getting started?
Garrison:
Always follow your gut, and know where you want to go. If you don't know, nobody else will. Take ownership! It's your career.
Interested in sampling Garrison Starr's music? Check out the link below:
Dig this interview? Check out the full catalog of  VJ Interviews, by Andrew Daly, here: https://vinyljunkies.co/vj-interviews-the-catalog/
Andrew Daly is 32 years old, and is from Long Island, NY, where he lives with his wife Angela and their four cats, Oliver, Patrick, Charlie and Kevin. Andrew is a freelance writer and guerrilla journalist. In addition to his Tales from the Stacks series, he also conducts interviews with various artists, labels and people of interest throughout the industry for this VJ Interviews series. Having collected vinyl since he was a child in the 1990's, Andrew's collection of over 4,700 vinyl albums tells the story of his passion for all that is music.
The post VJ Interviews: 18 Questions with Garrison Starr appeared first on Vinyl Junkies.
VJ Interviews: 18 Questions with Garrison Starr