Watercress Salad
If you need a last-minute side dish for Mother's Day, I think this watercress salad would be perfect. It's exactly the kind of dish I like to serve at a special occasion meal. Light and refreshing, it provides a welcome contrast to heartier fare like cinnamon rolls (at brunch) or a saucy, cheesy lasagna (at dinner). And while it's simple to make, it's a bit more unexpected than a regular green salad. The watercress gives it a peppery bite, which I tame with sweet, juicy orange segments and a bright champagne vinaigrette. Mozzarella and avocado add creamy richness, and toasted pistachios and crisp spring veggies bring plenty of crunch.
This watercress salad is best right after it's assembled, but you can still do some of the prep in advance. Make the dressing today, and blanch the snap peas. Tomorrow, it'll be a breeze to put together!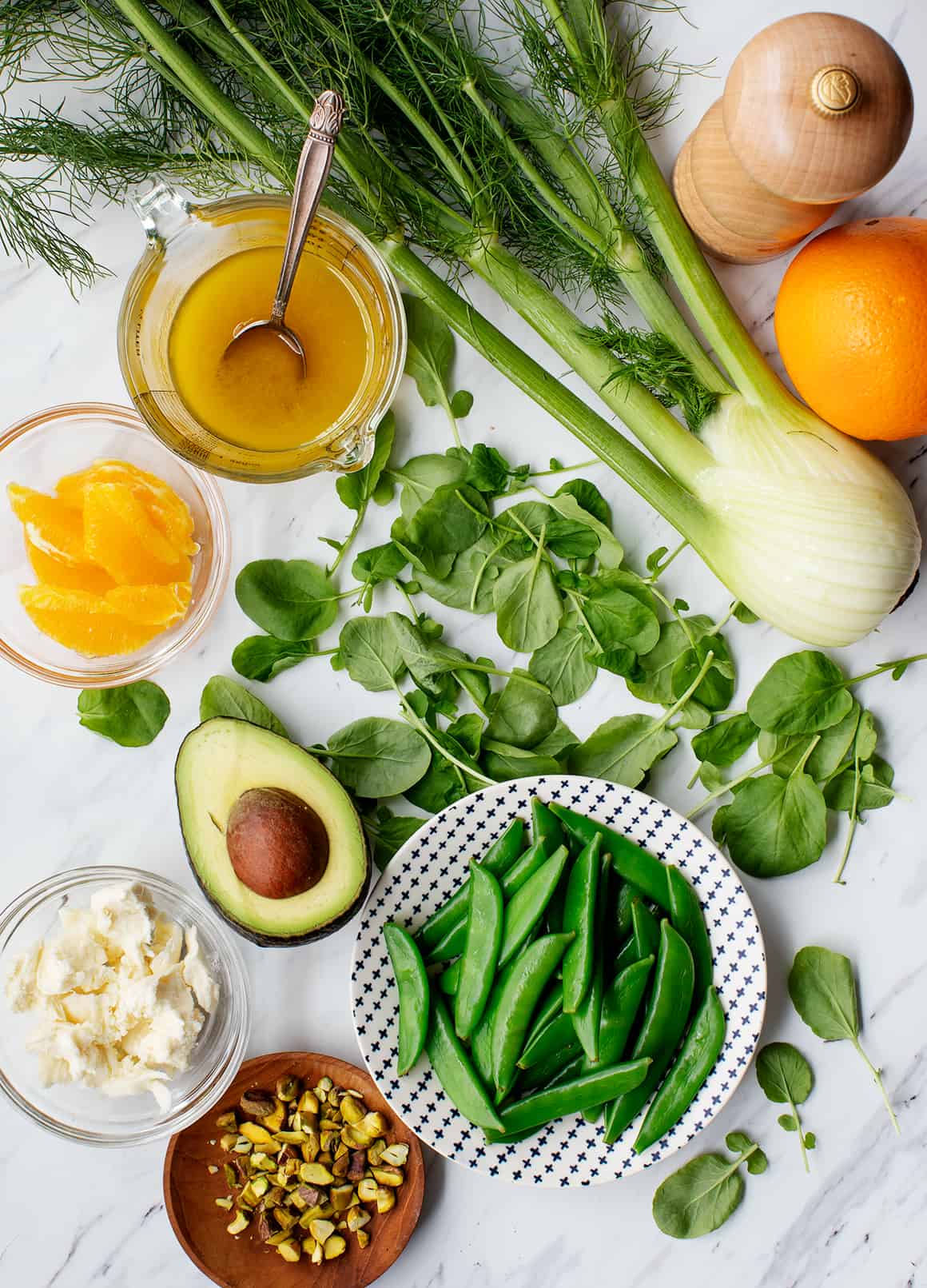 Watercress Salad Recipe Ingredients
Here's what you need to make this watercress salad recipe:
Watercress, of course! If you've never tried it, it has a distinct peppery taste and lovely delicate texture. If you can't find watercress, make this salad with fresh arugula or mixed salad greens instead.
Snap peas and fennel – For crunch! They also add their unique flavors to the salad. The fennel brings notes of anise, while the snap peas add an earthy sweetness.
Orange segments – Their sweetness cuts the watercress's bite.
Avocado and fresh mozzarella – I love how these rich, creamy ingredients play off the fresh spring veggies.
Toasted pistachios – For (more) crunch and nutty flavor.
Champagne vinaigrette – I make this simple dressing with olive oil, fresh orange juice, Dijon mustard, and champagne vinegar. It brings the salad together, adding tangy, fruity flavor.
A lemon wedge – Squeeze it over the salad for a nice bright finish.
And salt and pepper – To make all the flavors pop!
Find the complete recipe with measurements below.
So fresh! The tender green leaves are perfect for spring.
Watercress Salad Serving Suggestions
Serve this watercress salad as a side dish for a spring dinner or brunch. For dinner, it pairs nicely with this asparagus risotto, creamy mushroom polenta, or a bowl of potato leek soup. It also goes well with these pasta recipes:
For brunch, serve it with something savory, like a frittata or breakfast casserole. Then, round out the meal with something sweet. Pancakes, muffins, and scones would all be delicious.
Enjoy!
More Favorite Salad Recipes
If you love this watercress salad recipe, try one of these fresh salads next:
Click here to browse more recipes!
Watercress Salad