When I Dip, You Dip, We Dip – Corn Dip!
Weekend Entertaining with Corn Dip
There seems to always be a reason to have friends hang out – a weekend grill-out, rooting on your team, or just good old-fashioned game night. Whatever the gathering – this Corn Dip from Holly Clegg's trim&TERRIFIC KITCHEN 101: Secrets to Cooking Confidence cookbook, is the perfect appetizer to whip together. This dip is the epitome of fresh + convenience = homemade: you probably have these easy pantry-friendly ingredients already stocked. When entertaining, make it easy on yourself by making ahead of time, refrigerate and reheat in the microwave until heated through. Diabetic-friendly, and definitely a people-pleaser, this creamy dip with a kick is a sure-fire hit!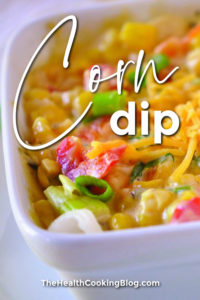 A quick and easy, economical dip that's creamy, crunchy, and spicy in each bite.
Servings
10
(1/4 cup) servings
1

tablespoon

olive oil

2

cups

frozen corn

thawed

1/2

cup

chopped onion

1/3

cup

chopped red bell pepper

1/2

cup

chopped green onions

2

tablespoons

chopped jalapeno

found in jar

2

tablespoons

light mayonnaise

1/3

cup

nonfat sour cream

2/3

cup

shredded reduced-fat sharp Cheddar cheese

salt and pepper to taste
In large nonstick skillet, heat oil and add corn cooking over medium heat, stirring until golden brown, about 5 minutes.

Add onion and pepper, sauté until tender, 3-4 minutes.

Add green onions, jalapeño, mayonnaise, sour cream and cheese, stirring until heated and bubbly; cheese is melted. Season to taste.
Calories 89, Calories from Fat 39%, Fat 4g, Saturated Fat 1g, Cholesterol 7mg, Sodium 108mg, Carbohydrates 11g, Dietary Fiber 1g, Total Sugars 3g, Protein 4g, Dietary Exchanges: 1/2 starch, 1 fat
Terrific Tip: If making ahead of time, refrigerate and reheat in microwave until heated.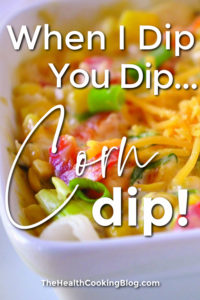 Serve Up Your Favorite Dips
3 Tier Oval Bowl Set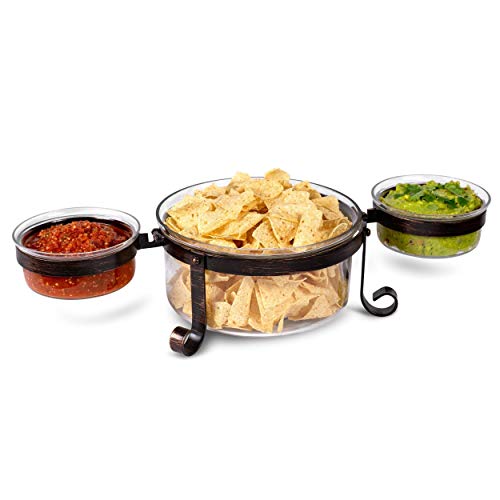 Chip and Dip Serving Bowl Set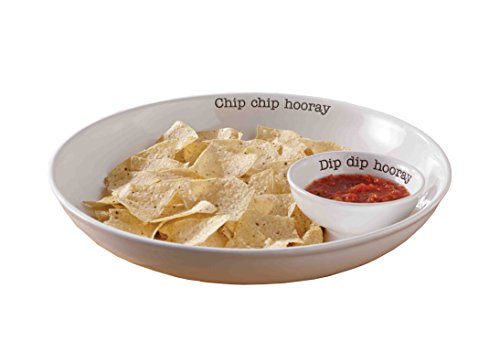 Mud Pie Circa Chip N Dip Set, White


Whether you are watching football at home or tuning in to the latest reality tv show, dig into Louisiana Red Bean Dip recipe. The most delicious way to start your menu! A dip that has the savory flavors reminiscent of Cajun red beans rice dish celebrating the festivities of Mardi Gras. Plus, this speedy appetizer, Red Beans recipe is full of heart healthy fiber.
Get Top 25 FAST & FABULOUS FOOTBALL TAILGATING RECIPES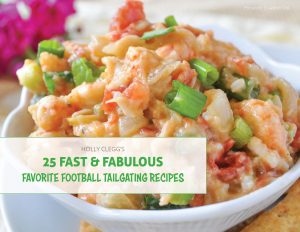 You will love Holly's 25 Favorite Football Tailgating Recipes available for only $1.99! 
Included are dips, pick-ups, hearty food and the best of Holly's sweet treats.  Best of all, it comes with a SHOPPING LIST so all the work is done for you from your menu to your grocery run.
Healthier and EASY-TO-MAKE recipes with the nutritional information.  If you have health concerns, gluten-free and diabetic-recipes are highlighted.  DOWNLOAD  this great menu of party option.
Get All of Holly's Healthy Easy Cookbooks
When I Dip, You Dip, We Dip – Corn Dip!