Will we be upgraded in 2023? Here's where TPG's staff stands midyear on our airline status quest
We're closing in on the second half of 2022, and if you're trying to maintain elite status, now may be an excellent opportunity to map out your goals for the rest of the year. After all, travel is back and airlines aren't extending status any further.
Do you have summer vacations, holiday travel for later in the year or upcoming business trips? Is this your first time chasing elite status? You may wonder whether it's even worth it to pursue elite status for the rest of the year.
To help you decide on a strategy, we want to highlight where TPG staffers stand so you can compare your elite status progress to our most frequent flyers.
For more TPG news delivered each morning to your inbox, sign up for our daily newsletter.
Clint Henderson, managing editor for news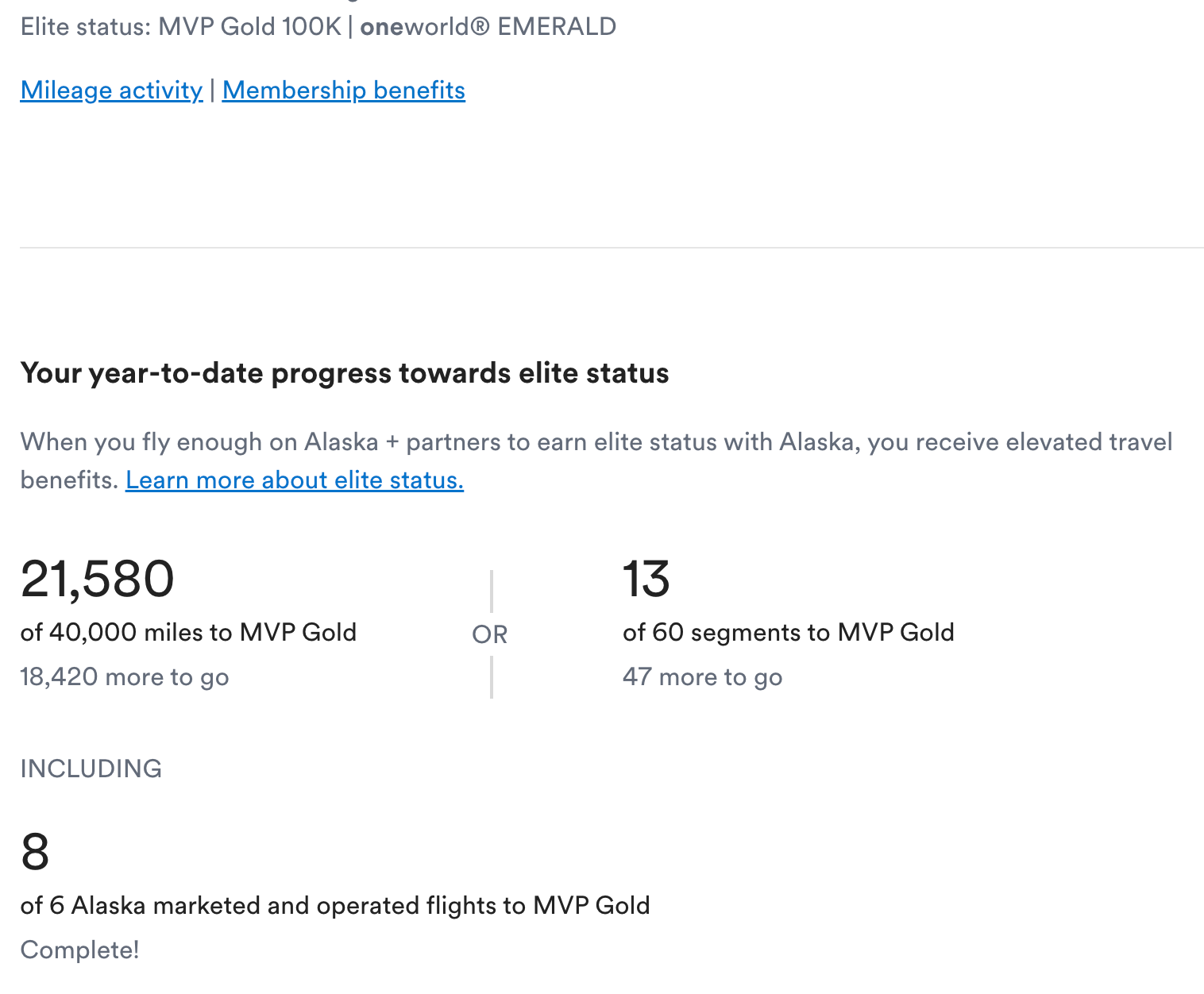 Alaska Airlines MVP Gold 100K
Elite-qualifying miles: 21,580.
Elite-qualifying segments: 8.
Just writing about my current status requalification got me all sorts of stressed out. It's hard to believe that the year is already halfway done, and taking a close look at my current levels has me even more worried about requalifying for next year.

I really thought Alaska would have run a promotion to make it easier to qualify for top-tier status by this point, and while I am planning on going for the new MVP Gold 100k status again this year, I'm realizing I need to book a lot of trips to make that happen. I may have to settle for MVP Gold 75k.
Related: Here's why I went for Alaska's new top-tier status
Delta Platinum Medallion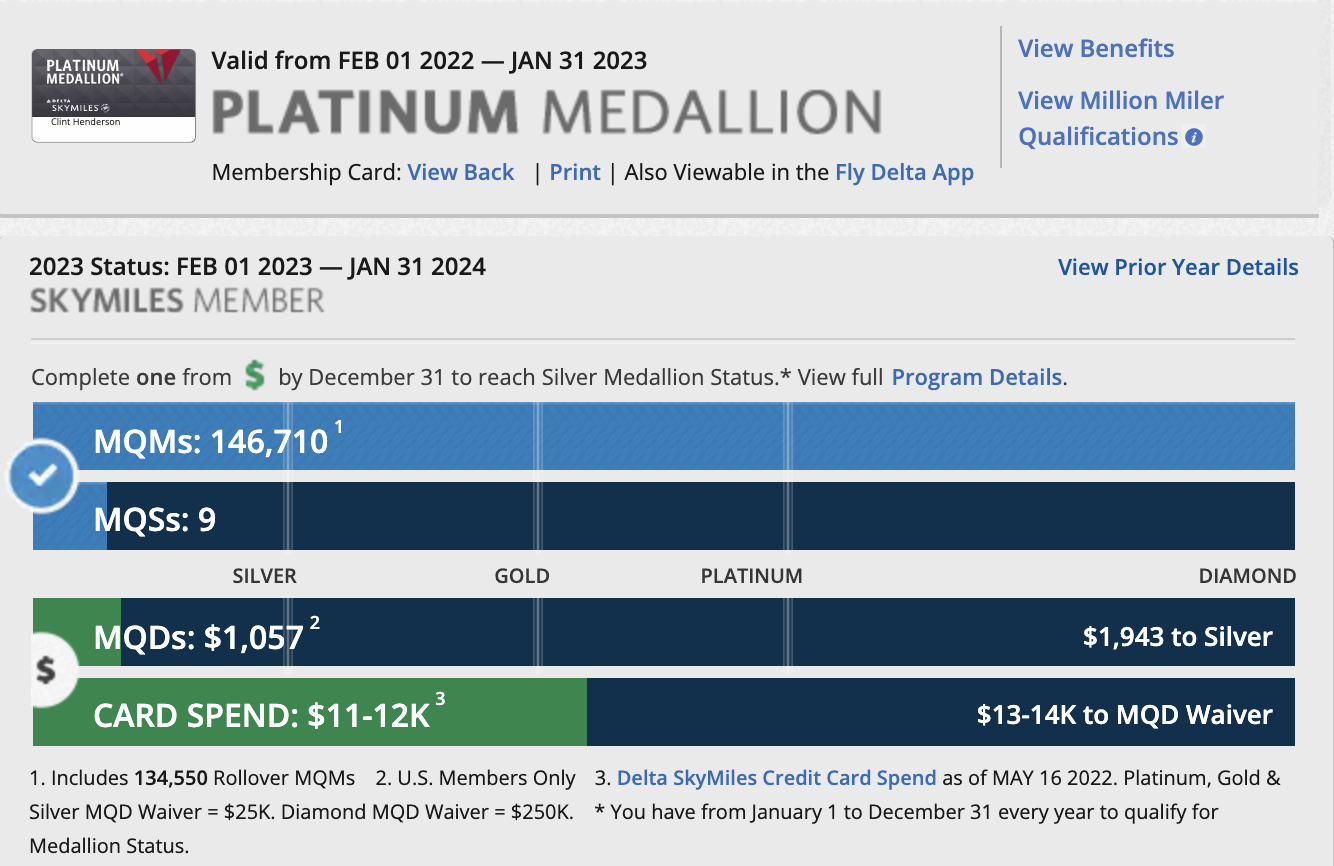 Medallion qualification miles (MQMs): 146,710.
Medallion qualification segments (MQSs): 9.
Medallion qualification dollars (MQDs): $1,057.
Meanwhile, I'm in excellent shape on Delta provided that I can get the magical $25,0000 in spend-level with my Delta SkyMiles® Reserve American Express Card. 
As you likely know, if you spend that much on the Delta card, you get the spend requirement up to Platinum level waived. I should be able to do that. What would be even better is the possibility of getting to Diamond status for the first time.
I already have enough MQMs thanks to Delta's generous move to roll over previous years' MQMs into 2022. As it stands now, I won't be able to make Diamond with the paltry $1,000 I've spent so far on Delta, but I'm actively talking with TPG's Andrew Kunesh about ways we could make it happen with some creative routings. Stay tuned.
Related: Why I keep the Amex Delta Reserve
---
Andrew Kunesh, points and miles editor
Delta Diamond Medallion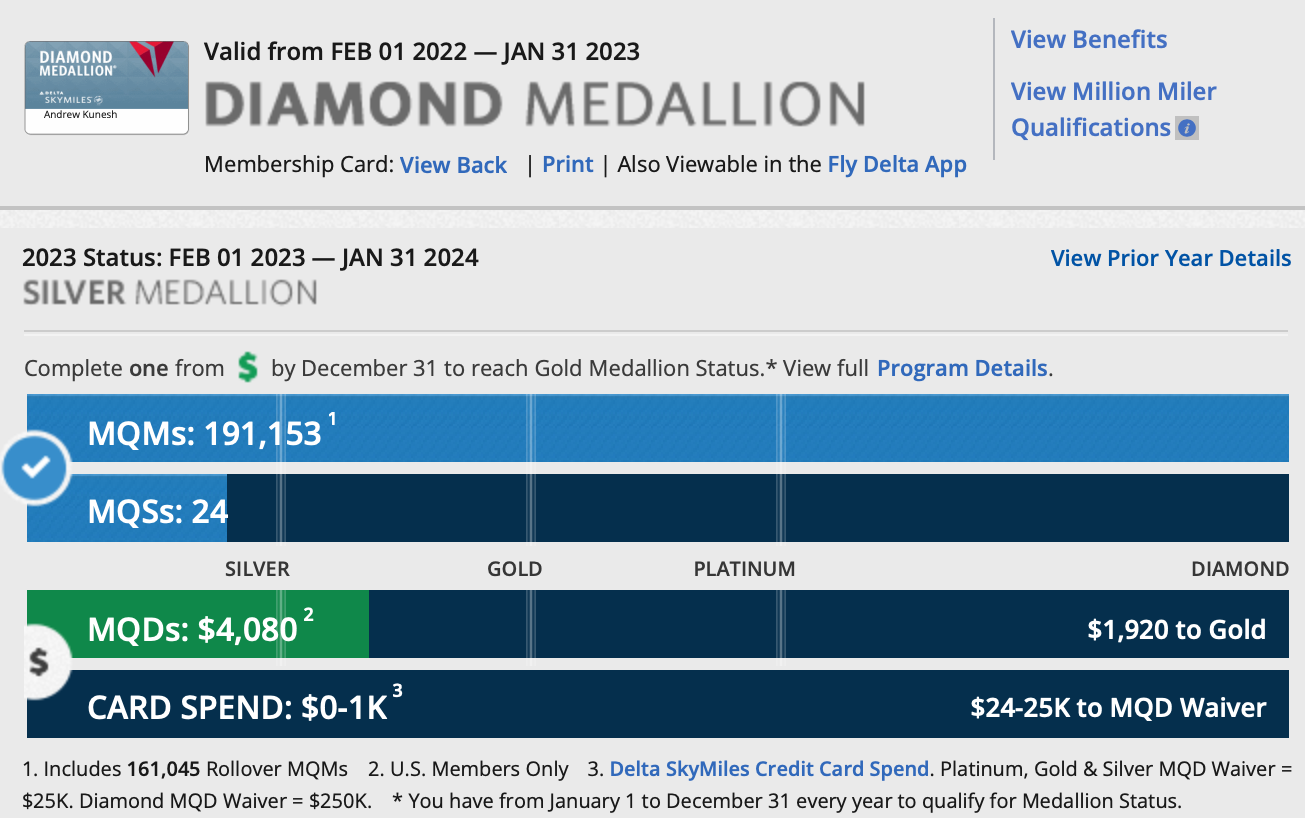 Medallion qualification miles (MQMs): 191,153.
Medallion qualification segments (MQSs): 24.
Medallion qualification dollars (MQDs): $4,080.
Delta is undoutedly my airline of choice — in fact, I'm writing this on a Delta jet. Last year, I earned Diamond Medallion for the first time and have made good use of my status with increased work and personal travel. I've been upgraded on more than half of my domestic flights and used one of my Global Upgrade Certificates on a recent trip to Europe.

I plan to requalify this year and am making ample progress. The pandemic-era Medallion Qualifying Mile rollover means I have more than enough MQM, so I just need to focus on earning Medallion Qualifying Dollars. I may need to get creative and, like last year, book a partner flight to cross the MQD finish line. Regardless, I'm determined to make it happen.
American Airlines Gold

Loyalty points: 13,939.
Segments: 0.
Andrew's take:
Given my affinity for Delta, why am I seeking American Gold? Frankly, it should be easy for me to earn. I already use the American dining and shopping portals because I highly value AAdvantage miles for international redemptions on partner airlines.

With that in mind, I should be able to earn Gold status before the end of the qualification year — even if I don't step foot on an American flight.
---
Benji Stawski, senior reporter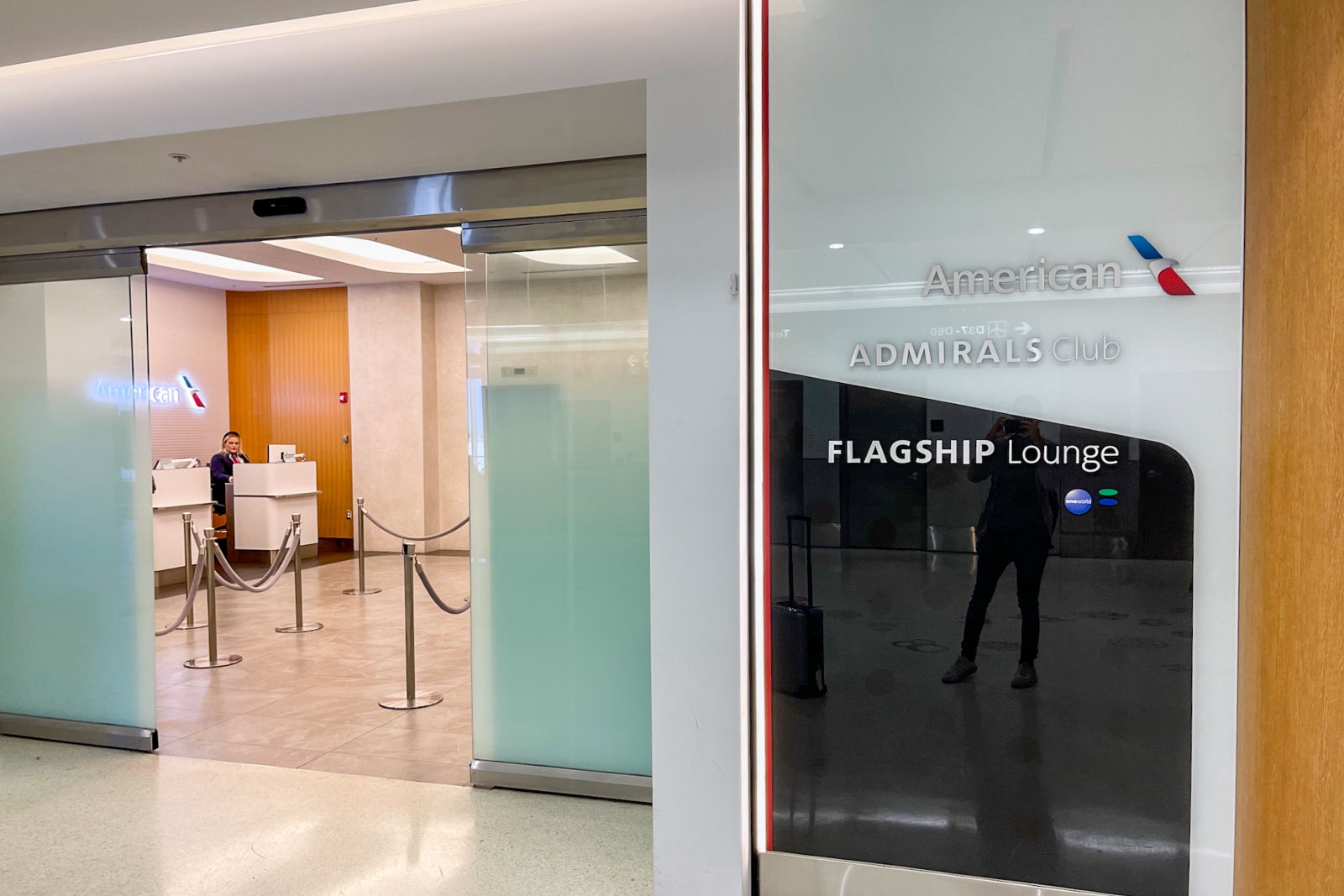 JAL Mileage Bank Diamond
FLY ON points: 9,171.
Segments: 11.
I currently hold top-tier Japan Airlines Mileage Bank Diamond status. This Oneworld Emerald status allows me to access American Airlines lounges and Flagship First Check-In even when flying domestically in the U.S.

While first class upgrades are rare, I also get to select Main Cabin Extra seats on American Airlines flights at the time of booking for no additional cost.

As of now, I'm nowhere near the 100,000 FLY ON points needed to requalify again for the 2023 program year. Although I have more Oneworld trips planned for this year, with Japan's borders still closed, it will be difficult for me to earn the minimum of 50,000 FLY ON points on JAL Group flights. Hopefully, Japan Airlines will recognize this and offer U.S. members reduced requalification thresholds again as it did last year. If not, I might jump ship and do a status match to another program.
Related: 5 reasons I pursued elite status with a foreign airline
---
Katie Genter, senior points and miles writer
American Airlines Executive Platinum

Loyalty points: 99,072 of 200,000 needed.
Segments: 25 of 30 needed.
After traveling by RV full-time for almost a year from late 2020 to mid-2021, and then switching to using our RV as a base between international trips, my husband and I are getting back to living from hotels full time as digital nomads. So, although I'm a bit behind on some of my elite status goals, I'm not worried since I'll soon be flying much more.
My primary airline program is American Airlines AAdvantage. I miss qualifying for AAdvantage status using elite qualifying miles (EQMs) and elite qualifying dollars (EQDs). But I'm getting used to playing the Loyalty Points game.

It's frustrating that you seemingly have to use the AAdvantage shopping portal, SimplyMiles and fly in premium cabins on partner airlines to reach high levels of AAdvantage elite status. Over half of my Loyalty Points so far this year came from one inexpensive round-trip British Airways premium economy fare from Los Angeles to Bangalore.

But, my AAdvantage activity usually looks more like the following:

I'm striving to requalify for Executive Platinum status. And I suspect I'll get close enough to justify spending on AAdvantage credit cards or buying things I don't really need through the AAdvantage shopping portal to reach 200,000 Loyalty Points by the end of February 2023.
Related: How I plan to earn American Airlines Executive Platinum status with Loyalty Points
Asiana Club Diamond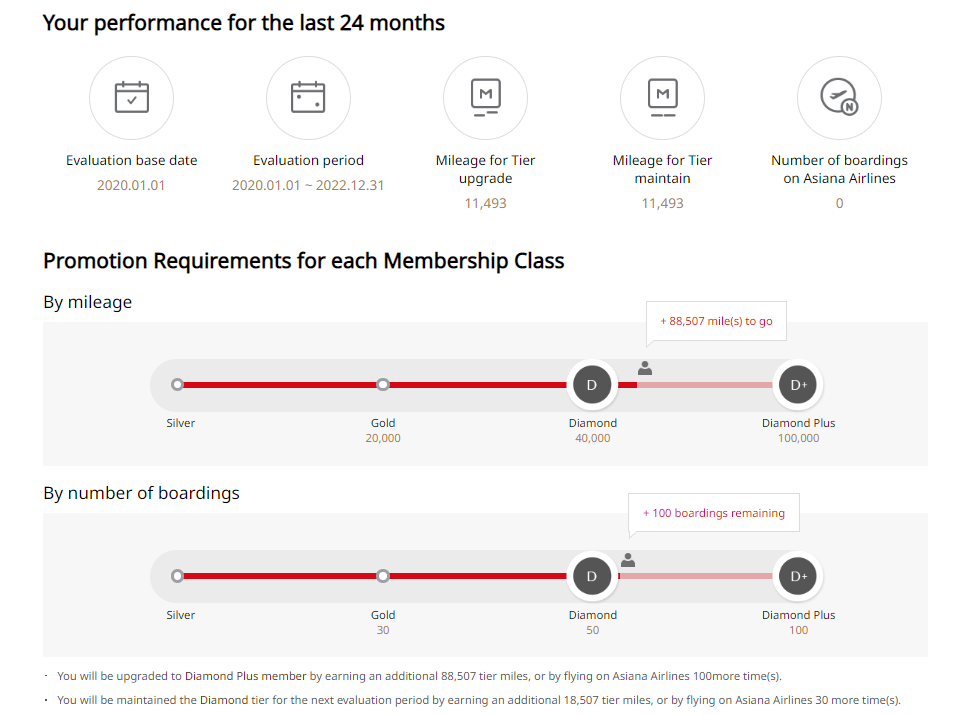 Tier miles: 11,493 of 30,000 needed to maintain.
Boardings on Asiana Airlines: 0.
Asiana Club uses a 24-month qualification window based on when you initially enrolled. Unfortunately, due to the coronavirus pandemic, I didn't make any progress during my 24-month evaluation window (Jan. 1, 2020 through Dec. 31, 2021). But, Asiana extended my evaluation window through Dec. 31, 2022.

To maintain Asiana Diamond status for 2023 and 2024, I'll need to earn 30,000 tier miles or fly on Asiana Airlines 30 times.

Later this year, I have flights booked for travel that will get me to 30,000 tier miles. So, assuming I can take those flights, I'll keep Asiana Diamond status and continue to enjoy Star Alliance Gold status when flying with Star Alliance carriers.
Related: Which mileage program is best for getting Star Alliance status quickly?
Other airline status
In addition to these two programs, I currently have Delta Silver Medallion status, but I don't plan to requalify. Although I currently have 44,892 MQMs, I'd still need $2,403 more MQDs for Silver Medallion status or 50,000 MQMs and $6,000 MQDs for Gold Medallion status. I could earn an MQD waiver through spending on a Delta credit card. But considering the other elite statuses I'm going for, spending $25,000 on a Delta credit card to get an MQD waiver for Silver or Gold doesn't seem worthwhile.

I also have the Southwest Companion Pass, thanks to a promotion where Chase gave me 100,000 Southwest points to use for a story. Turns out, the points Chase gave me were Companion Pass qualifying. I've gotten a good bit of value from the Companion Pass, but I don't fly with Southwest enough to justify earning another Companion Pass through flying. However, my husband may sign-up for some cards near the end of 2022 to earn a Companion Pass next year.

Finally, I also have United MileagePlus Premier Silver status as a perk of my Marriott Bonvoy Titanium Elite status. Thanks to Marriott and United's Rewardplus partnership, Titanium Elites can enroll in complimentary United MileagePlus Premier Silver status.
Related: Love it or leave it: Elite status levels I plan to keep or drop in 2022
---
Ethan Klapper, senior reporter
United Airlines Premier 1K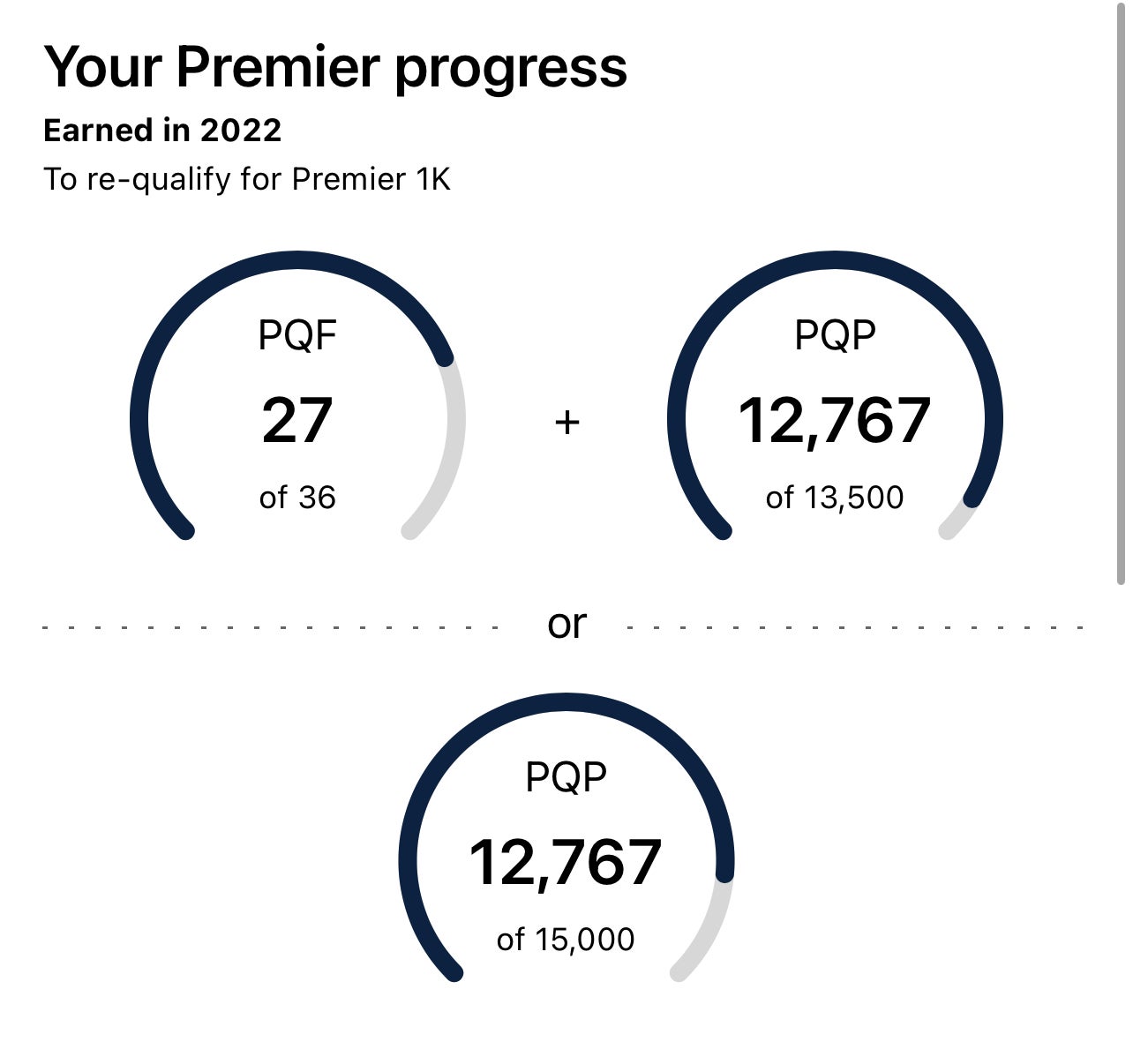 Premier qualifying points (PQPs): 12,767 of 13,500 needed.
Premier qualifying flights (PQFs): 27 of 36 needed.
Requalifying for United Airlines Premier 1K was my only status goal when this year began. As a Houston-based flyer, United maintains a dominant position in my home market with a hub at George Bush Intercontinental Airport (IAH).

The airline runs a solid operation — with one exception, they've largely avoided the meltdowns that have plagued other carriers in recent months — and generally treats its elites well (though the airline's decision late last year to extend status with little transparency was a disappointing devaluation for people like me who qualified outright).

As a result, I have heavily prioritized travel on United and its Star Alliance partners, even on relatively expensive tickets that offer little in return for premier status qualifying.

As of this writing, I'm on the verge of requalifying and will hit the 13,500 Premier Qualifying Point (PQP) requirement this month. I will likely hit the requirement for 36 Premier Qualifying Flights (PQF) sometime in July and fully requalify then.
---
Zach Griff, senior reporter
American Airlines Executive Platinum
Loyalty points: 129,210.
Segments: 14 of 30.
This year, American Airlines revamped how you earn status with the introduction of Loyalty Points.

Loyalty Points can be earned through a myriad of partners, and they're generally awarded on a 1:1 basis based on how many redeemable miles you earn from a given activity.

This new currency means that you don't even need to step foot on a plane to earn AAdvantage status.

Personally, I have mixed feelings about the introduction of Loyalty Points. But, at the end of the day, if I'm going to requalify for Executive Platinum status, I need to hit 200,000 Loyalty Points. I'll end up getting there, but it won't happen without putting a considerable amount of spend on my cobranded American Airlines credit card.
United Airlines Premier 1K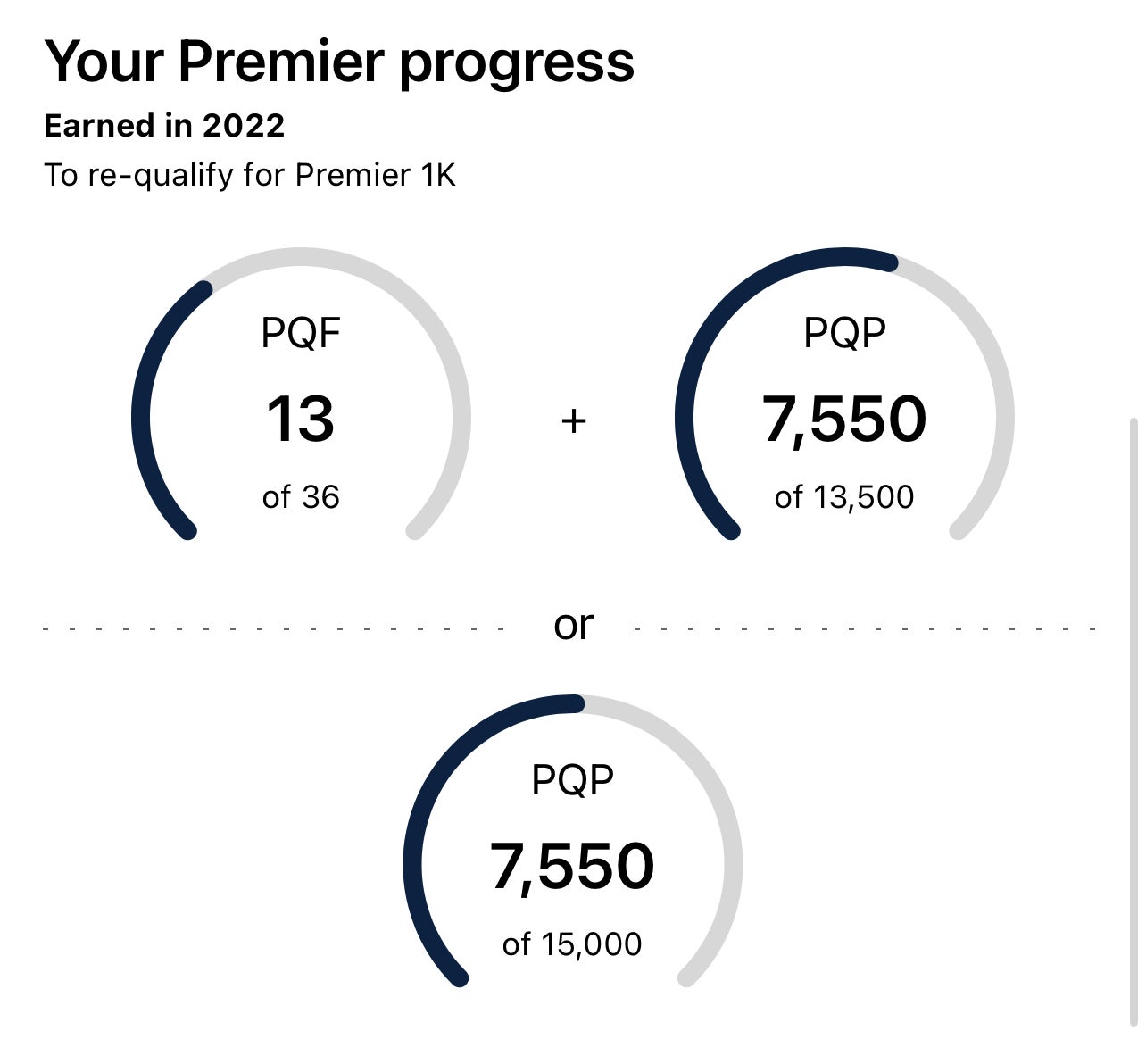 Premier qualifying points (PQPs): 7,550 of 13,500 needed.
Premier qualifying flights (PQFs): 13 of 36 needed.
United gave Premiers an early-year status boost. As a top-tier 1K, I received 3,000 Premier Qualifying Points (PQPs), which gave me about a 20% head start on requalifying.

I've given United a good chunk of my business this year, and I'm about halfway towards requalifying. I'll be sure to cross the finish line by the end of the year.
JetBlue Mosaic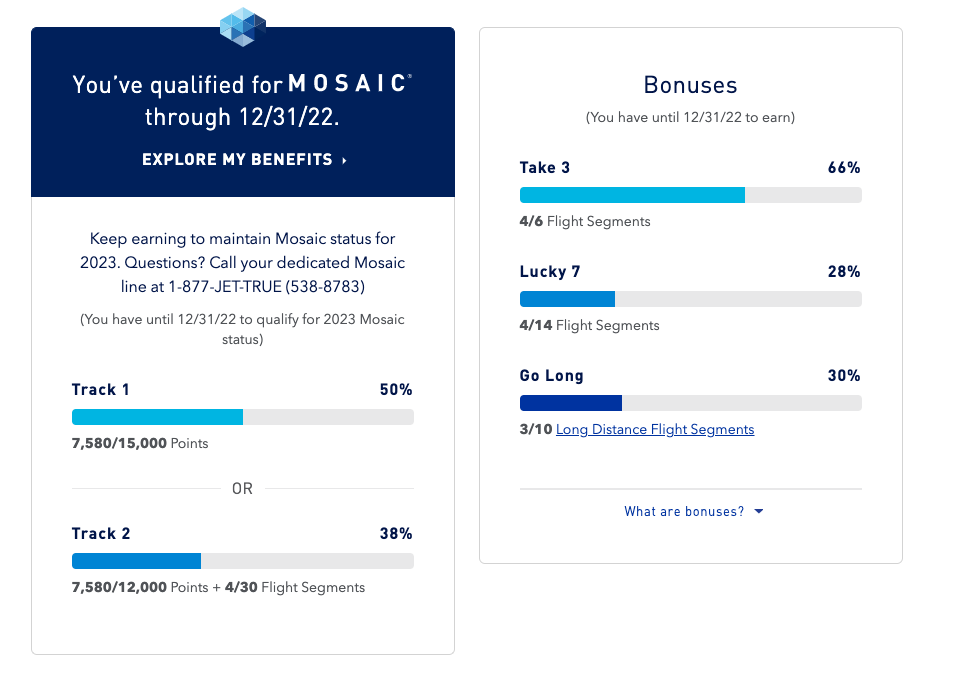 Base points: 7,580 of 12,000 needed.
Flight segments: 4 of 30 needed.

I've held Mosaic status for at least the last five years, but I'm torn on whether to requalify this year. I've been disappointed by JetBlue's recent operational meltdowns. Plus, with the elimination of change fees for nearly all JetBlue fares, the top Mosaic perk (waived fees) is no longer as valuable as it once was.

That said, I've still taken a handful of JetBlue flights this year, and I'll monitor my progress in the fourth quarter to see if it's worth going out of my way to requalify.
---
Kyle Olsen, points and miles reporter
United Airlines Premier 1K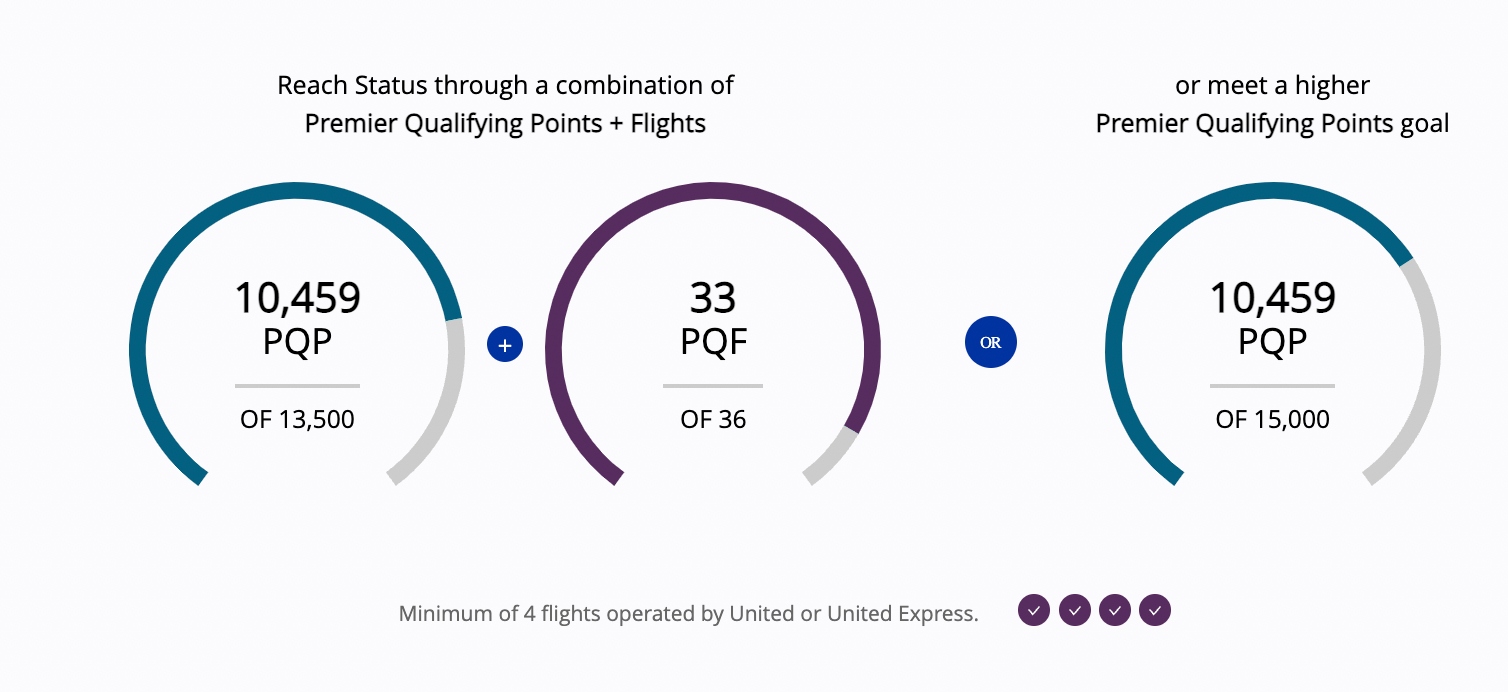 Premier qualifying points (PQP): 10,459 of 13,500 needed.
Premier qualifying flights (PQF): 33 of 36 needed.
As one who has held Premier 1K status for coming up on a decade, I continue to prioritize my Star Alliance travel over any other carriers.

As Zach Griff mentioned, United Premier members received a nice Valentine's Day bonus early on in 2022 from United. That 3,000 PQP bonus, combined with the ability to earn more than 1 PQP per $1 on United's partners, has allowed me to accrue roughly 10,500 PQPs and 33 PQFs with less than $4,000 spent out of pocket this year.

I plan to fly my three outstanding PQFs and earn my remaining 3,000 PQPs by the end of the summer. By doing so, I won't have to worry about any last-minute mileage runs in November or December when air travel becomes more expensive.

Better yet, I'm looking forward to dipping into my 500,000 MileagePlus miles this fall for some free flights using the United Excursionist Perk.

Most years, I am unable to use my miles for award travel since United doesn't give you PQPs or PQFs when you use miles. So by the time I hit my 1K status, the year is over and I have to start spending again for status for the following year when the calendar hits January 1. At TPG, this is what we call the hamster wheel of airline status.

I'm looking forward to breaking free from the hamster wheel early this year, so I can enjoy my miles with the peace of mind of having already requalified for my Premier 1K status.
American Airlines Platinum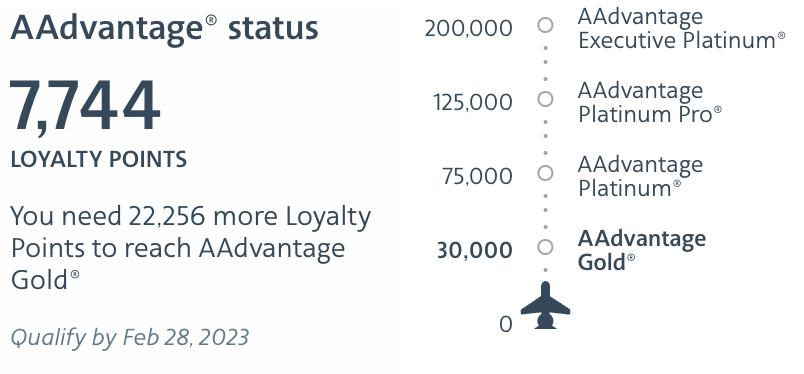 Loyalty points: 7,744 of 75,000 needed.
While my Loyalty Points balance is nowhere near what some of my colleagues have been able to earn, I am shooting for AAdvantage Platinum this year, primarily so I can earn 8 miles/Loyalty Points per dollar on American flights. That sounds like an underwhelming status aspiration, right?

Well, earning 8 miles per dollar next year will make it much easier for me to retain — or even upgrade — my AAdvantage status.

This year has been a slow path to AAdvantage status because I have no status, and American has only been awarding me with 5 Loyalty Points per dollar spent as a general member.

For example, say I earn Loyalty Points off $1,000 from a ticket. As a general member, that's just 5,000 Loyalty Points. But as a Gold member, that's 7,000 Loyalty Points; as a Platinum member, that's 8,000 Loyalty Points; as a Platinum Pro member, that's 9,000 Loyalty Points; and as an Executive Platinum member, that's 11,000 Loyalty Points.

Loyalty Points inherently make it harder for those with no status to qualify, so if I can make it to 75,000 Loyalty Points (Platinum status) by Feb. 28, 2023, I'll be in a much better place in subsequent years to retain and upgrade my status.
---
Featured photo by Benji Stawski/The Points Guy.
Will we be upgraded in 2023? Here's where TPG's staff stands midyear on our airline status quest