Yucca and palm fantasyland at John Fairey Garden
December 17, 2021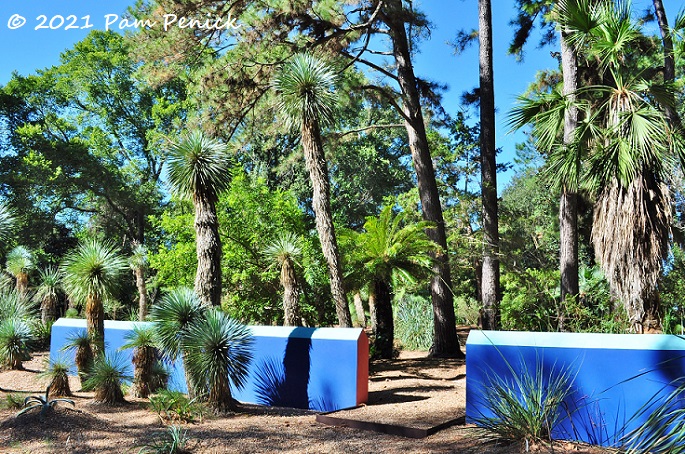 I'd been to The John Fairey Garden (formerly Peckerwood Garden) a half-dozen times before my late-October visit with Loree Bohl of Danger Garden, who was in town to give a Garden Spark talk. Frustratingly, I'd never toured the dry garden, though I'd glimpse its bristling yuccas and iconic blue wall in the distance. A cypress-kneed creek that divides the main gardens from the dry garden was always flooding, and a homemade footbridge was considered treacherous for visitors.
But this time I got across! Executive director Randy Twaddle led Loree and me across the old, sketchy footbridge and set us loose in the dry garden, inviting us to return across a brand-new bridge that was receiving its finishing touches that day. With a sense of triumph, I set off to explore.
Dry Garden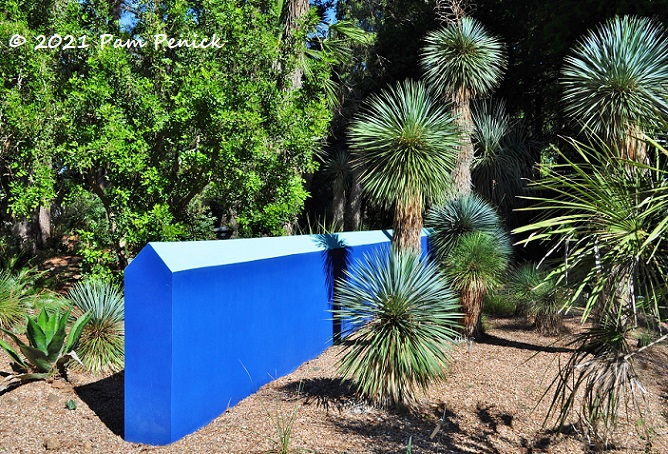 First, that wall! Photos of it partly inspired my own cobalt stucco wall. In profile, with that peaked top, it looks like a child's drawing of a house. A lighter shade of blue colors the peak, emphasizing the shape.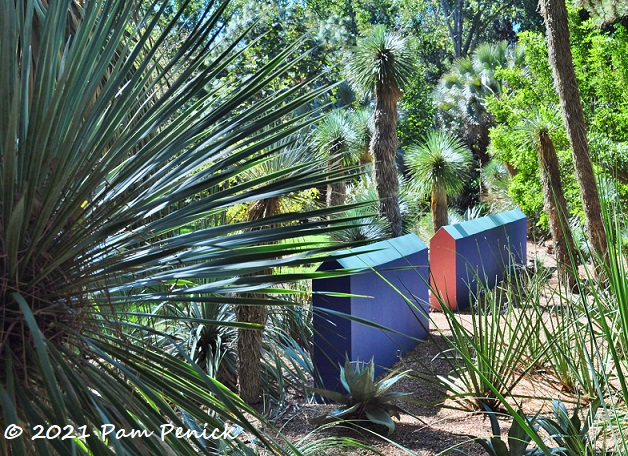 And — surprise! — pink is revealed in the "center" of the wall, as if a giant bread knife sliced out a chunk to run a path through.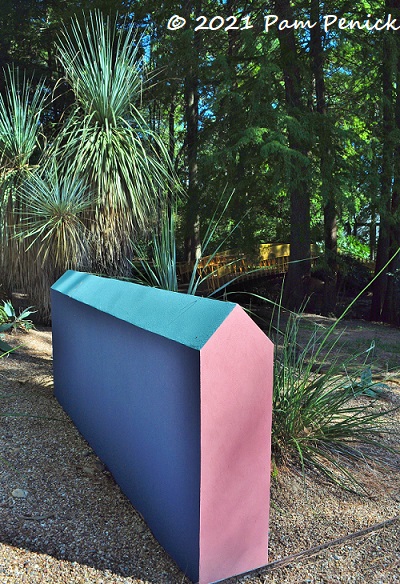 A wall this bold deserves equally bold plants, and the dry garden delivers.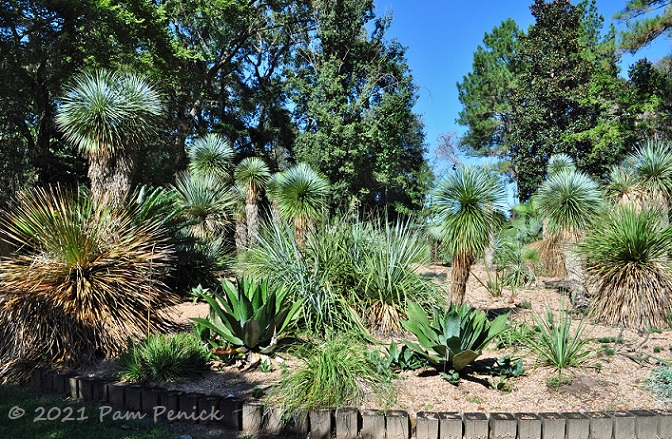 Beaked yuccas galore stand erect like a colony of meerkats on the African plain. Squat, spiky agaves and spherical strappy sotols (with browned foliage from the February snowpocalypse) add to the otherworldly scene.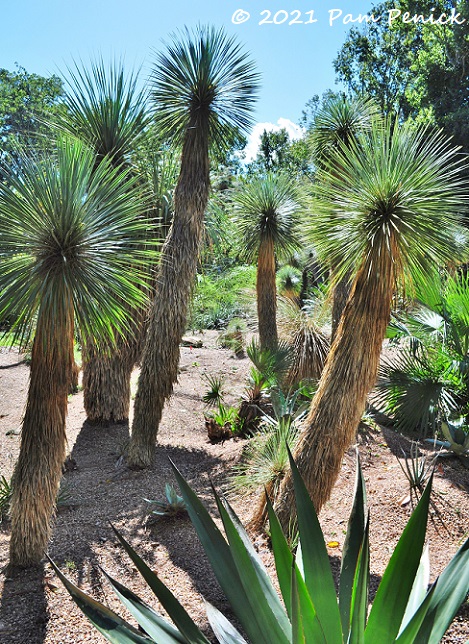 Just look at these beauties — like blue-green fireworks going off all around you.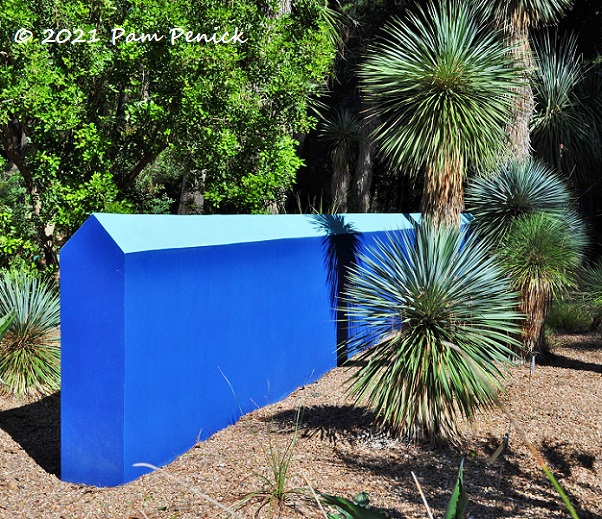 Where the yuccas crowd along the blue wall, their spiky-headed shadows drape across it.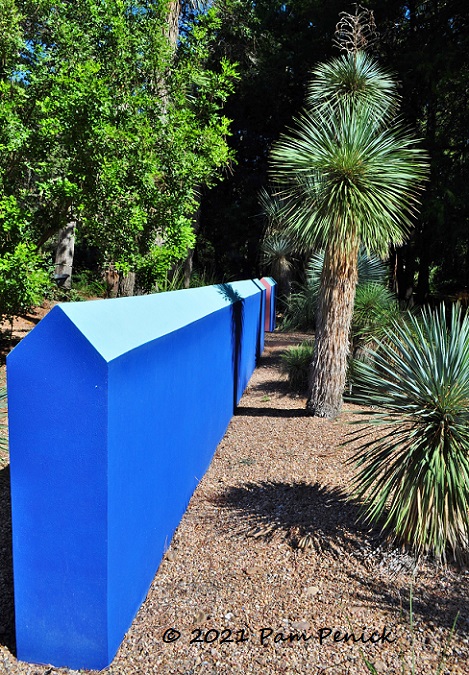 Bristly shadows show up well against the tan gravel too.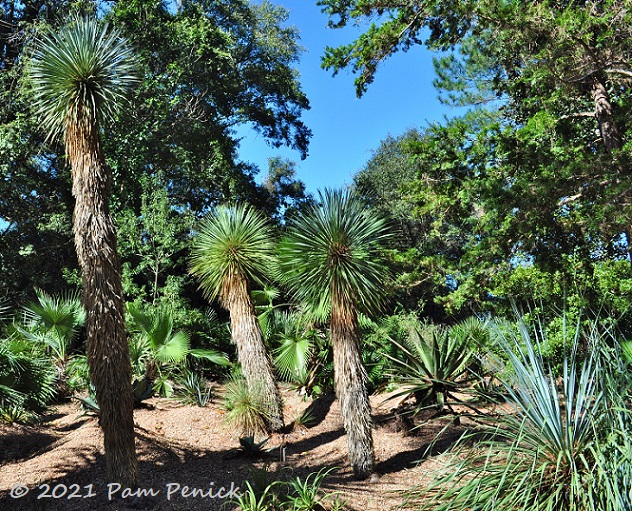 Hempstead, an hour west of Houston and two hours east of Austin, receives about 43 inches of rain a year. To keep dry-loving plants from rotting, the garden's founder, John Fairey, would plant them on gravelly mounds for drainage.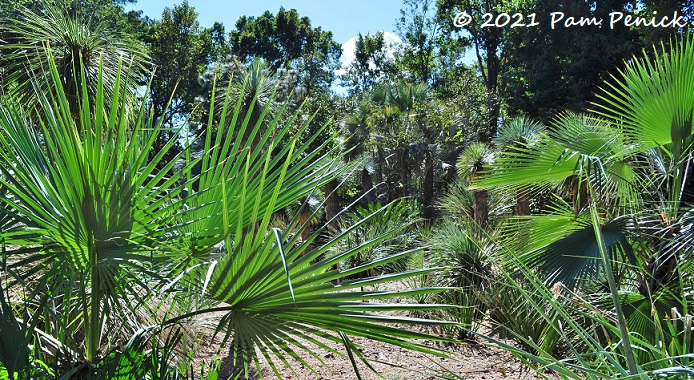 Palms thrive here too, even after the horrible February freeze. I'm sure some palms were lost, but many remain.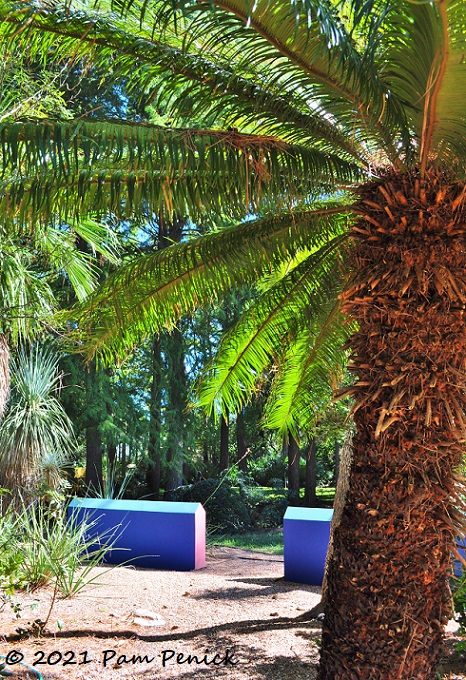 Cycads too, including this giant.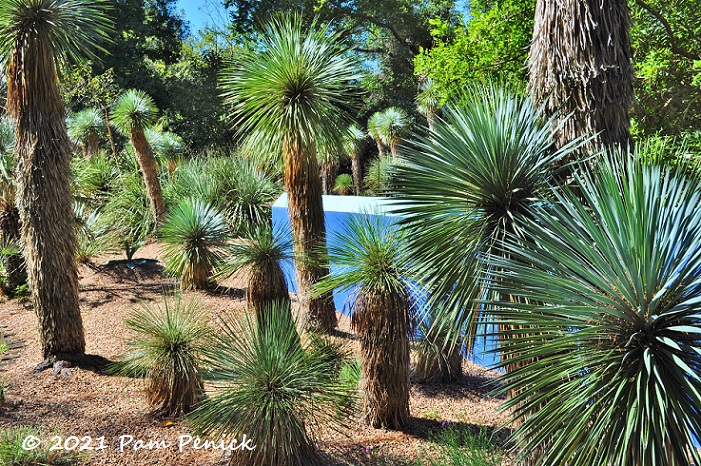 It's easy to anthropomorphize beaked yuccas. Those straight trunks and big, round heads always remind me of people. Hello there!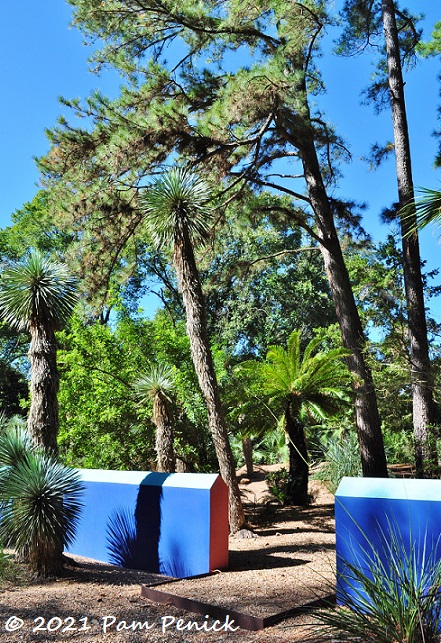 Some of the yuccas are tree sized.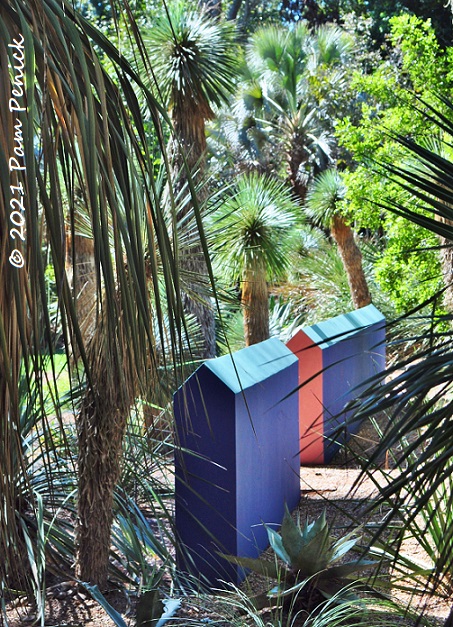 This monochromatic garden is about texture and form, not flowers or contrasts of foliage color or anything like that. And the blue wall complements and grounds all those shimmering, soaring, blue-green plants.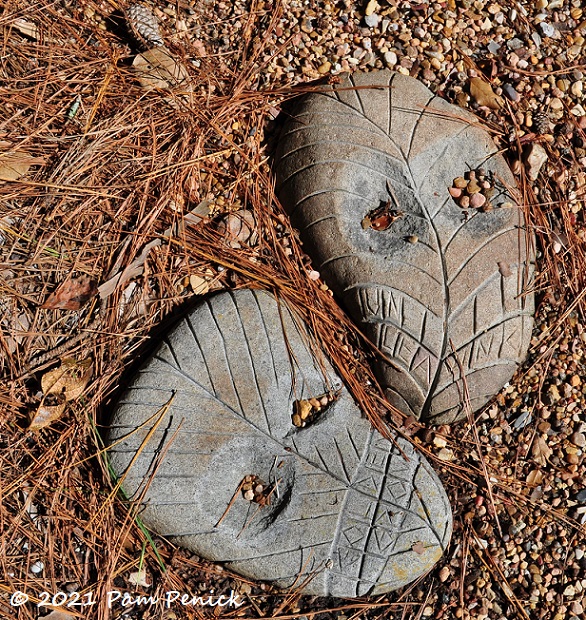 John Fairey collected pieces by sculptor Marcia Donahue, including these leaf faces. Carved words in their teeth read golden grove on the left and something I can't decipher on the right. Leaf maybe?
New footbridge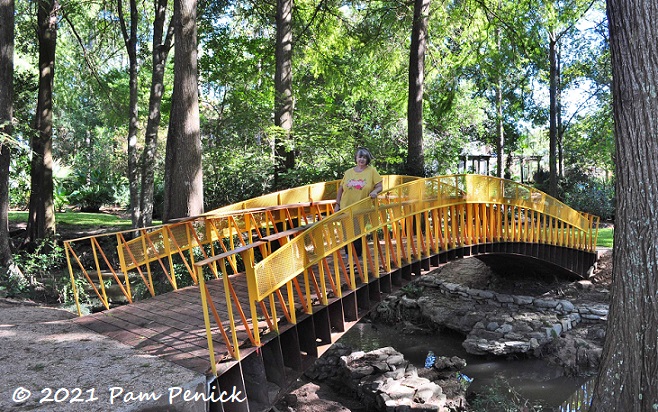 Crossing the creek to return to the main gardens, I took a photo of Loree on the new yellow footbridge. You can read about the bridge's design, and how it will hold up when the creek inevitably floods, in the link.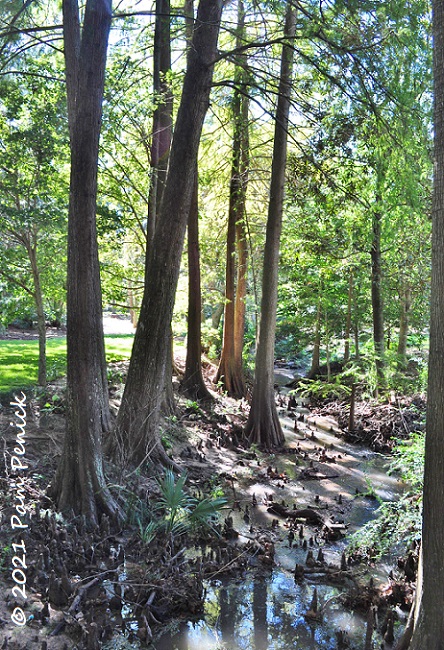 The creek, placid and knobbed with bald cypress knees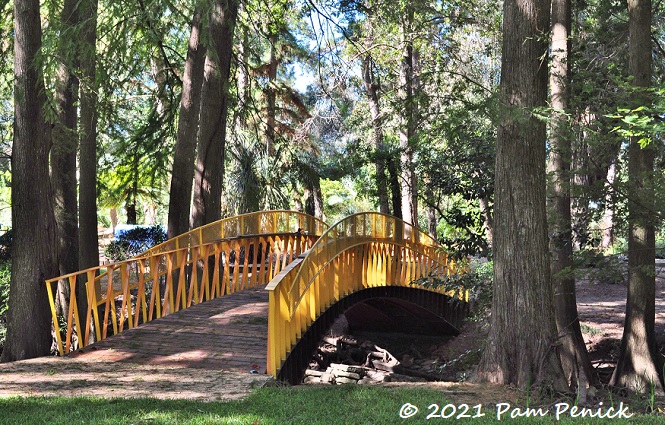 It's exciting to know that future visits to the dry garden won't be thwarted, thanks to the new bridge.
Woodland Garden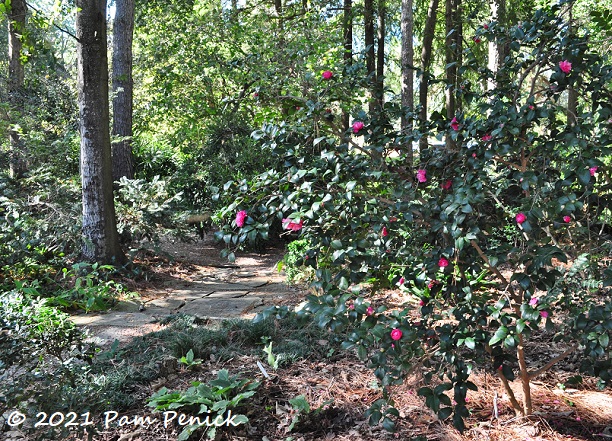 From the sunny, gravelly dry garden you cool off in a shady woodland garden blanketed with pine needles. An early camellia, hot pink, was flowering. One of these days I'll visit in November-December to see their 70+ camellia cultivars in bloom.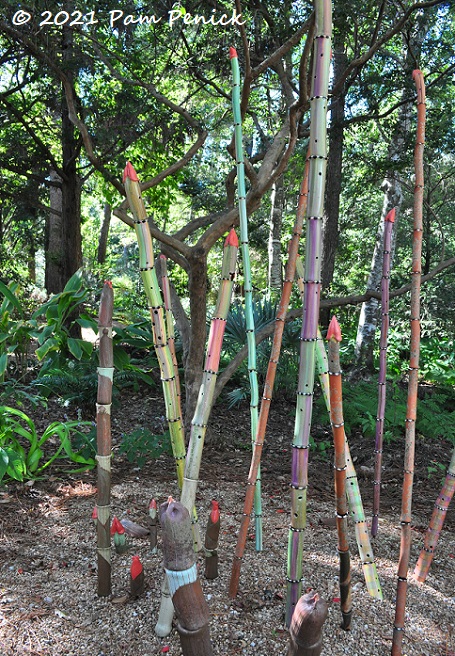 A Marcia Donahue sculpture of colorful bamboo "grows" in a small clearing. (For my visit to Marcia's personal garden in Berkeley, California, click here.)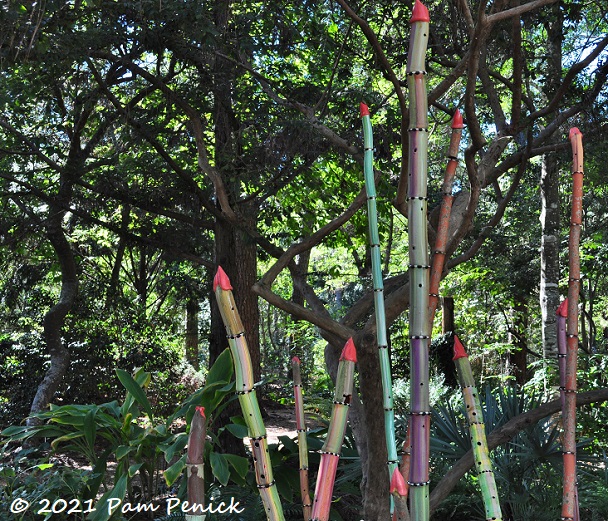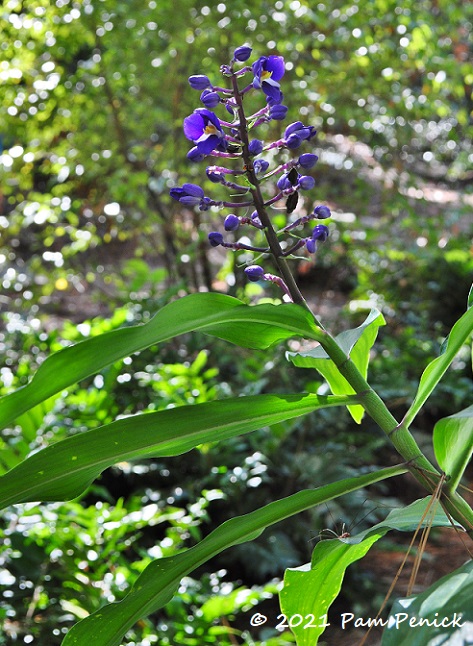 A blue ginger (Dichorisandra thyrsiflora) in bloom caught my eye.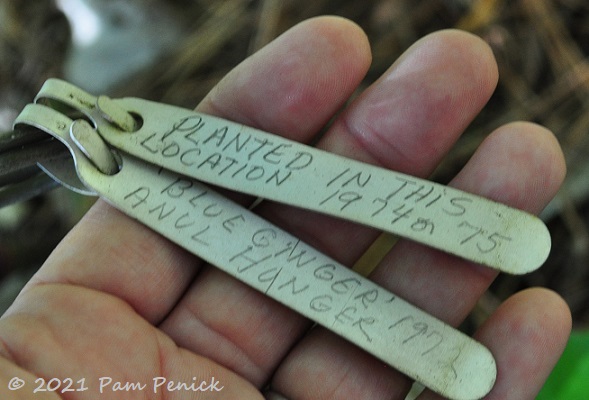 As did its detailed plant labels. A penciled inscription on one metal tag reads, "Planted in this location 1974 or 75."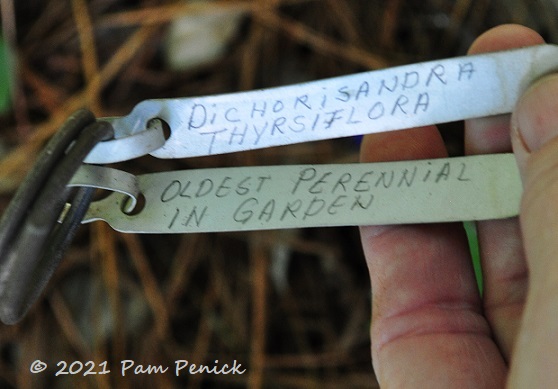 "Oldest perennial in garden," reads another.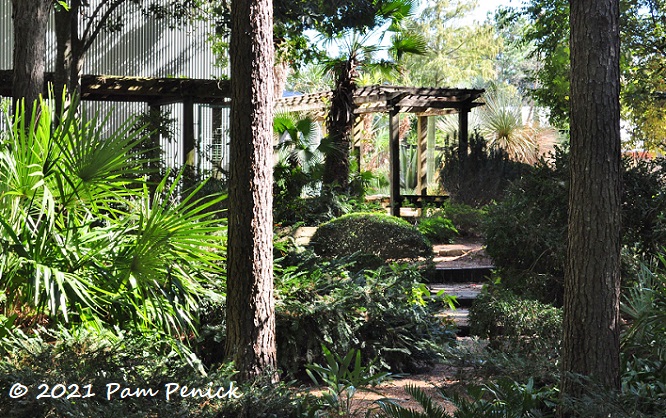 This dappled-light, stepped-up passage through palms, boxwood, and columns of tree trunks is one of my favorites moments in the garden. Ahead you glimpse the corrugated metal siding of the house that John Fairey built.
Arbor transition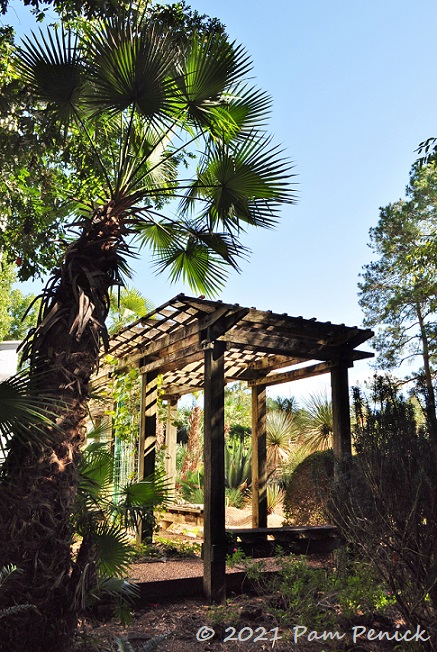 A long wooden arbor creates a hallway between the shady woodland and the sunny dry garden in front of the house.
Palm fronds dazzle against the metal siding, and beyond you see spiky yuccas and agaves.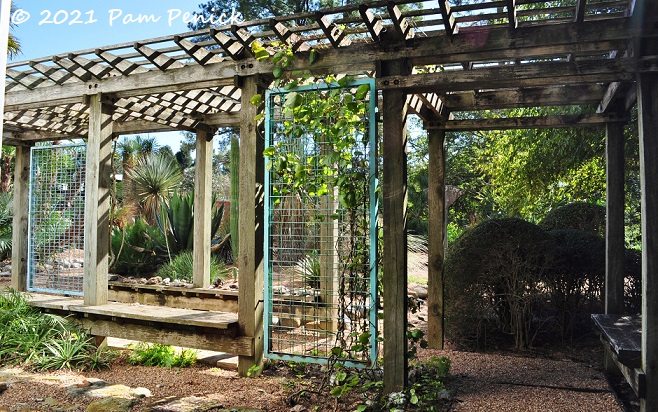 Inset panels of blue-green, wire-mesh trellising brighten the arbor and give vines a place to climb.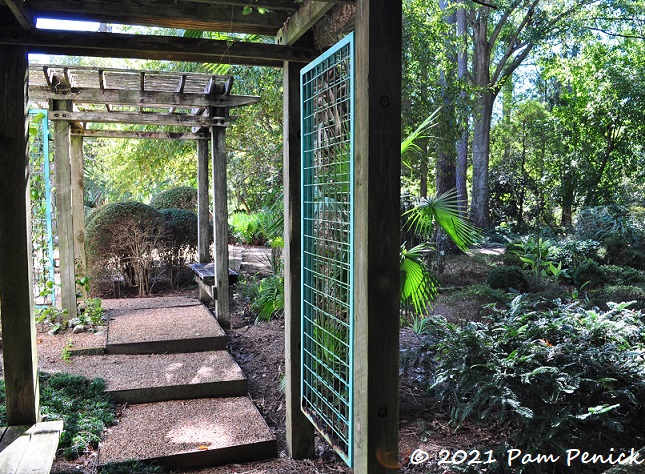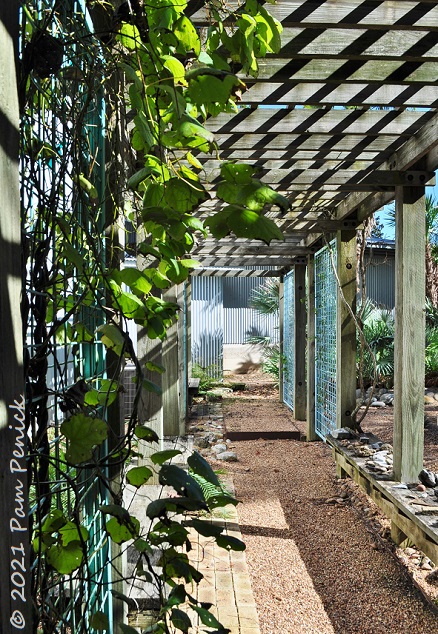 The long view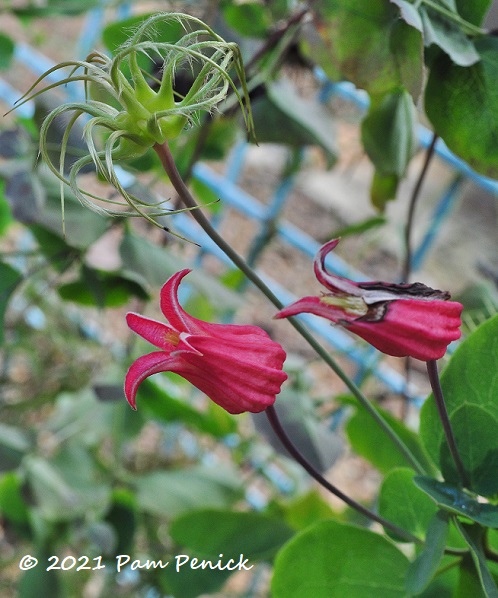 Scarlet clematis (Clematis texensis), a Texas native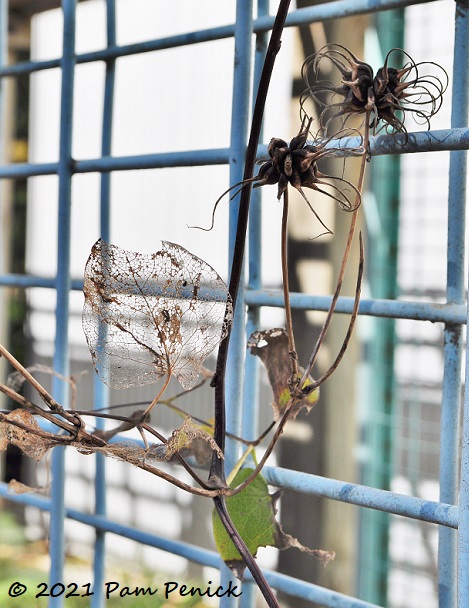 And gone to seed, with a diaphanous skeleton of a leaf hanging on
House Garden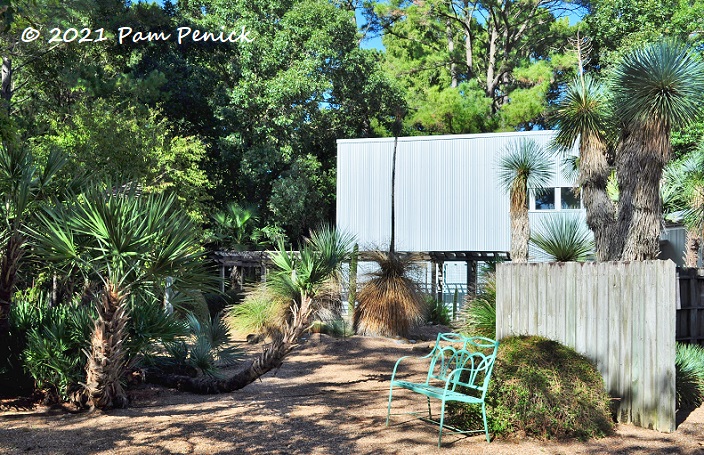 Saw palmetto (Serenoa repens) trunks with new-sprouted fronds tell the tale of freeze damage, as do bronzed masses of dasylirion.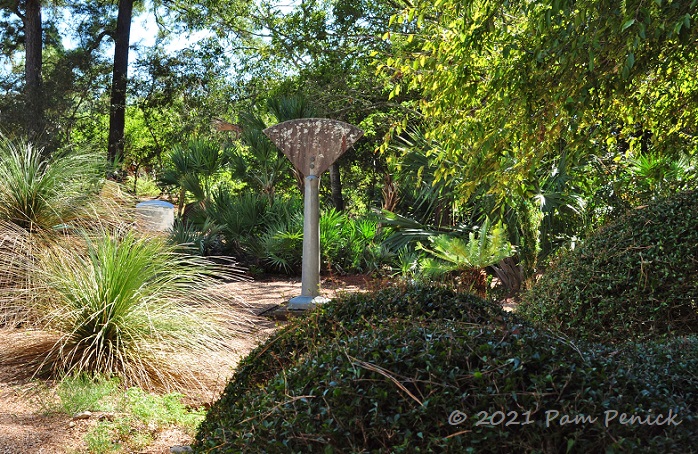 But overall the garden was green and lush thanks to hardy yuccas, resprouting palms, boxwoods, and much more.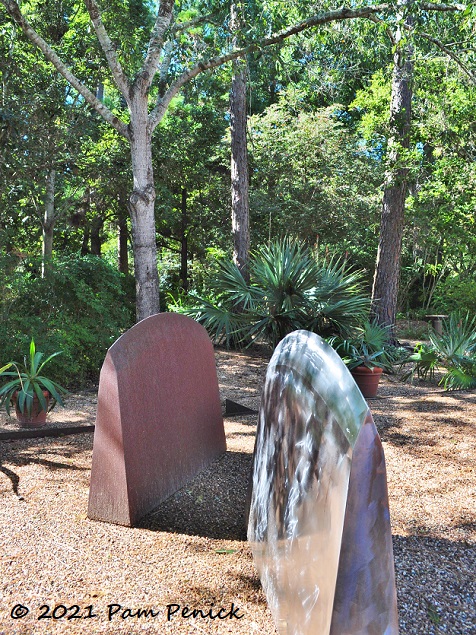 Two steel sculptures, one shiny silver, the other matte rust, draw the eye at the far end of the house garden.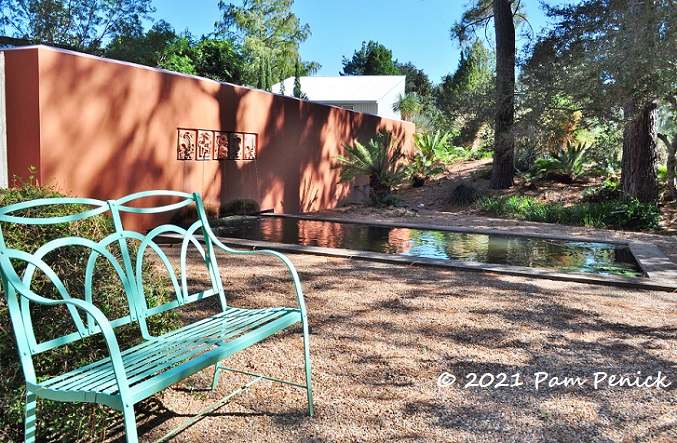 Another colorful wall makes a grand statement here. On each side, face tiles act as scuppers, spitting water into a rectangular reflecting pond.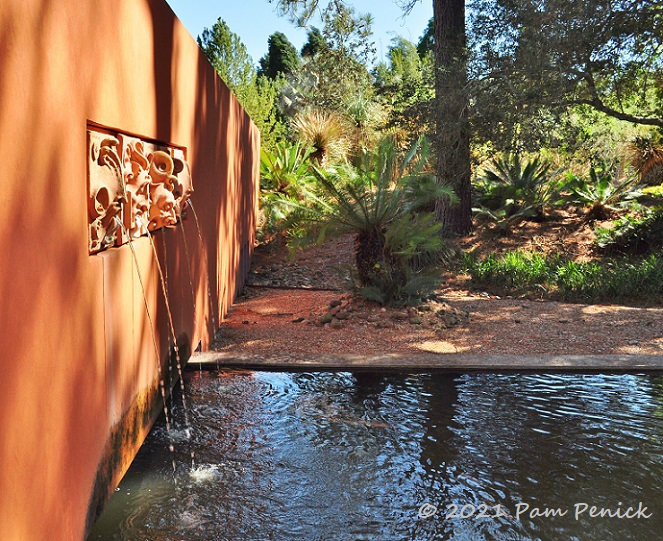 The warm terracotta of the wall glows on a sunny day.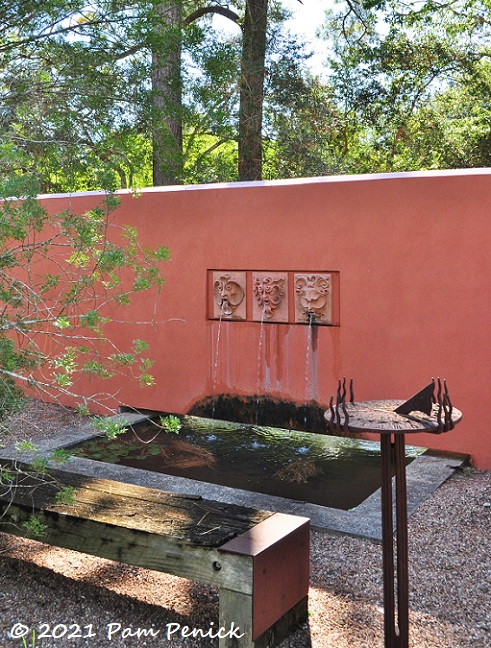 The inner view, with a short section of the reflecting pond extending under the wall.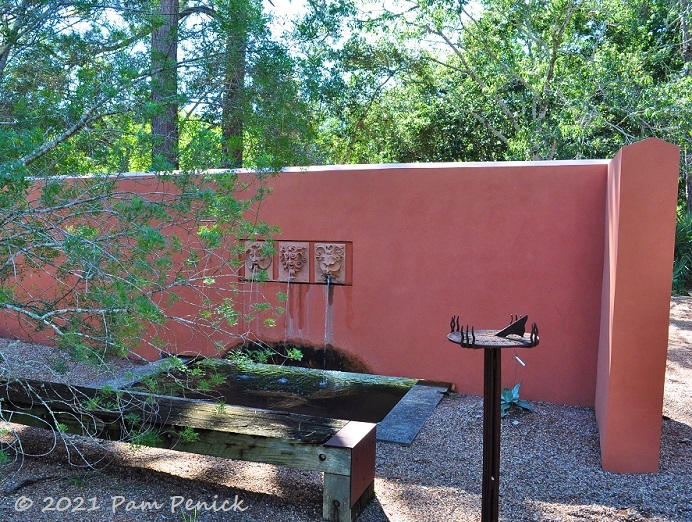 A long wooden bench invites you to sit and enjoy the face scuppers.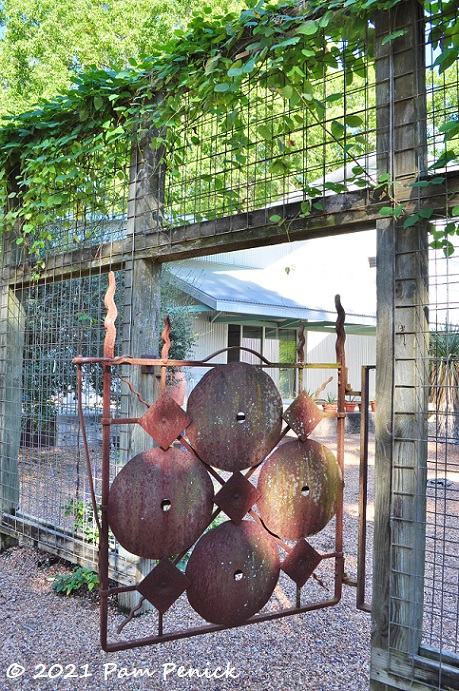 A tall trellis fence with a plow-disc gate marks the inner sanctum of the house garden.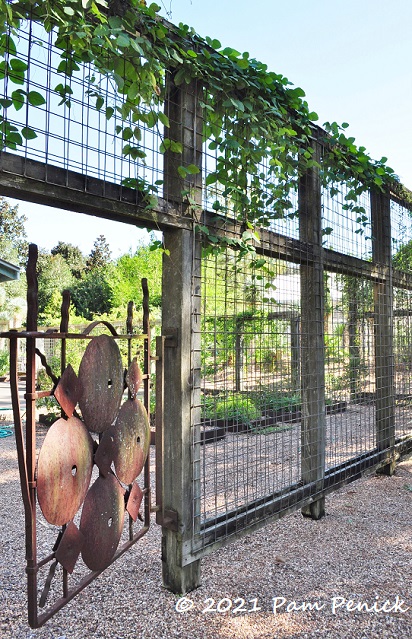 Vegetable beds are laid out in the gravel patio inside the fence.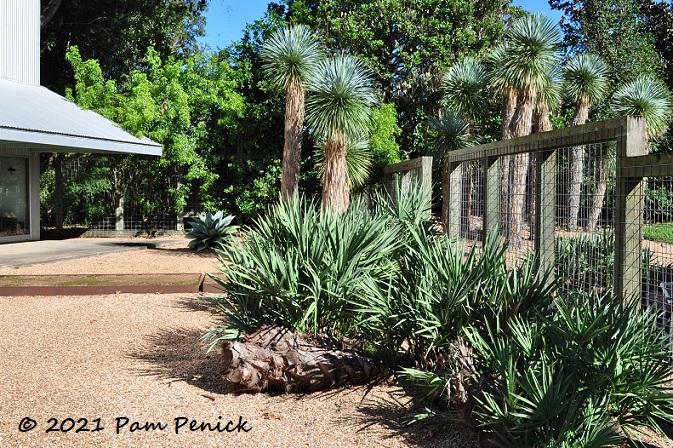 Horizontal palmetto trunks have been cut back, casualties of the freeze, but new growth appears along the top.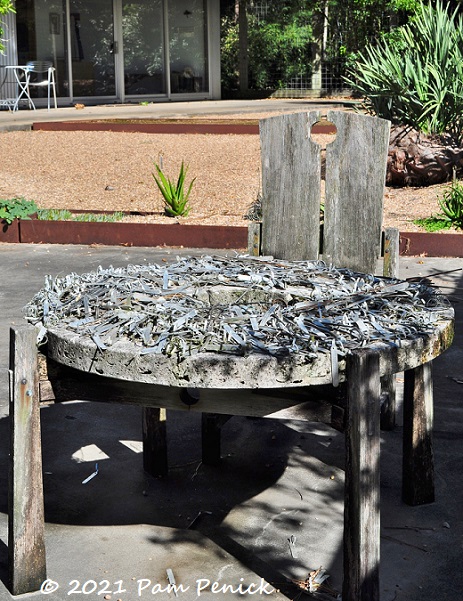 A round patio table displays a tribute to plants that have passed on.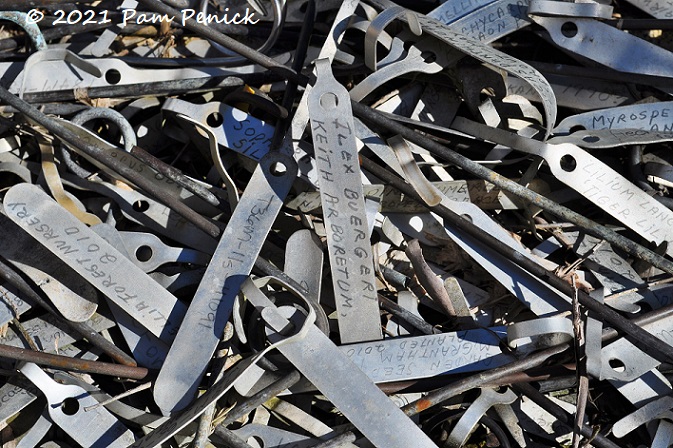 Making a statement with "dead" plant tags — that's clever. After all, gardening is always an experiment, and plants die. It's just a fact.
House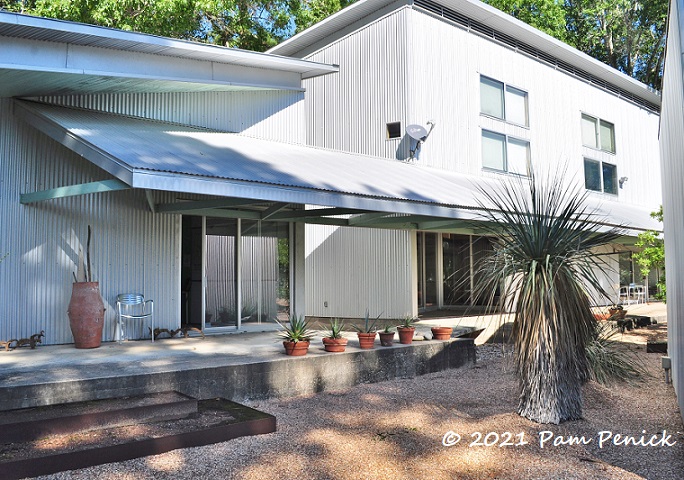 The metal-sided house and detached studio are strikingly contemporary for a rural garden. An awning-style roof connects the buildings and their separate concrete porches.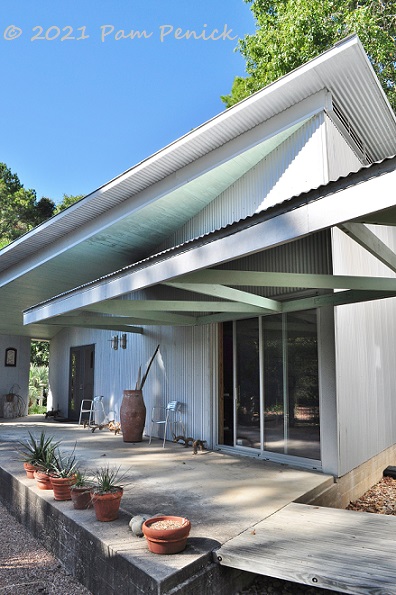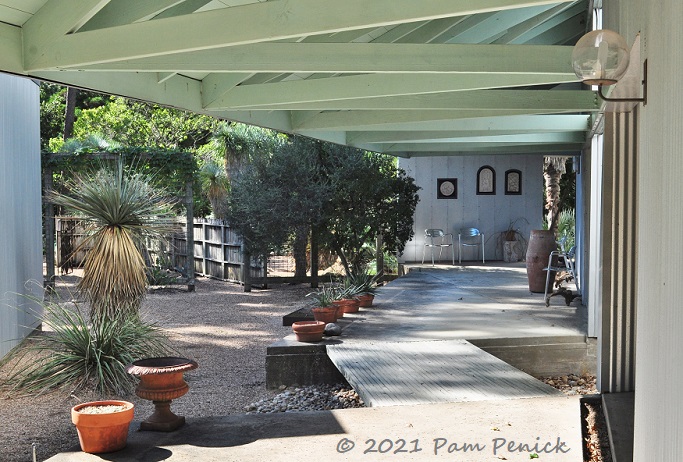 A wooden bridge zigs across the opening between the porches. I love the deep, trussed porch roof.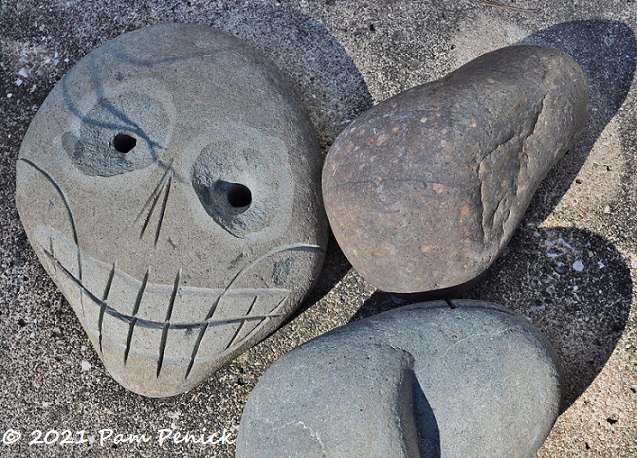 A grinning rock skull — another Marcia Donahue piece, I believe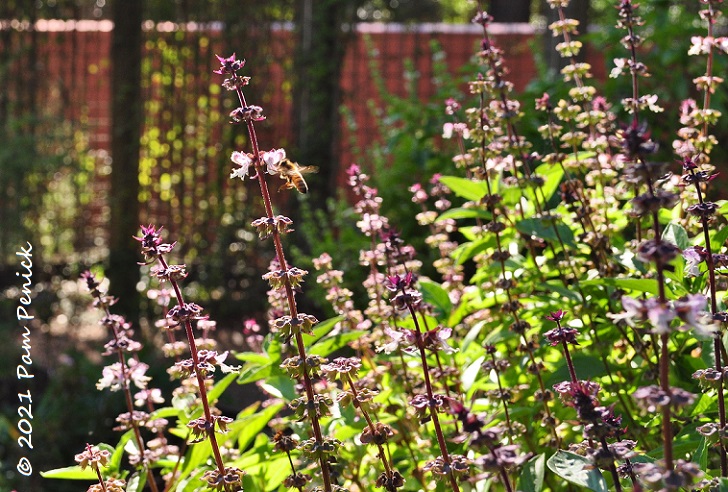 Bees were a-buzzing in the basil.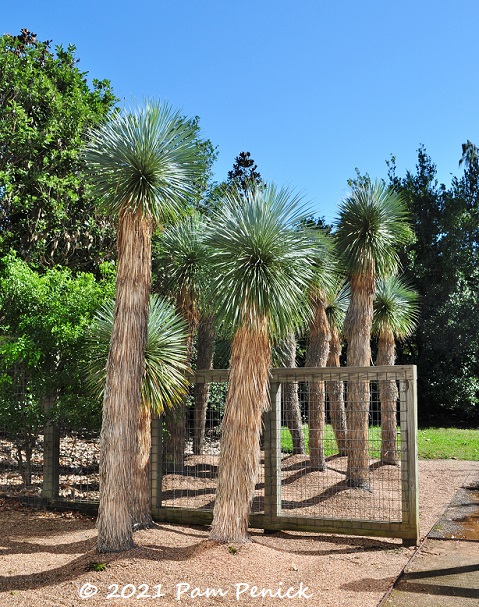 More meerkats beaked yuccas on each side of an open fence separating the house garden from the more public spaces.
Perennial garden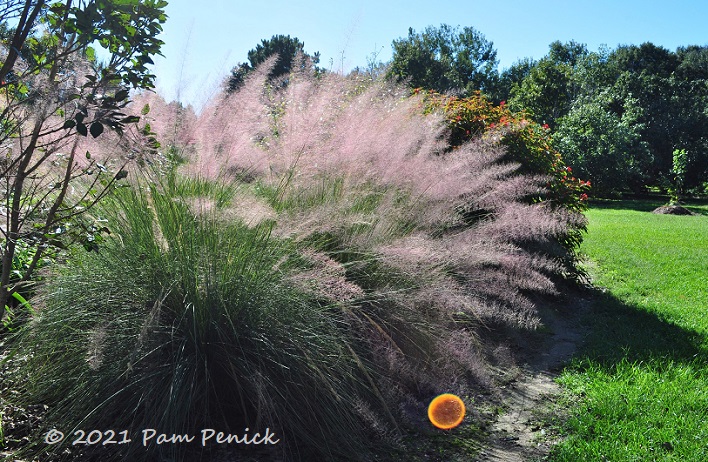 Showy 'Pink Flamingo' muhly grass, a natural hybrid of Gulf muhly and Lindheimer muhly, was discovered here years ago. Today you can find it for sale at nurseries.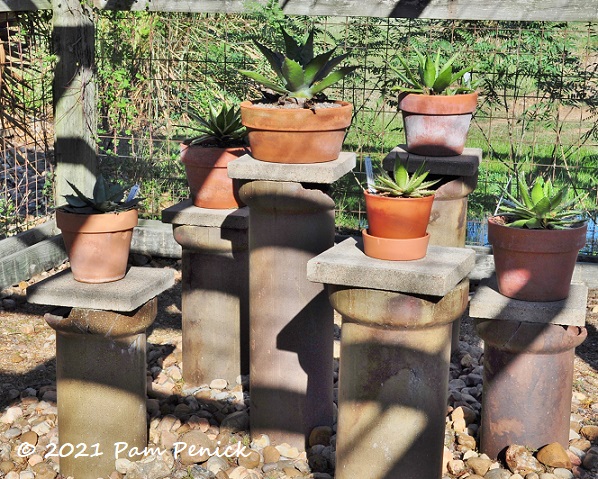 Speaking of nurseries, The John Fairey Garden operates one near the garden entrance, where you can find all sorts of unusual plants, including many collected by John on his long-ago plant-hunting expeditions. For some reason, I didn't take a photo of the sale tables. But I did take one of potted agaves displayed on plinths made from paver-topped pipes.
Mosaic wall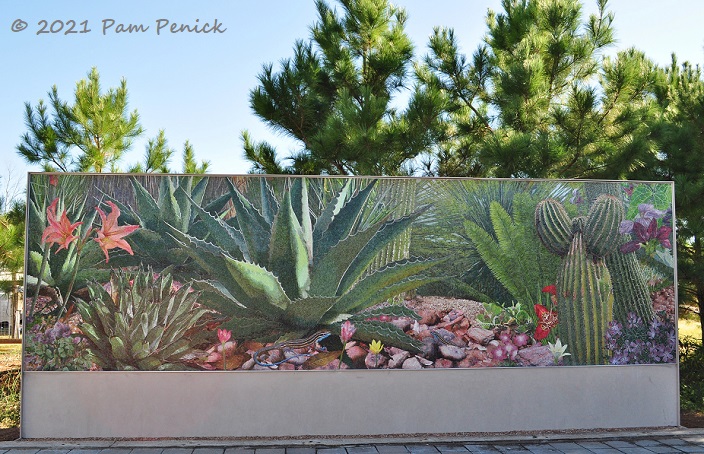 Another new feature at the garden is a beautiful mosaic-tile wall mural by Houston artist Dixie Friend Gay. It depicts a spiky garden scene from a lizard's-eye view.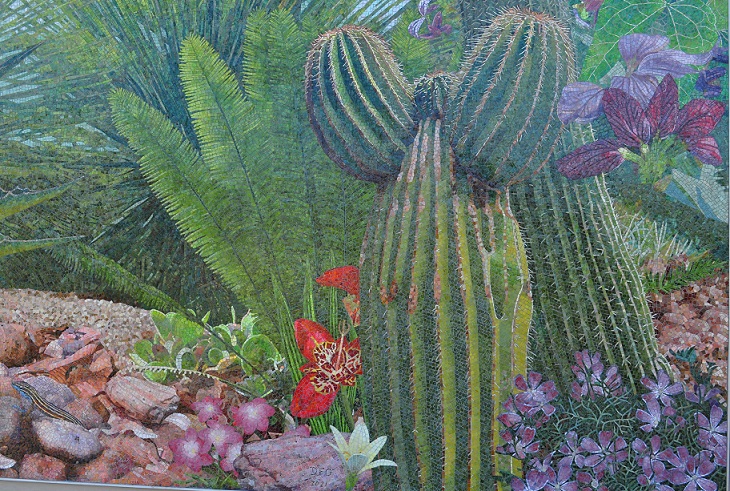 Gay has also created several sculptures at Mueller neighborhood in Austin, which are worth a visit.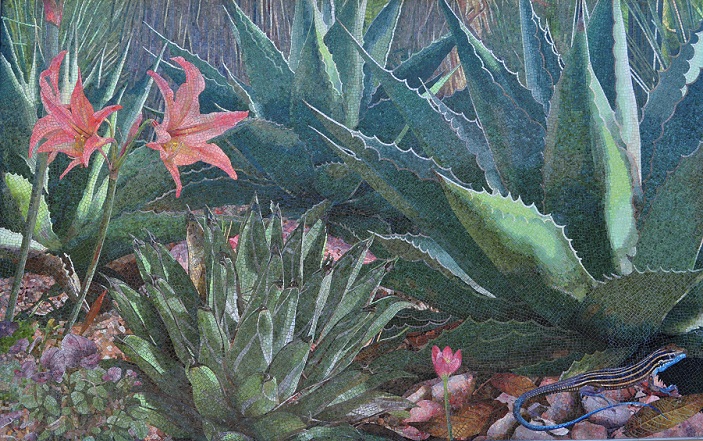 She has a gift for showing plants and animals from unique perspectives.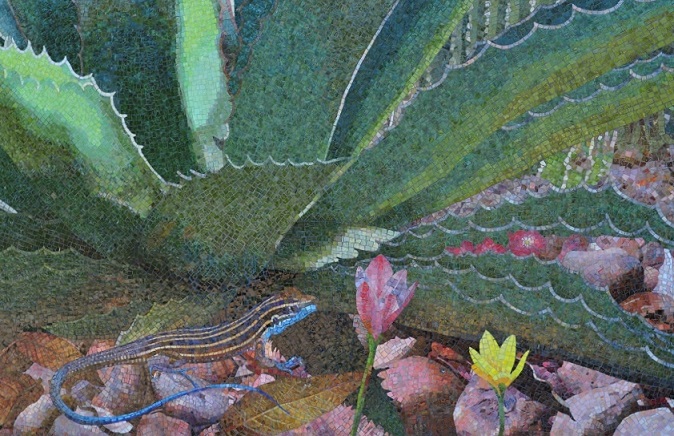 If you'd like to tour The John Fairey Garden yourself, join their email list or check their online calendar for upcoming Open Days. You can also arrange a private tour for groups of 5 or more.
To learn more about founder John Fairey and the plant-hunting in Mexico that inspired his garden, read my article in Garden Design magazine.
I welcome your comments; please scroll to the end of this post to leave one. If you're reading this in a subscription email, click here to visit Digging and find the comment box at the end of each post.
_______________________
Digging Deeper: News and Upcoming Events
Need design help with your yard? Hire me as your personal garden coach! Maybe you need replacement plant ideas after the big freeze. Or maybe your landscaping has grown tired, and you want fresh curb appeal. Or perhaps you're ready to get rid of some lawn and create a pollinator garden, bird habitat, or hangout space for you and your friends. I'm here to help! Contact me to let me know what's going on, and let's figure it out together. My range is Austin and suburbs within a 25-min. drive of NW Austin, but I'm flexible and can travel farther with a surcharge, so let me know where you are. Weekday morning appts. only.
Join the mailing list for Garden Spark! Hungry to learn about garden design from the experts? I'm hosting a series of talks by inspiring garden designers, landscape architects, and authors a few times a year in Austin. Check out the 2021-22 schedule. These are limited-attendance events that sell out quickly, so join the Garden Spark email list to be notified in advance. Simply click this link and ask to be added.
All material © 2022 by Pam Penick for Digging. Unauthorized reproduction prohibited.
The post Yucca and palm fantasyland at John Fairey Garden appeared first on Digging.
Yucca and palm fantasyland at John Fairey Garden