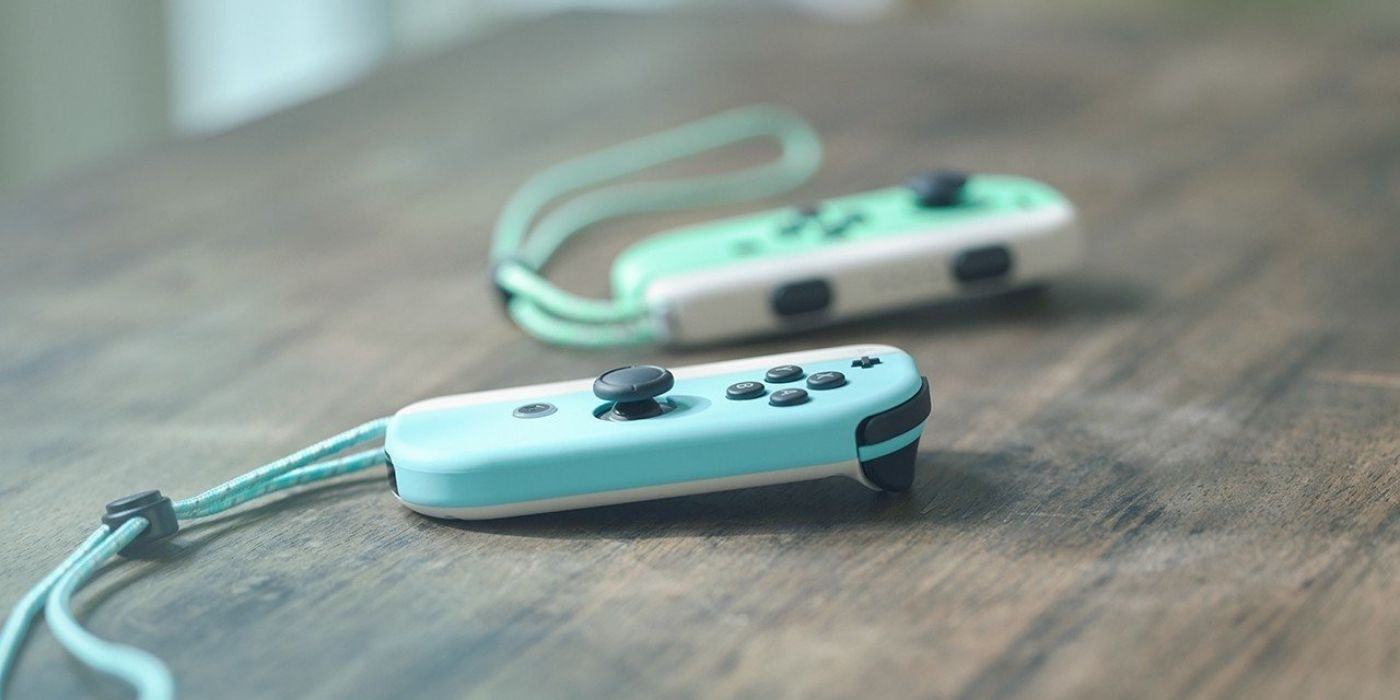 Since the launch of Nintendo's versatile console in 2017, the Nintendo Switch has quickly become one of the top-selling consoles of all time. The Switch has already overtaken the Xbox 360 in sales, and is nearing 100 million units sold. Due in-part to the mobility of the device, as well as a big catalogue of games, the Nintendo Switch has carved out a space for itself in the new generation of consoles. With the Switch's detachable Joy-Con controllers, players are able to experience games in numerous ways.
When the Nintendo Switch was first revealed, the launch models only had two variations of Joy-Con colors. Those that wanted a more sleek Switch could chose the gray Joy-Cons to match the rest of the device, while those that wanted a pop of color could choose a Neon Red and Neon Blue option.  Over the years, the offerings for Joy-Cons have added multiple color combinations and special editions for players to choose from.
RELATED: Gamer Finds Way to Play Music on Nintendo Switch Joy-Cons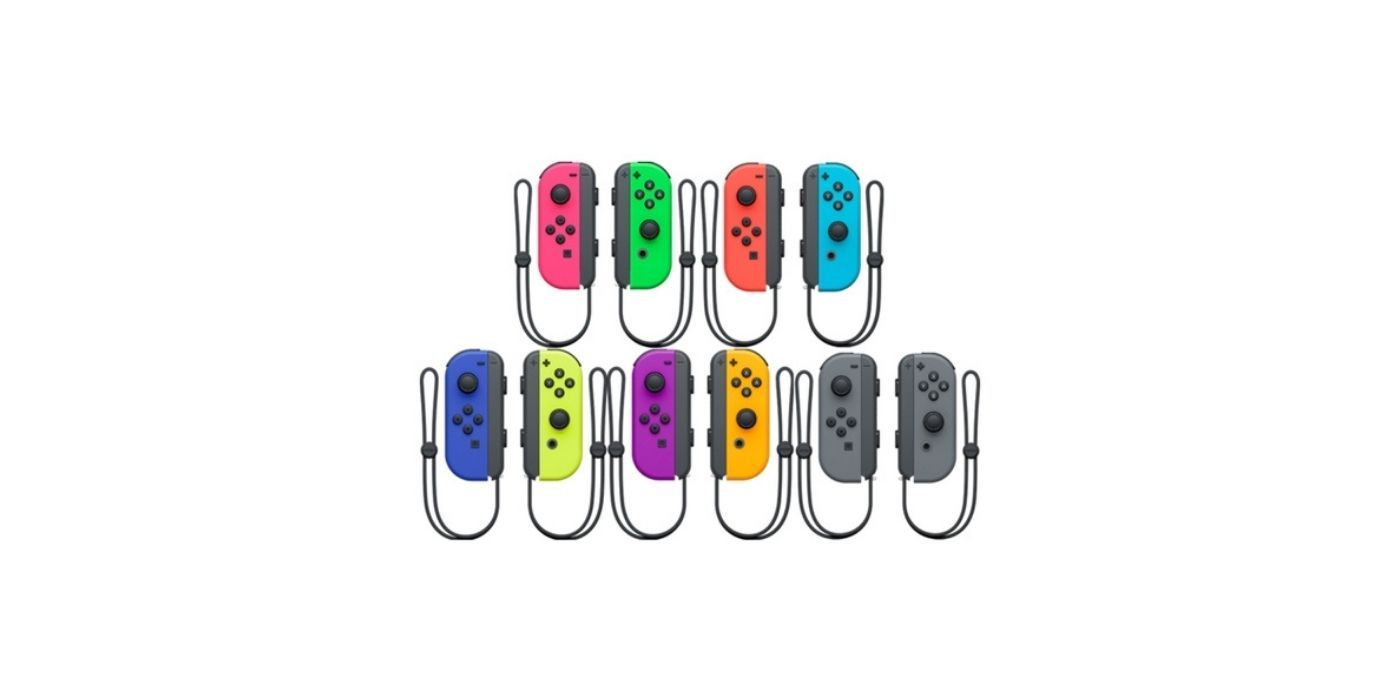 Gray
Neon Red and Neon Blue
Blue and Neon Yellow
Neon Pink and Neon Green
Neon Purple and Neon Orange
Nintendo clearly likes to make "Neon" color variations for its Joy-Cons, which is mostly a way to create different Joy-Cons with colors in different hues. While there are plenty of color combinations to choose from, players still experience the constant problem that is Joy-Con drift. Hopefully, as Nintendo continues to experiment with new Joy-Con options, the likelihood of drift will continue to decrease.
Many fans have also criticized Nintendo for how it controls the types of Joy-Cons consumers can get at a time. For example, Neon Pink and Neon Green Joy-Cons come in a single pack. If a player wanted to get the Neon Pink Left Joy-Con and the Neon Orange Right Joy-Con, they would have to buy two separate Joy-Con pairs. Further, players don't have the flexibility in getting certain colors on certain Joy-Cons, as some colors are restricted to either the Left or Right Joy-Con. While this isn't the most troublesome issue with Joy-Cons, many players are disappointed in the lack of flexibility in this regard.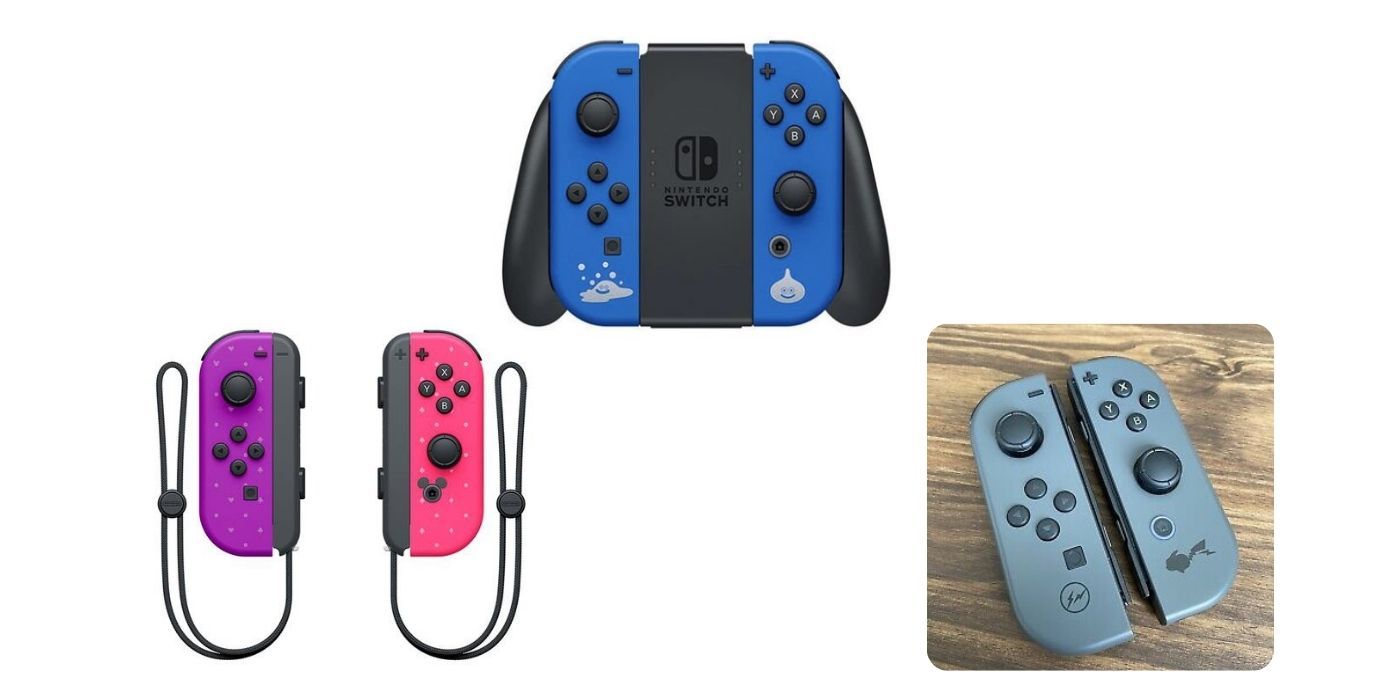 Disney Tsum Tsum Joy-Con
Nintendo Switch Dragon Quest 11 S Bundle
Thunderbolt Project Joy-Con
As the gaming giant based in Japan, it is no surprise that Nintendo will occasionally release both hardware and software locally, so there are a few Joy-Con designs that have only been sold in Japan. There was a special Nintendo Switch Dragon Quest 11 S Edition that featured two blue Joy-Cons with prominent Dragon Quest slimes on the front. A special pair of Joy-Cons also launched with Disney Tsum Tsum Festival and featured pink and purple Joy-Cons, with tiny playing card symbols across the front of each controller.
Through a partnership with The Pokemon Company, legendary Japanese designer Hiroshi Fujiwara helped design a pair of limited edition Joy-Cons. This Joy-Con pair, which was titled the "Thunderbolt Project by FRGMT X Pokemon," features a small Pikachu icon on the Right Joy-Con and the Thunderbolt Project logo on the Left Joy-Con.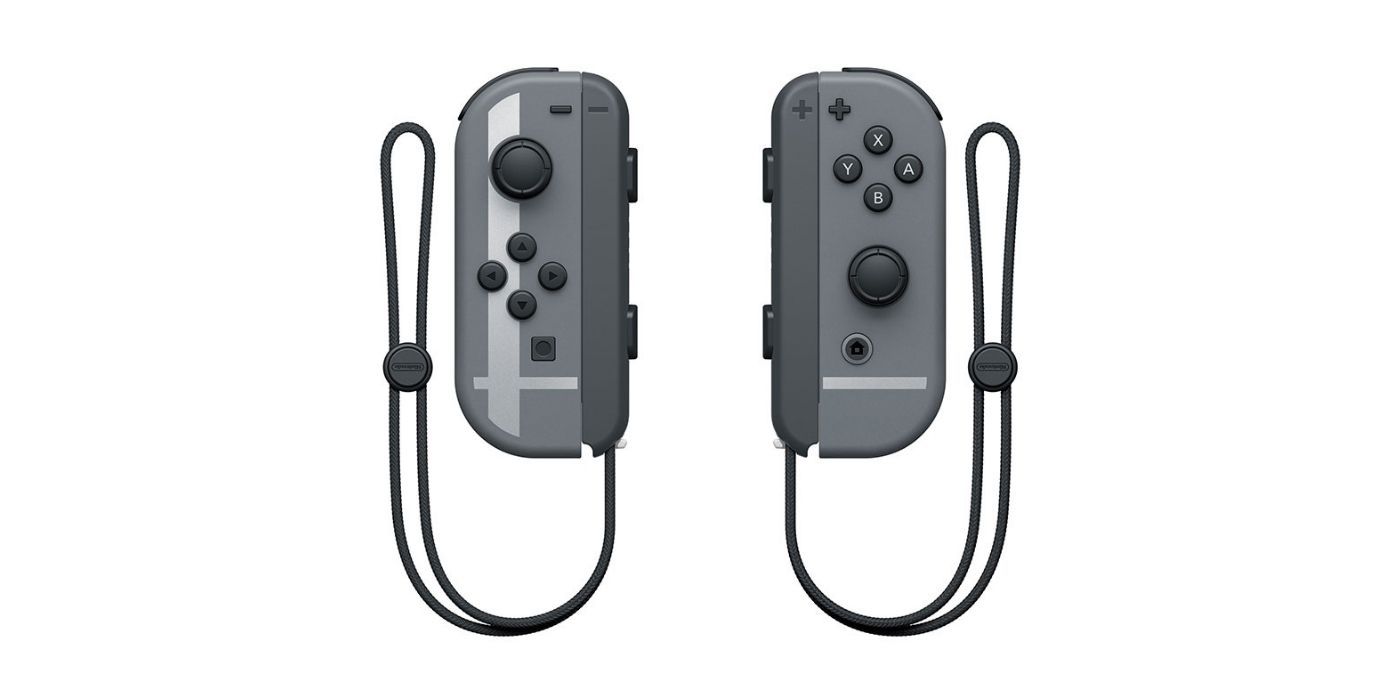 Nintendo is known for releasing special editions of controllers or consoles for major video game releases from its big franchises, and Super Smash Bros. gets the same treatment. Released ahead of the launch of Super Smash Bros. Ultimate in 2018, these sleek gray Joy-Cons feature the iconic Smash cross transposed across both controllers.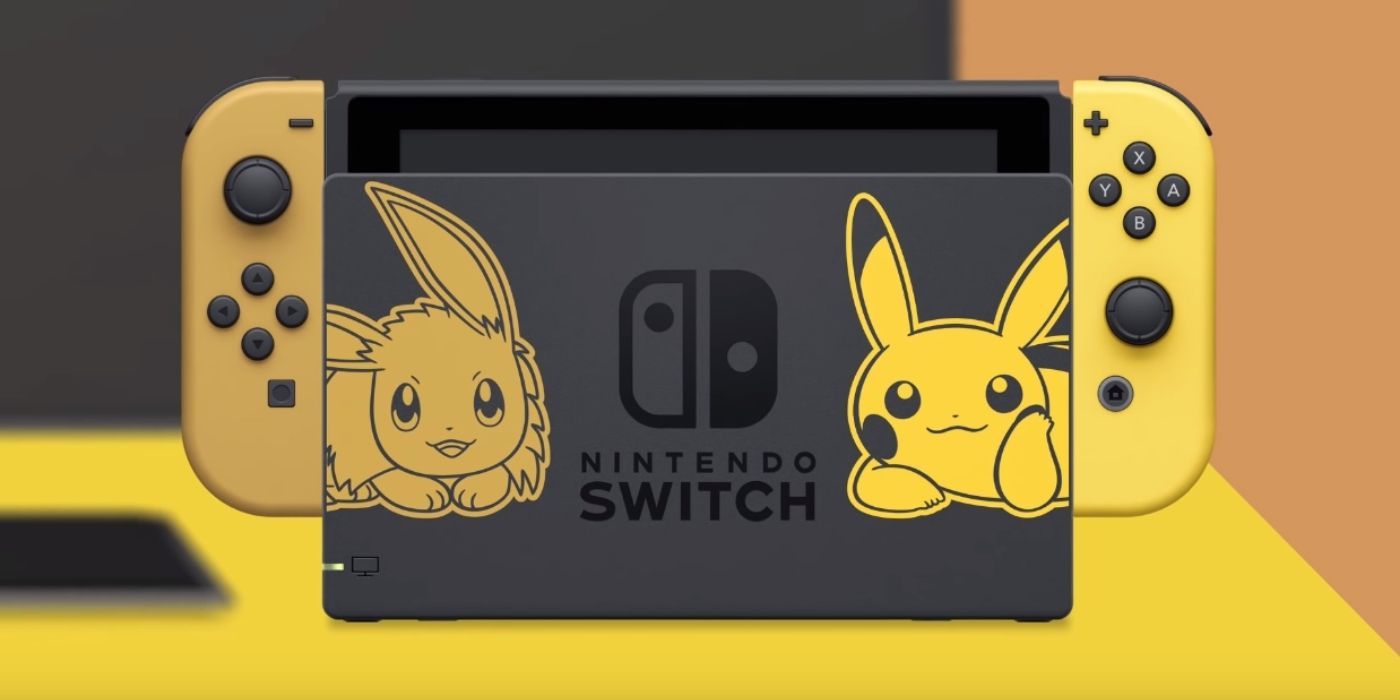 A special version of the Nintendo Switch was created for the release of Pokemon: Let's Go! Eevee and Pokemon: Let's Go! Pikachu. The bundle features a specially-designed Switch dock, a Pikachu-yellow Right Joy-Con, and an Eevee-brown Left Joy-Con. The two controllers also have differently colored Joy-Con straps, with the Eevee-colored controller having an off-white strap, while the Pikachu-colored one has a more brown-colored strap.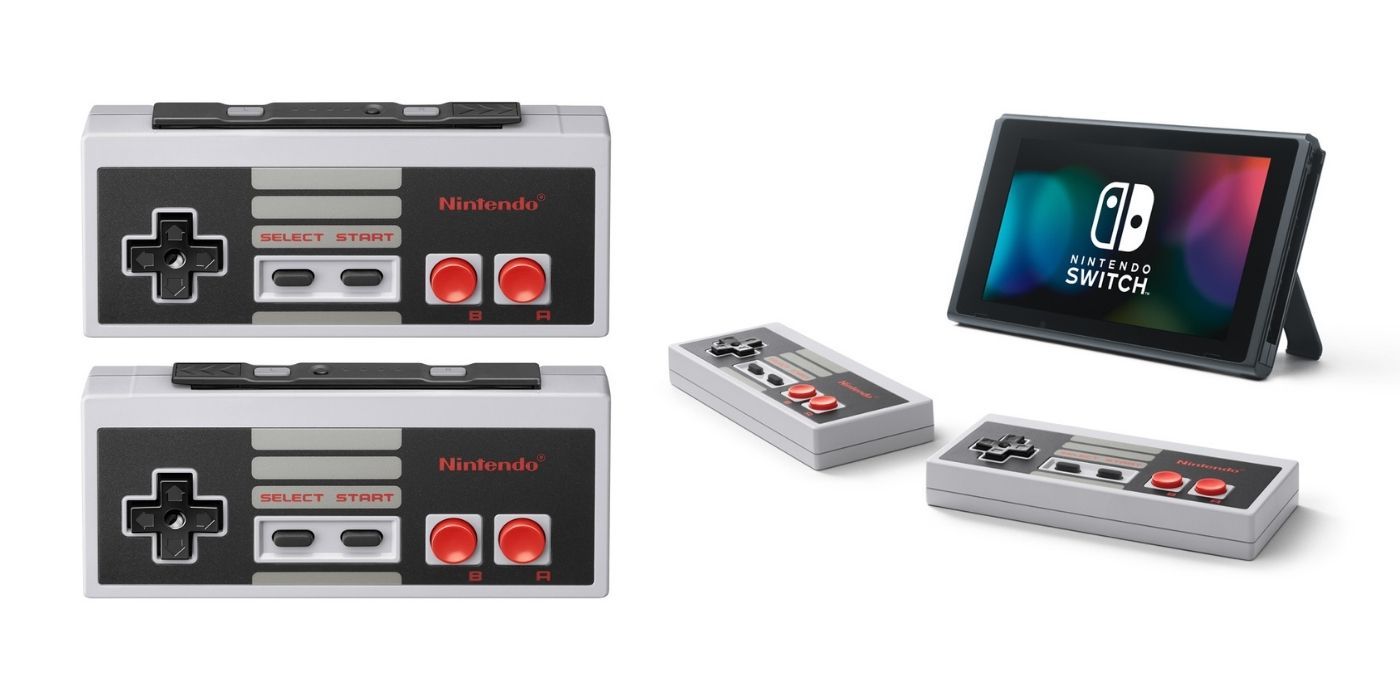 In the second half of 2018, Nintendo launched new Joy-Con controllers inspired by the NES, its original home console. These are special controllers replicating the iconic controller design from the NES, launched in-part to capitalize on the Nintendo Switch Online service allowing players to access a catalogue of NES games. While they can't be utilized as true Joy-Con replacements, they can be attached to the Switch to recharge.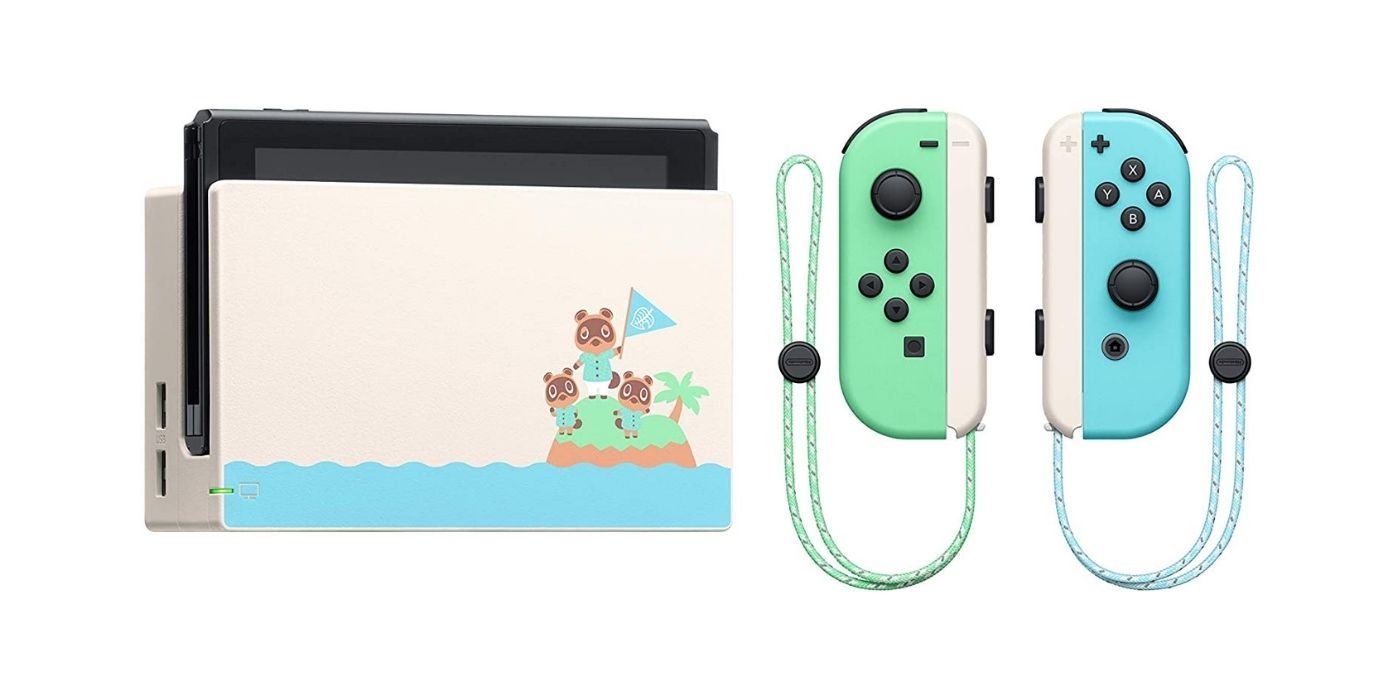 With the launch of Animal Crossing: New Horizons last year, Nintendo came out with another uniquely-designed console bundle. This featured a New Horizons Switch dock and a Switch device with a specially designed back plate. The Joy-Con controllers, adored by many fans, were colored a Pastel Green and Pastel Blue.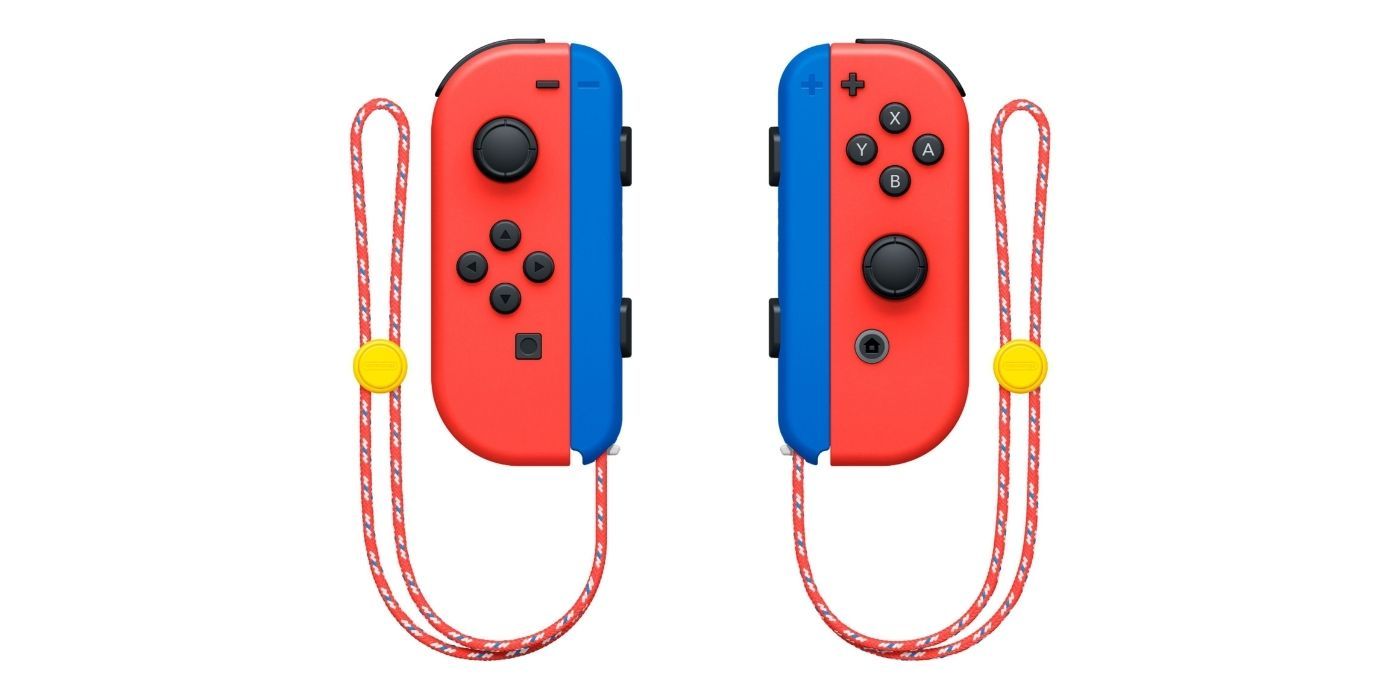 At the beginning of this year, Nintendo announced a new Super Mario-themed Switch console to celebrated the series' 35th anniversary. The border of the Switch device, the dock, and both Joy-Con controllers are a solid red. The Joy-Con grip in the bundle and Joy-Con wrist straps are all solid blue.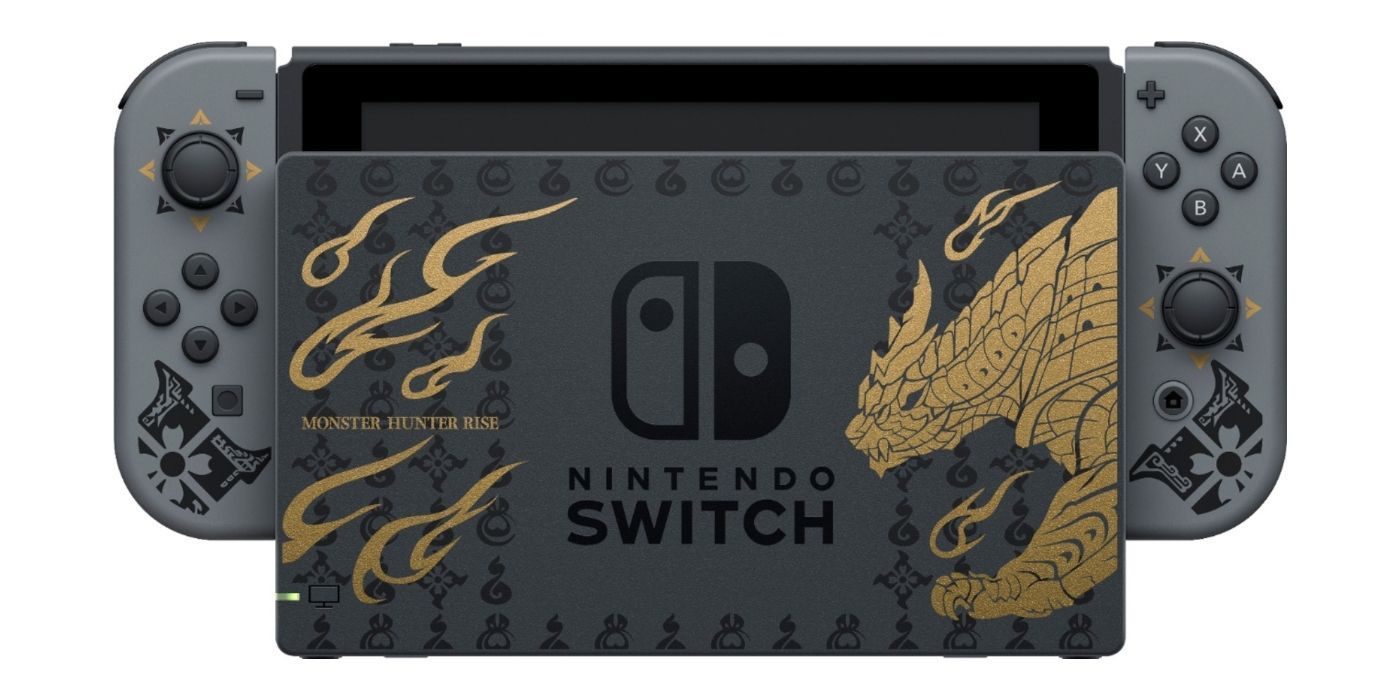 Much like others mentioned on this list, Capcom's Monster Hunter Rise received a bona fide design for a Nintendo Switch console. While the Switch dock features a design of the fearsome monster known as Magnamalo, the entire bundle combines black and gold accents onto a base-gray Switch. The Monster Hunter Rise Joy-Cons feature directional accents around the joysticks, plus a Monster Hunter emblem on each controller.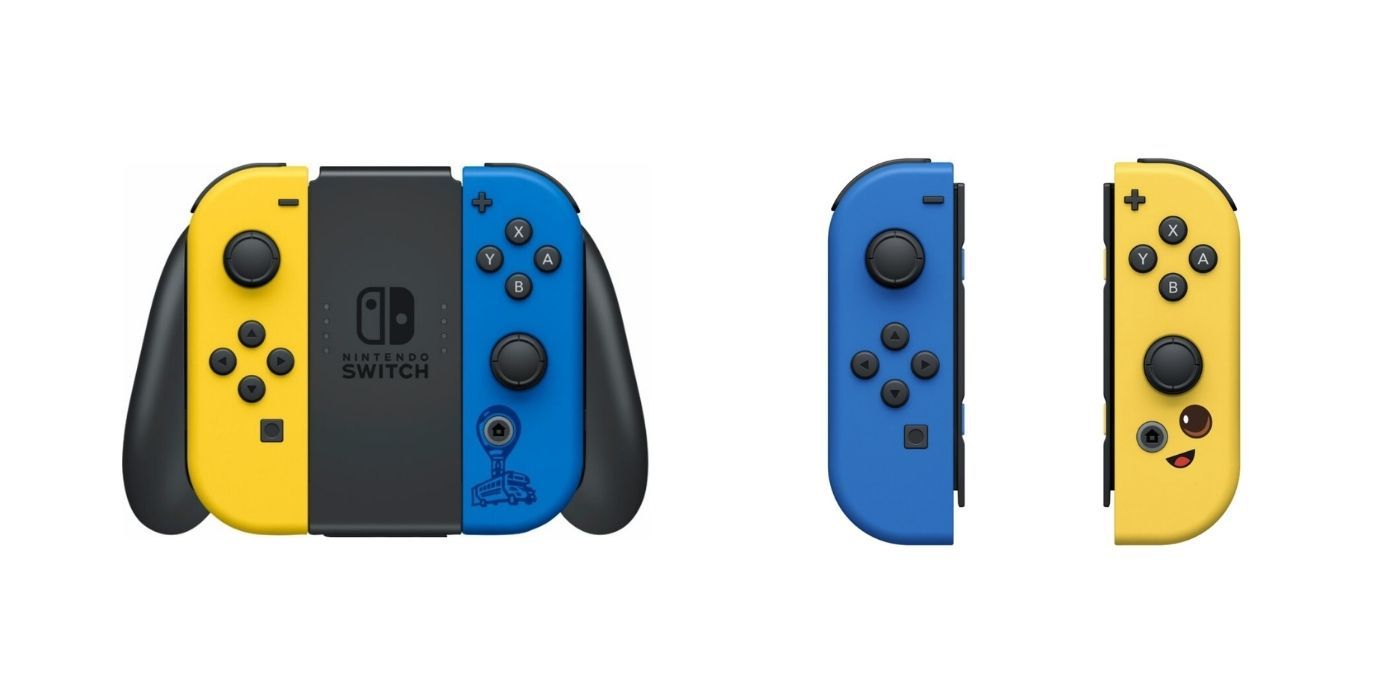 The colossal battle royale that is Fortnite has received two version of Joy-Cons for the Nintendo Switch. Both feature a yellow and blue controller, albeit switched between the different versions. The full Nintendo Switch Wildcat bundle has a yellow Left Joy-Con, and a blue Right Joy-Con with an icon of the battle bus. Meanwhile, the standalone Joy-Con Fleet Force bundle combines a blue Left Joy-Con and a yellow Right Joy-Con, featuring imagery of the Fortnite character Peely. Both bundles containing the Fortnite-inspired Joy-Cons come paired with in-game items and free V-bucks.
RELATED: Nintendo Fans Notice Interesting Detail on The Legend of Zelda: Skyward Sword Joy-Cons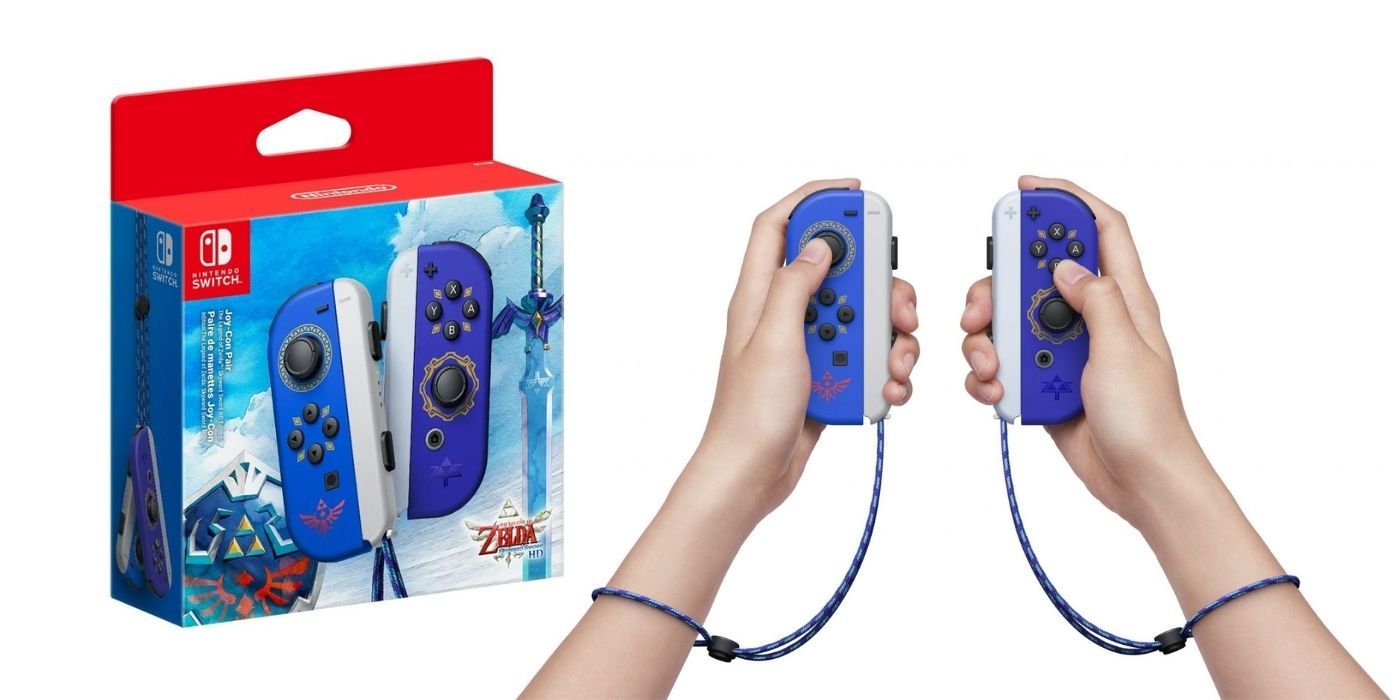 Rounding out the collection is a pair of Joy-Cons designed with iconography from Nintendo's The Legend of Zelda series. A Nintendo Direct toward the beginning of 2021 revealed that special Joy-Con controllers would accompany Skyward Sword HD, which finally released this month. This standalone pair contains a blue Left Joy-Con with gold accents around the joystick and D-pad, plus the common emblem of the Hyrule royale family. The purple Right Joy-Con also has gold accents around the joystick and buttons, but has a design of the Triforce at the bottom.
Collectors certainly have their hands full, and their wallets empty, if they attempt to collect all the variations of Nintendo's Joy-Cons. The upcoming release of the Nintendo Switch OLED model will also introduce a pair of white Joy-Cons into the mix. Additionally, there is no doubt that once the OLED model has launched, there may be new designs for the Nintendo Switch and Joy-Cons launching alongside huge games like Breath of the Wild 2, Pokemon Legends: Arceus, and even Metroid Prime 4. For those, Nintendo fans will just have to eagerly await more news.
MORE: Nintendo Switch OLED Model May Still Suffer From Joy-Con Drift