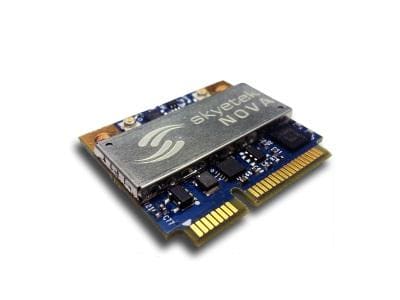 The SkyeModuleTM Nova from SkyeTek is an ultra-small, power efficient, EPC Class 1 Gen 2reader/writer modual. An ARM Cortex microcontroller and latest UHF transceiver technology coupled with the reader's intelligent operating system make this a feature rich offering. Additionally, this is manufactured in accordance with ISO 9001 and ISO 13485 standards.
The SkyeModule Nova is built to the PCI Express Mini half card form factor (about the size of a book of matches). This low profile design allows the Nova to be used in mobile computing applications and with its small size it is great for enhancing both new and existing OEM designs. The Nova module is alos well suited for battery powered and other power sensitive applications because of the low power features, including software standby mode and deep sleep mode. In addition, the wide input voltage range & highly efficient switching power design make this module perfect for battery powered applications right off the shelf.
The Nova utilizes 2 antenna ports that can be selected via software control, making this module suited for mobile or fixed applications. It also has SkyeTek's Adaptive Antenna Tuning, meaning the Nova can automatically detect and correct for impedance mismatches between the reader and antenna. This technology allows the Nova to deliver the maximum power to the antenna while increasing receiver sensitivity.
Features:
860-960MHz UHF RFID
Reads and writes to transponders based on EPC Class 1 Gen 2
Wide and efficient power supply with input from 2.0-5.5V
2 antenna ports with SkyeTek Adaptive Antenna Tuning
500mW output power, up to 10m read range
Sleep mode current down to 10uA
Easy Migration from M7, M9, and M10
Supported host interfaces included USB, TTL level RS232, SPI, I2C
Documents: