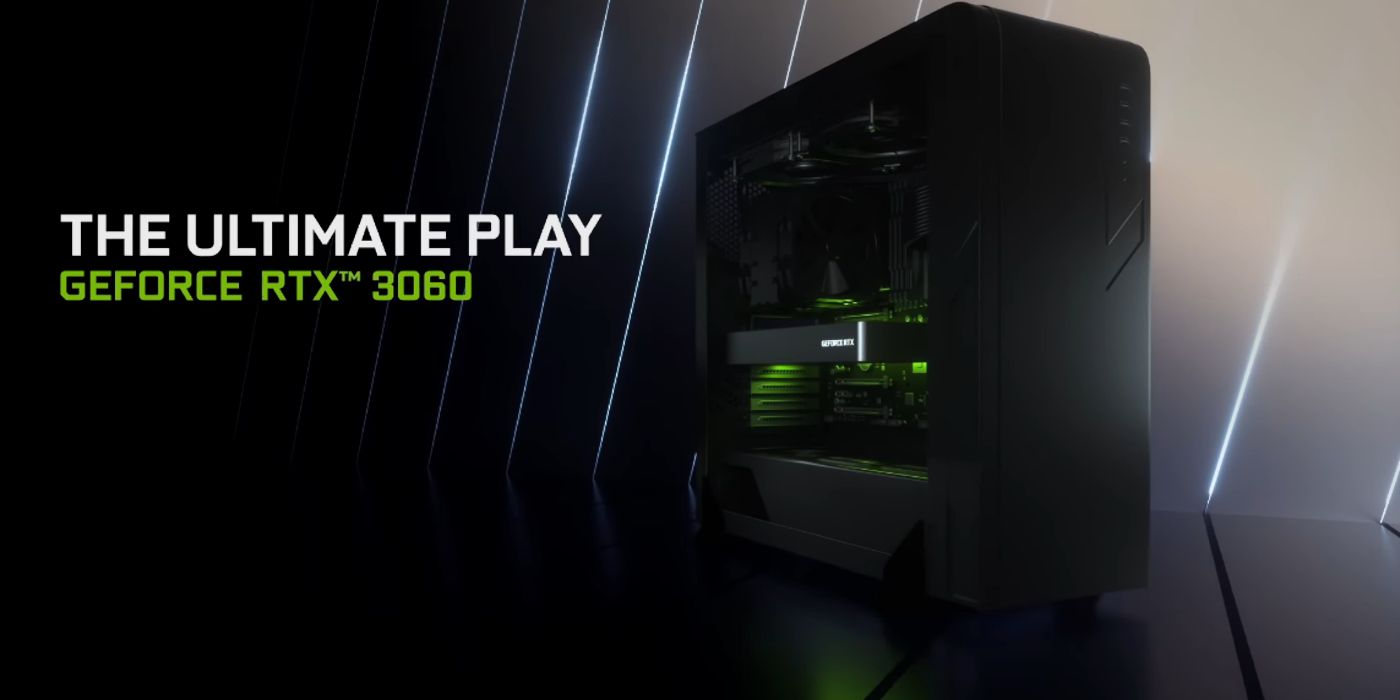 Nvidia continues to roll out new products as part of its 30 Series of graphics cards. Over the past several months, Nvidia's released cards including the Nvidia GeForce RTX 3090, 3080, 3070, and the 3060 Ti. Each card offers a different performance level, scaling from around $500 through $1,500. Now, Nvidia has a new graphics card product that aligns with its previous offerings, the Nvidia GeForce RTX 3060, a card with the recommended retail price of just $329.
The 3060 graphics card, as its numbering implies, will be the lowest-power offering in the 30 Series yet, but its scaled-down performance also makes it the most affordable option. According to early details shared by Nvidia, the 3060 graphics card offers a total of 3,584 CUDA cores combined with a striking 12 GB of GDDR6 memory. The resulting throughput is 13 shader-TFLOPS, 25 RT-TFLOPS, and 101 Tensor-TFLOPS of pure performance.
RELATED: Nvidia's New Gaming Laptops Are More Powerful Than PS5 Consoles
What's particularly interesting about the 3060 is its 12 GB of GDDR6 memory. That's because it's significantly more memory than the cards higher than it on the price scale have. Even the 3060 Ti, which retails for $399, features just 8GB of GDDR6 memory. The 3080, which retails for $699, features just 10GB of GDDR6 memory. The reason why Nvidia decided to improve on a $699 graphics card with a $329 graphics card isn't clear, but some would say it's a response to AMD's graphics cards in a similar price range.
Those who have been waiting for a new graphics card at this price range will be happy to hear that the 3060 will be launching relatively soon, too. Nvidia's confirmed that the 3060 will be available to purchase starting in late February. That's less than two months away.
The obvious worry for the 3060's launch is the same problem that has plagued Nvidia's rollout of its 30 Series graphics cards so far, that being that stock will be in such short supply that the vast majority of those who want to buy this graphics card will be unable to do so. Every single one of the other 30 Series graphics cards remains sold out online, with little promise of more stock being released at a reasonable pace. Further, many of those sold at launch ended up being scalped and sold on eBay for outrageous prices.
Regardless of its availability, Nvidia has now presented a full line-up of 30 Series graphics cards at a variety of impressive price points. The 3060 slots in as the most affordable option of the 30 Series, but also the least powerful. It's unclear if Nvidia will offer a more affordable card down the line.
MORE: The 15 Best Pieces of Video Game Hardware and Tech in 2020