Just a week ago, Facebook announced that users would now require Facebook sign-ins for its virtual reality devices. Now the tech giant has announced that its Oculus Connect conference has been renamed to Facebook Connect and the date for the next Oculus Connect or Facebook Connect event will be on September 16th.
Like many tech events that have transpired during the COVID-19 crisis, the event will be online-only. The rebranding to Facebook names is part of Facebook's gradual assimilation of its virtual reality arm.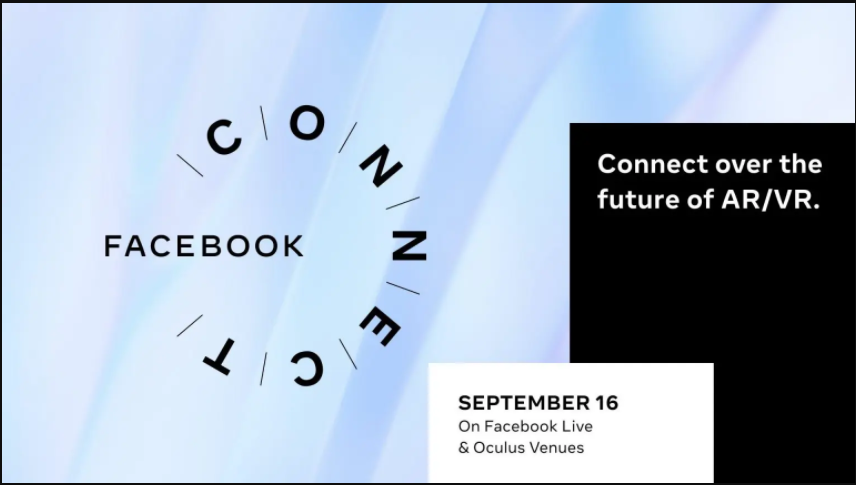 The Connect 2020 event will be streamed publicly online. The change in the event format to an online-based event had been announced way back in April. Like the previous Connect events, the Connect 2020 will cover both virtual reality and augmented reality news from Facebook. However, this year's event is not being framed as a Virtual Reality conference. It is instead touted as Facebook Reality Labs' first outing. The new name now encompasses Facebook's efforts in both the VR and AR spheres. Those efforts, of course, include Oculus whose primary focus has been VR games and VR hardware. Facebook's immersive efforts also extend to is phone-based AR system Spark AR as well as the Portal videophone.  Facebook, however, stated that VR will still be a top priority during this year's event.
The schedule for this year's event is yet to be unveiled but in a press release, the tech giant stated that viewers can expect to experience keynotes from both Facebook leaders and the industry visionaries where they will be treated to the latest innovations in AR/VR. Viewers will also be able to join immersive developer sessions. It is likely Facebook CEO Mark Zuckerberg and Oculus chief scientist Michael Abrash will make an appearance during the Connect 2020 like they have done in the previous Oculus Connect events.
The rebranding to Facebook Connect comes on the back of Facebook's recent controversial move that now requires users to use their Facebook log-ins on their Oculus headsets. Facebook acquired Oculus in 2014 but retained it as a distinct brand, a move that had allayed concerns on Facebook's privacy policies and data mining capabilities. Those concerns are will now likely resurface.
The Facebook Reality Labs has now been renamed to FRL Research.
According to the Oculus press release, the move towards a new FRL umbrella will go a long way in increasing "clarity" around the AR and VR teams, helping  visually identify Oculus as part and parcel of Facebook as it looks towards the future for this new computing platform which "puts people at the center". On the privacy issues regarding Facebook's decision that requires the use of Facebook sign-ins for Oculus headsets, the Oculus press release states that it will "continue to evolve approach to privacy as the technology develops."
Most of the Oculus hardware news is usually reserved for the Connect and that is likely to be the case this year, too. Leaked images which appeared a few weeks ago show a refreshed Oculus Quest headset which may hit the market this fall. Viewers can also expect to see updates to Facebook's virtual world, Horizon, which is now in beta. Past Oculus conferences featured hands-on prototype demos but with the virtual format in 2020, that may not happen. It is also possible that the virtual format of the Connect 2020 might force Oculus to focus on new software features during the online streaming instead of postponing them for future months.
On the Augmented Reality front, Facebook has so far focused on offering users phone-based AR. The tech giant has also given a nod to some futuristic ideas such as the Live Maps for smart glasses in its past Connects. In the recent months, competition in the consumer AR market has cooled down a bit following Magic Leap's enterprise play and North's discontinuation of its smart glasses following its acquisition by Google. On the other hand, Nreal has already launched its AR smart glasses and it is possible Facebook could give viewers an update on its own timeline for AR hardware.
Facebook's supply chain suffered massively from the effects of the novel coronavirus pandemic, a predicament that saw its Quest and Rift S headsets disappear from the shelves. However, Facebook's spring earnings report also showed that the lockdown and isolation measures imposed to contain the pandemic has also driven the use of both Virtual Reality and Augmented Reality. While Facebook doesn't generally release the hard sales numbers, its headset sales have been impressive. During the Connect, we might get an opportunity to hear about the tech giant's medium and longer term VR future.