A renewed focus on camera output in the OnePlus 9 Pro underpins the company's latest flagship phone, but it's not the only reason why this is such a stellar alternative.
Hype isn't often what follows OnePlus and its device launches — at least for the average consumer — and the company itself invited additional scrutiny by partnering with Hasselblad for its camera development. Hasselblad has been down this road before with Motorola in 2016, albeit with its Moto Mod camera attachment that failed to deliver anything groundbreaking.
Fast forward to 2021, and the Swedish company is back in the mobile market. The Hasselblad for Mobile system has a lot riding on it, particularly as the opening salvo in what is a three-year agreement with OnePlus. Both brands have something to gain provided the 9 Pro can shoot well, not just now, but in the months and years to come as well.
Design and Build
There is really no other way to put this than to say the OnePlus 9 Pro is a beauty. Anyone paying attention to the company's more recent launches going back a few years won't be surprised by that. The aesthetic appeal has a lot to do with how its designers have chosen vibrant colors, and how engineers have made it work with the solid components inside.
Granted, a colorful back always benefits from a gorgeous display, and the 6.7-inch OLED QHD+ with 120Hz refresh rate certainly lives up to that. This kind of congruency is what has signaled, at least to me, that OnePlus has moved up a few notches in design philosophy over time. Still, for a company that has largely eschewed glossy backs, my Morning Mist variant became an unfortunate fingerprint magnet right after admiring its shiny veneer. I kept thinking a matte finish would've been the better choice.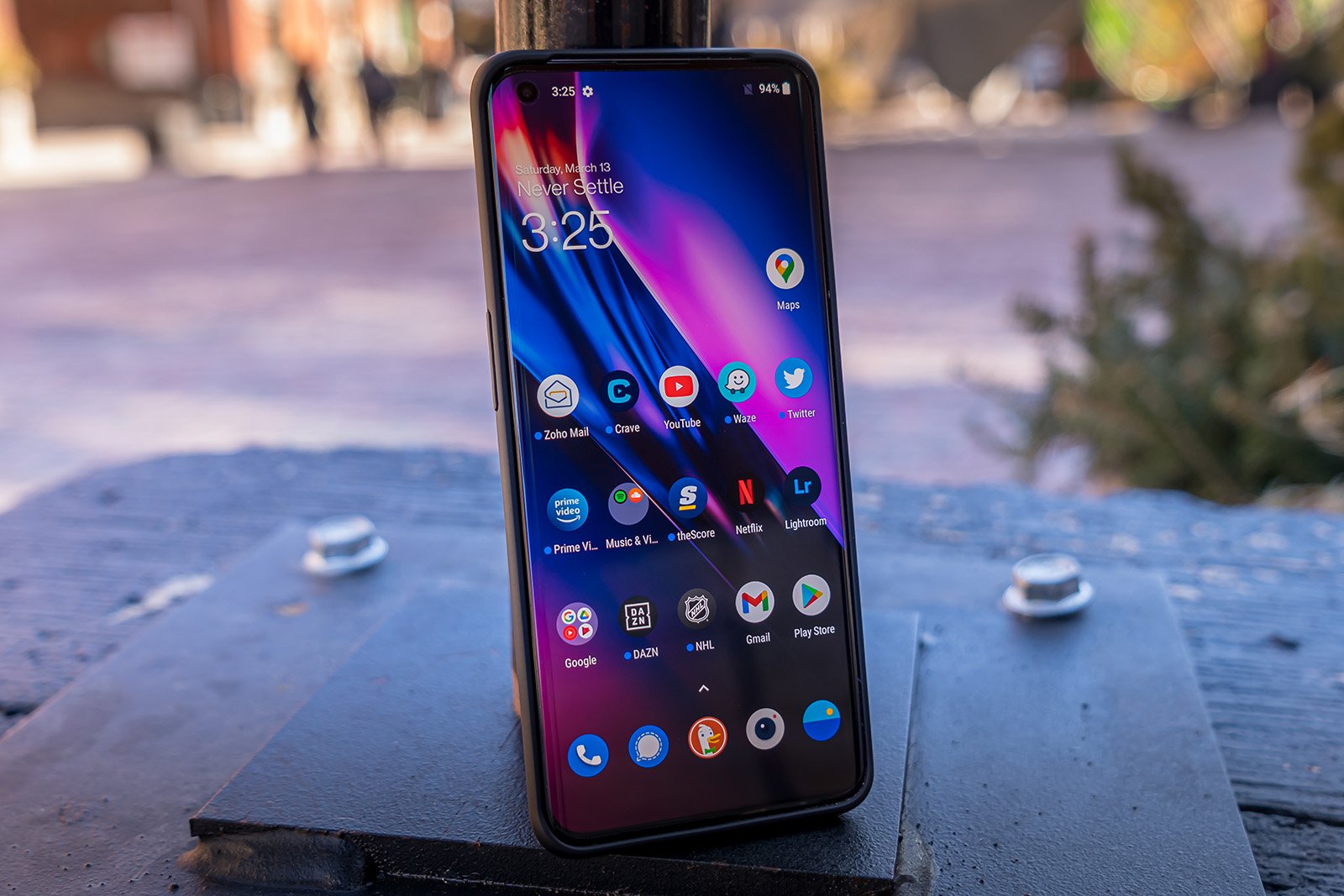 Whether by design or sheer circumstance, the rear camera array really stands out. Not just because Hasselblad's logo is so obvious, but also because two of the lenses (main and ultra-wide) loom larger than usual. It's one of those subtleties that is admittedly highly subjective. Someone might look at those lenses and assume camera performance is more elite, though I don't know if that was OnePlus' intention here.
Running on the Snapdragon 888 processor, my review unit had 12GB of RAM and 256GB of storage. The base 9 Pro has 8GB and 128GB, respectively. There is no memory card slot, so no way to expand that further. The dual-SIM slot is also gone, in case you were looking to use an extra SIM card for whatever reason.
In the United States, you will want to be sure that you get the most out of its connectivity. Despite Sub-6 and mmWave 5G support, the 9 Pro is only certified with T-Mobile's 5G network. It won't work with AT&T's, and it remains to be seen where the device might land with Verizon should that 5G door open as well. The phone can do 4G LTE on any network.
Camera Features
Hasselblad is the photography partner here, though the guts inside are very much based on Sony technology. The 48MP main camera uses Sony's IMX789, a pretty large 1/1.43-inch image sensor that, while the same size as the OnePlus 8 Pro last year, is otherwise very different. This is Sony's newest mobile image sensor, and it's the reason why this phone can shoot 4K video at 120 frames per second (FPS). Its bigger contribution may be how it handles HDR, including Sony's Digital Overlap HDR, which takes multiple exposures simultaneously, rather than in a staggered sequence, helping to freeze moving subjects in place when using Nightscape mode.
It also manages 12-bit RAW photos when shooting in Pro mode. Regardless of the mode you use with the main camera, the autofocus is super quick. Hold your finger in place, and it locks focus, letting you make other adjustments, like exposure, for instance.
OnePlus added a 2MP monochrome camera to work together with the main lens to improve black and white photos. Except it's not a standalone mode, you have to select the filter icon on the camera interface and swipe over to the grayscale options at the end.
The 50MP ultra-wide camera also got something of an overhaul spurred by Sony's 1/1.56-inch IMX766 sensor. This is the same one used in both the main and ultra-wide cameras in the Oppo Find X3, only here in the OnePlus 9 Pro, it's a "Freeform Lens" that the company says brings image distortion on the edges to a measly 1% (most phones are usually in the 10-20% range for ultra-wide shots).
OnePlus also adds a super-macro mode to the lens that works as close as 3-4 cm away from the subject. Interestingly, though, that same mode also pops up automatically with the main lens as well. Once you move in close, it kicks into gear, and applying it to both lenses has some benefit in the field.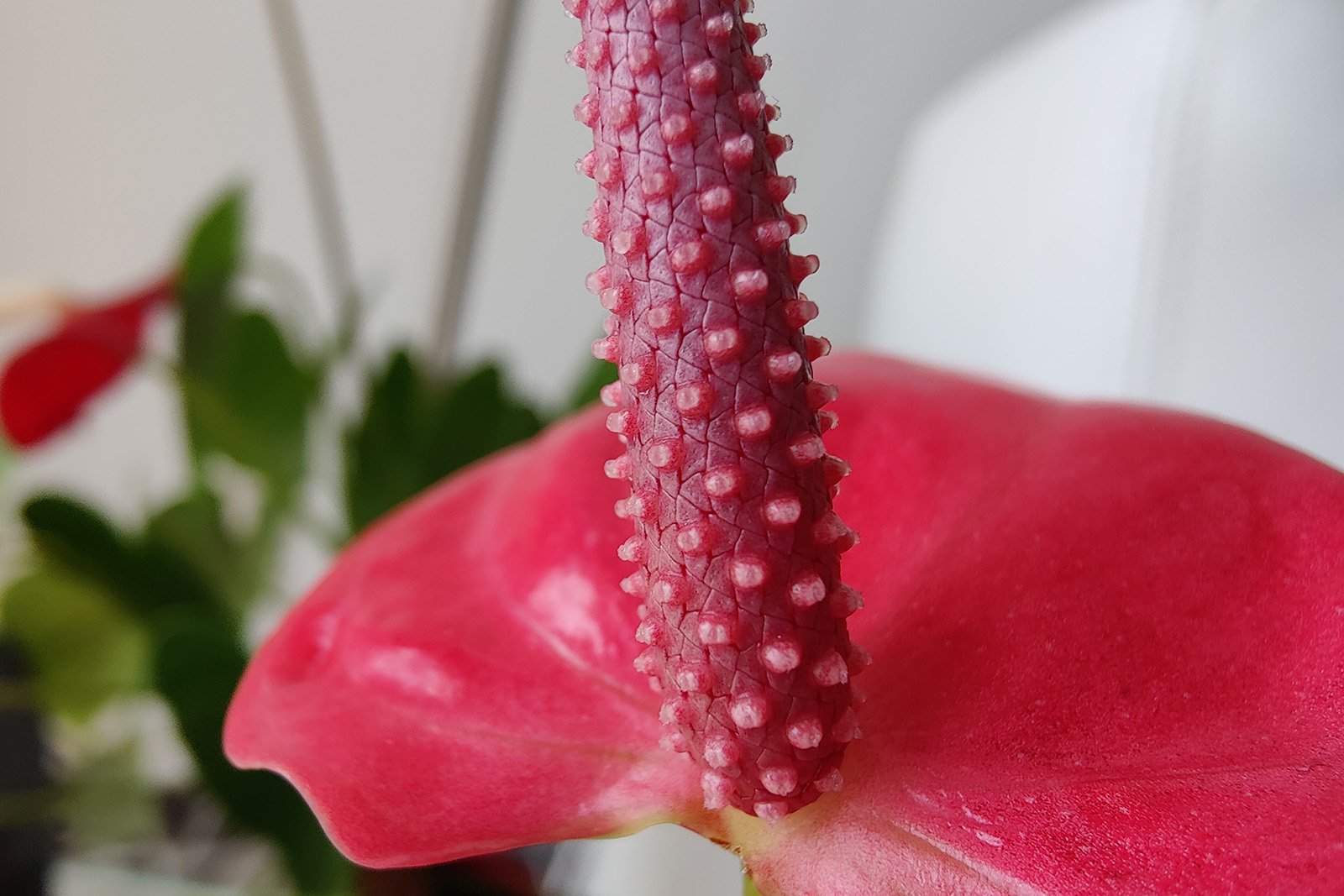 Rounding out the array is the 8MP telephoto lens, sporting a 3.3x optical zoom. And this is actual optical zoom, not the hybrid zoom that became the norm for OnePlus going back to the 8 series last year.
Software Features
Hasselblad's input in this collaboration, at least thus far, is more software-focused than anything else. OnePlus aimed to constructively improve color output by making it look more natural and less saturated, as is now the trend. Even Samsung, the arguable instigator of the "saturate everything" movement has started to see the light in that regard, given how the Galaxy S21 Ultra is clearly moving toward natural color as well.
To get there, OnePlus enlisted Hasselblad's help and coupled with the newer Sony sensors, there is a lot going on behind the scenes from a software perspective. It doesn't hurt that the company's own OxygenOS overlay suits Android so well. It's become my favorite to use outside of stock Android (like in Google Pixel devices).
The camera app's layout is familiar to any OnePlus user, with the various photo modes basically laid out in a row at the bottom. The only new addition is Tilt-Shift mode. Under Settings -> Custom modes, you can rearrange the order to better suit your preferences. The orange shutter button is new as a stylistic reference point, but otherwise, the interface didn't get much of a makeover.
Image Quality
Main camera
There is no question color is different compared to previous OnePlus devices. "Muted" isn't the word I would use — maybe neutral is more apt. For starters, I toggled off Smart Scene Recognition in the settings to reduce any overzealous processing. I found images struck a pretty good balance between cool and warm tones, especially in conditions like bright sunlight or gloomier clouds.
In optimal conditions — meaning good lighting — there is little to complain about. I could nitpick and point out how certain shots might be better on other phones, but there is a definite improvement in color from past efforts. The thing is, HDR is omnipresent, and that goes beyond just color when highlights and shadows are always in play. It's unclear if Hasselblad has any input in how HDR processes an image on the 9 Pro, and if not, it may be time to look into that.
While it's easy enough to manually turn HDR off in the interface, there's no need to do it in good conditions. It's when shooting in dimmer light that it starts overselling itself. One thing I've noticed over the last few years, with just about every phone camera, is that the exposure slider has never been more important than it is now as the only real way to pull back from blown-out highlights.
I'm not pointing all this out to denigrate the main camera. It's actually really good, only the 'Hasselblad effect', if I can call it that, is hard to visually gauge apart from the color. HDR is nice to have, yet also capable of going awry awfully quick. Shoot in High-Res, and you get the full gamut of 48MP from the sensor, though it's best to use it with well-lit subjects. By default, pixel binning has it shooting 12MP images with 2.24 Micron pixels.
Ultra-wide
Ramping up an ultra-wide lens to 50MP needs to have a payoff, and I would say there is one here. The f/2.2 Freeform Lens does deliver as advertised when it comes to reducing distortion or warping along the edges. To me, this makes a bigger difference when shooting with perspective in mind, be it tilted up for a majestic view, or down like a bird. Mind you, it won't eliminate the 'lean' for subjects in the frame, especially when further away, but at least everything is visible and not prone to degradation the closer you get to the edges.
Unfortunately, none of that ultra-wide goodness applies to Pro mode. OnePlus told me it's working on a future update that will bring the other lenses to that mode, only are holding off to make sure it meets "Hasselblad's criteria for color calibration" with RAW files outside of the main camera. Despite that, it does work with most of the other modes, including the video ones. 
Telephoto and Hybrid Zoom
This is perhaps the weakest link in the array, though having proper optical zoom is always a plus. The challenge is that the zoom, while okay at 3.3x, doesn't travel as far as other competitors. When you need not concern yourself with available light, you're more than capable of getting good photos with it. When the night falls, however, the f/2.2 aperture starts to pose a problem and noise seeps in.
I'm no fan of any digital zoom, personally, and OnePlus plays up the 30x digital zoom, whose results are always horrible. It reminded me of how Huawei, Samsung, and others pushed digital zoom to obscene lengths, even though it was little more than just digitally cropping into the existing frame. Samsung has since improved on that with the Galaxy S21 Ultra thanks to a periscope lens and better software to at least produce something usable. Here, not so much.
Pro Mode
This is the mode that would truly show off Hasselblad's mettle because of the 12-bit RAW output. I exclusively shot in RAW using Pro to see just how much I could get out of it, and for the most part, I came away impressed. OnePlus also wisely added focus peaking as an option in the settings within Pro mode. It works really well, and you can still tap to focus, if you like, though the red highlights will always appear onscreen.
Again, and this is a theme throughout, lighting matters a lot. Outdoor shots in daylight were fantastic, whereas night shots absolutely needed a tripod or flat surface. One thing Pro does better than all the other modes? Less sharpening.
When I processed some RAW images in Lightroom, I did find that color was easier to deal with, allowing more latitude in correcting or skewing temperature, tint, whites, and blacks. That wasn't really the case with low-light or night shots, even if I did take them on a tripod. Noise creeped in fairly easily, forcing me to work with layers in Photoshop to retain the deeper blacks of the sky, while drawing out more color and detail from everything else.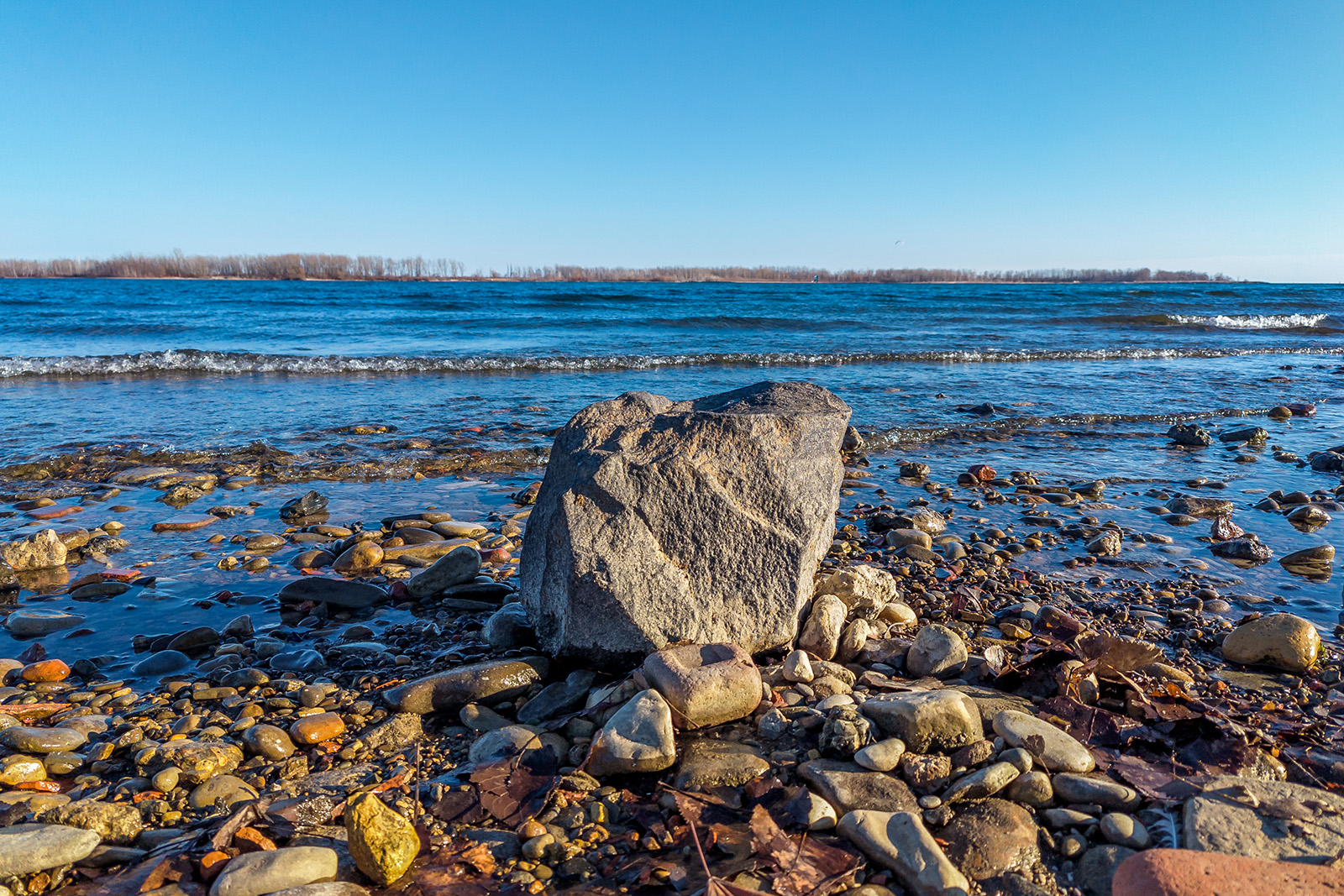 The challenge — and this applies to all phones, not just the OnePlus 9 Pro — is how to also deal with bright highlights in low-light situations. I've seen more than a few street lamps or headlights offer no detail whatsoever in post-processing. If Hasselblad's first act was to handle color calibration, it would be nice to see if it has some game-changing input for shadows and highlights.
Nightscape
Night photography is always extra work to find the right balance in settings. Nightscape, much like other night modes, emulates long exposure photography and makes it applicable to handheld scenarios. The interface does pop up to point out that a tripod would be better in some instances, but the general idea is that you can capture a darker scene like you would any other snapshot.
Since OnePlus first introduced it in the 6 series, it's been an uphill climb to respectability, and that's about all the company could hope for with what's out of the box here. The 9 Pro is only marginally better at night shots than its predecessor, in my estimation. I'm not saying it's terrible or unusable. Far from it. It's just not clawing back enough previously lost ground, especially considering Google didn't exactly make its Night Sight mode all that different with the Pixel 5.
One solution might be to allow users to control the exposure with some form of optional manual input, something Huawei has done with its Night mode going back to the P20 Pro. Since the phone takes multiple shots to stack exposures, stopping it in mid-process could hold back any excessive brightening. Or, like Huawei, why not offer ISO and shutter speed sliders to at least put up some guardrails on composition?
Video Features
The OnePlus 9 Pro can record video in 8K at 30 fps, but the more substantive feature is 4K video at 30, 60 or 120fps. Sadly, there is no 24fps to choose from here, though you do get to shoot in either 16:9 or 21:9 aspect ratios. Slow-Motion video has its own place in the menu bar in the interface, and acts independently of the 4K slow-motion capture at 120fps.
If you want to go even slower, Slow-Motion lets you select from 1080p at 240fps or 720p at 480fps. Unlike other competitors, video isn't given as much precedence as still photography, which explains why the options are pretty slim. They're not barren, though, as you can record clips using Nightscape for night or low-light footage, while Video Portrait adds some bokeh behind people in frame. Super Stable adds a crop factor to keep shake to a minimum. All three lenses are available to shoot video, but only with the standard video mode. The other modes only use the main lens.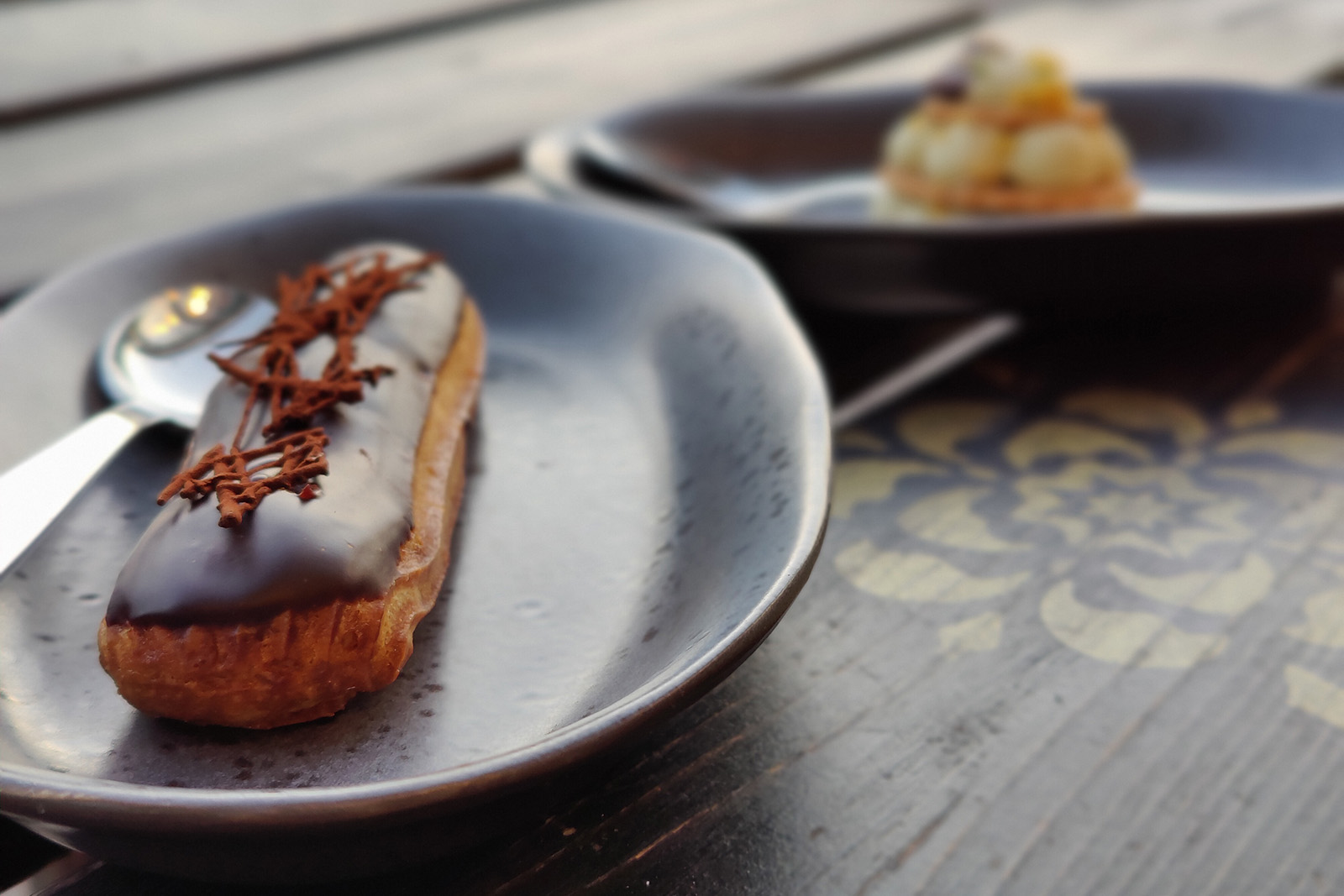 A Solid Camera That Needs More
The OnePlus 9 Pro isn't set back by gimmicks or poorly thought-out experiments. It's just in need of fine-tuning to mitigate some of the software originally designed to actually improve output. Sharpening algorithms might look good at first glance on a small screen, but they're hard to control once you unleash them. That's what the company will have to address with future software updates because it doesn't seem to me that the hardware is the issue.
There is a lot to like in this array, and OnePlus has proven to be proactive in updating its camera software, so some of the nits I've picked here may be resolved in due time. And they'll have to be to put the 9 Pro's camera onto a different plateau.
Are There Alternatives?
The OnePlus 9 is less expensive and matches its Pro brethren almost entirely spec-for-spec, save for a slightly smaller screen, slower wireless charging, and missing pieces in the rear camera array. It doesn't have the Pro's telephoto lens, nor the Sony IMX789 image sensor for the main camera; it uses the less capable IMX689 instead.
As for other competitors, the Google Pixel 5 looks like a bargain next to the 9 Pro, and the Samsung Galaxy S21 Ultra might fall in price soon to match or undercut OnePlus' flagship sooner than later. If something with an Apple logo is more your speed, you might have to go as high as the iPhone 12 Pro Max to get something comparable from a feature set point of view.
Should You Buy It?
Yes, but there is nothing wrong with waiting for an update or two to improve low-light camera performance first. The cameras are good out of the box, only there is something of an "unfinished" feeling about how they perform right now. The rest of the phone is beautiful and functions superbly well, so we are talking about an excellent Android device, overall.