OnePlus has announced the OnePlus 9 and OnePlus 9 Pro smartphones which kick off its three-year camera co-development process with Hasselblad. The OnePlus 9 Pro features a more robust camera array featuring a standard, ultra-wide, and telephoto cameras.
Hasselblad Color
The OnePlus 9 Pro is backed by Hasselblad Camera for Mobile, which OnePlus says should bring the company's "iconic" color performance to a smartphone "for the first time." This statement seems to state that while Hasselblad is not a stranger to mobile devices, this is the first time that the company actively tried to bring its color science into the equation.
"This was a significant challenge for both OnePlus and Hasselblad, since smartphone camera systems work very differently from traditional cameras, and Hasselblad has strict requirements for color performance and image processing," OnePlus writes.
In order to overcome these challenges, OnePlus and Hasselblad calibrated the sensors on both the 9 and 9 Pro devices in multiple lab tests and then optimized hundreds of real-life scenes through computational photography to fine-tune the color.
The result is what OnePlus says is a "new standard" for color calibration called Natural Color Calibration with Hasselblad, which the company says will bring more perceptually accurate and natural-looking images.
If it sounds like the company is talking about color a lot, it's because it is. OnePlus says that the biggest gains that the 9 and 9 Pro have seen thanks to the partnership with Hasselblad are with integrating the company's color science into a handheld device.
Camera System
The OnePlus 9 Pro features three cameras (well, technically four but that's a bit complicated): a 48-megapixel main camera, a 50-megapixel ultra-wide, and an 8-megapixel telephoto.
The main camera features a custom-designed Sony IMX789 1/1.4-inch sensor behind a 23mm f/1.8 lens that OnePlus says results in "exceptional" imaging capability. It can capture 12-bit RAW, features dual native ISO, can shoot in DOL-HDR (Digital Overlap High Dynamic Range), and can faster focus with greater accuracy in daytime and nighttime photography. It can shoot at up to 4K at 120 frames per second.
The 50MP ultra-wide camera uses a 1/1.56-inch Sony IMX766 sensor behind a 14mm f/2.2 lens that OnePlus says has enhanced image quality and low noise. It features a "pioneering": Freeform Lens which uses a series of curves to correct incoming light, which the company says brings down distortion at the edge of photos to just 1%. The lens can also focus as close as 4 centimeters away, allowing for high-quality macro images. The wide-angle lens can be used to create stable hyperlapse videos while walking.
The telephoto camera is a much lower resolution 8-megapixels but offers 3.3x (77mm f/2.4) zoom that is equipped with optical image stabilization to reduce blur. It can also be pushed to 30x digital zoom.
As mentioned, there is a fourth camera on the OnePlus 9 Pro. The company says that it has paired the main camera with a 2MP monochrome sensor that it says adds detail and layering to black and white photos. It does not sound like this camera is meant to be used alone.
The OnePlus 9 Pro features Hasselblad's Pro Mode, which the company says offers "incredibly accurate" color as a "solid foundation for post-editing." OnePlus's previous pro mode has been completely revamped with a new user interface based on Hasselblad's Phocus software and has a wide variety of editing features. It also allows you to shoot in 12-bit RAW.
The OnePlus 9 features very similar camera specifications to the 9 Pro and includes the same color-capture standards but does not include the telephoto camera.
Other Features
The OnePlus 9 Pro is powered by the Qualcomm Snapdragon 888 processor, LPDDR5 RAM, UFS 3.1 storage, and supports 5G connectivity for what OnePlus is calling the smoothest experience on any OnePlus flagship device.
Flagship-level LPDDR5 RAM is 1.5-times faster than LPDDR4X and offers speeds up to 6400 Mbps. Together with enhanced power-saving capabilities, these technologies complement a hyper-connected lifestyle, taking full advantage of 5G speeds and making multitasking seamless.
The phone is also impressively thin: just a 2.2mm aluminum frame.
The 9 Pro also features a 4,500 mAh battery with a dual-cell design that supports OnePlus Warp Charge — the company's wireless charging technology — which allows for the delivery of "a day's power" in just 15 minutes, and can charge from 1-100% in 29 minutes.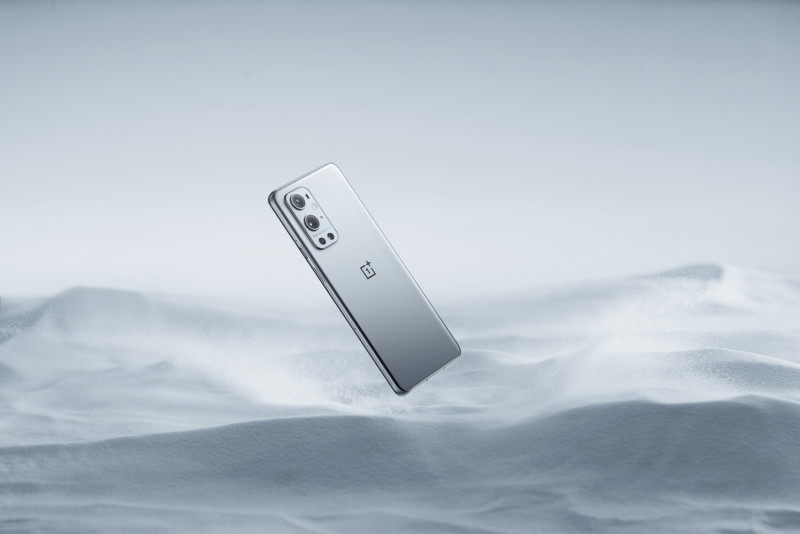 Finally, the OnePlus 9 and 9 Pro both feature the company's Fluid Display 2.0, which features an automatically adjusting refresh rate from 1 Hz to 120 Hz depending on what the phone is displaying to keep power consumption down.
The OnePlus says the 9 Pro's display earned an A+ rating from DisplayMate, and offers QHD+, up to 1,300 nits of peak brightness, native 10-bit color depth, E4 emitting material, HDR10+, MEMC, automatic color temperature adjustment, and a front and back ambient light sensor.
The OnePlus 9 Pro is available in two colors, Morning Mist and Pine Green, while the OnePlus 9 is available in Astral Black and Winter Mist. The 9 Pro is available in two configurations: 12GB of RAM and 256 GB of ROM for $1,069 or 8 GB or RAM and 128 GB or ROM for $969. Similarly, the OnePlus 9 is available with 12GB of RAM and 256 GB of ROM for $829, or with 8GB of RAM and 128GB of ROM for $729.