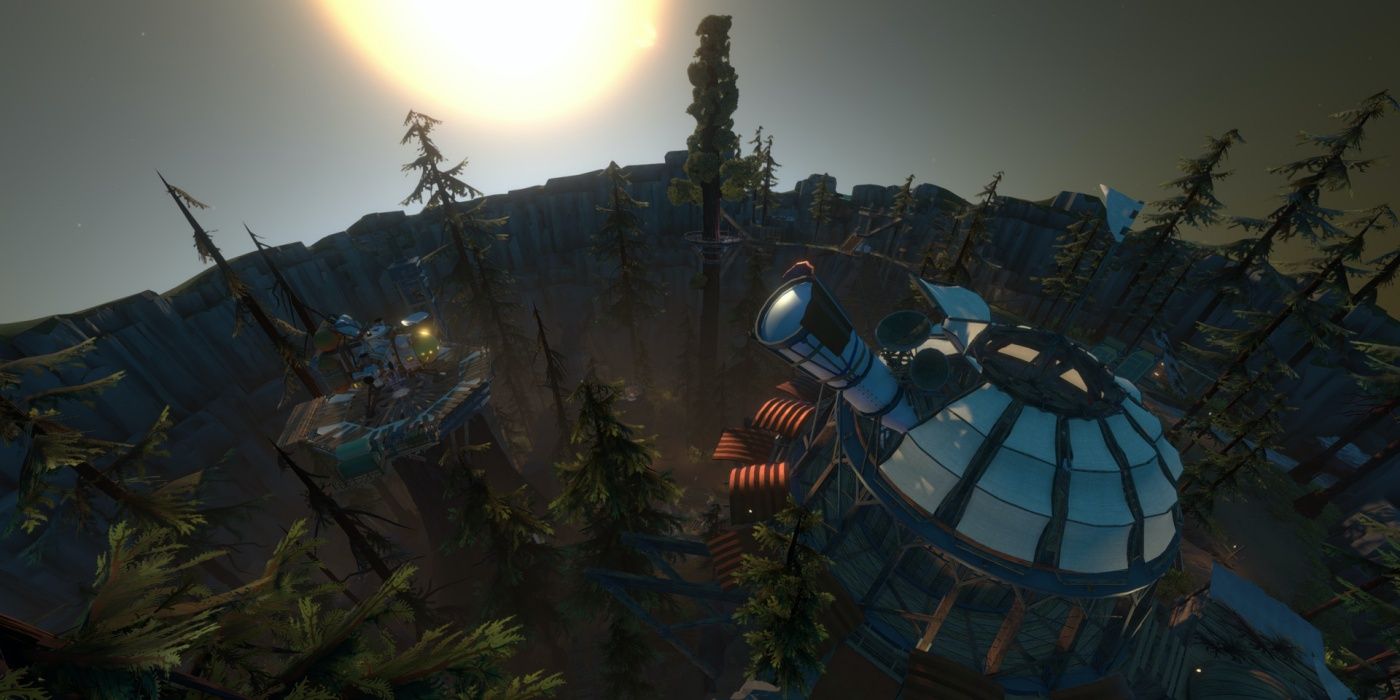 A page on Steam Database suggests DLC for Outer Wilds may be on the horizon; developer Mobius Digital and publisher Annapurna Interactive have added more fuel to the fire by seemingly confirming the leak in a pair of vague responses. One of 2019's surprise hits, Outer Wilds takes players on a captivating trek through space.
The journey has built-in limitations, though, which notably come in the form of a 22-minute time loop. During that period of time, players must explore a solar system to unlock secrets and gain new knowledge before the sun explodes in a supernova. It's a trying experience, an action-adventure game whose overarching narrative proves just as compelling as the time loop premise that draws countless players in. Thus, it should come as no surprise that fans are eager for another adventure through Mobius Digital's award-winning world. Now there's reason to believe those wishes may soon come to fruition.
Related: The Outer Wilds Was Inspired By Two Legend of Zelda Games (In Different Ways)
Yesterday, industry veteran Simon Carless spotted and shared an Outer Wilds-related SteamDB listing that boasts "Echoes of the Eye" as a subtitle. As of writing, the page received its last update approximately 20 hours ago. The listing itself offers no further details, but a couple of posts from Annapurna Interactive and Mobius Digital suggests something is indeed cooking. The publisher's Twitter account retweeted Carless' post with an eye emoji, Mobius then followed up with a tweet of its own that boasted two pairs of eyeball emojis. Reason indicates both responses were alluding to the mysterious "Echoes of the Eye" title.
Neither Annapurna Interactive nor Mobius Digital have outright confirmed the legitimacy of the presumed Outer Wilds DLC, but SteamDB has a pretty reliable track record. Plus, the responses from the two companies seems to serve as proof enough that "Echoes of the Eye" bears some form of importance. The wait to learn more has, thus, begun.
Outer Wilds originally hit Xbox One and the Epic Games Store before migrating to the Steam and PlayStation storefronts. As such, all that's left is its release on the Nintendo Switch, which should become available sometime during the summer months.
Next: Sci-Fi FPS Skin Deep Gets Annapurna Interactive Partnership
Outer Wilds is available now on PC, PS4, and Xbox One platforms; a Switch version is slated to release this summer.
Source: SteamDB via Simon Carless, Mobius Digital