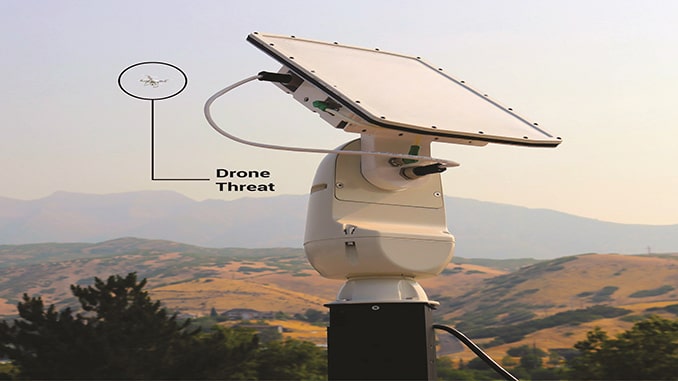 US: SpotterRF has been awarded a patent by the U.S. Patent office for the 3D-500 360° full-dome radar that was developed to detect drone attacks and is the latest in a line of counter-drone radars from SpotterRF. The 3D-500 is the first radar that creates a full-dome drone detection volume from 0 to 90 degrees in the vertical and 360 degrees in the horizontal with a single radar that weighs 12 pounds. The 3D-500 radar measures latitude, longitude, and altitude of all aerial targets in a 1 km wide semi-hemisphere dome, even directly above the radar with no gaps in coverage. Rapid threat assessment is simple with the automatic AI-driven classification and 3D tracking of CUAS combined with fully automated camera queuing on the target.
Effective and cost-effective counter-drone systems, are necessary to tackle challenges faced by airports, special events, military, prisons, and critical infrastructure.
"Perimeter protection has now become a three-dimensional problem needs a three-dimensional security sensor to detect and mitigate those threats. This patent award recognizes the uniqueness of the 3D-500 radar and demonstrates the type of innovation that the industry has come to expect from SpotterRF," states Logan Harris, SpotterRF CEO.
The 3D-500 Counter-UAS System provides:
FCC Certified with a standard licensing for stationary and mobile applications
Mobile for quick deployment applications such as prisons, sporting events, concerts, VIP events, or mobile force protection
Low power usage, and is not affected by inclement weather conditions
Rapid threat assessment is simple with the AI automated classification applied to create greater efficiency in identifying which targets are UAS/CUAS while filtering out more than 99.9% of other clutter, such as birds
3D tracking of sUAS/CUAS combined with large volumetric coverage even directly overhead with no gaps in coverage tracks targets in 3 dimensions with a high probability of detection and a low false alarm rate
3D-500 system is cost-effective, making it perfect for protecting assets and personnel from the growing threat of drones and undesired aerial presence
The post SpotterRF receives patent for the first full dome counter drone radar appeared first on Geospatial World.