Navigation
Here is a collection of optional StoreFront configurations.
CRL Checking – Disable
When the StoreFront server checks certificate revocation for its locally signed files, a delay can occur before the StoreFront logon page is displayed.
Run the following PowerShell commands:

Add-PSSnapin Citrix.DeliveryServices.Framework.Commands
Set-DSAssemblyVerification $false

Run Notepad as administrator.

Open the file C:\Windows\Microsoft.NET\Framework\v4.0.30319\aspnet.config. You'll need to change the bottom right selection to All Files.

In the runtime element, add the <generatePublisherEvidence enabled="false" /> line as shown below:

Save the file.

Repeat for the 64-bit config file located at C:\Windows\Microsoft.NET\Framework64\v4.0.30319.

Receiver Shortcuts
You can use StoreFront to control placement of shortcuts on Receiver machines.
Run Notepad elevated (as administrator).
Edit the file C:\inetpub\wwwroot\Citrix\Roaming\web.config.

Search for <account. Find the Store name in the name attribute.

Scroll down to the first <properties> section located under <annotatedServices>.
If you see <clear />, remove it.

Copy the properties from eDocs and paste them in the <properties> Edit the DesktopDir as desired.
You probably want to add AutoReinstallModifiedApps.

Close and save the file.
Then Propagate Changes.

PNAgent Authentication – Pass-through Authentication
From http://support.citrix.com/proddocs/topic/dws-storefront-25/dws-configure-pna-auth.html : XenApp Services URLs support explicit, domain pass-through, and pass-through with smart card authentication. Explicit authentication is enabled by default. You can change the authentication method, but only one authentication method can be configured for each XenApp Services URL. To enable multiple authentication methods, create separate stores, each with a XenApp Services URL, for each authentication method. To change the authentication method for a XenApp Services URL, you run a Windows PowerShell script.
On the primary StoreFront server in your deployment, use an account with local administrator permissions to start Windows PowerShell.
At a command prompt, type the following command to configure the user authentication method for users accessing the store through the XenApp Services URL.

& " C:\Program Files\Citrix\Receiver StoreFront\Scripts\EnablePnaForStore.ps1" –SiteId 1 ‑ResourcesVirtualPath /Citrix/Store –LogonMethod sson
To enable explicit authentication, set the -LogonMethod argument to prompt. For domain pass-through, use sson and for pass-through with smart card authentication, set the argument to smartcard_sson.
Hide Applications
Hide applications from Receiver – http://blogs.citrix.com/2014/03/27/hiding-applications-in-citrix-storefront/
Open PowerShell and run:
$dsInstallProp = Get-ItemProperty -Path HKLM:\SOFTWARE\Citrix\DeliveryServicesManagement -Name InstallDir
$dsInstallDir = $dsInstallProp.InstallDir
& $dsInstallDir\..\Scripts\ImportModules.ps1

To filter by type, run:
Set-DSResourceFilterType -SiteId 1 -VirtualPath "/Citrix/Store" ‑IncludeTypes @("Applications")
Default type filters = @("Applications","Desktops","Documents")
To filter by keyword, run:
Set-DSResourceFilterKeyword -SiteId 1 -VirtualPath "/Citrix/Store" -ExcludeKeywords @("Hidden")
Once the ExcludeKeyword has been defined, add the keyword to a published application description and that application will no longer display in Receiver. This works for both Receiver for Web and Receiver Self-Service (non-browser).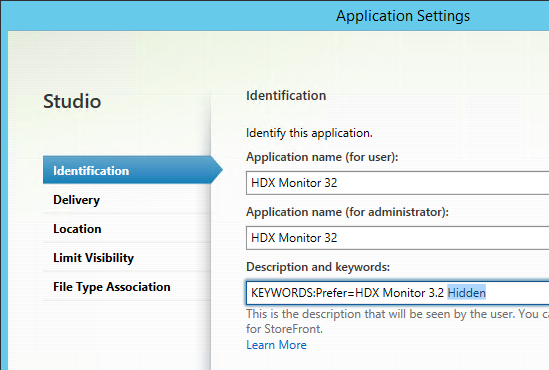 StoreFront Web GUI Assistant
The tool offers a GUI to ease configuration of the StoreFront 1.2/2.0/2.1/2.5 "Receiver for Web".
Run the tool, the below interface will be shown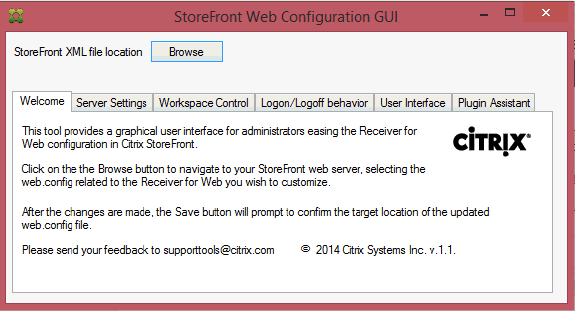 Click on Browse to open the web.config file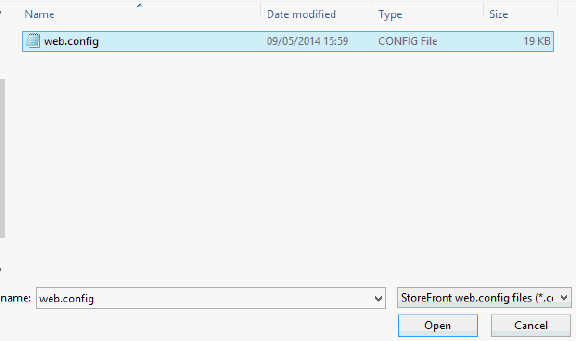 The tool will switch to the Server Settings tab and the Save button will appear.
The StoreFront version is shown in the GUI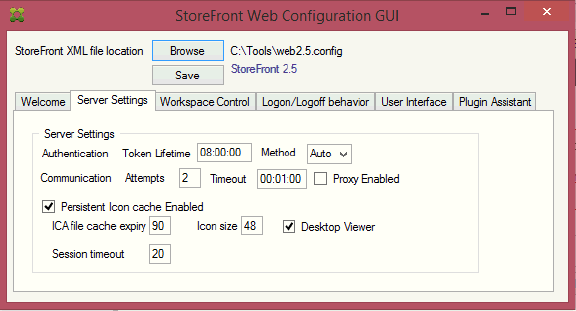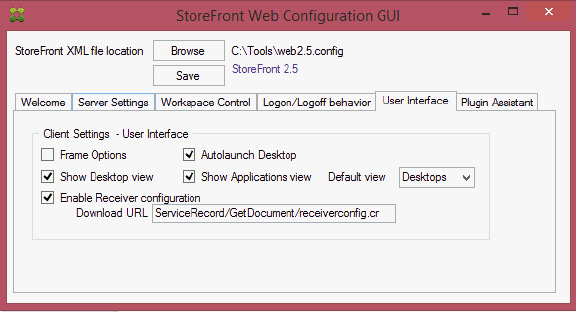 Change the parameters within the different tabs exposed in the GUI and click on the "Save" button to validate the changes.
When clicking "Save", a backup copy will be created (web.config.bak) at the target location. If the tool is launched from a StoreFront server, a replication process to the other StoreFront servers can be initiated.
Tabs – Desktop/Application – Autolaunch
http://support.citrix.com/proddocs/topic/dws-storefront-25/dws-configure-wr-view.html. When both desktops and applications are available from a site, Receiver for Web displays separate desktop and application views by default. Users see the desktop view first when they log on to the site. Regardless of whether applications are also available from a site, if only a single desktop is available for a user, Receiver for Web attempts to automatically start that desktop when the user logs on.
To change these default settings, edit the Receiver for Web site configuration file. You can use the GUI Assistant or follow the procedure shown below:
On the StoreFront server, use a text editor to open the config file for the Receiver for Web site, which is typically located in the C:\inetpub\wwwroot\Citrix\storenameWeb\ directory, where storenameis the name specified for the store when it was created.
Locate the following element in the file.

<uiViews showDesktopsView="true" showAppsView="true" defaultView="desktops" />

Change the value of the showDesktopsView and showAppsView attributes to false to prevent desktops and applications, respectively, being displayed to users, even if they are available from the site. When both the desktop and application views are enabled, set the value of the defaultView attribute to appsto display the application view first when users log on to the site.
Locate the following element in the file.

<userInterface ... autoLaunchDesktop="true">

Change the value of the autoLaunchDesktop attribute to falseto prevent Receiver for Web from automatically starting and accessing a desktop when a user logs on to the site and only a single desktop is available for that user.
Note: The Receiver Self-Service interface does not auto-launch desktops and it does not have a separate applications view.
Full Screen Desktop
From http://ittechlog.wordpress.com/2013/08/27/citrix-storefront-2-0-start-the-desktop-or-applications-full-screen/: Using Citrix StoreFront 2.0 the published desktop or applications start on 60% of the screen. For applications this isn't too bad but for desktops it is better to show them 100%.
Here is how to change the default setting:
Open the file C:\inetpub\wwwroot\Citrix\Store\App_Data\default.ica on the StoreFront server(s) with notepad (as Administrator)
Add the line

[Application]
DesktopViewer-ForceFullScreenStartup=true

Save the file
Test if the Desktop and the Applications start full screen
Autolaunch Application
From Citrix Discussions:
Run Notepad elevated (as Administrator).
Edit the file C:\Inetput\wwwroot\Citrix\StoreWeb\contrib\custom.script.js.

At the bottom of the file, paste in the code found in Citrix Discussions. Replace the published application name. Save the file. Only this application will be auto launched. Note: the code changed slightly in StoreFront 2.6.

Store for Anonymous
If you intend to publish applications to anonymous users then you will need to create a store just for anonymous. On the left, click Stores. On the right, click Create Store for Unauthenticated Users.

In the Information page, click Next.

In the Store Name page, enter a new store name and click Next.

In the Delivery Controllers page, click Add.

Enter the name of your XenApp farm (e.g. CorpSite).
Add all of your XenApp Controllers.
Change the Transport type to HTTP. Click Add.

Click Create when you are done creating deployments.
Click Finish.

Workspace Control
In StoreFront, Workspace Control is only enabled on Receiver for Web and XenApp Services (PNAgent, Legacy) URLs. It is not enabled in Native Receiver or Desktop Appliance.
| | | |
| --- | --- | --- |
| StoreFront Access Method | Workspace Control? | Logoff Action |
| Receiver for Web | Enabled | Disconnect |
| Native Receiver | Not Possible | N/A |
| XenApp Services (aka PNAgent, aka Legacy) | Enabled | Disconnect |
| Desktop Appliance | Not Possible | N/A |
To edit Workspace Control, edit the file C:\inetpub\wwwroot\Citrix\StoreWeb\web.config and look for the following line:
<workspaceControl enabled="true" autoReconnectAtLogon="true" logoffAction="disconnect" showReconnectButton="false" showDisconnectButton="false" />

Consider enabling the following:
Modify ShowReconnectAtLogon="false to ShowReconnectAtLogon="true"
Modify ShowDisconnectButton="false" to "showDisconnectButton="true"
Special Folder Redirection
With Special Folder Redirection configured, users can map Windows special folders for the server to those on their local computers. Special folders refer to standard Windows folders, such as \Documents and \Desktop.
Open PowerShell as administrator (elevated).
Switch to the C:\Program Files\Citrix\Receiver StoreFront\Management\Cmdlets
Run the script AdminServiceLoader.ps1 to load the modules.

Run the following command:

Set-DSClientSettings -SiteId 1 -VirtualPath /Citrix/Store ‑SpecialFolderRedirectionAllowed $true


"Activate" Option in Web Page – Disable
From Citrix Discussions: to disable the "activate…"; function for Citrix receiver for windows that is visible when a user clicks their username in the upper right hand corner of Receiver for Web:
Browse to C:\inetpub\wwwroot\Citrix\"NameoftheStoreWeb"\
Open config
Locate the following line.

<receiverConfiguration enabled="true" downloadURL="ServiceRecord/GetDocument/receiverconfig.cr" />

Change the true to false
Customize Receiver for Web
These customizations apply to Receiver for Web only. They do not apply to Receiver Self-Service or NetScaler Gateway.
Citrix Blog post Receiver for Web UI Themes: White Theme and Dark Theme.
The Citrix blog post Customizing Receiver for Web 2.5 applies to StoreFront 2.6 except for the changes detailed in the blog post Customizing Receiver for Web 2.6. Here are some customizations detailed in these blog posts:
Hyperlink in the Footer Area – for example, contact the help desk
Pre-login (Disclaimer) and Post-login (Announcement) Messages
Display Client IP Address
Display StoreFront server name
Citrix blog post – How to Add a Custom Banner to the Logon Page of StoreFront 2.x, Director 7.x, or Citrix License Server 11.x: Some customers require that all levels of authentication (all logon pages) display security banners which outline the rights to privacy (or lack thereof) when accessing their sites.  In this case, a simple change to the web page code results in the addition of text – a security banner – near the authentication fields which is visible each time a user logs onto the site. This article contains information about the customization of the logon page of StoreFront, Director, and Citrix License Server web pages.
From Citrix Discussions: Just realized that you probably should not modify the original files. All StoreFront modifications are done by adding CSS/Javascript into the /contrib directory, which overrides the default values. You would simply create a file called *custom.wrstrings.en.js* (for English) in that directory, replacing just the values that you wish to override.
More customizations are detailed Citrix Knowledgebase article Customizing the Receiver for Web User Interface including:
Language strings and Language Pack
CSS Customization
Javascript Customization
From Daniel Ruiz – Customizing Citrix StoreFront 2.6 including Pre-Login message page: The following customizations include the following:
Pre-Login message page
Front Page with custom logo and title header
App/Desktop page with custom logo, user client IP
Apps/Desktop Tab on top with Disable user multiclick
Page footer
From Czerno blog – Redirect Citrix Storefront to a different page at log off: To make Storefront redirect to a different page rather than just sit at the "You have logged off successfully" page, edit the "custom.wrstrings.en.js" file in the contrib folder of the Web Store. By default this will be located at "C:\inetpub\wwwroot\Citrix\<StoreName>Web\contrib". If you have not created any customizations, select everything in the file and replace with the following:
(function ($) {
$.localization.customStringBundle('en', {
YouAreLoggedOff: 'You have logged off successfully. <br>'
+'You are being redirected to <Enter your web page here or delete this line>'
+'<script type="text/javascript">'
+'window.location.replace("http://www.czerno.com");'
+'</script>'
});
})(jQuery);
StoreFront SDK
Use the Store Customization SDK to apply custom logic to the process of displaying resources to users and to adjust launch parameters.  For example, you can use the SDK to control which apps and desktops are displayed to users, to change ICA virtual channel parameters, or to modify access conditions through XenApp and XenDesktop policy selection.
Requires Visual Studio to create .dll files that replace the ones bundled with StoreFront.
https://www.citrix.com/downloads/storefront-web-interface/sdks/storefront-customization-software-development-kit