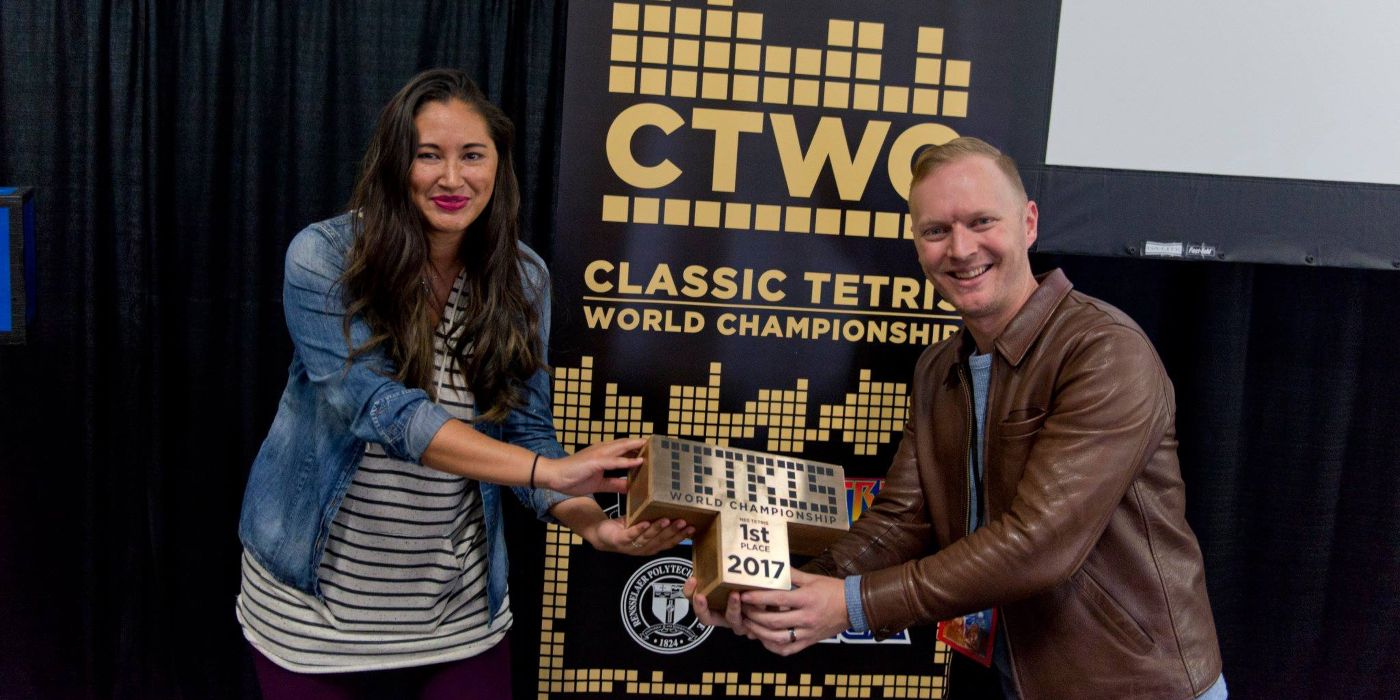 Tetris is one of the video game industry's most iconic titles. It's available on millions of devices, including consoles, computers, and mobile devices. It's a game that most have played, which makes it all the more tragic to confirm that Jonas Neubauer, seven-time Classic Tetris World Championship winner and perhaps the best Tetris player in the world, has died. Neubauer was 39 years old at the time of his passing.
Neubauer's death was announced online via his official Twitter account. The message reads, "With a heavy heart, we deliver the terrible news that Jonas has passed away from a sudden medical emergency." It goes on to say that Neubauer was the "absolute best," and that his family is "devastated," "overwhelmed with grief," and already missing Neubauer dearly. Additional information was also promised, as it would become available.
RELATED: Tetris Effect Developer Working on New Game
Following the announcement, the official Tetris Twitter account also issued a statement. The account, which is handled by representatives of the game's original creator Alexey Pajitnov and The Tetris Company, described Neubauer's death as a "tremendous loss." "Jonas Neubauer was one of the greatest classic Tetris players of all time in skill, spirit, and kindness," it said. The account then added the entire Tetris community mourns Neubauer's passing.
In recent years, Neubauer became perhaps best known for their content creation. Neubauer produced videos on YouTube and streamed on Twitch regularly, primarily playing differing versions of Tetris. Neubauer's primary game was always the classic NES version of Tetris, which he published dozens of videos focusing on. Neubauer truly loved Tetris, and was a common face at Tetris-related events and promotions. His most recent major appearance was at the December 5 Tetris Effect: Connected Launch Invitational.
What Neubauer was best known for was his many Classic Tetris World Championships, competitions based around the original NES version of Tetris. The annual tournament began in 2010, and Neubauer won the first four. He went on to win another three championships in a row between the years of 2015 and 2017. Few would argue that Neubauer is the most decorated and dominant classic Tetris player in history, and he leaves quite the legacy for future players to live up to.
Neubauer and his wife Heather had moved to Hawaii just this past weekend. Heather described on Discord that her husband was reading on the couch, stood up to get something, and then collapsed. A memorial fund for Jonas has been established, the funds of which will go directly to Heather and the immediate needs of the Neubauer family.
MORE: The 10 Best Tetris Video Games Of All Time