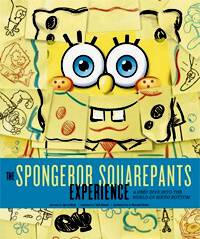 The SpongeBob SquarePants Experience
Jerry Beck
Insight Editions

With this month's release of the second feature-length SpongeBob SquarePants film Sponge out of Water, it seems fitting to look back at the longevity of the humble sponge's legacy. I can think of no better way than Jerry Beck's wonderful  guide to all things SpongeBob, the aptly named The SpongeBob Squarepants Experience. This comprehensive read take you from the very beginnings, through the brilliantly bizarre critters and their stories, as well as the production itself and the variety of talented people who brought the show's aquamarine adventures to life.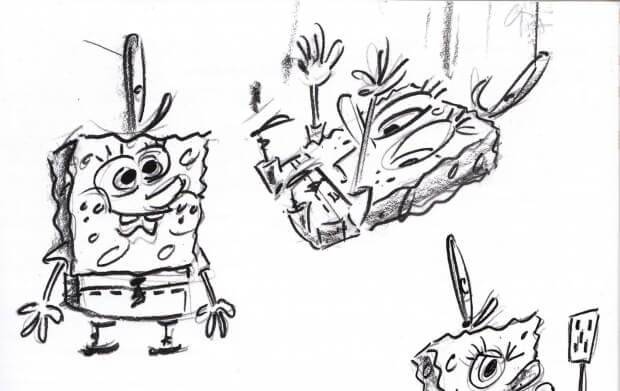 Being a 90s kid, I remember the mass innovation of all things yellow and porous, much like today's almost-obsessive fanbases of Adventure Time or Despicable Me's minions; At one point you couldn't go anywhere without seeing those big white eyes and trademark two toothed grin on every t-shirt, cup, stationary set, lunch box and so much more. The relentless mass
merchandising of cartoon characters seemed to be in full swing by the time Bob arrived on the seen and Nickelodeon took full advantage of this – and all our pocket money – for years to come. The widely energetic, repeatable lines and use of my favourite colour struck a cord with me that never really left. Since those days there have been more series then you can shake a fish at and now with a second film, this boneless, brainless sea sponge continues to win the hearts of millions across the world.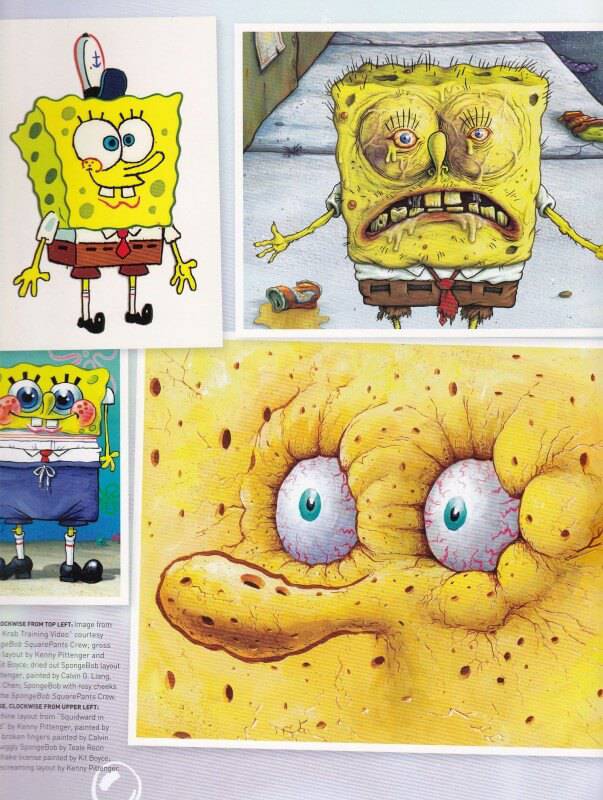 The SpongeBob SquarePants Experience, released well before the newest film, takes a deeper look into the origins of SpongeBob TV series- now in production of its tenth season. Although the show originally debuted in 1999, the very first drawing penciled by Stephen Hillburg was way back in 1989. The book take you back to the original premise of both the characters and landscape of Bikini Bottom, with incredible rare production sketches and enticing anecdotes from the most important figures in the show's creation. A mixture of character designs, prop studies, storyboards, layouts and background art is laced together with Beck's informative and interesting accounts of the production process. The book also tells of the international love of the show and its global success. There are chapters on each of the show's most well-known characters, from SpongeBob's childlike best friend Patrick Star, to his devious arch enemy Plankton. There is also a section dedicated to both the first movie and the stop-motion Christmas special. The content of the book takes you on a well-researched and simple step-by step journey through the production of the hit TV show with language that is concise, making it an enjoyable read.
However it is the quality and sheer amount of sketches, paintings and character designs that shines in this book; Just flipping thorough the 155 full-colour, high-gloss pages gives you a feast of ideas and flashbacks to the best episodes. Hardback, A4 and with it own sleeved jacket, this book will sit well alongside all your other art books and remind you just why you loved the show in the first place.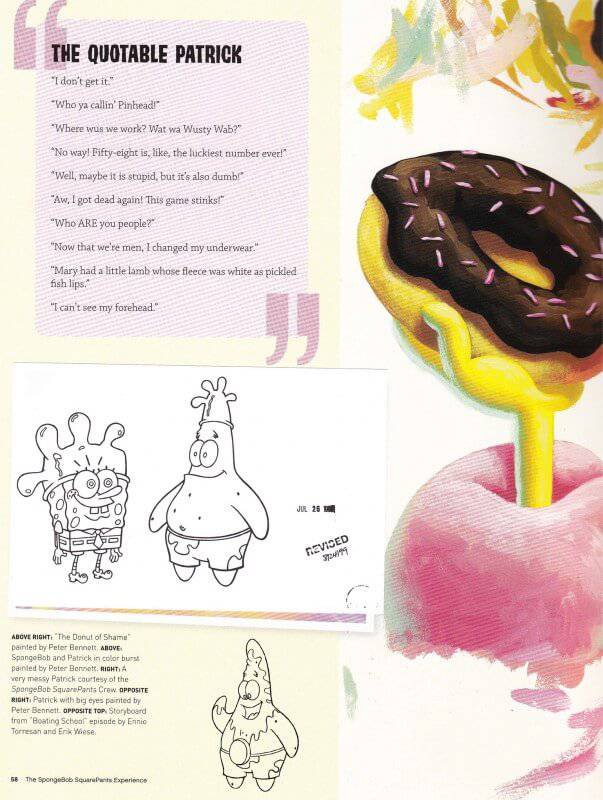 It doesn't stop there though – there are dozens of pull-out and lift-up extras in this book, from snail care guides to posters, jelly-fishing club cards, paper badges, raising the question of where this book sits in terms of marketing. Being two parts coffee table book, one part research material and one part child-friendly adventure annual, you're reminded this is, after all, a children's show, the characters and stores following a light set of rules so it make sense that this book would fill multiple expectations. In conclusion, throw away the rule book of what you've come to expect from an 'Art of', and just enjoy.
You can purchase The SpongeBob SquarePants Experience here