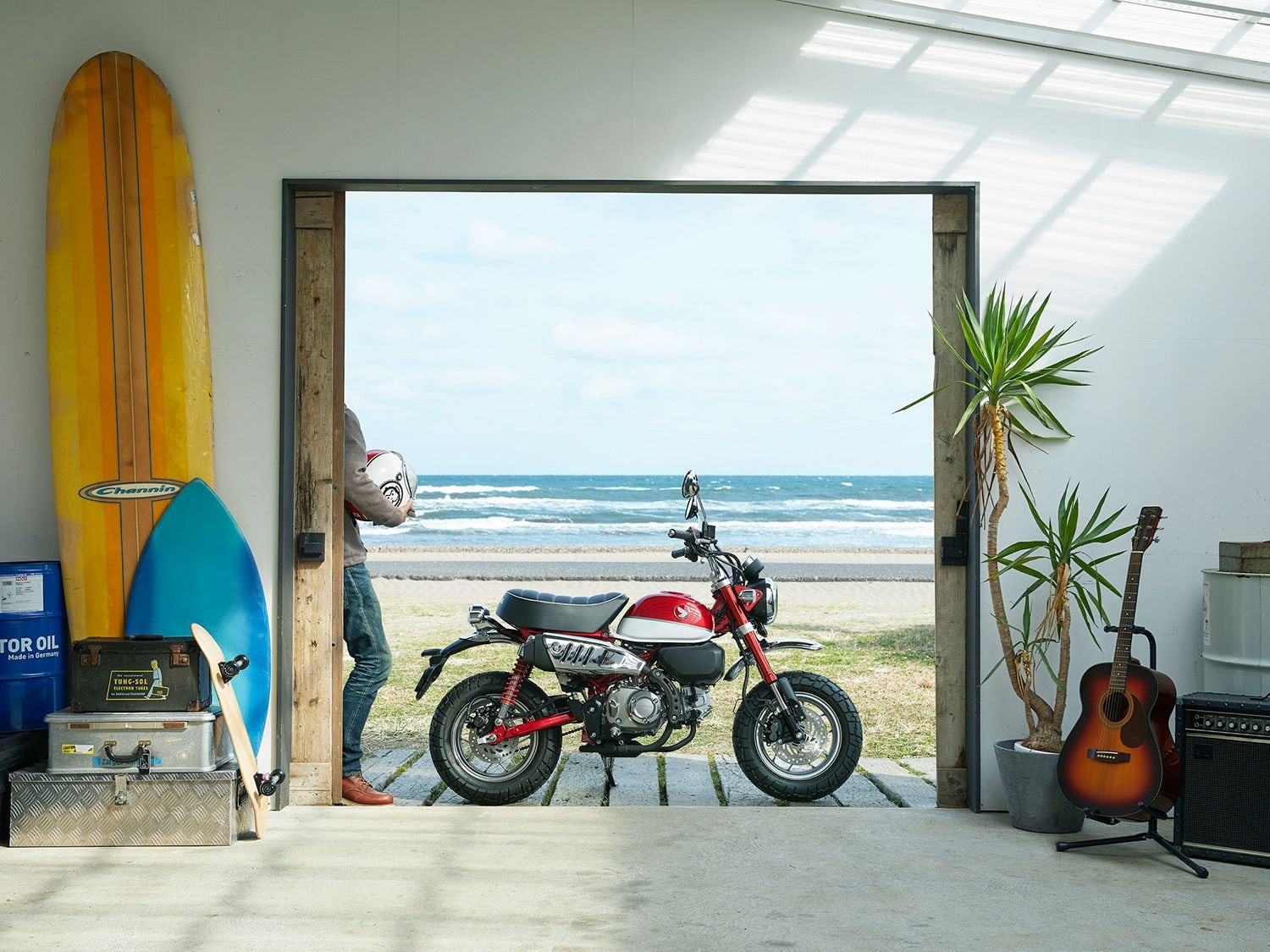 With its approachable ergonomics, retro appeal and utter charm, the Honda Monkey offers a perfect explanation for the appeal of funbikes. (Honda/)
Honda's lovable little Grom reinvented the fun-bike category when it debuted in 2014, reminding us we don't need big amounts of cubic inches to have fun on two wheels. The simple Grom became Honda's best-selling streetbike and spawned pretenders to its crown as the most delightful mode of transport on public roadways.
Related: Monkey Business
There's now a plethora of endearing street-legal funsters offered by a variety of companies. These unintimidating bikes offer a charming accessibility and a low buy-in that defines the segment (it's more "fun" to drop a Grom than it is a CVO Road Glide…), and you can expect small engines and big fuel economy. Expect also cheap insurance and bicycle-like parking ease from these cuddly beasts, plus ear-to-ear grins and the chance to get creative with where you ride. However, with their small engines, you shouldn't expect to keep up with traffic on the interstate.
To keep this list on point, we're going to avoid traditional (if cheap) Chinese motorcycles and namby-pamby scooters. We'll cap our list at $4,700 and work our way down to less than half that.
Related: 2019 Honda Monkey/ABS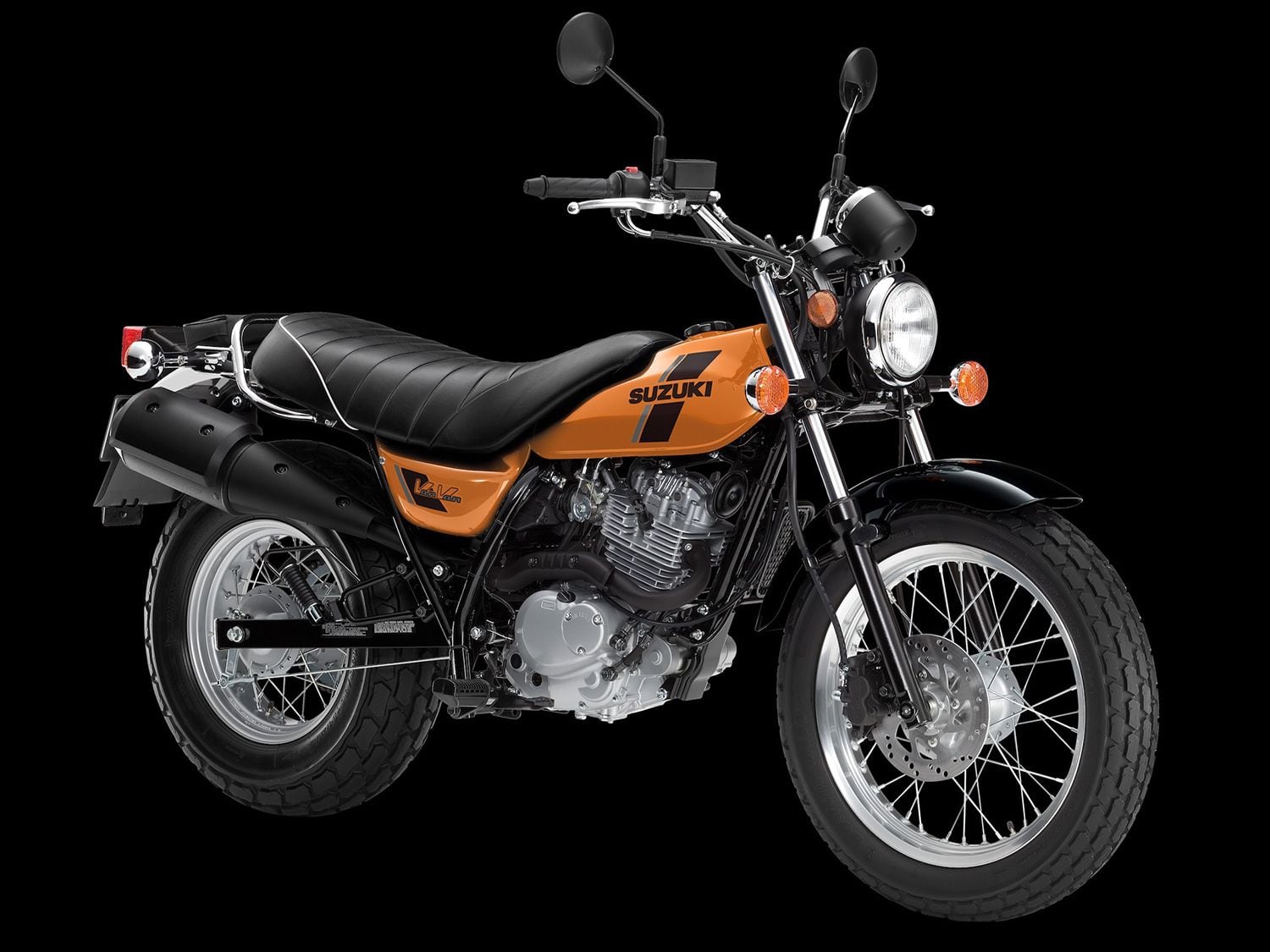 Another chunky-tired and oddly-named favorite is the fuel-injected 200cc VanVan, ready to rip up any nearby trail or a quick dash on the tarmac. (Suzuki/)
Funky cool is the VanVan's name and appearance. Powered by a fuel-injected and air-cooled 200cc motor, the VanVan's 18/14-inch aluminum wheels give it a distinctive stance and character that cross a dual-sport with a trials bike. While it might look at home on the back of an RV, it also would look at home with a milk crate strapped to its seat and casually cruising up to the convenience store for a six-pack. A 30.3-inch seat height and 282-pound curb weight keep it manageable for almost anyone.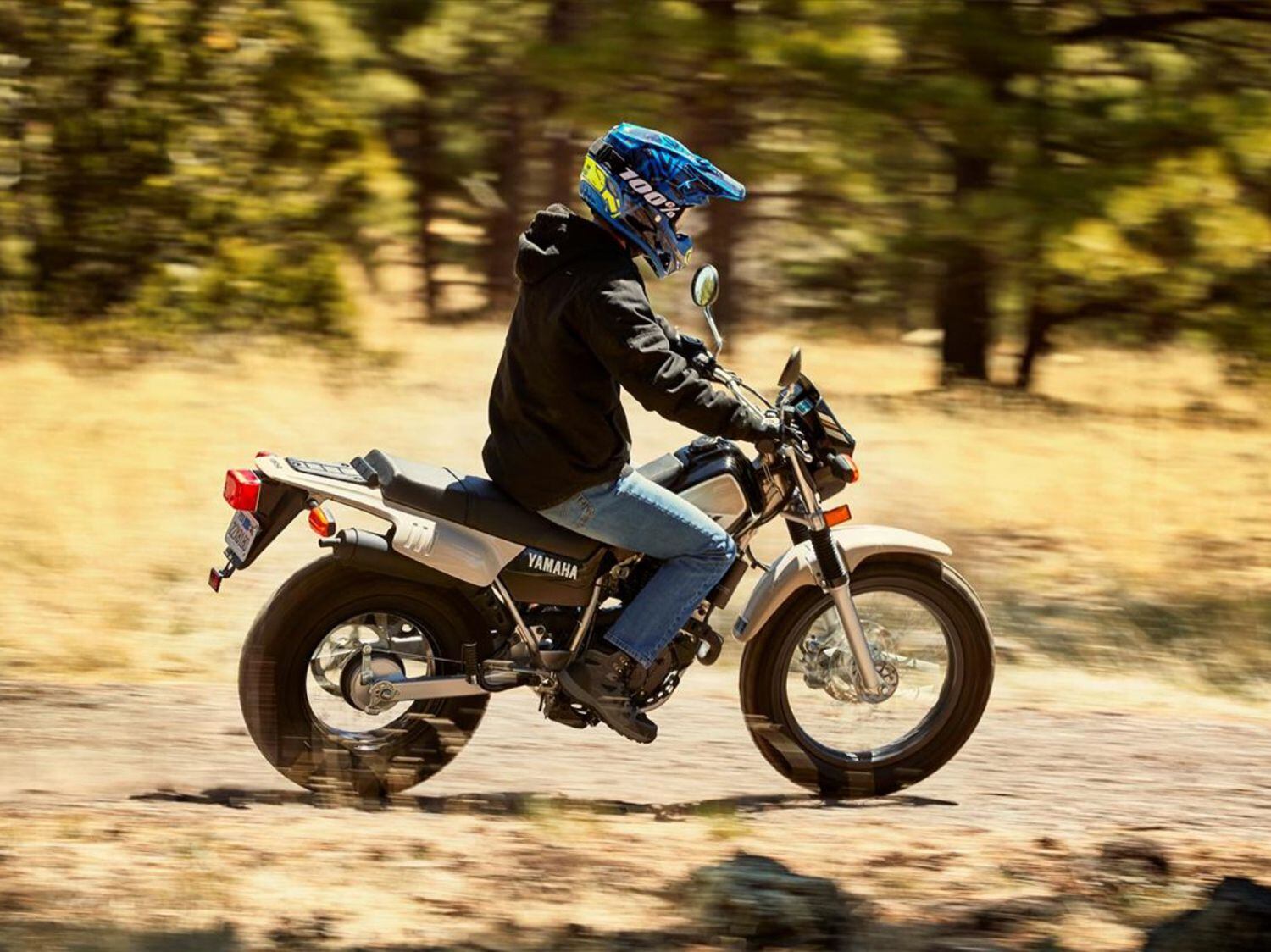 Despite having much in common with the VanVan, Yamaha's distinctive TW has been around much longer, and has the fan base to prove it. (Yamaha/)
The TW has been around for eons, and it now has fresh competition with Suzuki's VanVan. Both have 200cc engines, five-speed gearboxes, and oddball 18/14-inch wheels. They weigh within 10 pounds of each other, and Yammie's seat is a bit taller (31.1 inches), but they both appeal to the same eccentric audience. Yamaha says to expect 78 mpg despite using an old-school carburetor rather than the Suzuki's EFI.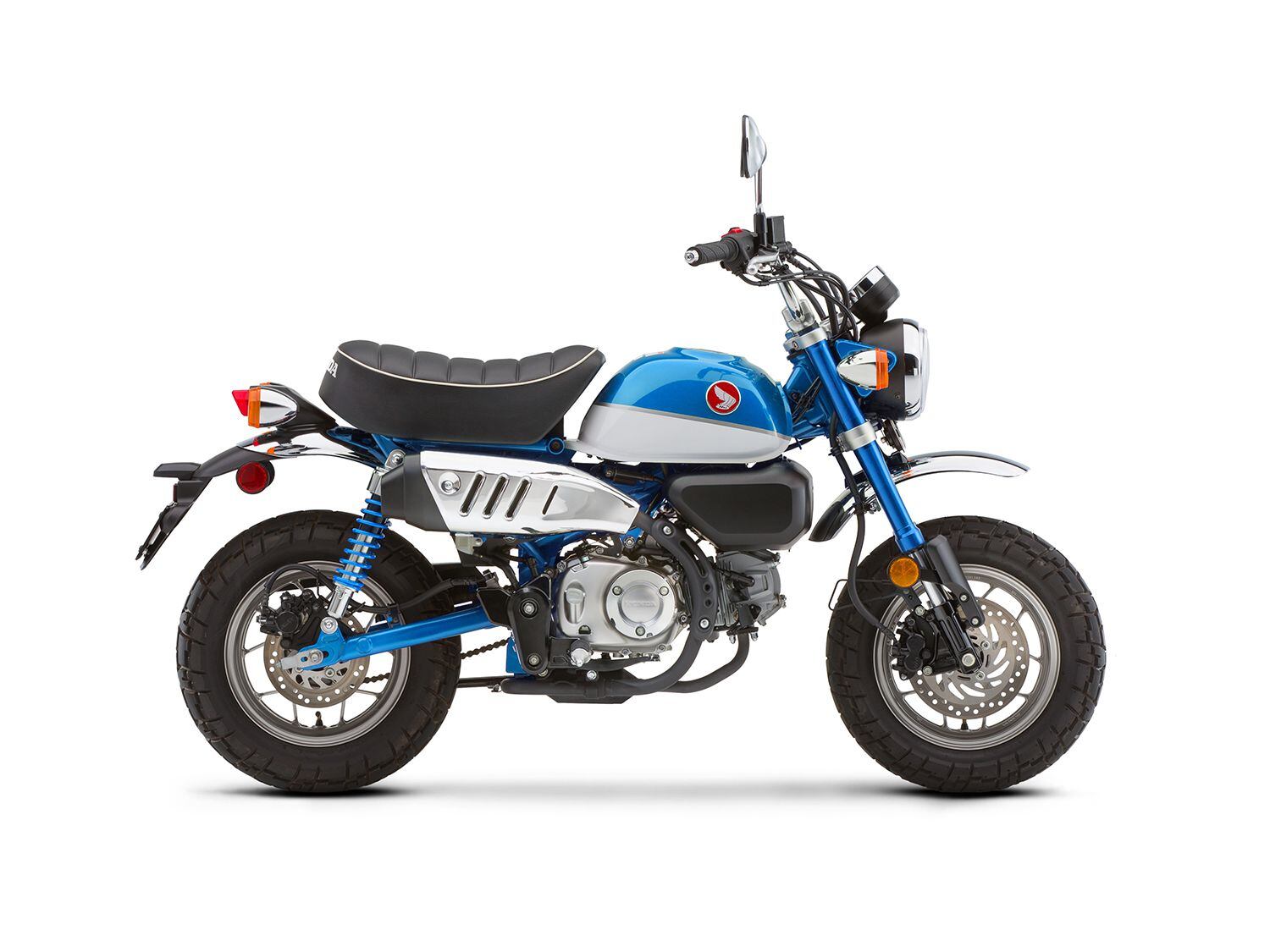 The Monkey's cool quotient can't be overstated. And the 125cc fuel-injected motor is guaranteed to coax out a grin or three. (Honda/)
It was difficult to imagine that Honda could out-fun-bike the Grom, but then the adorable Monkey showed up last year, mightily yanking heartstrings of riders who remember and/or revere the 1970s. Instead of a rugged but anemic 50cc motor like in the original, the new Monkey utilizes the fuel-injected 125cc engine from the Grom. In fact, there's a whole lot of Grom in the Monkey.
At a base price of $3,999 ($4,199 with ABS), plus the Monkey's cool factor combined with Honda's deserved reputation for quality, it seems almost a bargain.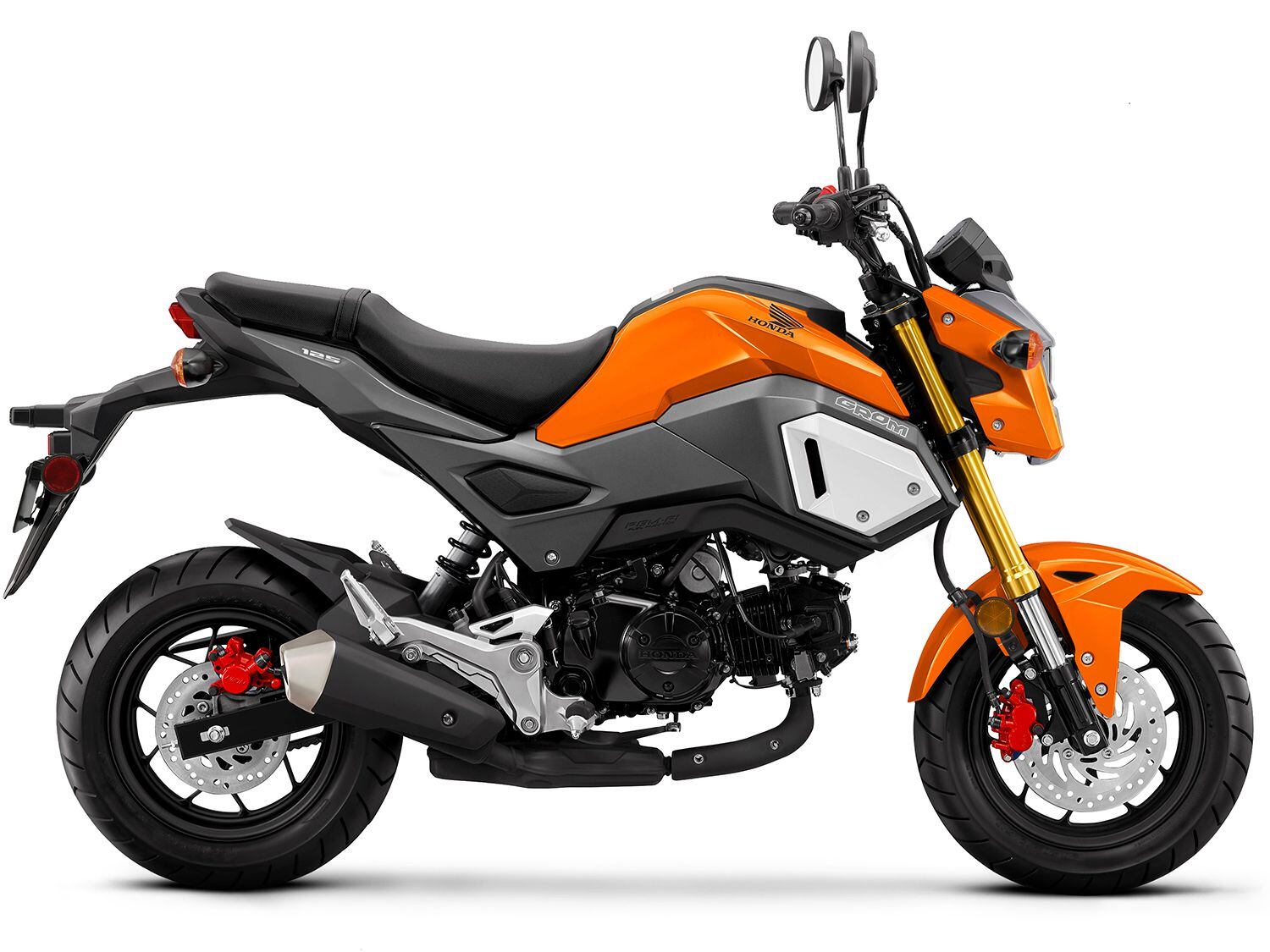 The Grom's low seat height comes courtesy of puny 12-inch tires, but don't underestimate this bike's fun factor. (Honda/)
Honda's copywriters succinctly nailed the Grom's key attribute when they wrote: "Turns the shortest trips into the most epic adventures." While this is true for the $3,399 Grom (same price as 2019), it also resonates with all of the bikes in this list.
Stubby 12-inch tires help deliver a low-ish 30-inch seat height, making it accessible for both short and inexperienced riders, and it's reasonably light too. With its 1.45-gallon tank full, it weighs 229 pounds. If that fuel tank seems objectionably small, consider that Honda claims 134 mpg from the 125cc motor, giving it nearly 200 long miles between fill-ups! Antilock brakes, a class rarity, are a $200 option.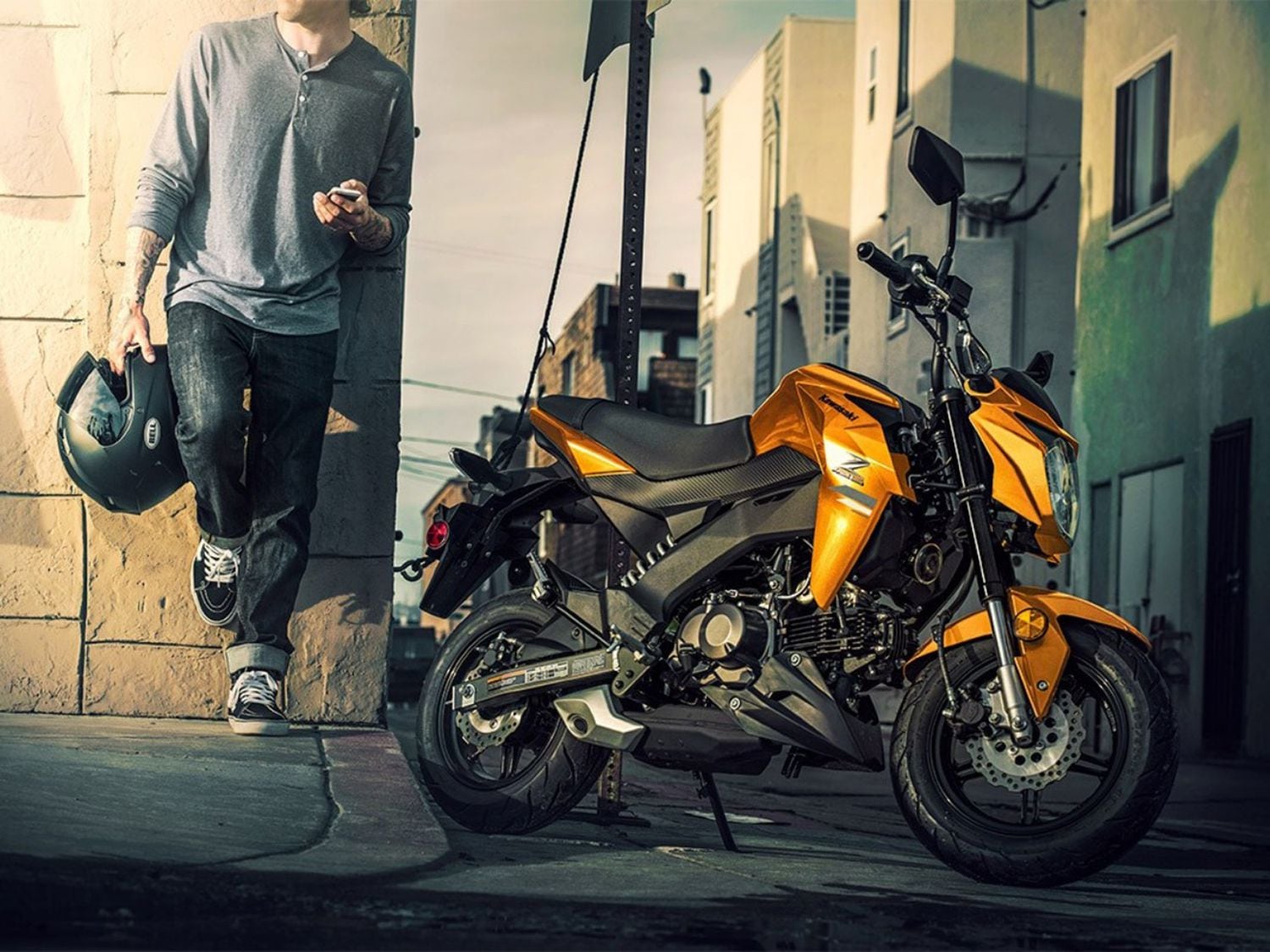 The Z125 takes the Grom's best attributes and puts its own spin on them, with a bigger tank, taller seat and greater lean angle. (Honda/)
If imitation is the sincerest form of flattery, the Honda engineers should be chuffed that Team Green has basically duplicated the Grom formula and spat out their own version. Visually, you'll notice both have 12-inch wheels and 125cc air-cooled powerplants. The Z adds a dashing under-engine cowling and exhaust outlet.
What you can't see is the Kawi's revvier powerband but less torque, its greater agility, plus a larger fuel capacity (2.0 gallons). Another distinction is a taller seat (31.7 inches) and higher footpegs that enable greater lean angles but scrunch long legs tighter. The Z125 is so competitive with the Grom that its slightly lower price gives it a fun-per-dollar edge.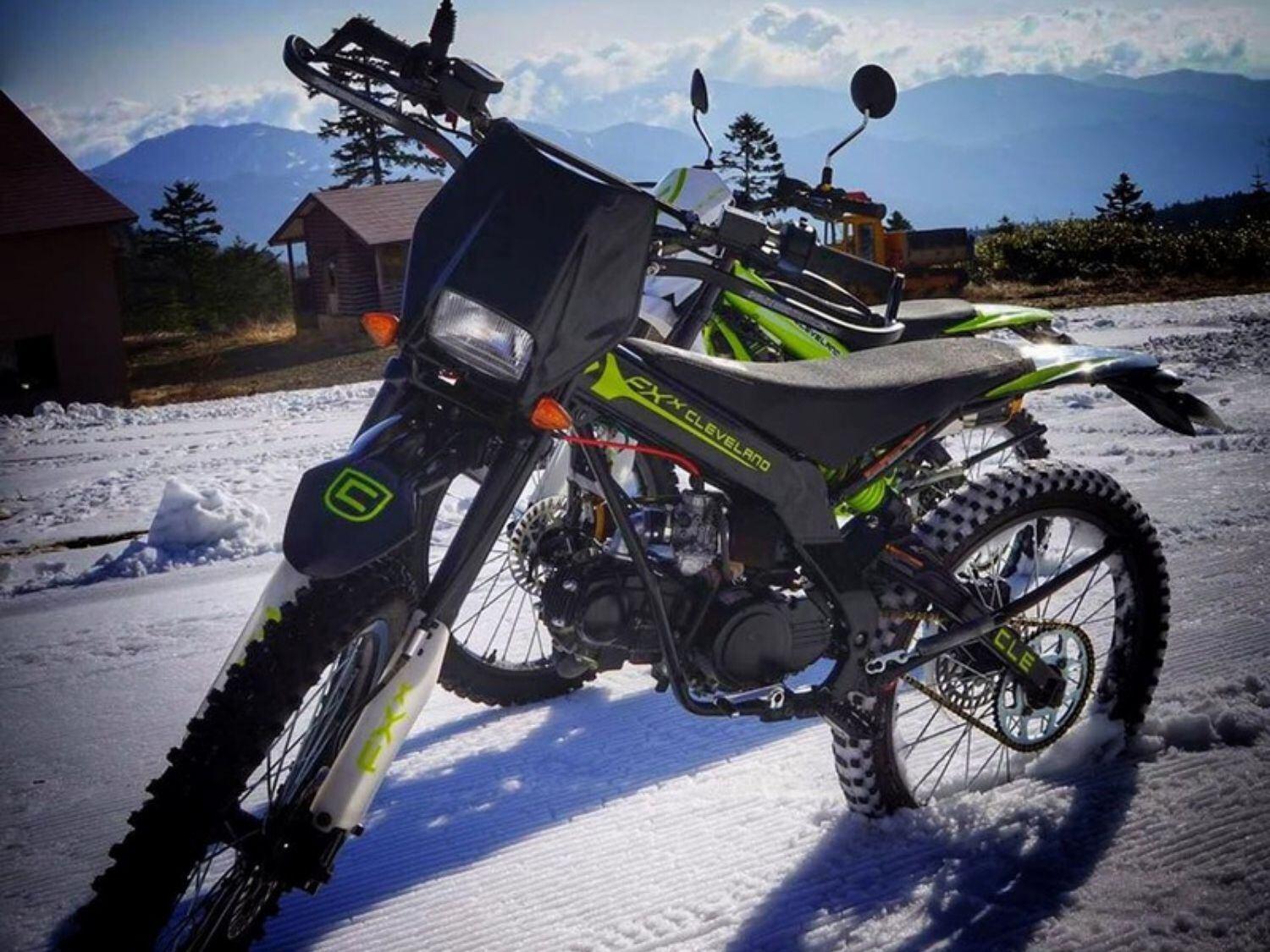 Dirt bike? Mountain bike? How about both? Or swap in the accessory 17 inch wheels and make the FXr street-worthy. (Cleveland Cyclewerks/)
The FXr takes a different tack than the small-wheeled archetype, instead rocking a mountain bike-cum-dirt bike play that promises adventures off the beaten path, with just enough equipment to make it legal for use on public roads. Cleveland CycleWerks fits a pair of 21-inch wheels to make the FXr unique and capable for trials-type off-road riding, while its 124cc engine provides way more grunt than pedals on a mountain bike. Don't want to ride off road? Then spring for the accessory 17-inch wheels for enhanced street grip.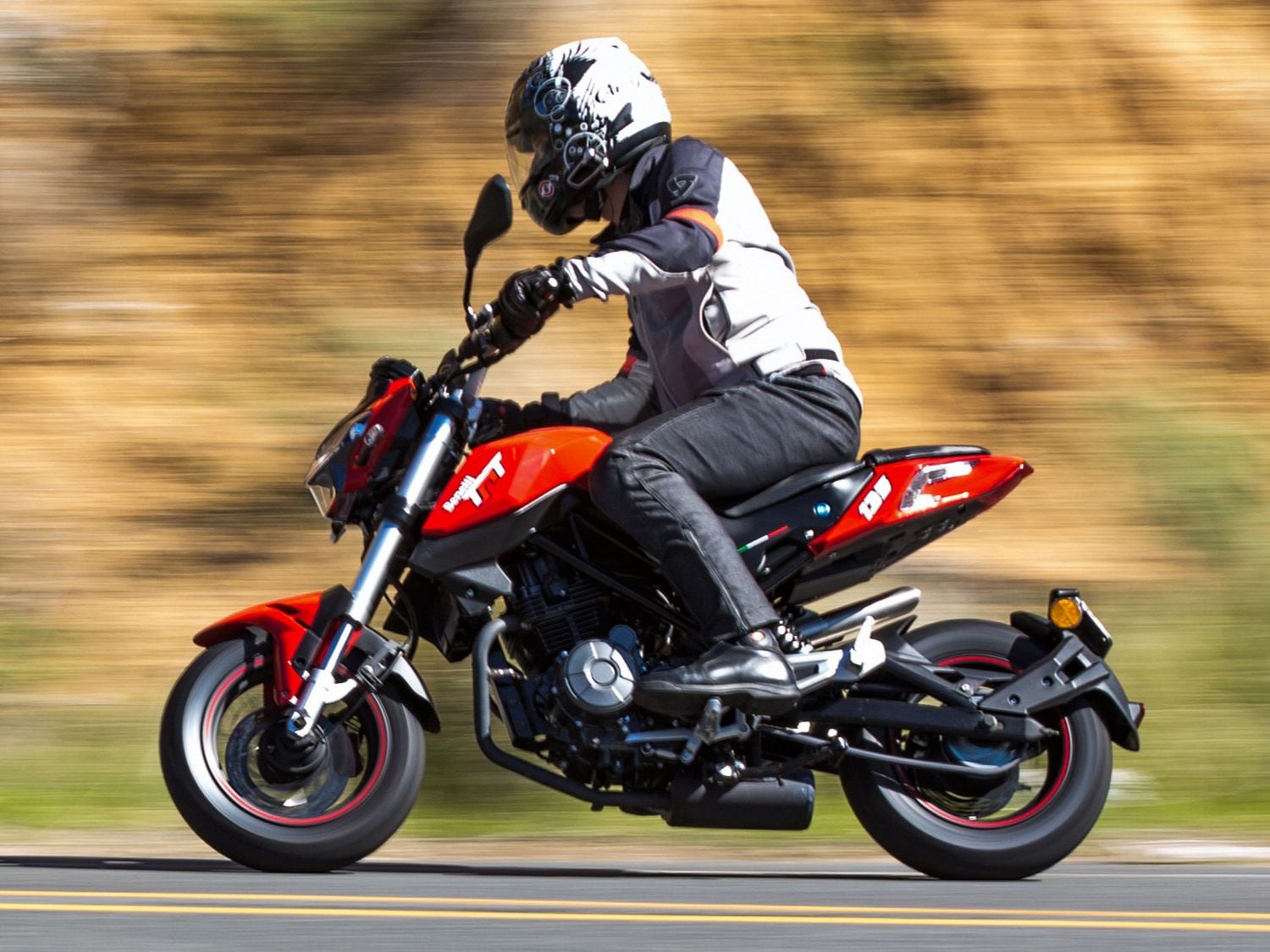 Low seat height, 12 inch wheels, and fuel injection along with a nice price put this Benelli squarely in funbike territory. (Benelli/)
Benelli has taken the Grom formula of 12-inch wheels and a low (30.7 inches) seat height but adds 10cc of displacement for a bit of extra power (a claimed 11.3 hp) from its fuel-injected mill. Also extra is a fifth gear the other bikes with 12-inch wheels lack. A cool trellis frame and racy twin exhaust outlets provide some Italian styling panache, even if this Italian-branded bike is built in China and weighs more than its rivals (256 pounds).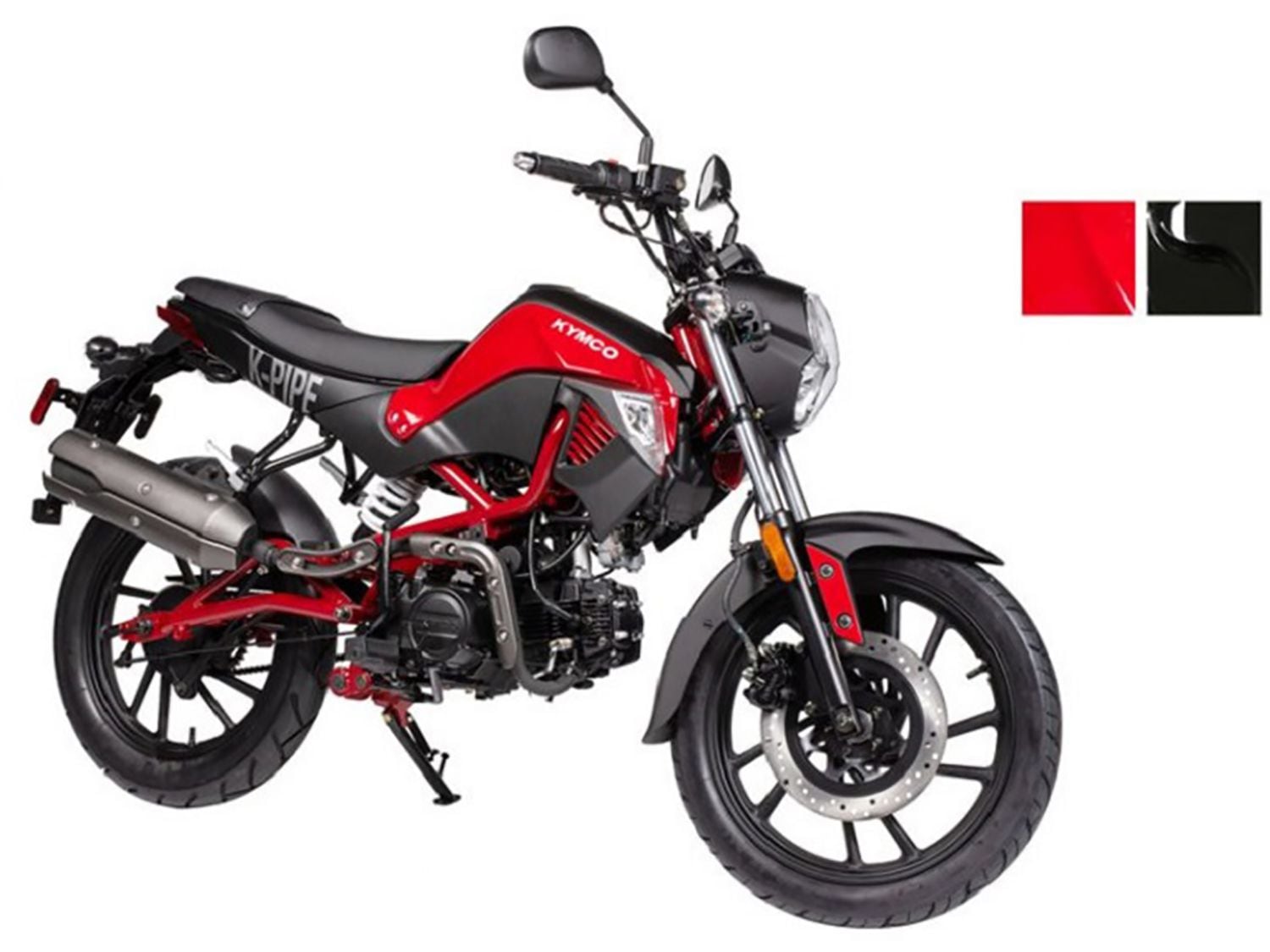 Almost full-size but still a mini, the K-Pipe goes with more traditional wheels for a more familiar feel, but still rocks a unique vibe. (Kymco/)
The K-Pipe eschews 12-inch wheels in favor of a pair of 17-inchers that make it feel more familiar to traditional motorcycle riders than the twitchier donuts on the others, and its roomy ergos supply additional room for bigger kids of all ages—its seat tops out at 33 inches. The Kymco's other unique selling proposition is its use of a centrifugal clutch that makes it easier to ride. A clutch lever is included, but it's unnecessary when taking off or when navigating the imprecise four-speed transmission. Its tubular frame and swingarm add to its cool factor, but the anemic output from its motor (8 hp claimed) doesn't. Also, what the K-Pipe earns in oddball coolness, it lacks in minibike cuteness.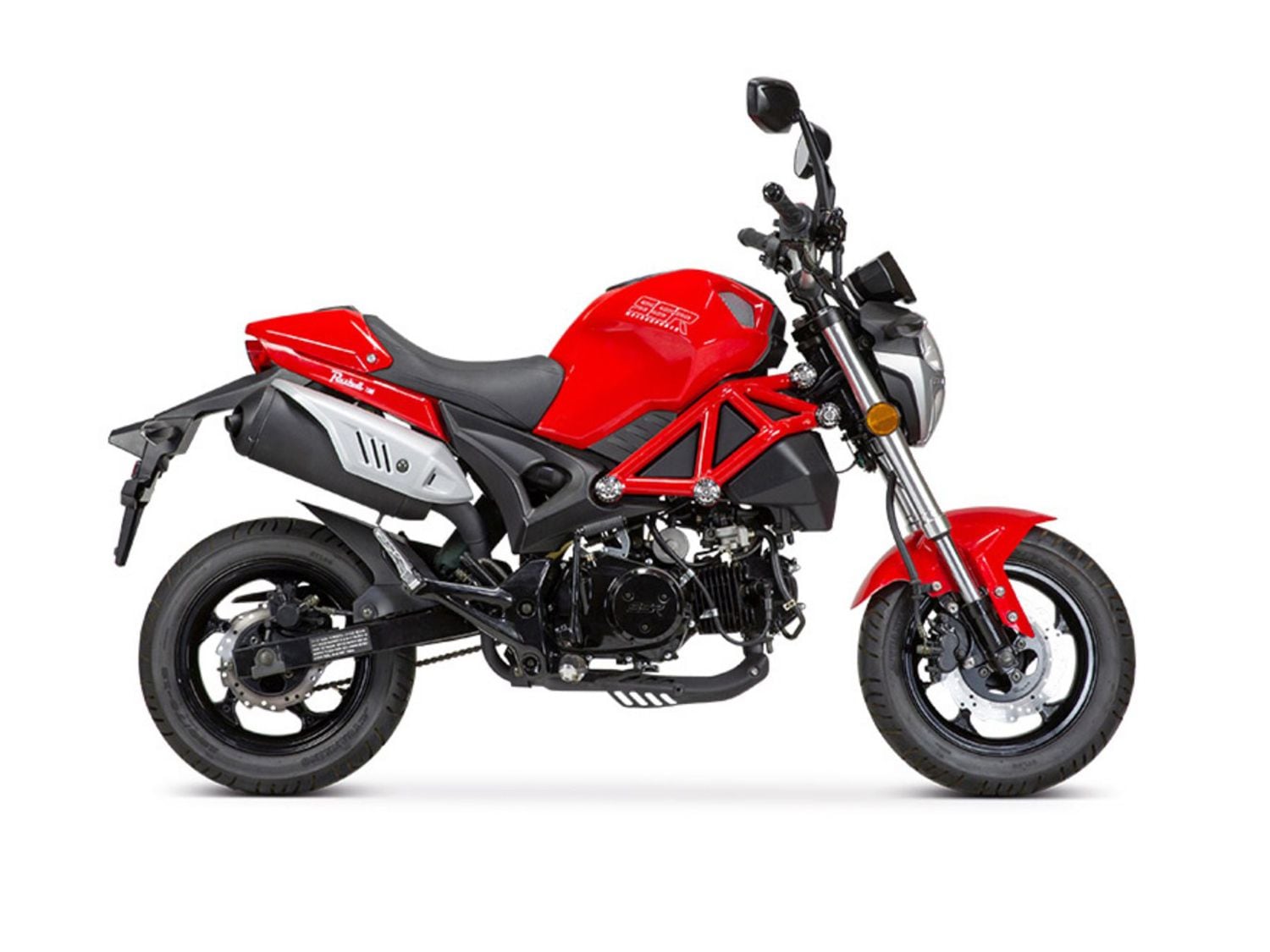 Ringing in at less than $2K the Razkull definitely courts the thrifty set, but with Ducati-like styling, it sure doesn't look bargain basement. (SSR Motorsports/)
Considering its puny price, the Razkull is surely the winner in the smiles-per-dollar category, with an appearance that looks like a Ducati Monster that has been Photoshopped 25 percent smaller. The Duc styling references stretch from the red trellis frame and fuel tank to its headlight and high-mount muffler. The Razkull feels more similar to a Grom and the Z125 than its price would indicate. Sure, its 125cc engine isn't fuel injected and feels thrashier, and its low footpegs drag early in corners, but it has many nice detail touches like a tapered handlebar, angled valve stems, and a seat cowl. Iron Butt riders will appreciate its 3.17-gallon fuel capacity.