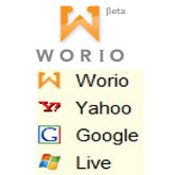 With a search startup on every corner, and none beating Google's ramparts down yet, why would anyone develop another variant? Well, because of the potential gain, obviously. Worio is a startup beta applying meta search and suggestion to grab a piece of the market. This service returns results from Google, Yahoo! and Live, while simultaneously interpreting user queries for further discovery. This is no new concept, but Worio aims to be your "discovery platform", and not just a search engine.
Using Meta search, suggestion via tagging and behavior, combined with social bookmarking, Worio does target some weaknesses of conventional search. Refined filtering (human plus correlative), with sharing and organization, make for powerful tools, but subjective relevance and interactivity are not enough. Microsoft's Powerset has already engaged these effectively, while Search Wikia interjects the ultimate (human) interactive/suggestive alternative. Worio's discovery tools will have to be extraordinary to engage even these players.
Worio Means – Web of Research
Worio's interface is simple and efficient much like that of Powerset's in its organizational aspects. Basic search allows users to toggle between individual or all engines easily, and the results are satisfactory. These searches are accomplished in the left pane, while discovery of recommendations is performed in the right pane of the UI.
As you can see (above and below) for the particular query "SitePoint", Worio returns relevant results via meta, while suggesting alternatives for saving, sharing or surfing. Other features combined with this "reorganizing/suggestive" aspects make Worio useful and fun. Currently however, organizing saved searches appears to be nothing more than simple, searchable bookmarking, and suggested results are often skewed.
Core Vs. Other Value
A suggestive system that relies too heavily on tags or even behavior may not be sufficient. Worio's toolbar ad-on (which seems mandatory), streaming activity and library of bookmarkings are nice additions, but core search/discovery must be perfected first. Worio needs initial input preferences and other input, until then all other considerations are secondary.
Conclusion
Worio claims they are a "discovery" tool. But, Google and others with far better resources can achieve this as well. So, this development's only real advantage is that they actually use, while adding discovery and user value atop this. Taking advantage of this requires the effective use of internal community suggestion (human), interfaced with the obvious meta advantages, and further enhanced via algorithms of its own. While crisp design and perfected user interfaces are desirable, Worio and others like it have to deal with actual intuitive intelligence however derived. Worio's success will depend on how well community and individual suggestion is integrated with meta search. If they can do this well, then they might be the discovery they aim to be.
About Worio – Worio was founded by students from the University of British Columbia, and is led by their CEO Ali Davar. The development is supported from UBC, Canada's National Research Council, and PRECARN.